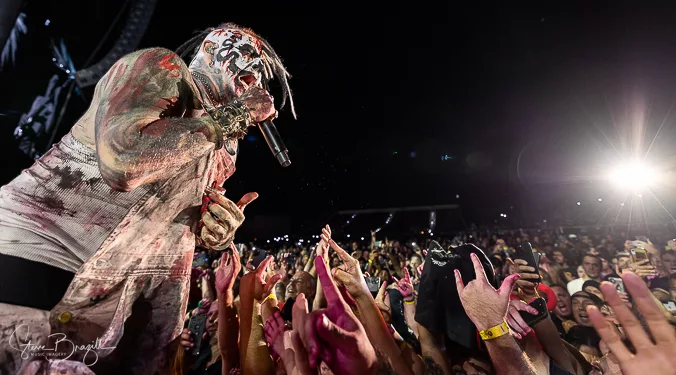 Mudvayne
I've been sitting here looking at my screen for awhile, trying to come up with the words to describe a Mudvayne show… I'm coming up blank. There is no way to easily describe the amazing show this band puts on. Mudvayne brought The Psychotherapy Sessions Tour to the Fivepoint Amphitheater in Irvine last Thursday, and everyone in attendance knew they were seeing something special. This tour is their first headlining tour in over 14 years, and they packed the bill with four openers: Coal Chamber, GWAR, Nonpoint, and Butcher Babies.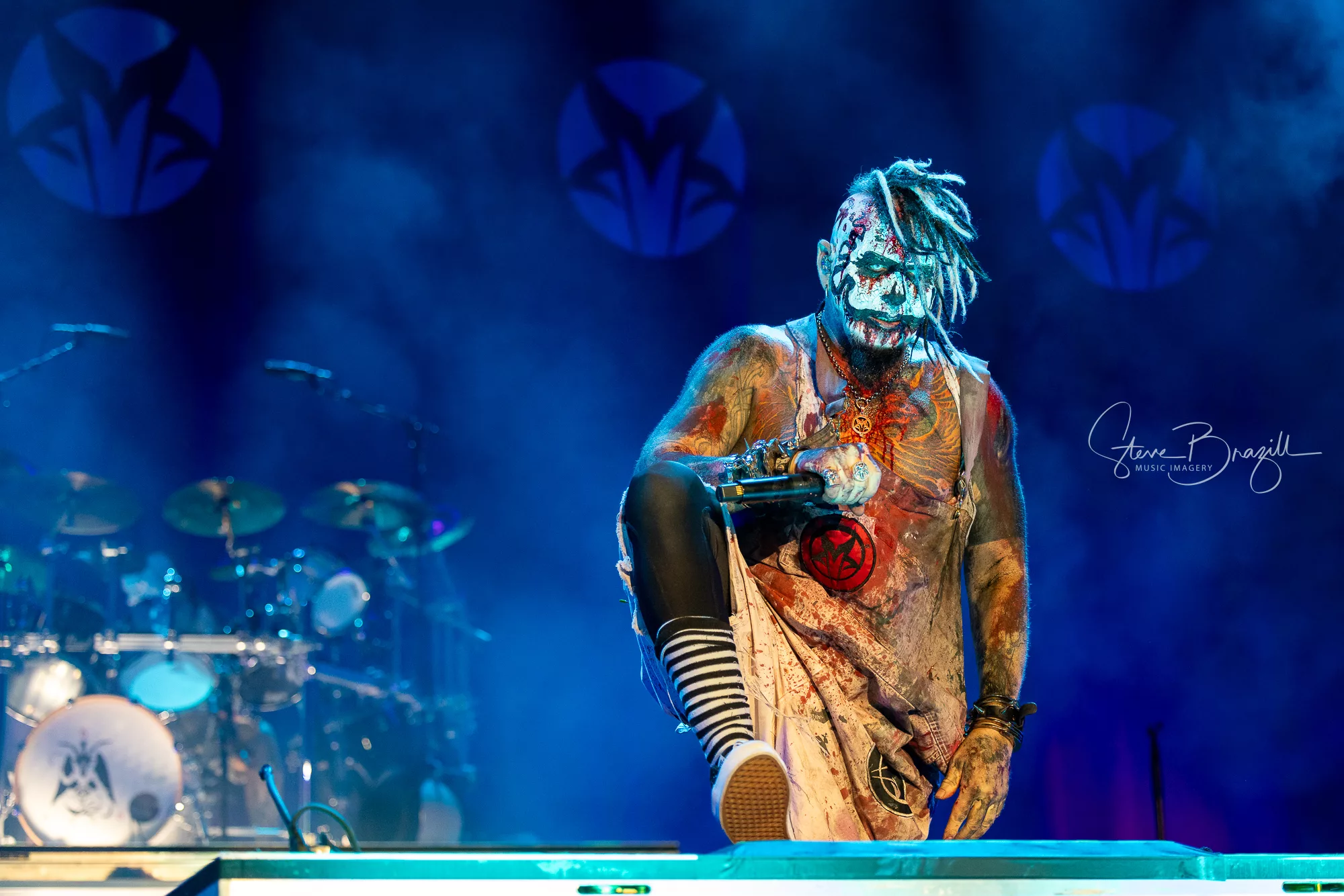 Being in a photo pit at a concert is me being in my happy place. There is just nothing like the energy of witnessing, and capturing photos of, a band doing their thing, and in the case of a Mudvayne show is one hell of an experience. With Mudvayne it's all of that, on steroids. You may have seen Chad Gray before, as the vocalist of Hellyeah, but Mudvayne Chad is different in almost every way. He seems to inhabit the character, to the point that even his mannerisms feel unique. This band live is one of my favorites now, with non-stop visual stimulus. You are watching every band member at the same time, while never wanting to lose sight of Chad.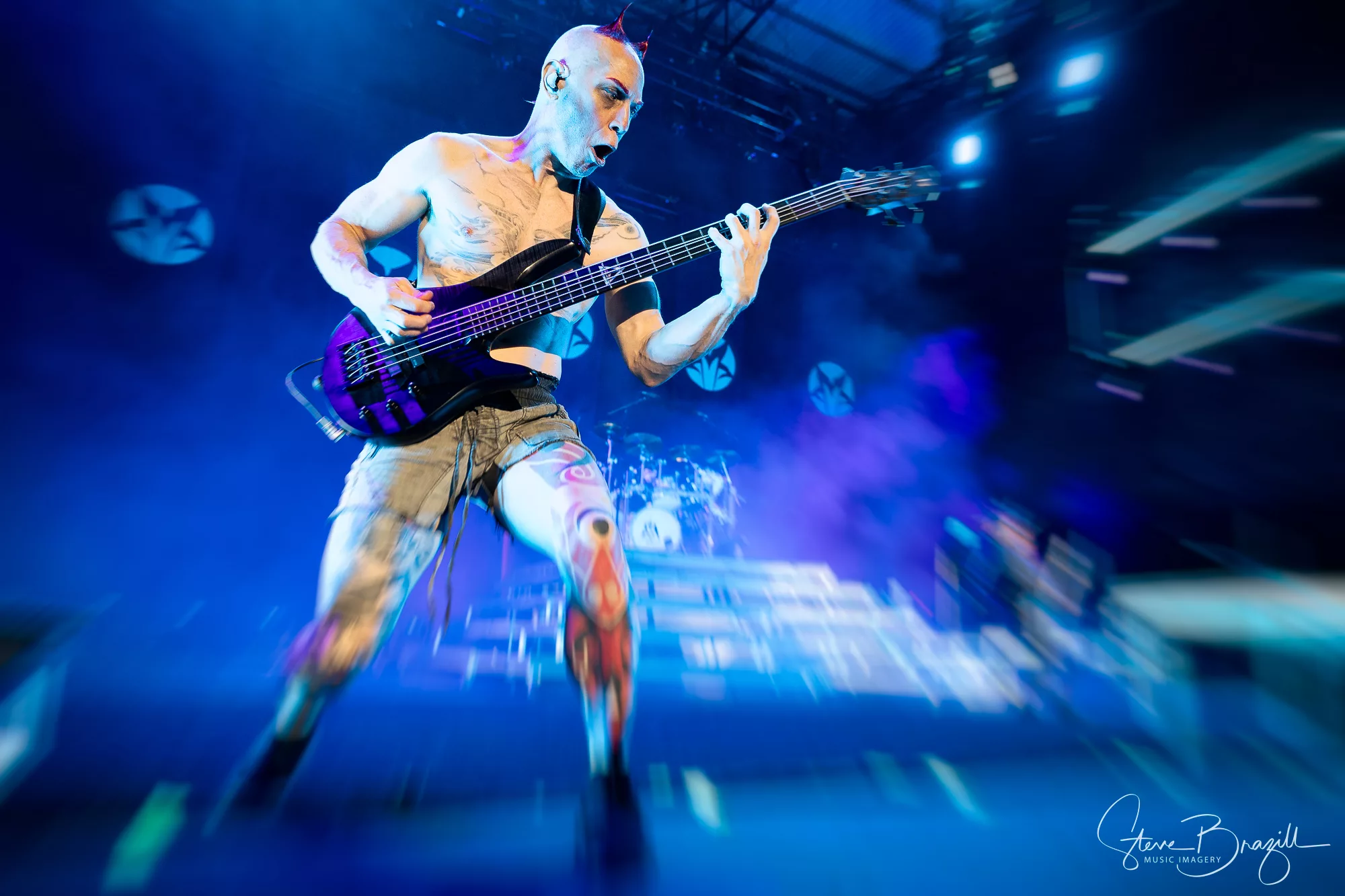 As much as Chad is the frontman, and the one sure to grab your attention, bassist Ryan Martinie (above) is always there, making it hard to look away. An absolute beast on the bass, his expressions bring you into the "feel" of the music.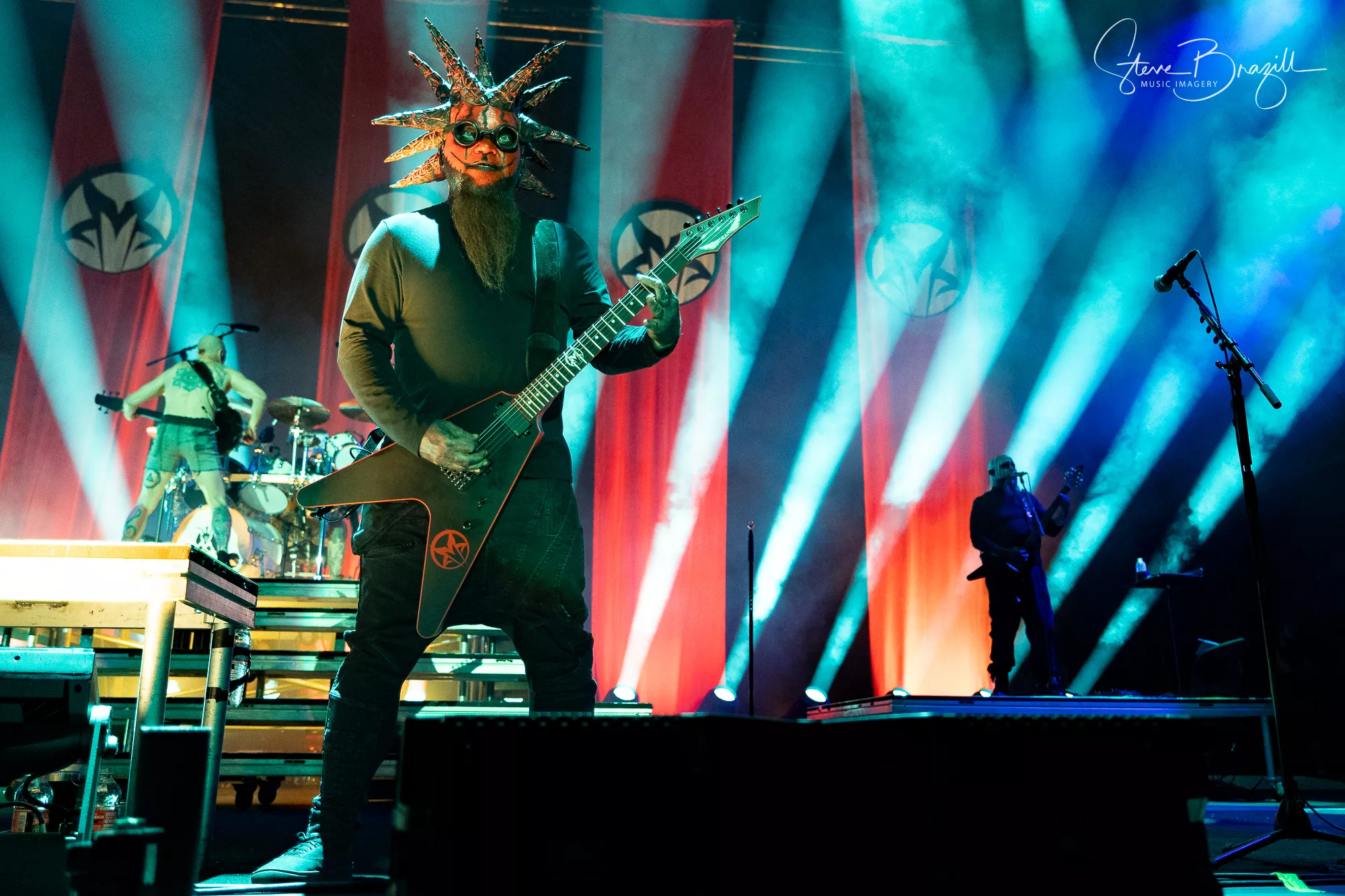 On guitar you've got Greg Tribbett (above), and this founding member, and former Hellyeah member, plays with such a cool vibe.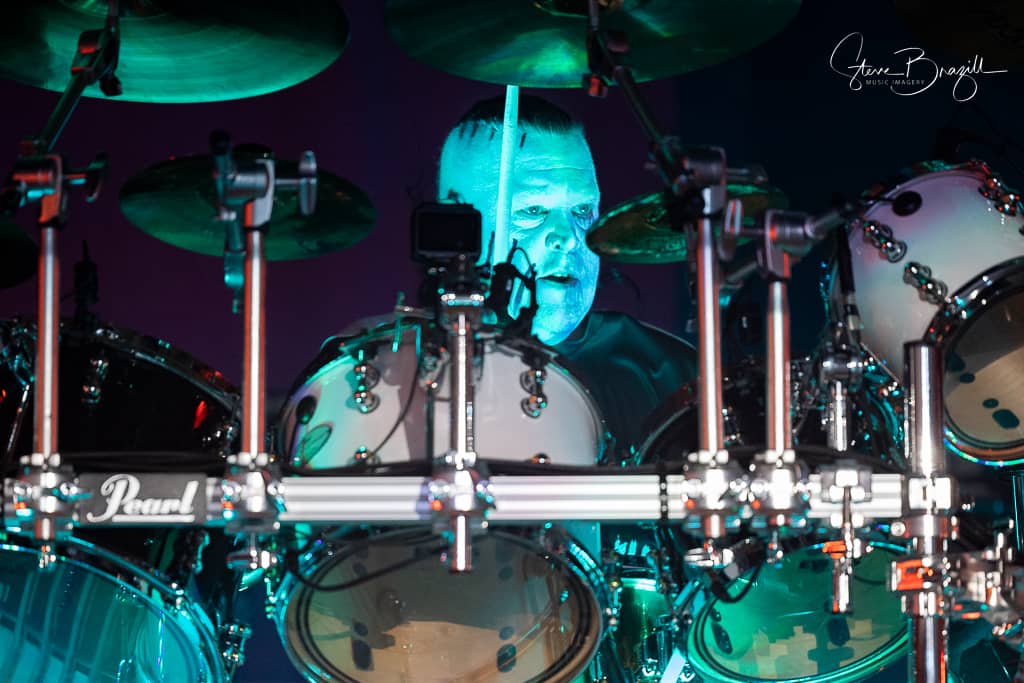 Rounding out the band is drummer Matthew McDonough (above). Such a great drummer, although seeing him enough to get a good photo is tough.
(NOTE: I framed to get a shot of him at this show, but got kicked in the head by a crowd surfer, so I wasn't happy with what I got. The shot above is from the 2022 show.)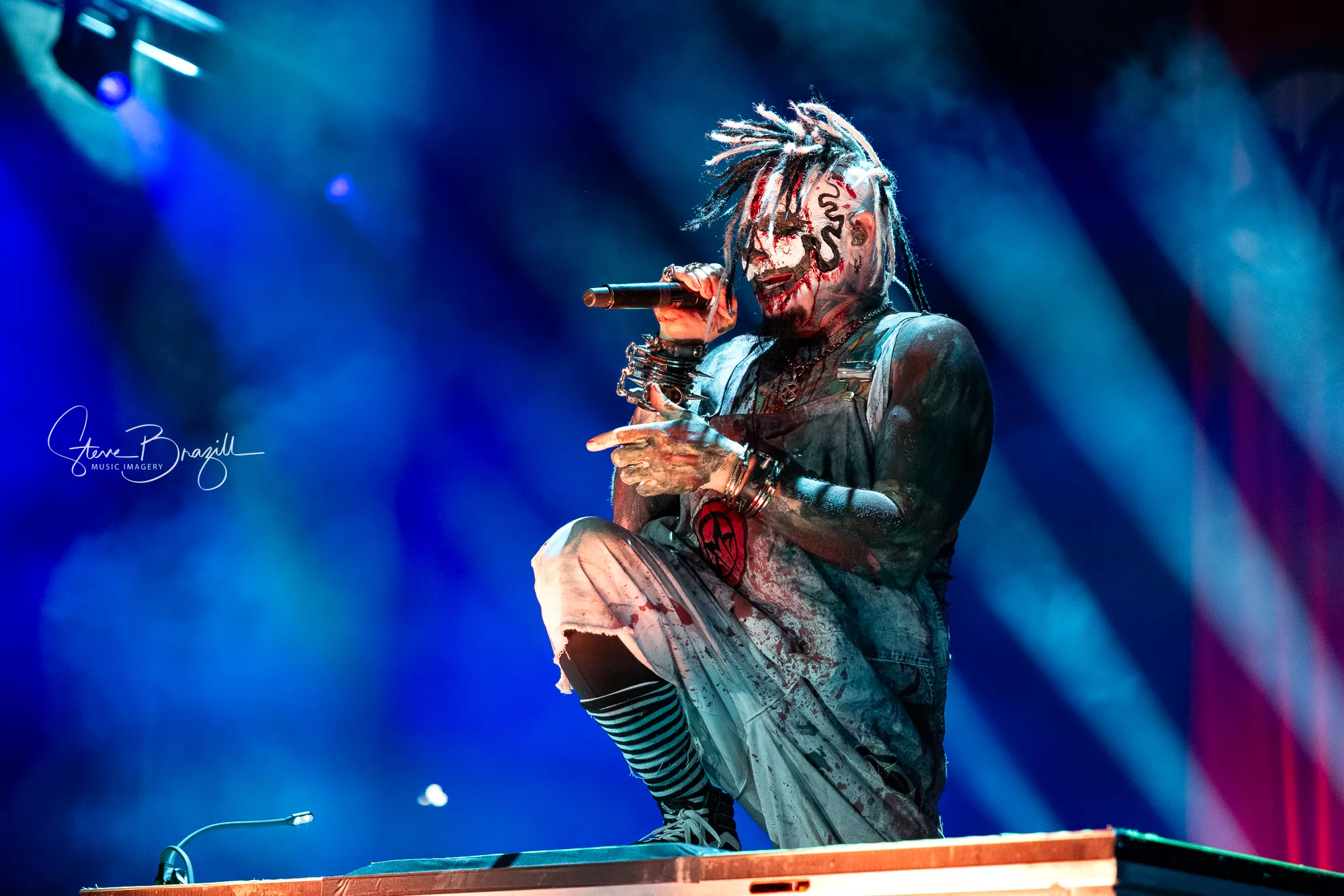 This is a not to be missed show. Trust me, Mudvayne should be at the top of your list to see live. I also photographed them in 2022, when they opened for Rob Zombie at Fivepoint Amp, and those photos are here.
Mudvayne Setlist
Not Falling
Under My Skin
Internal Primates Forever
World So Cold
A New Game
Severed
Death Blooms
Fish Out of Water
Dull Boy
Determined
Nothing to Gein
Dig
Happy?
Coal Chamber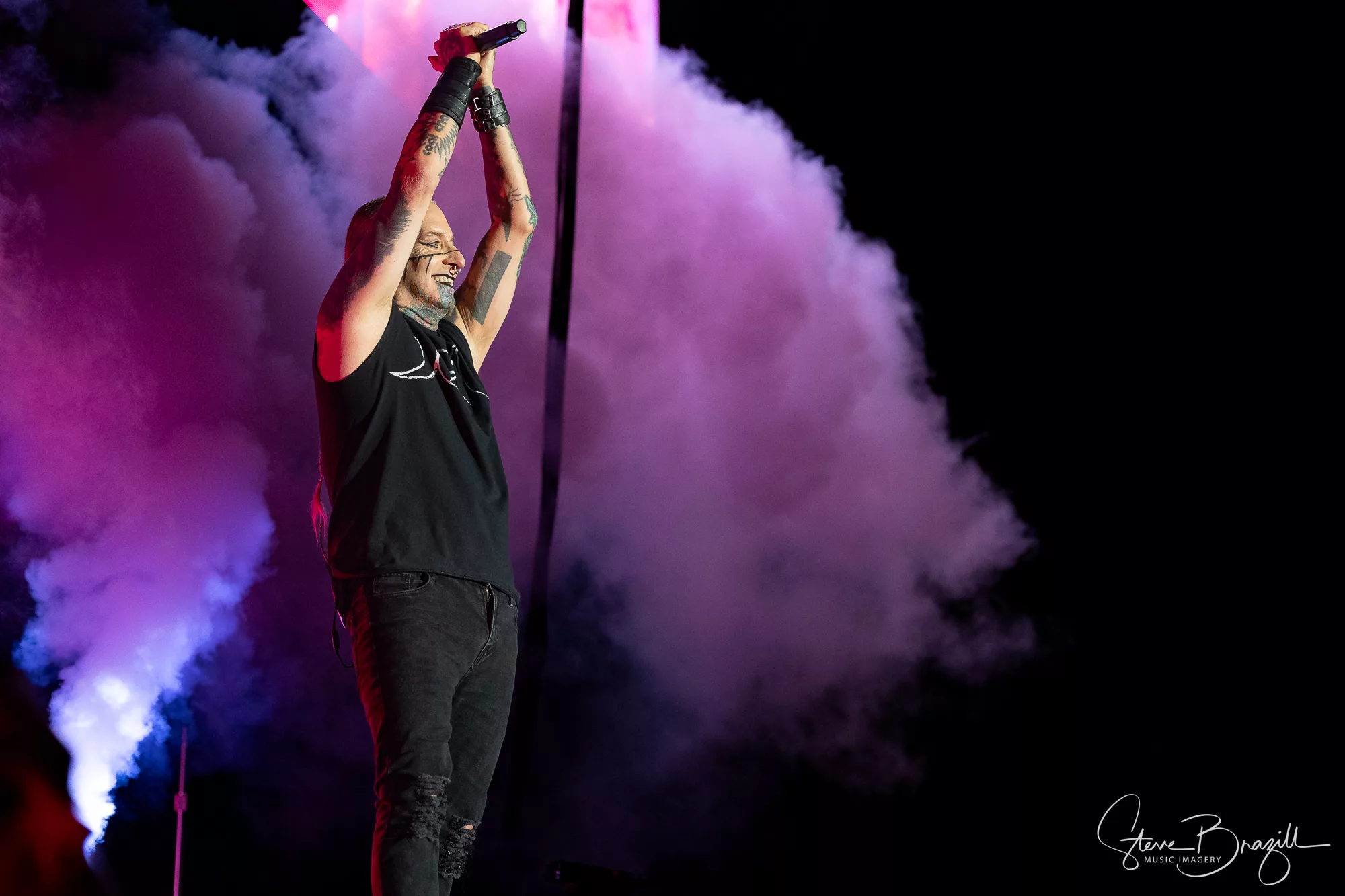 Coal Chamber is a band I hadn't seen live before, although I had heard great things. I'm happy to say that they lived up to all of the hype. Vocalist Dez Fafara (above) is fun to watch, and sounded great. I could see these guys over and over again, and wouldn't be surprised if they were headlining a tour like this soon.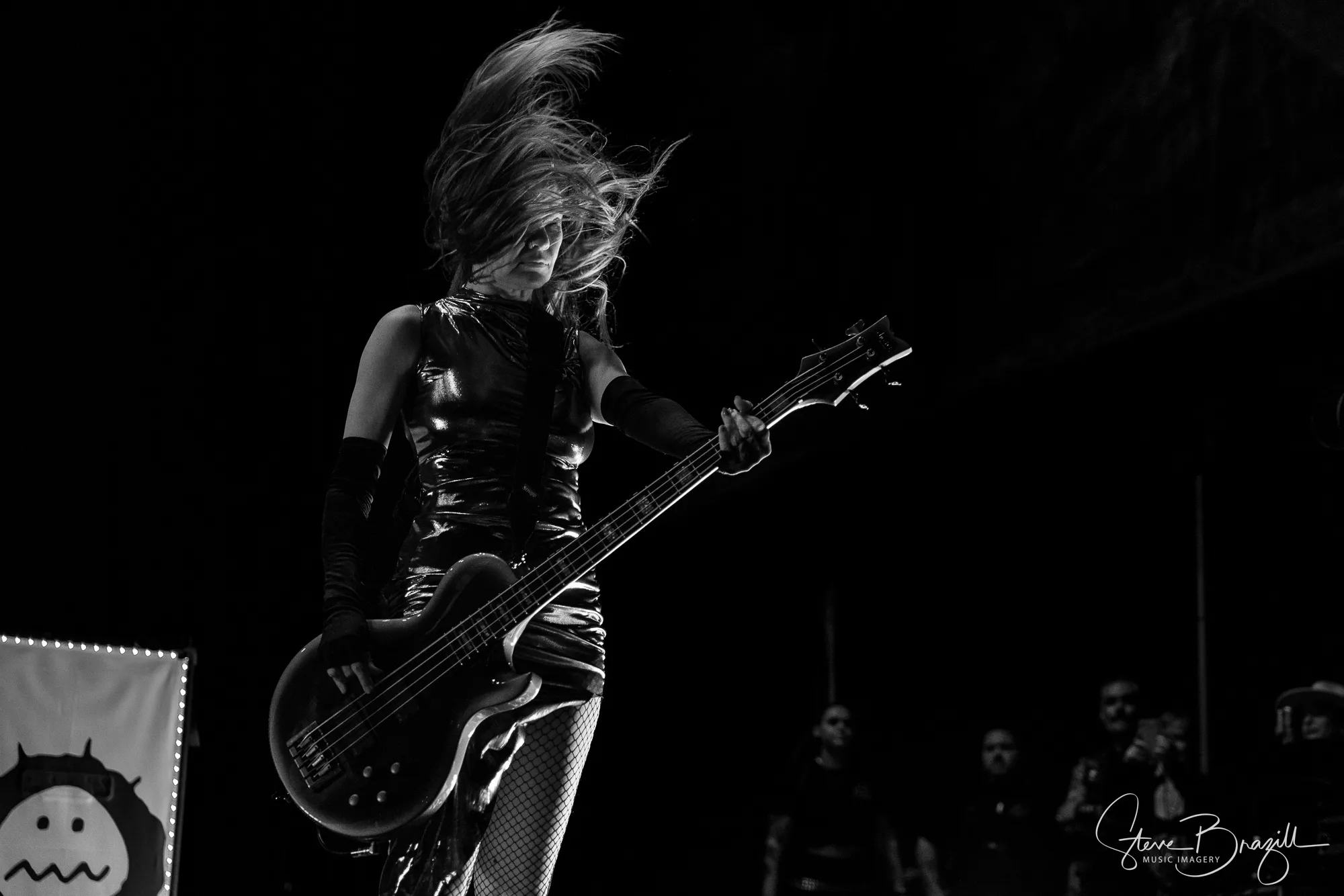 Bassist Nadja Peulen (above), is someone I mentioned on the air this weekend. She has a cameo in the video for Cypress Hill's "(Rock) Superstar".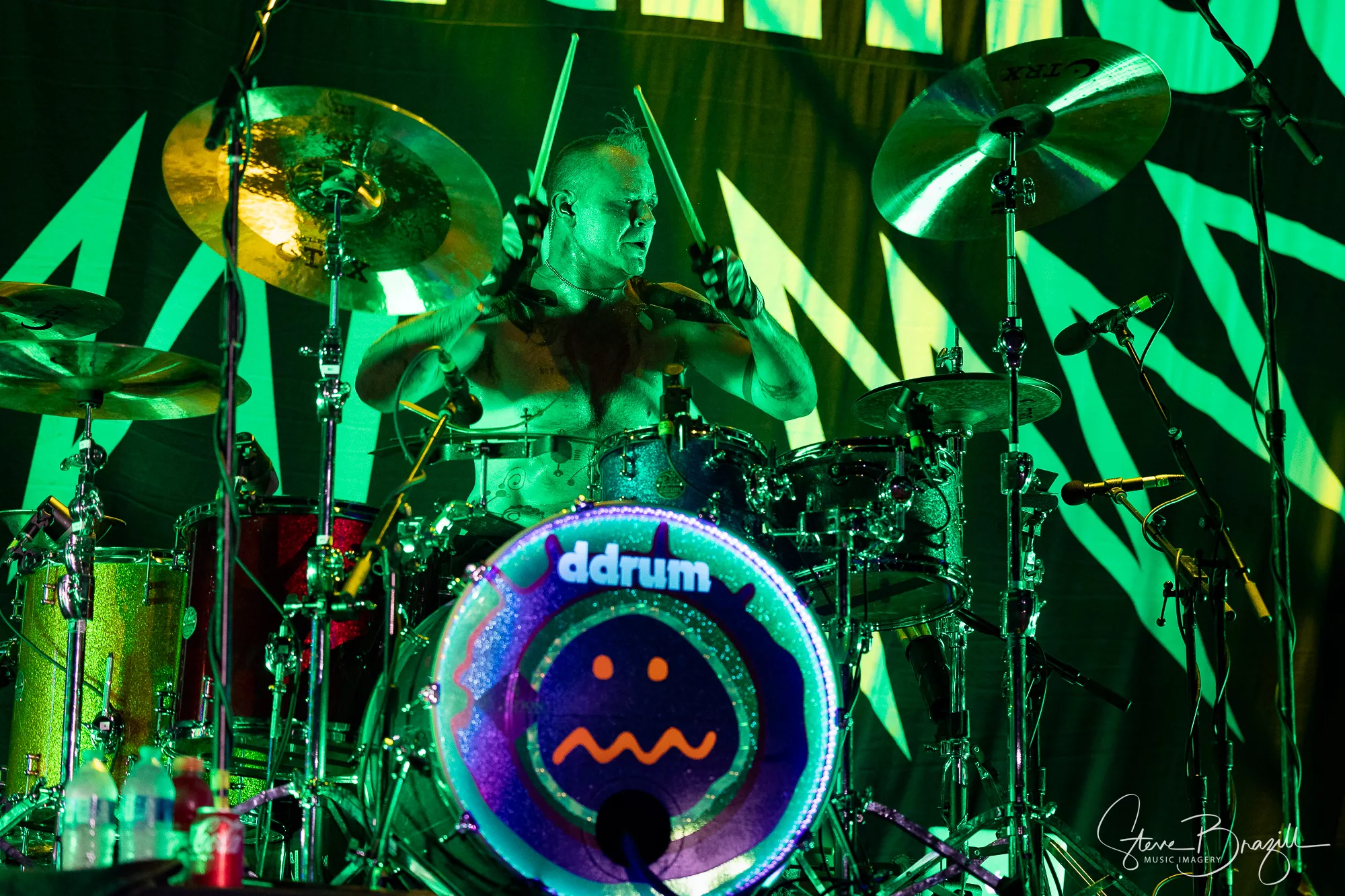 Holding the back stage down was drummer Mike Cox (above), and rounding the lineup out is guitarist Miguel Rascón (below).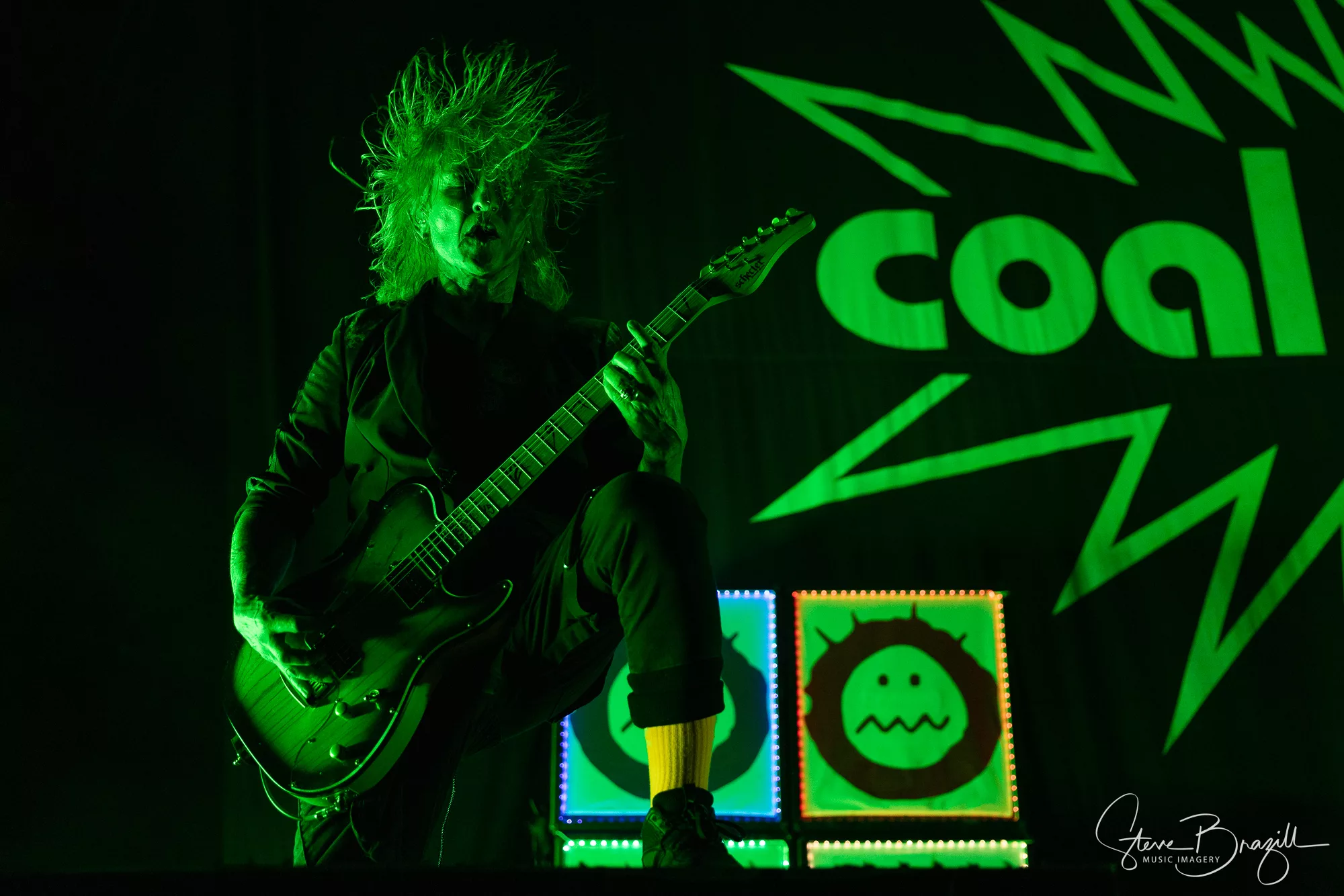 Definitely see this band. So damn fun.
Coal Chamber Setlist
Loco
Fiend
Big Truck
I.O.U. Nothing
Rowboat (Flood cover)
Drove
Dark Days
Oddity
Another Nail in the Coffin
Something Told Me
Sway
GWAR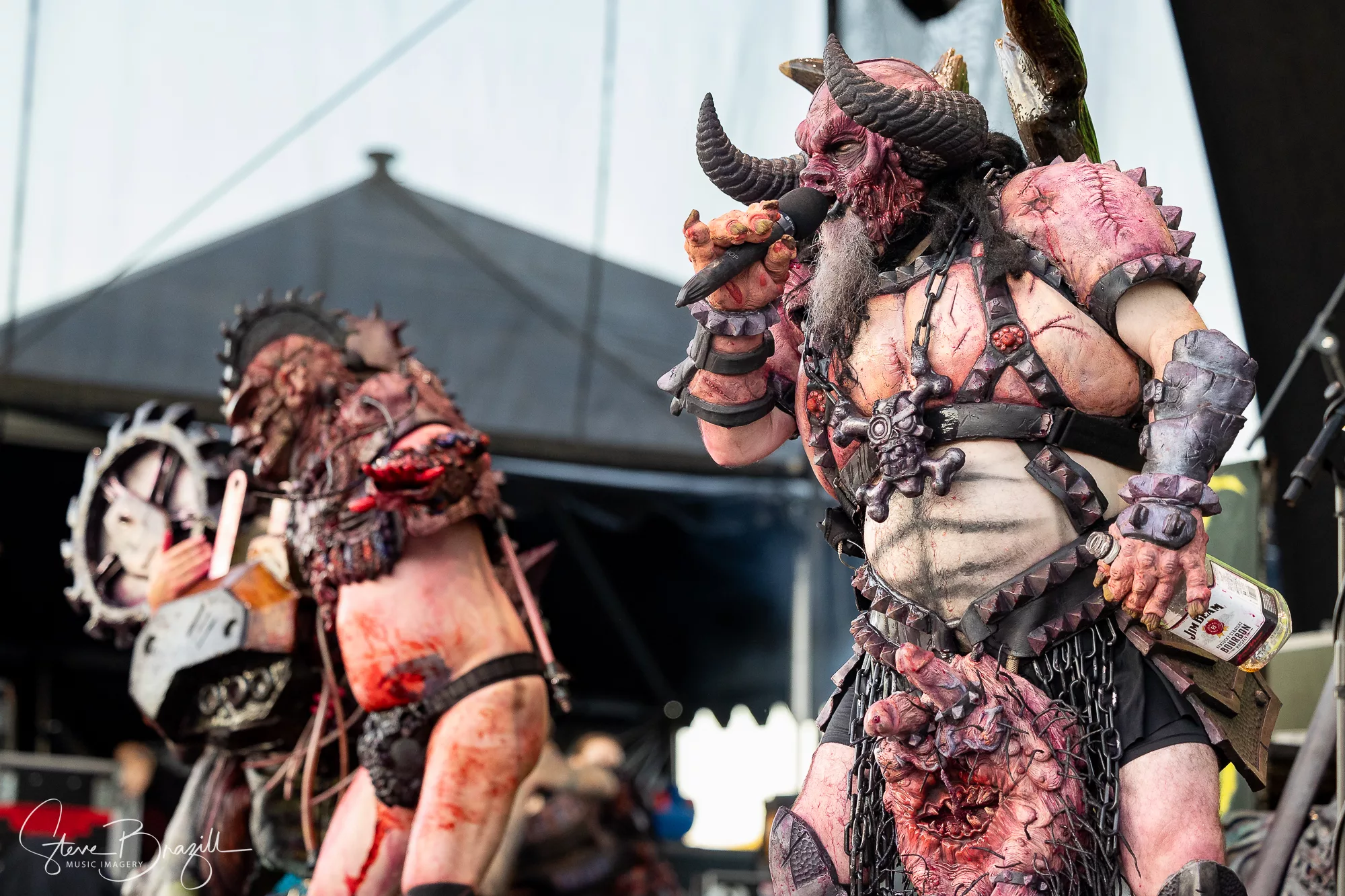 GWAR, not even sure where to start with GWAR, other than to say bring a poncho and gloves, and any other covering you can. That liquid doesn't come off – my buddy and fellow photographer Matthew Belter accidentally found that out.
If you have never seen a GWAR show, let me explain. GWAR has been around since the mid 80's, and has released something like 13 studio albums. They are one of, no, the most insanely fun band you can see, and a large part of the show is the various parts of their bodies – or costumes really – that spray the audience with a red dye-like liquid.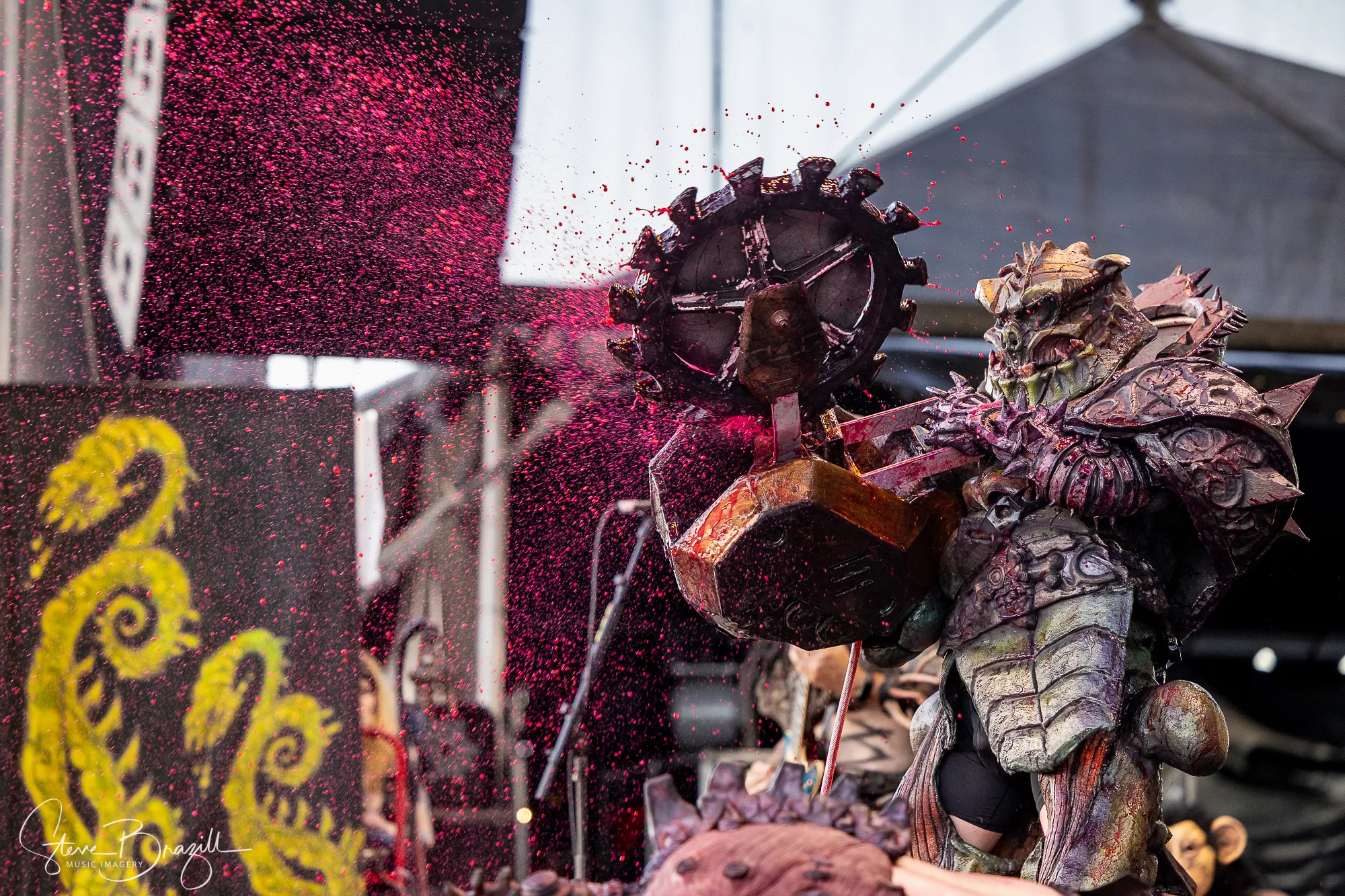 This stuff shoots so damn far that you'll see the photographers run for cover (except Matthew as mentioned above). But here's the thing, I actually think the spray dominates too much of the conversation about GWAR. Make no mistake, this band sounds great. I mean, it's a fantastic show to be sure, but it's also a fantastic musical performance.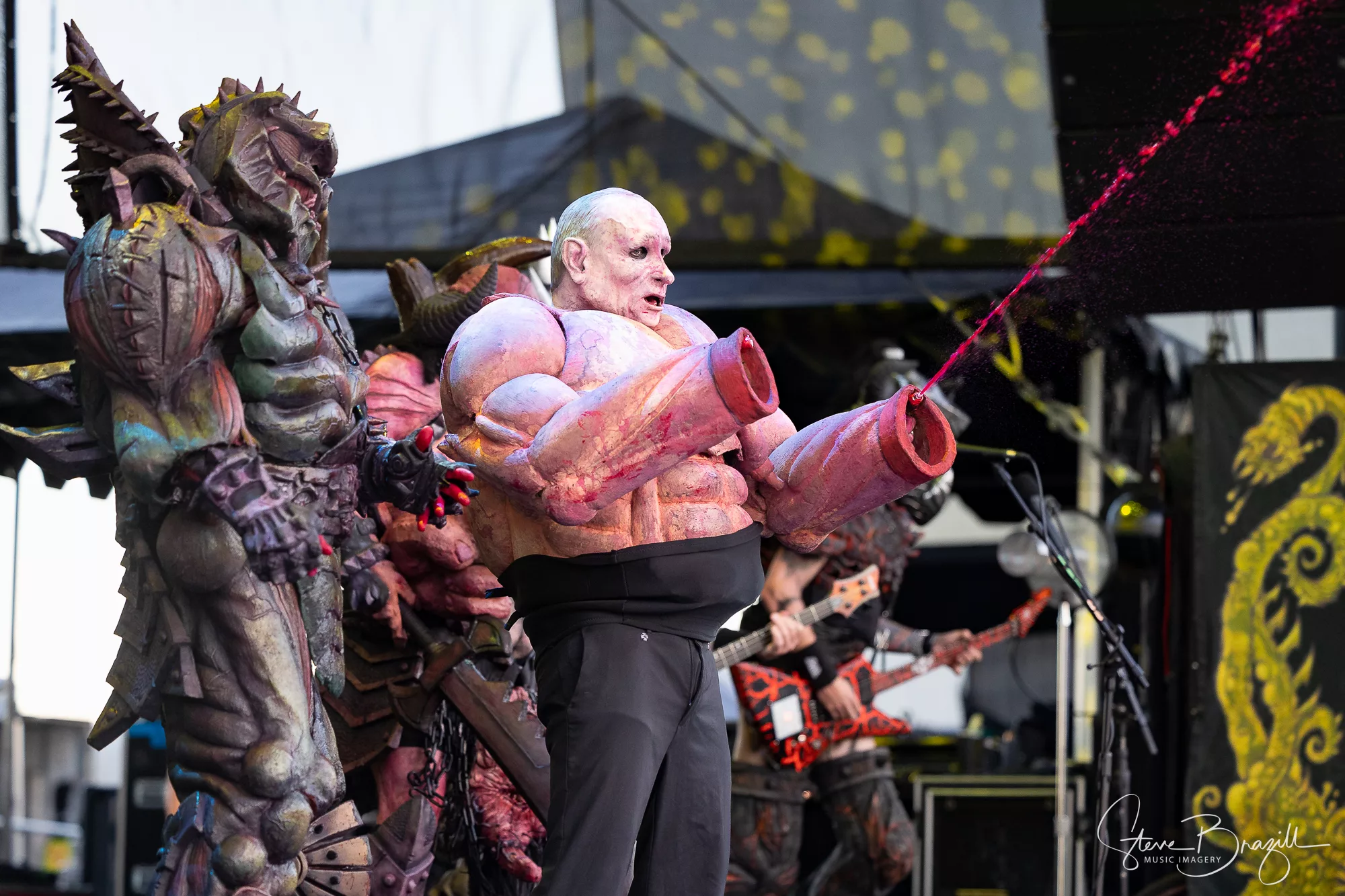 Definitely see GWAR as soon as you can, but do be careful, that stuff reminded me of a dye pack on bank money.
Nonpoint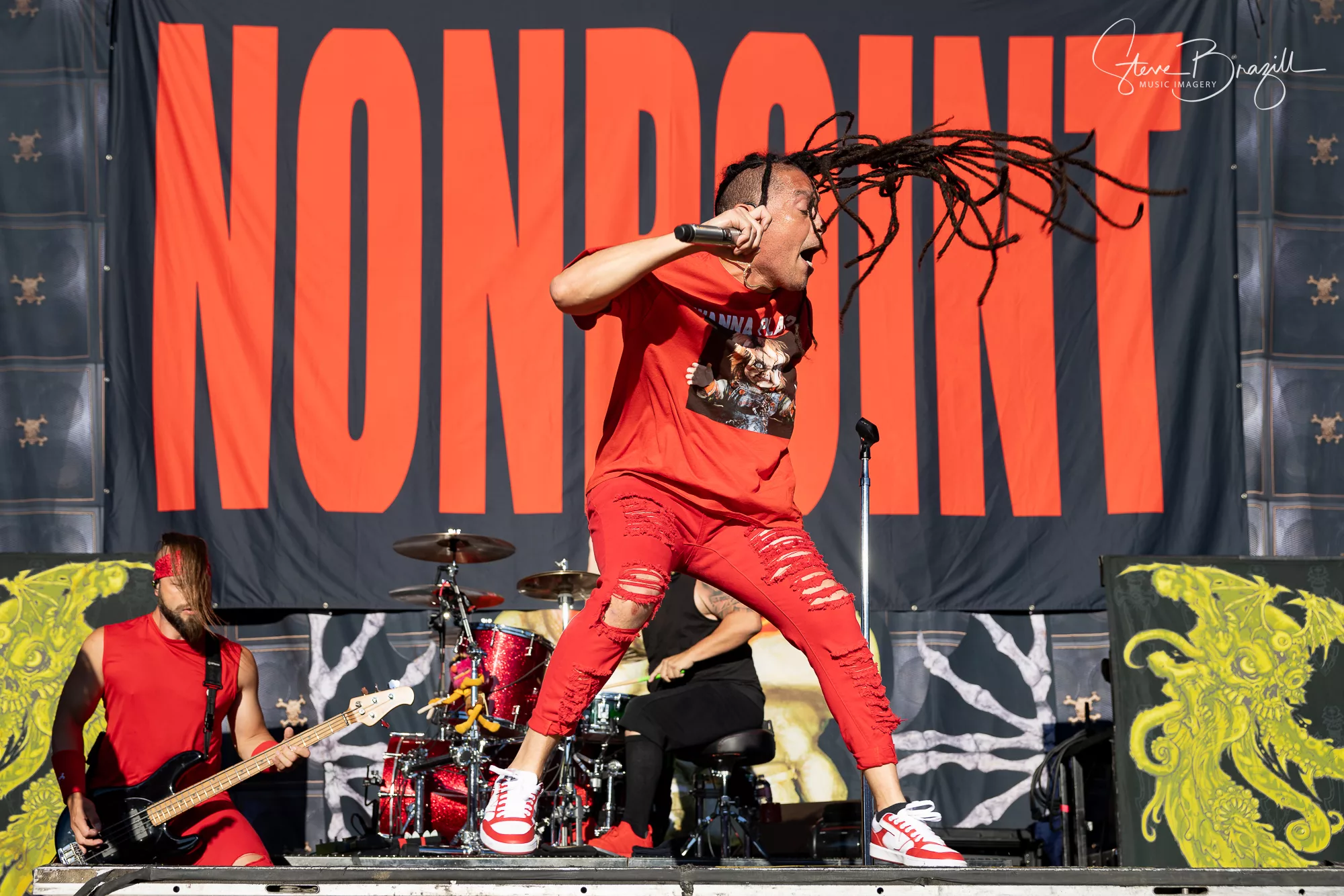 A bunch of people told me not to miss the Nonpoint set, and wow, glad I didn't. They were the band, out of the openers, that I was most looking forward to. Vocalist Elias Soriano (above) just kills it on stage, and guitarist Rasheed Thomas (below) was freaking awesome!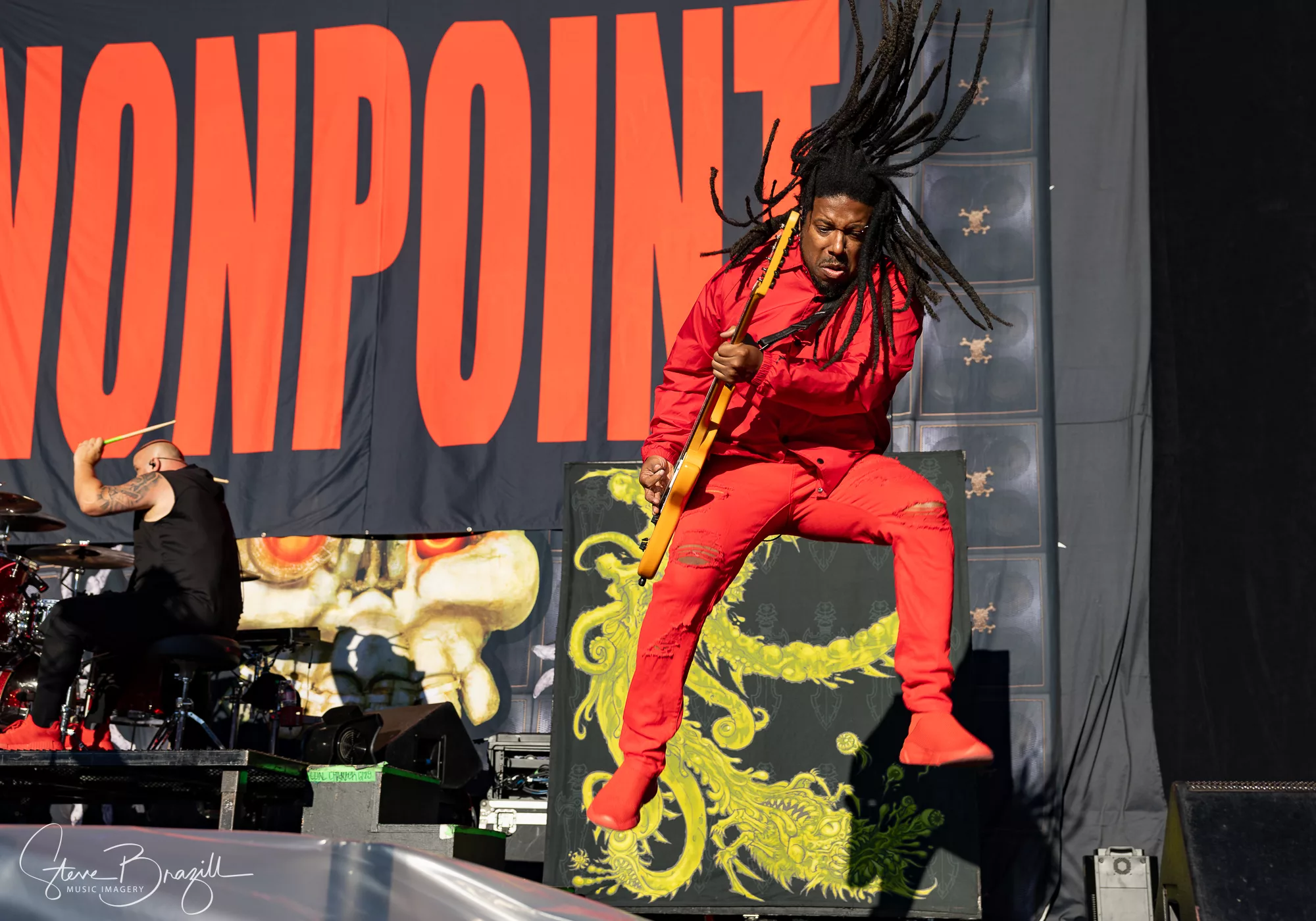 I will find this band again. I need to photograph them again.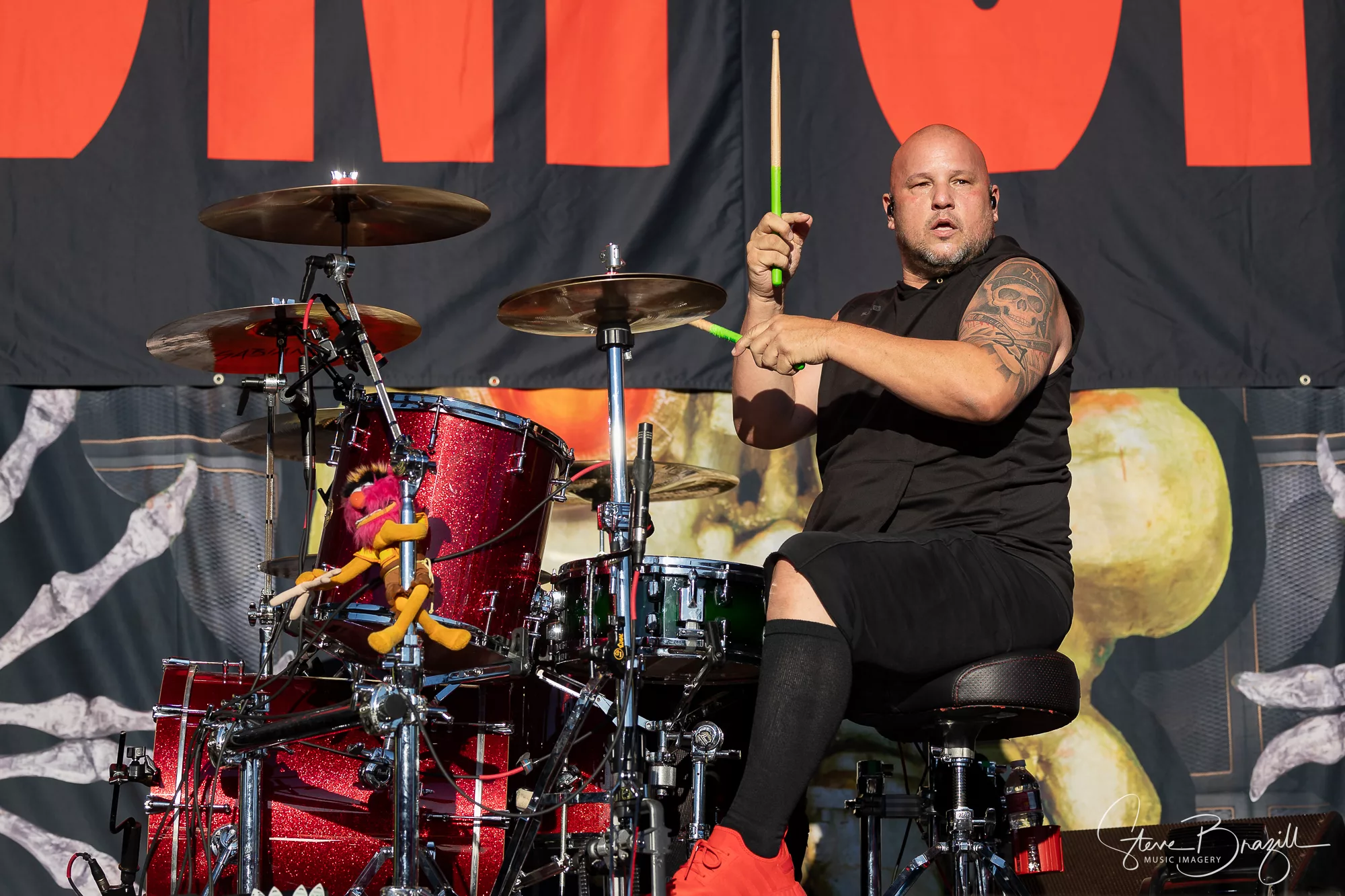 Butcher Babies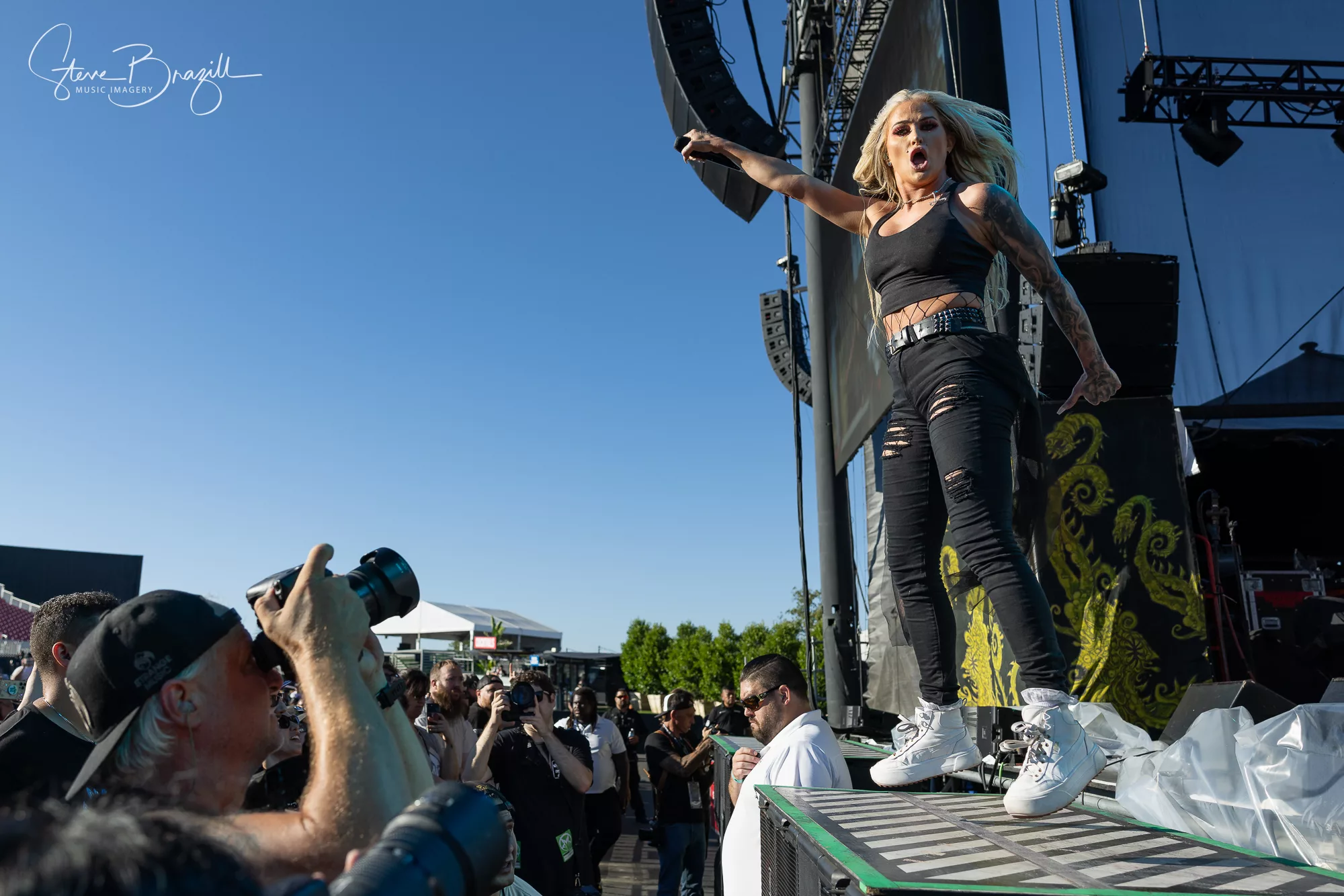 The first time I photographed Butcher Babies was way back in 2011, at the 48 Hours Fest in Las Vegas. They left an impression on me then, and that's continued through the many times I have photographed them since. Heidi Shepherd (above), Carla Harvey (below), and the entire band hit the stage every performance at full energy, and they don't let up. Just a joy to watch people that clearly still love doing what they do.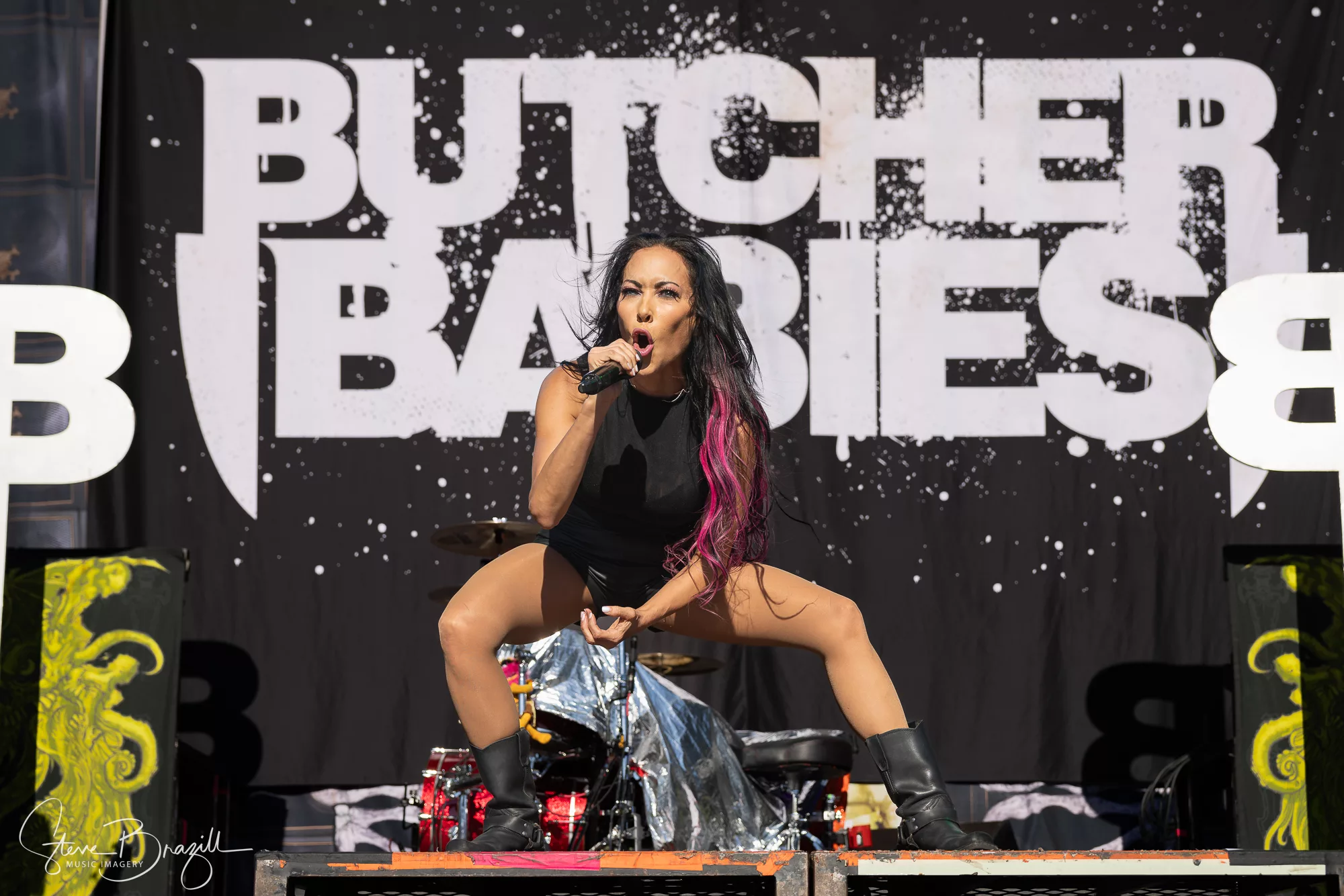 If you get a chance to see the Psychotherapy Sessions Tour do it, and if you get the opportunity to see any of these artists take it. 
As usual, there is a gallery with many more photos below, and if you were at the show I'd love to hear your thoughts. Follow me online at:
Instagram: @SteveBrazill
Twitter: @SteveBrazill
Facebook: @SteveBrazillPhotography
Podcast: Behind the Shot ~ Razz
All Images Copyright 2023 Steve Brazill, All Rights Reserved. DO NOT USE THESE IMAGES WITHOUT PERMISSION