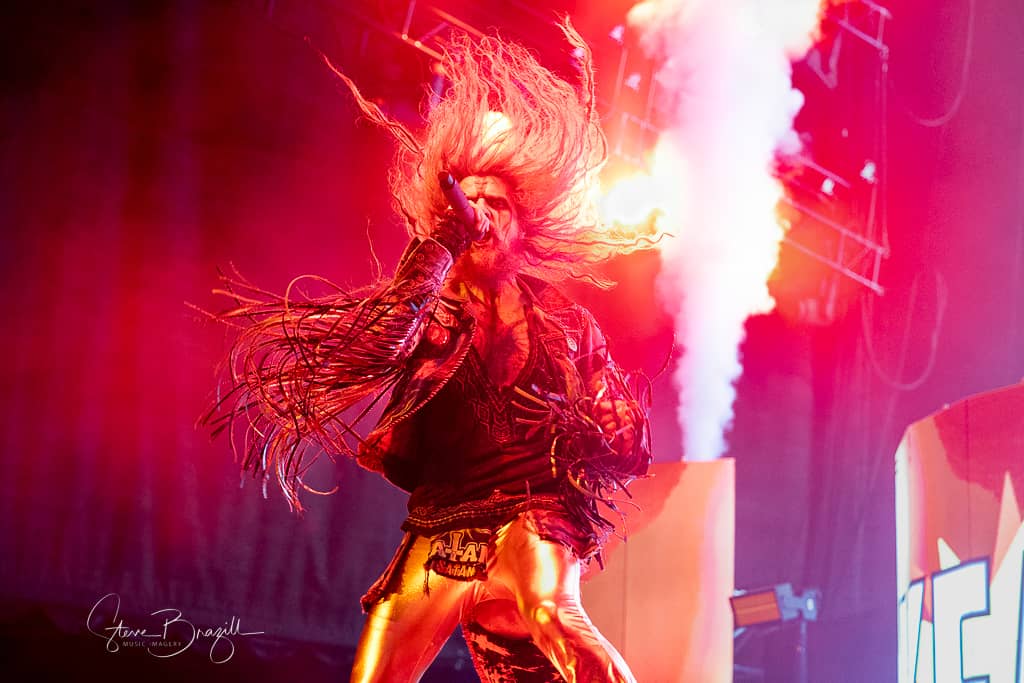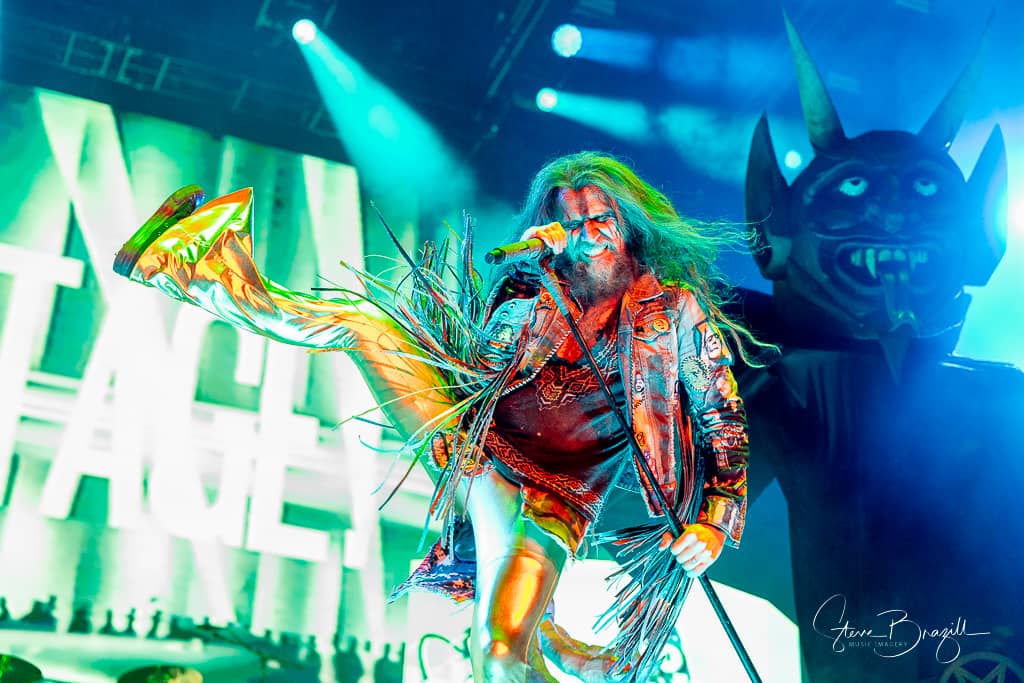 The first time I saw Rob Zombie live was at the old Rock Vegas Festival, back in 2012. Photographing that show, and Rob Zombie in particular, was when I realized I loved music photography, and since then I have tried to photograph Rob Zombie every time he hits Southern California. When I saw the Freaks On Parade Tour, with Zombie, Mudvayne, Static-X, and Powerman 5000 was going to be at FivePoint Amp this past Friday, I knew I had to photograph it.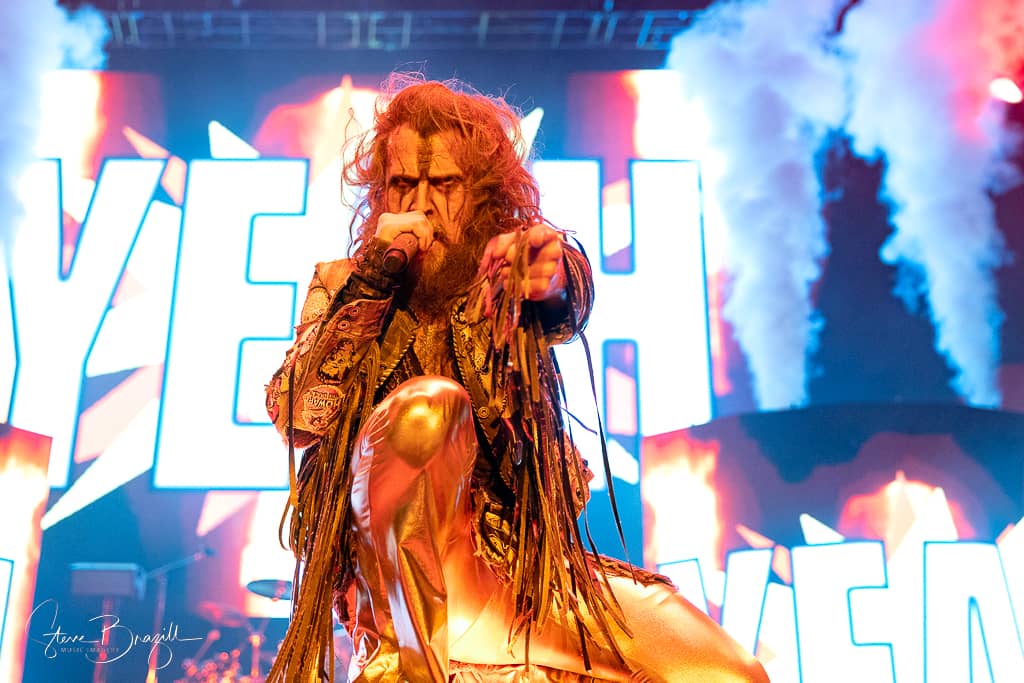 On the chance you've never seen Rob Zombie live, let me try to explain – although there is no chance reading this post will do his show any justice.
Rob Zombie is a visual artist in every sense of the word. He is a visionary director, singer, performer, and pretty every other type of creative I can think of. His sense of lighting, and stage design, some of the best, and most intense, you'll find. In fact, in the music photography world it's often mentioned that Zombie's shows are some of the most challenging you will every photograph.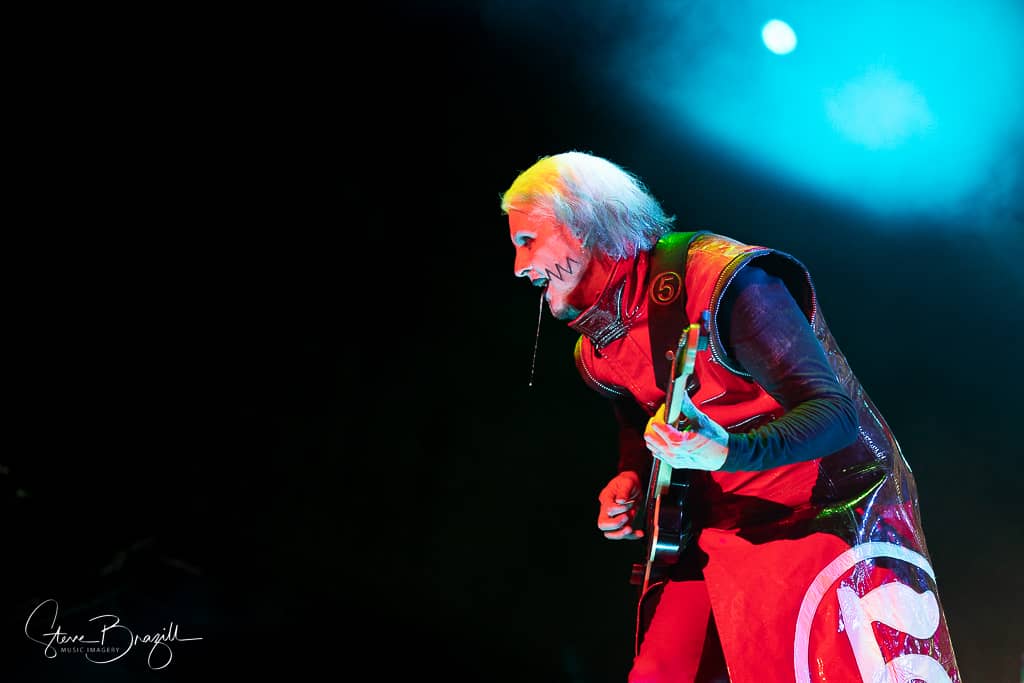 The entire band is a visual treat, and the musicianship is unmatched. Seriously, these are the best of the best. John 5, above, is a legend. His guitar abilities have attracted as many fans as the front man, and watching him play, while performing in a way only John 5 does, is a joy.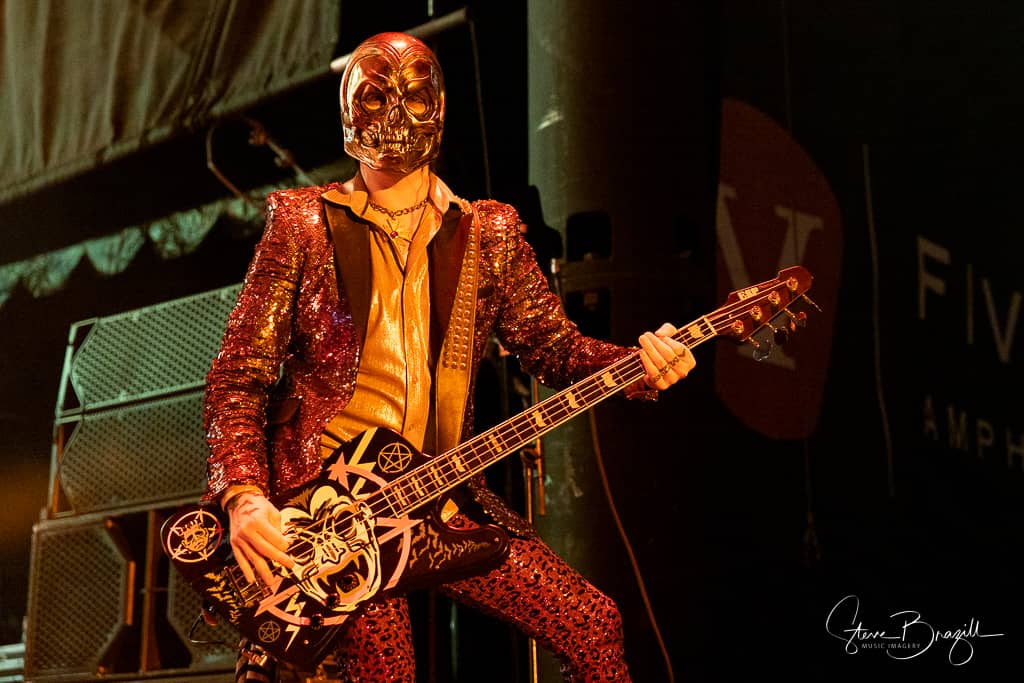 On bass you've got Piggy D, and I just want to see his mask collection. Here again is one of the best musicians you'll find. I find it odd that Zombie fans all know that fact, but when I hear people talk about bassists in general I rarely, if ever, hear his name pop up. Go see this tour, and you'll see what I mean.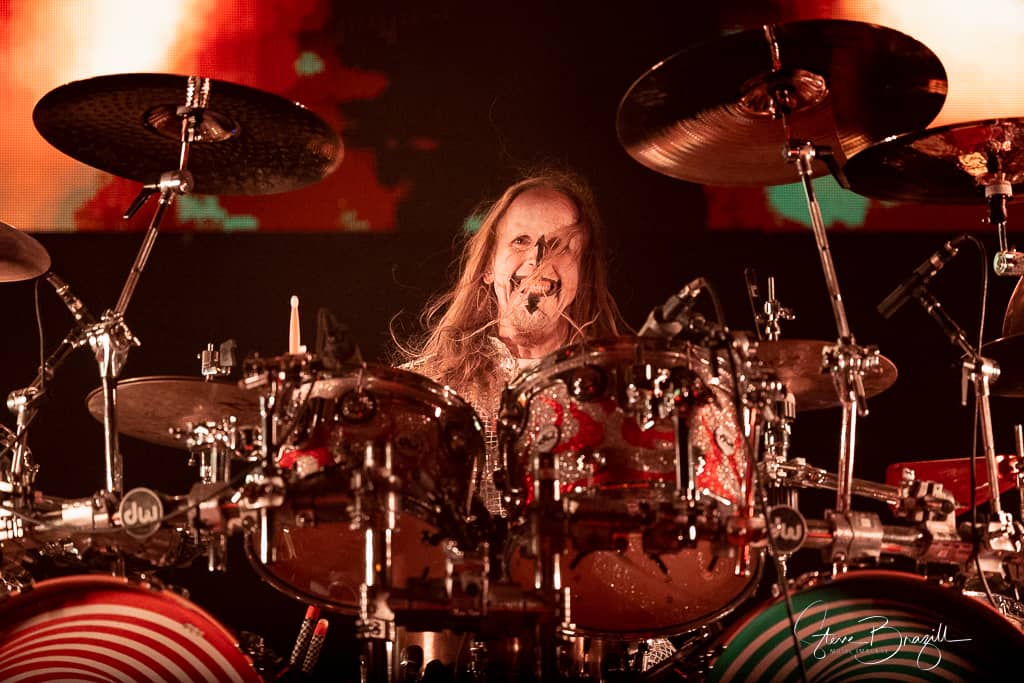 On drums you've got Ginger Fish, and I am shocked every time I see him play. I am not sure the smile you see above ever goes away. He may be the happiest drummer on earth! I guess if your job is jamming with this band I can see why.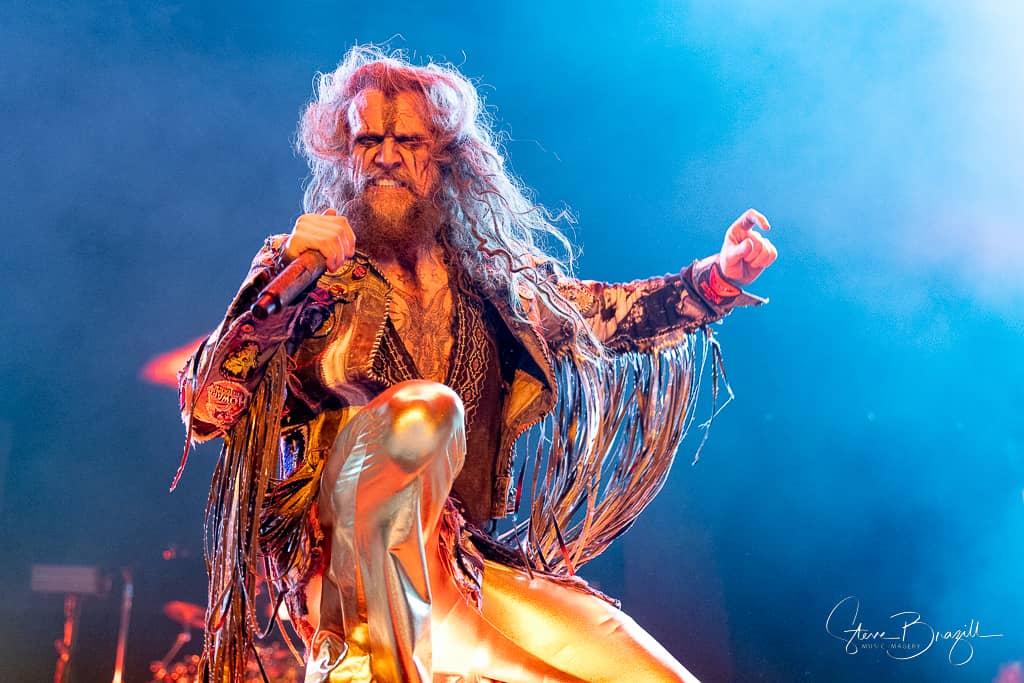 If this tours hits a venue near you, see it.
Rob Zombie Setlist
The Triumph of King Freak (A Crypt of Preservation and Superstition)
Superbeast
Meet the Creeper
Shake Your Ass – Smoke Your Grass
Living Dead Girl
More Human Than Human (White Zombie song)
Scum of the Earth
Dead City Radio and the New Gods of Supertown
Never Gonna Stop (The Red, Red Kroovy)
Well, Everybody's Fucking in a U.F.O.
House of 1000 Corpses
Guitar Solo (Including an interpolation of "Thunderstruck" by AC/DC)
Thunder Kiss '65 (White Zombie song)
Blitzkrieg Bop (Ramones cover) (With "Thunder Kiss '65" reprise)
We're an American Band (Grand Funk Railroad cover) (Tour debut)
Shadow of the Cemetery Man
Dragula
Mudvayne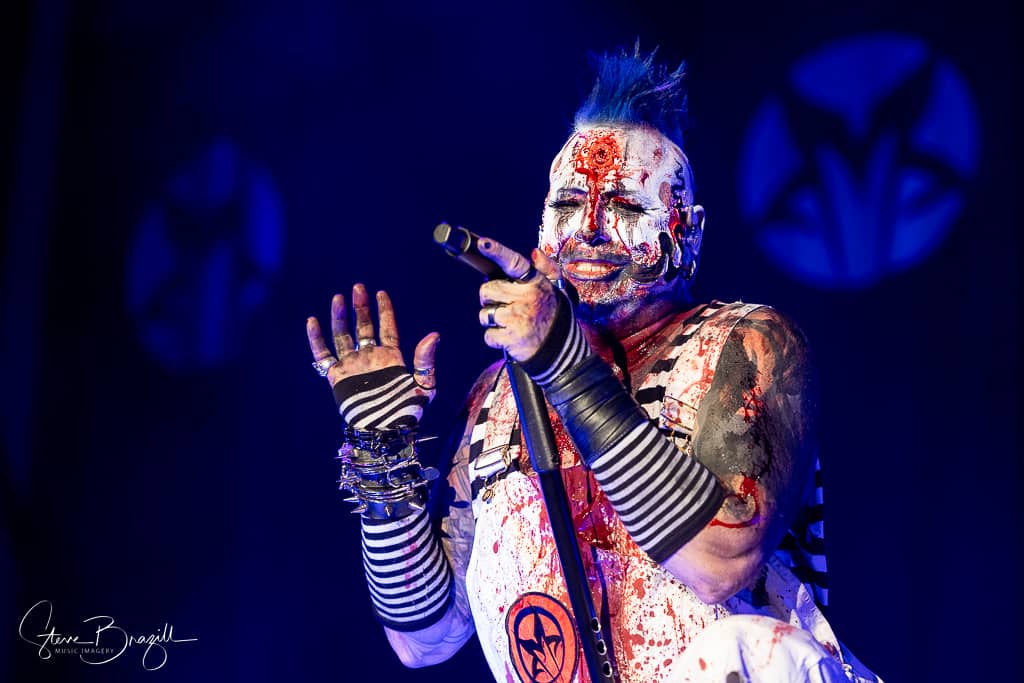 So, I had never seen Mudvayne before. I had photographed Chad Gray before, with Hellyeah, but this was something different altogether. I have had people try to describe this show to me, and they didn't come anywhere near reality. This band live may now be one of my favorites. It's a non-stop visual stimulus. You are watching every band member at once, while never wanting to lose sight of Chad.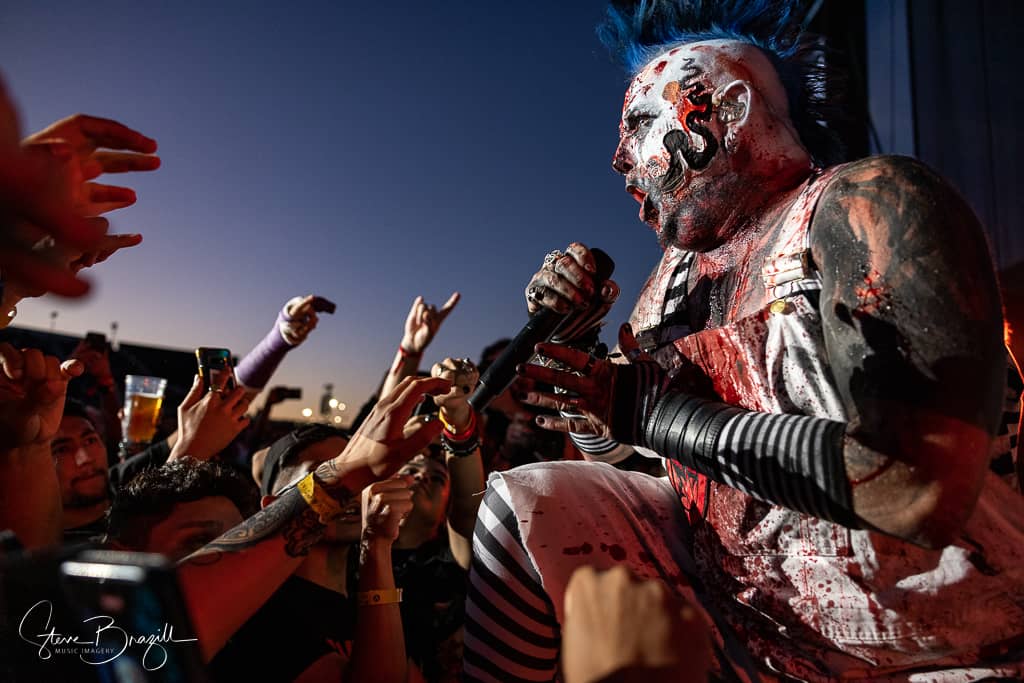 Again, this is a band of born performers. Along with Chad we have Ryan Martinie, below, on bass, and I found myself watching him just as much as Chad.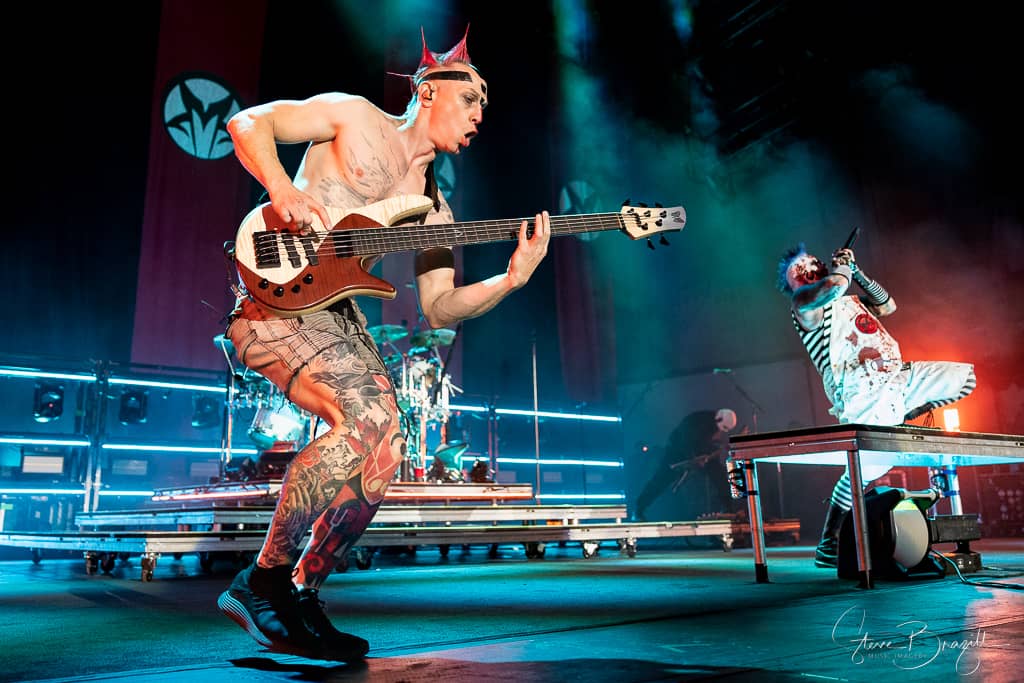 On guitar you've got Greg Tribbett, below, and this founding member, and former Hellyeah member, can play. Love the whole vibe he gives off too. Behind Greg below is Marcus Rafferty, who also handles guitar and backing vocals on tour.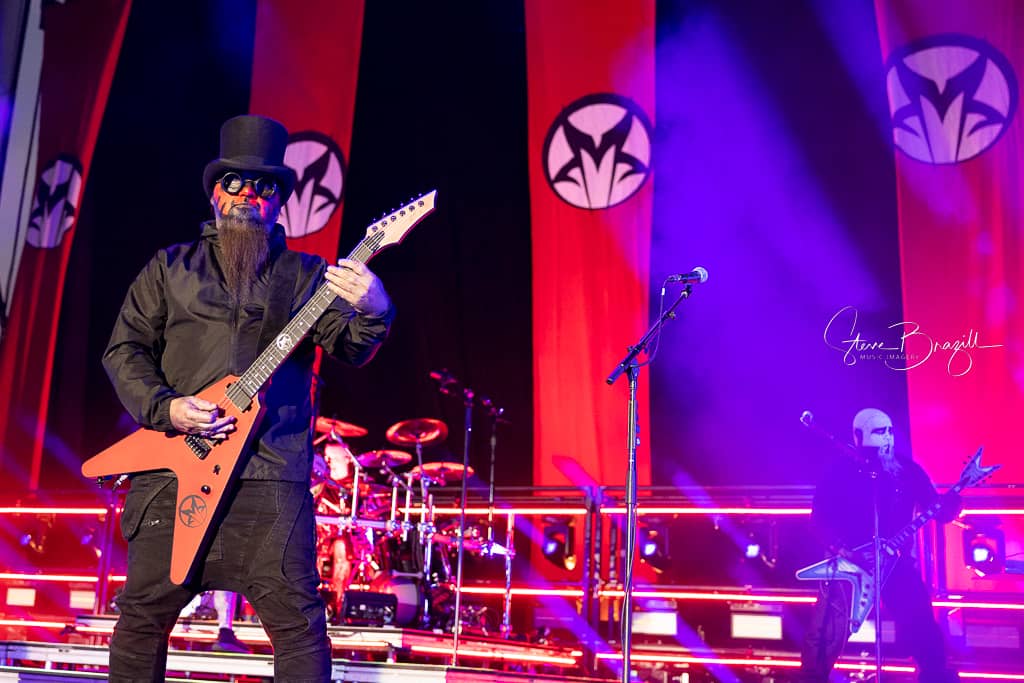 Rounding out the band is Matthew McDonough on drums, pictured below. I can say that Matthew sounded great, though seeing him enough to get a good photo is tough.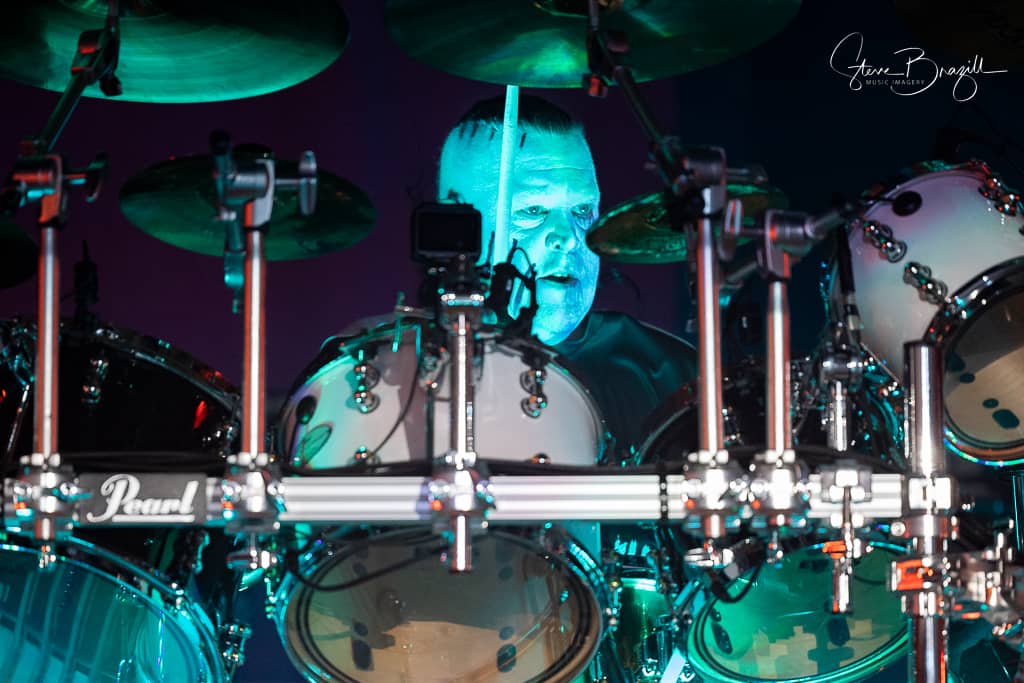 Mudvayne Setlist
Dig
Under My Skin
-1
Severed
Death Blooms
Internal Primates Forever
Determined
Not Falling
Nothing to Gein
Dull Boy
World So Cold
Happy?
Static-X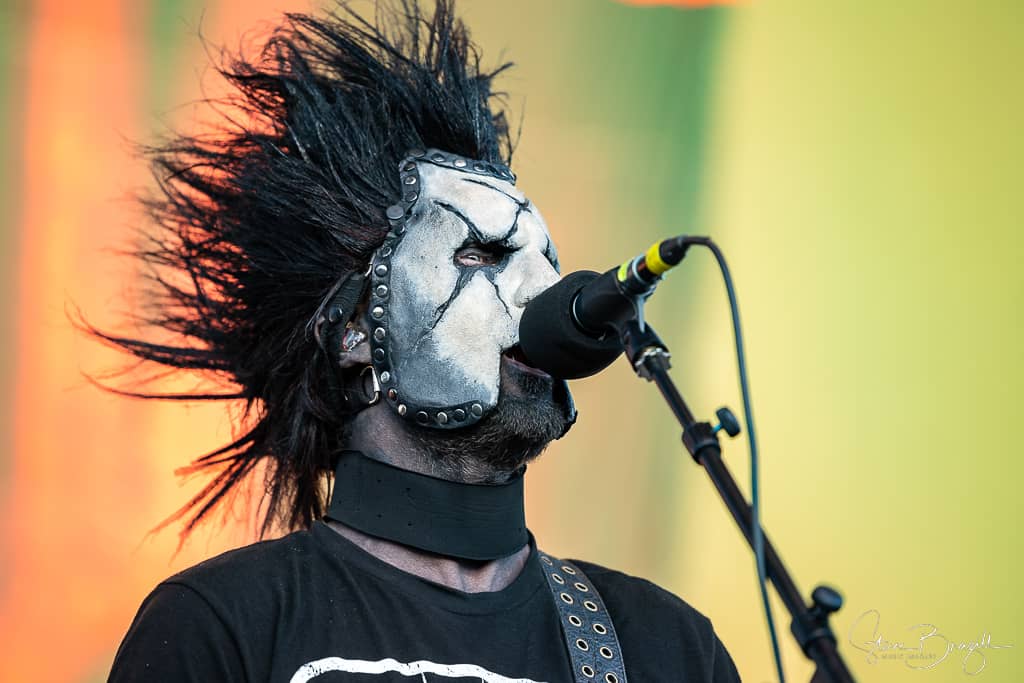 Static-X is another band I had not seen live, in fact had not heard anything about their live show before Friday. Compared to the other bands, Static-X was subdued on stage, but that's not to say they didn't put on a killer show. Just less movement in comparison. In some ways that's why I liked them so much. They didn't put a lot of weight on appearance, aside from vocalist Xer0's mask, above. They played the hits and kicked ass, you know, like a metal band does.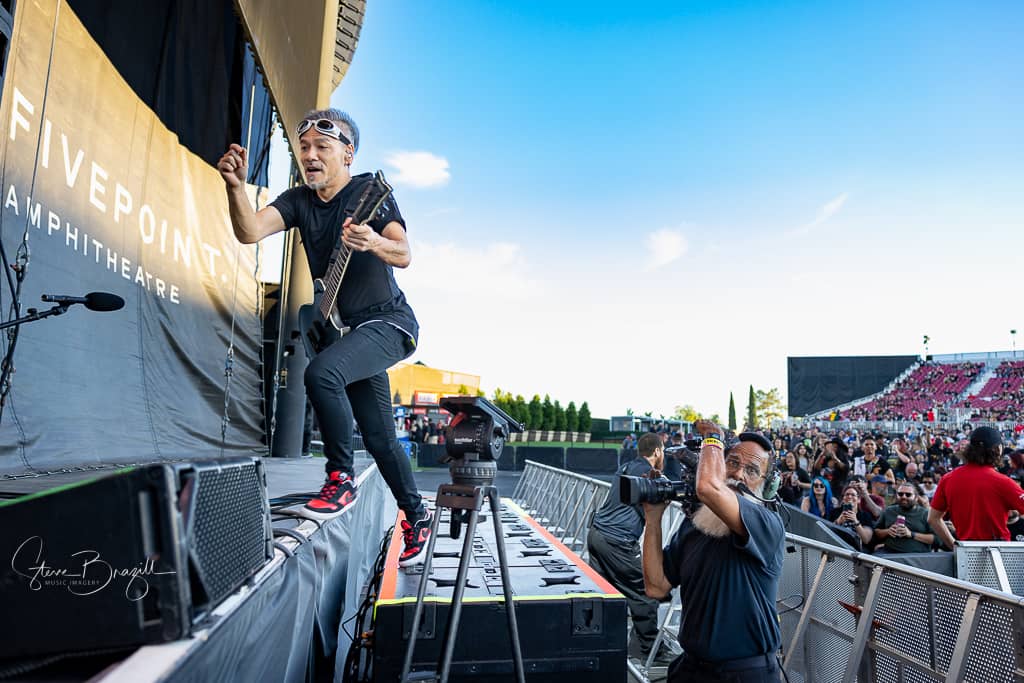 In every band there is one performer that always catches my eye, the one I find myself wanting to photograph more often. You'd think that's usually the "front man / woman", but not always. With Static-X it was guitarist Koichi Fukuda, pictured above. He was the one member that was everywhere, including out on the subs for the crowd and cameraman. He was a blast to watch!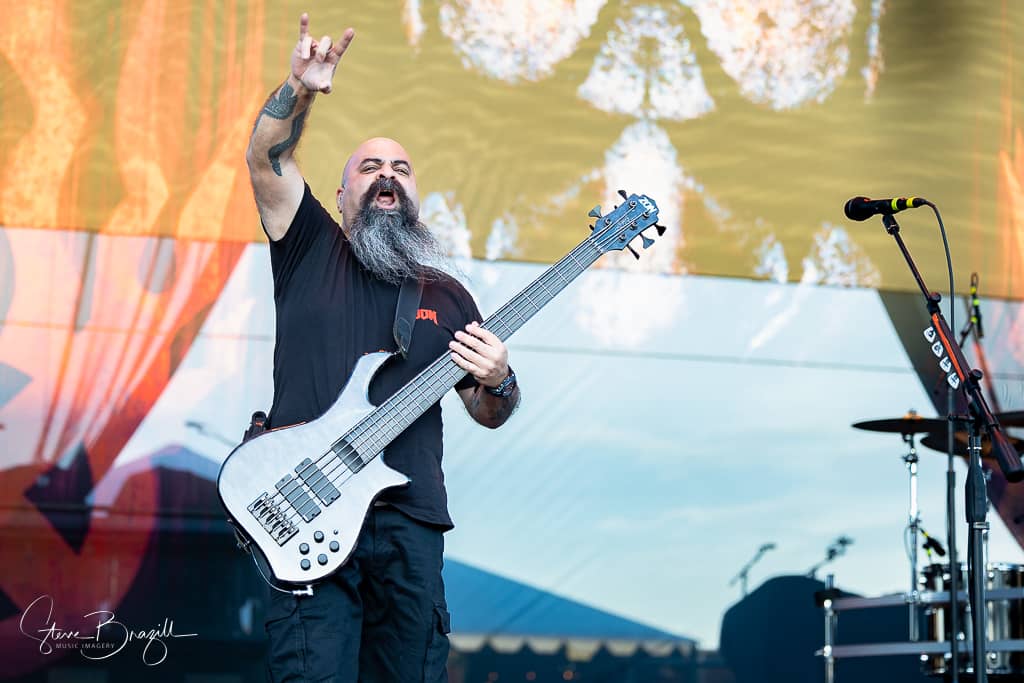 Backing up the band are Tony Campos on Bass, pictured above, and Ken Jay on drums, below. These two clearly know each other's grove, and they are damn tight.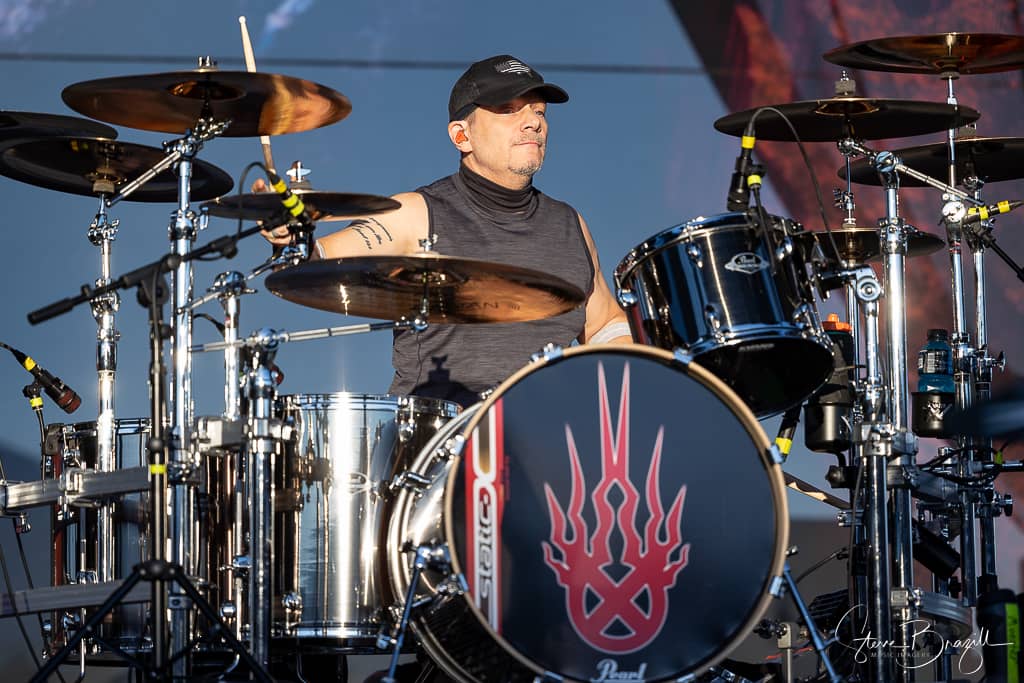 Static-X Setlist
Bled for Days
Wisconsin Death Trip
Sweat of the Bud
Love Dump
Cold
I'm With Stupid
Push It
Powerman 5000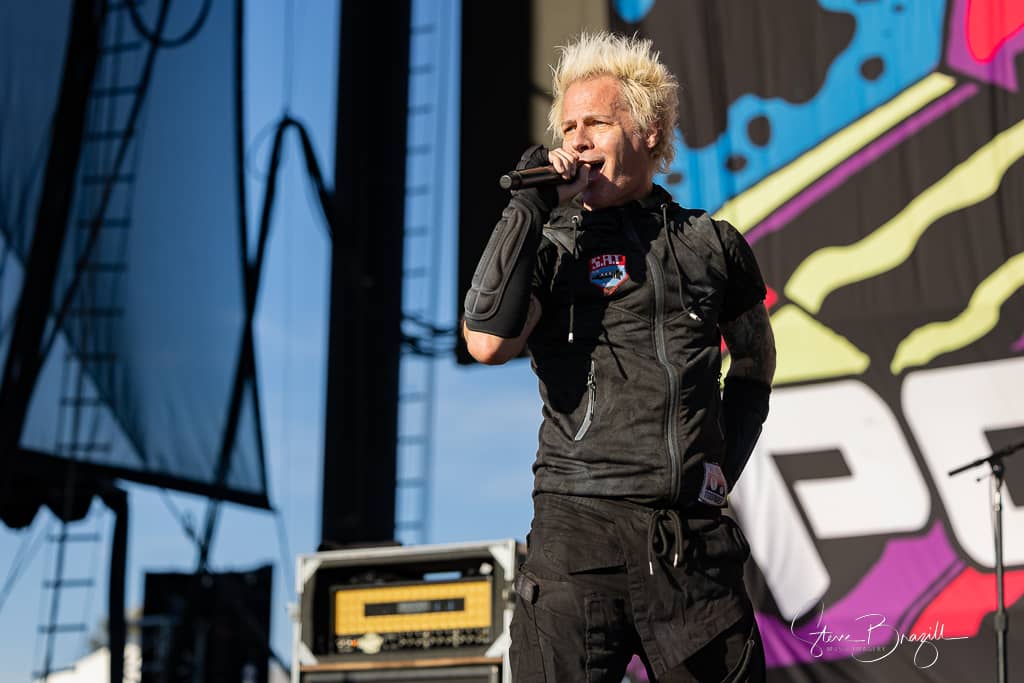 Powerman 500 is a band I have been familiar with for a long time. Founded in 1991, there have been a lot of members gone through this band, but Spider One (Michael Cummings – above) has been a constant presence. His vocals are spot on. He delivers the songs you know, like their biggest hit "When World's Collide", with all the energy you could want. In fact, that one was their final song of the night.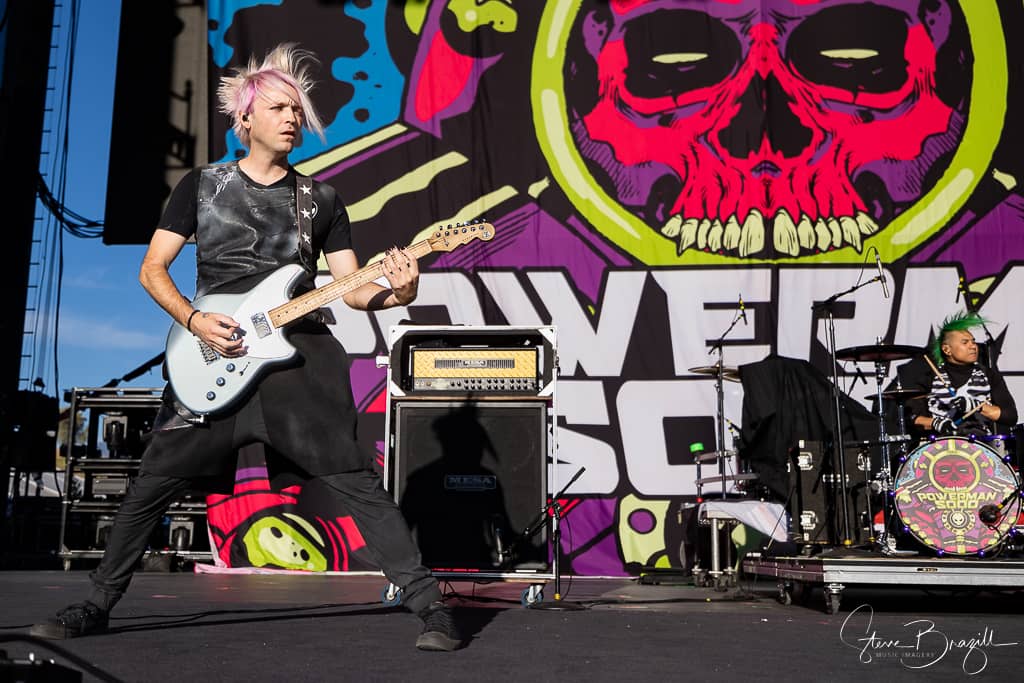 On guitar you've the combination of Taylor Haycraft, above, and Dan Schiz below. Both fantastic players. I kept thinking this band shouldn't be an opener, but here we are.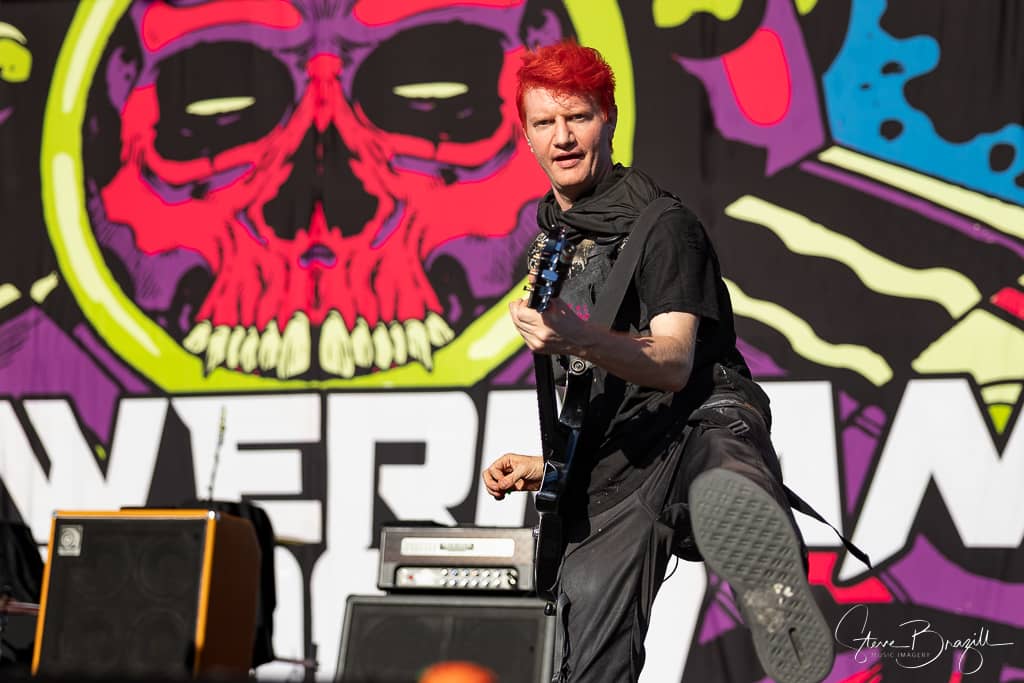 On bass you've got Murv3 (Murv Douglas), below. I couldn't stop photographing him. Great stage presence, and he gets great air!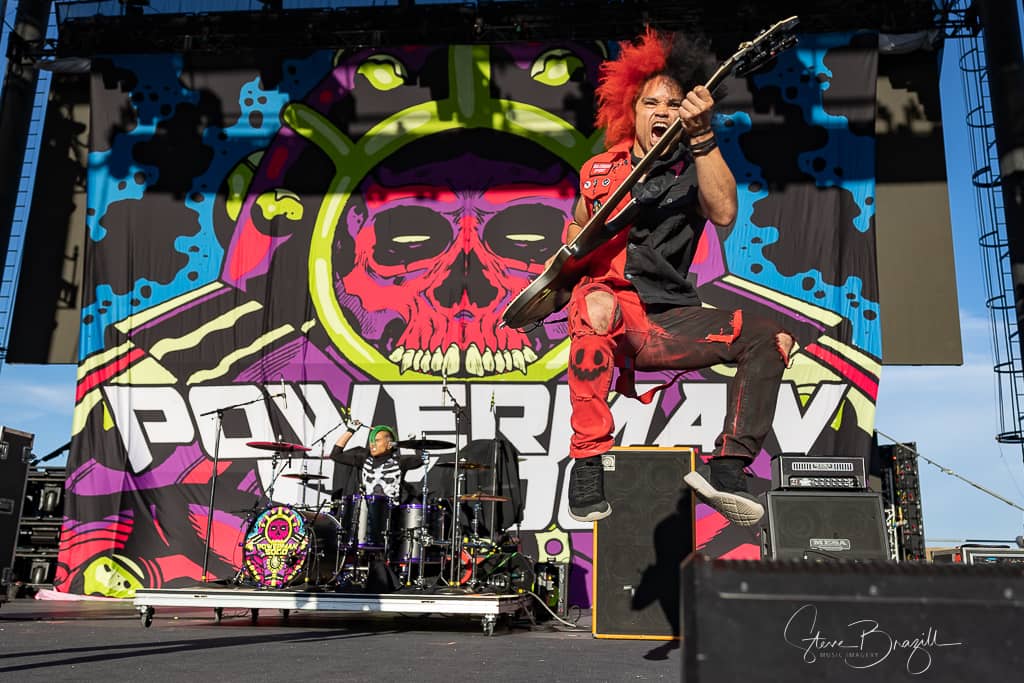 Powerman 5000 Setlist
Footsteps and Voices
Nobody's Real
Invade, Destroy, Repeat
Horror Show
Seven Nation Army (The White Stripes cover) (with "Horror Show" reprise)
Bombshell
Supernova Goes Pop
When Worlds Collide
Definitely catch this tour. Four bands like these in one show is such a great deal, and be sure to get there early enough to see them all!
As usual, there is a gallery with many more photos below, and if you were at the show I'd love to hear your thoughts. Follow me online at:
Instagram: @SteveBrazill Twitter: @SteveBrazill Facebook: @SteveBrazillPhotography Podcast: Behind the Shot
~ Razz
All Images Copyright 2022 Steve Brazill, All Rights Reserved.
DO NOT USE IMAGES WITHOUT PERMISSION