Mental Health Month Awareness Fairs 5/3 & 5/11 & 5/18
March 18 @ 8:00 am

-

May 19 @ 5:00 pm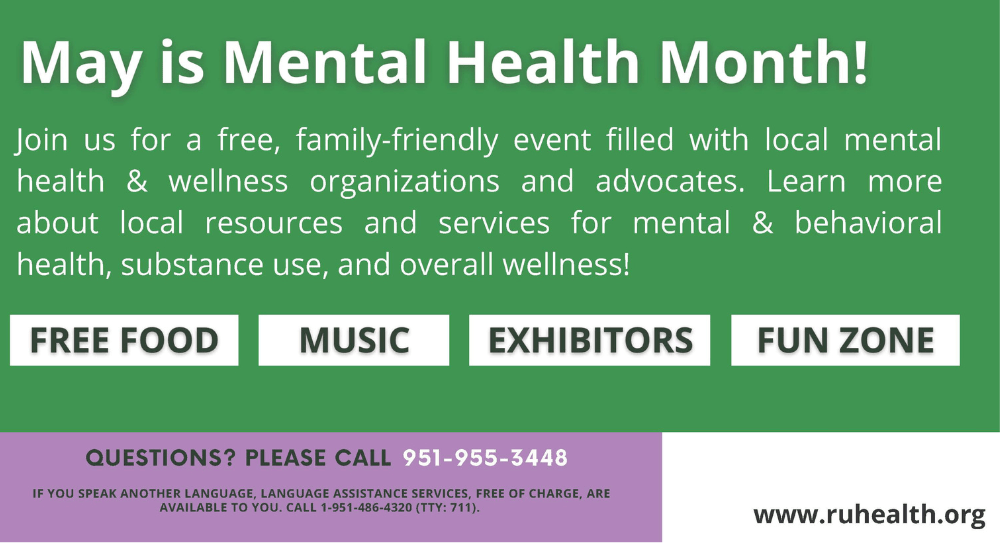 Riverside University Health System – Behavioral Health is presenting their Live Life Well community events, and you are invited. The Live Life Well Mental Health Fairs draw crowds of thousands of community members each year and have enjoyed increasing success and visibility thanks to the creativity and dedication of Riverside
University Health System employees, volunteers, and participating exhibitors. Since 1949, Riverside County has joined with Mental Health Professionals and advocates nationwide to proclaim, "May is Mental Health Month." If you are interested in participating as an exhibitor in this year's events, please read the following information,
complete the Exhibitor Registration Form and provide the required attachments. All paperwork must be received prior to Friday, April 21, 2023 by 4:00 pm. You may email the documents to j.houston@ruhealth.org. As part of your registration for Desert, Mid-County, and Western events you will be provided one 6' table and two
chairs (no additional chairs please). Please bring your own tablecloth and pop-up tent for shade, maximum 10'x10' in size. All pop up tents must be anchored to the ground. Keep in mind that the month of May has unpredictable weather, be sure to bring something to prevent loose materials from flying away. Exhibitors are responsible for the set-up and teardown of their presentation materials.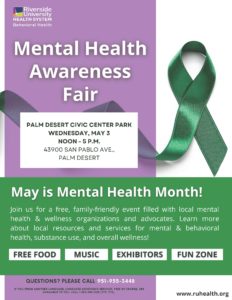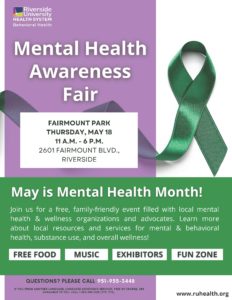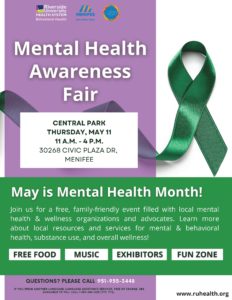 Desert Location Palm Desert Civic Center Park
43900 San Pablo Ave, Palm Desert, CA 92260
Date Wednesday, May 3, 2023
Time From 12:00 pm to 5:00 pm
Exhibitors must be set up by 11:00 am and must stay open and active until 5:00 pm
Mid-County
Location
Central Park
30268 Civic Plaza Dr, Menifee, CA 92586
Date Thursday, May 11, 2023
Time From 11:00 am to 4:00 pm
Exhibitors must be set up by 10:00 am and must stay open and active until 4:00 pm
Western Location Fairmount Park
2601 Fairmount Blvd, Riverside, CA 92501
Date Thursday, May 18, 2023
Time From 11:00 am to 6:00 pm
Exhibitors must be set up by 10:00 am and must stay open and active until 5:00 pm
Exhibitor Registration Form
Event: (Please check ALL you wish to participate it): □ Desert □ Mid-County □ Western
Organization Type: □ County □ Non-Profit □ Community □ College/University □ Other:_____________________
Exhibitor: ____________________________________________________________________________________________
Address: _____________________________________________________________________________________________
Contact Name: ___________________________________ Email Address: ________________________________________
Phone #: ____________________________ Cell #: ____________________________ Fax #:_________________________
Please list the representatives that will support your table at the event (2 recommended):
1. _____________________________________ 2. _____________________________________
Would you need to be placed next to another vendor? □ No □ Yes – Who? Name Program: _________________________
What types of promotional items will you provide to the community? ____________________________________________
Exhibitor Agreement
(Please initial items 1-4 below)
1. Reservation requests must be submitted in writing at least 2 weeks prior to the event. Exhibitor agrees to indemnify and
hold harmless the County of Riverside, Agencies, Districts, Special Districts and Departments, their respective directors,
officers, Board of Supervisors, employees, elected or appointed officials, agents or representatives and volunteers from
any and all claims for damage, liability, injury, loss of property, expense and costs allegedly incurred or connected with
the requested participant. ________
2. Exhibitor is required to leave the event exhibit booth space in the same condition provided. This includes cleaning and
the removal of trash and anything brought to the event. ________
3. Exhibitor is required to obtain a $1,000,000 general and vehicle liability insurance policy, submitting a certificate and an
additional insured endorsement naming the County of Riverside, Riverside University Health System – Behavioral Health,
4095 County Circle Dr., Riverside, CA 92503 its Agencies, Special Districts and Departments, their respective directors,
officers, Board of Supervisors, employees, elected or appointed officials, agents or representatives and volunteers as
additionally insured. If Exhibitor has employees as defined by the State of California, they must provide a waiver of
subrogation in favor of the County of Riverside. An additional certificate must be sent naming the City of Riverside –
Fairmount Park Attn: Julie Houston 2085 Rustin Ave, Riverside, CA 92507 as an additional insured. The certificates must
include all venues in which you are participating. All insurance certificates are to be sent to Riverside University Health
System – Behavioral Health attention Julie Houston. ________
The hold harmless language and insurance requirement found herein does not apply to the County of Riverside, its
Agencies, Special Districts and Departments, their respective directors, officers, Board of Supervisors, employees, elected
or appointed officials and volunteers.
4. The exhibitor acknowledges that this event is open to the general public and that he or she will not exclude any person
from participating in the event, deny anyone the benefits of. Or otherwise subject anyone to discrimination on the basis
of race, color, national origin, age, sexual orientation, or disability. ________
Agreement: I, ______________________________, have read and understand the above noted participation
requirements. I understand that approval is not granted until the signed copy is returned, and that the County reserves
the right to refuse or cancel any reservation (approved or not). My signature indicates the information I have provided
is true to the best of my knowledge.
Signature: ___________________________________________________
Please direct any event questions to Melinda (Mindy) McFarland at (951) 358-3586 or email MMcFarland@ruhealth.org.
Please email completed forms to Julie Houston at J.Houston@ruhealth.org
Related Events