Free Family-Friendly Summer Concerts
June 28 @ 8:00 am

-

September 3 @ 8:00 pm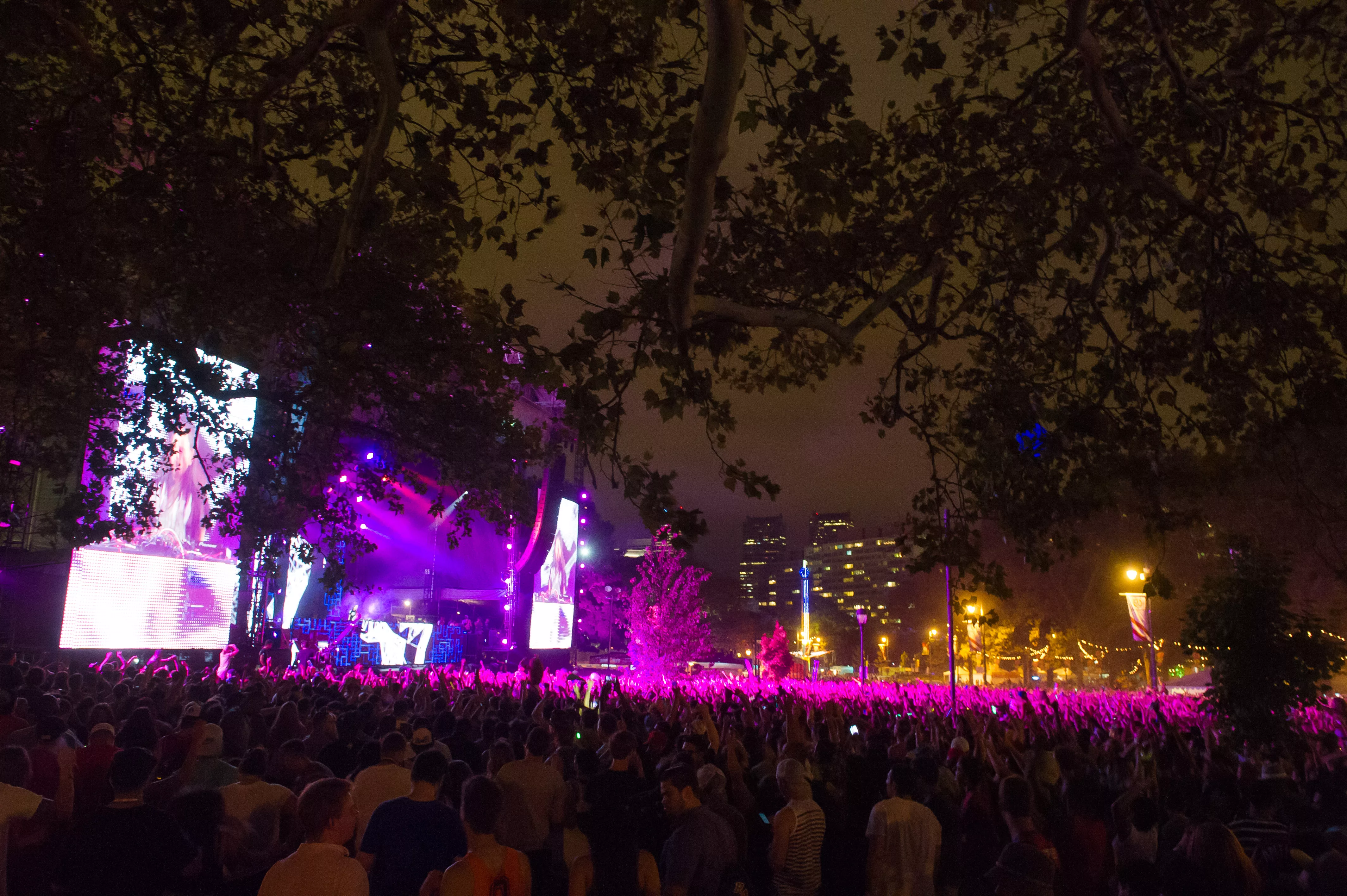 Looking for free concerts that are perfect for the whole family this summer? Check out the Press-Enterprise summer concert list.
City of Glendale Free Summer Concerts
The shows are happening at three locations from Wednesday, July 5 through Friday, Aug. 25 featuring tribute, party, pop and rock bands, as well as swing ensembles and other types of music. The series kicks off at Vergudo Park on July 5 with The Curse, a Cure tribute band. On Friday, July 7 the series takes place at the Brand Library and Art Center Lawn with the Blue Breeze Band playing Motown tunes while the shows at City Hall's Perkins Plaza start on Thursday, July 27 with the Verdugo Swing Society.
When/Where: 7 p.m. Wednesdays at Verdugo Park, 1621 Canada Boulevard; 7 p.m. Thursdays at City Hall's Perkin Plaza, 613 E. Broadway; and 7 p.m. Fridays at Library and Art Center, 1601 W. Mountain Street.
Information: glendaleca.gov
ALSO SEE: OC Parks announces the lineup for its free 2023 Summer Concert Series
Grand Performances in Los Angeles
Global music takes center stage through Saturday, Aug. 26 at the California Plaza in the heart of downtown L.A. The series started in June and upcoming highlights include a Saturday, July 15 show by Chicano jazz pioneer Garrett Saracho. On Saturday, July 29 Native-American and African-American singer Martha Redbone performs a mix of folk, blues, and gospel; Dublab will host a tribute to the late Art Laboe on Saturday, Aug. 5; and in celebration of the 50th Anniversary of Hip-Hop, DJ Battlecat will perform with a live band on Saturday,  Aug. 12.
When: 6-10 p.m. every Saturday through Aug. 26.
Where: 350 South Grand Ave. Los Angeles
Information: grandperformances.org
Levitt Pavilion Los Angeles
MacArthur Park becomes a musical hotspot every summer thanks to this free musical series that's bringing more than 30 shows to the area this year. The series includes several genres of music from cumbia and salsa to rock and jazz and hip-hop and soul. The upcoming weekend of music includes R&B artist Tolliver and drag and performance art collective Haus of Derma on Friday, July 7 followed by a night of Rock, cumbia and Mexican Folklorico with sets by Amandititita, El Conjunto Nuevo Ola and Pacifico Dance Company on Saturday, July 8. On Sunday, July 9 it's a night of Latin alt-rock with Virrey, plus the sounds of Sirreño, which is an offshoot of Regional Mexican music, with Los Del Momento. One of the biggest shows will likely be the Saturday, July 22 performance by Grammy winning Latin fusion stars La Santa Cecilia.
When: 7-10 p.m. on Fridays-Saturdays; 5-8 p.m. Sundays through Sept. 3
Where: MacArthur Park, 2230 W. 6th Street, Los Angeles
Information:  levittlosangeles.org
Manhattan Beach Concerts in the Park
Blankets, lawn chairs, and picnics are encouraged at Polliwog Park for the city's free summer concert series, which runs Sunday, July 2-Sunday, Sept. 3. It all kicks off with the Satin Dollz, who will take you back in time with a performance reminiscent of the WWII USO Camp Shows. Then it's back to the '90s with So Rad, a band that plays rock and pop songs from the that era on Sunday, July 9.
When: 5-7 p.m. July 2-Sept. 3
Where: Polliwog Park Amphitheater, 1601 Manhattan Beach Blvd., Manhattan Beach
Information: manhattanbeach.gov
ALSO SEE: 32 free summer concerts coming to Levitt Pavilion in Los Angeles
MoVal Rocks in Moreno Valley
Moreno Valley is putting it's new City Amphitheater to use this summer with its MoVal Rocks concert series, which runs Thursdays through Aug. 3. There's no show on July 6, but the music comes back with the country and rock cover band Silver Lining on July 13.
When: 6:30 p.m. Thursdays through Aug. 3.
Where: Civic Center Amphitheater, 14075 Frederick Street, Moreno Valley
Information: moval.org
OC Parks Summer Concert Series
The annual series is held at various parks throughout the county on Thursday evenings and runs through Aug. 24. The series brings a variety of musical acts including well known touring bands like The Rembrandts at Irvine Regional Park on July 6 and Ozomatli to the same park on July 13. Patrons are able to bring their own picnic items and blankets for seating. On-site concessions will be available for purchase.
When:  5-8 p.m. Thursdays through Aug. 24.
Where: Craig Regional Park is located at 3300 N. State College Blvd., Fullerton; Mason Regional Park, 18712 University Dr., Irvine; Irvine Regional Park, 1 Irvine Park Road, Orange; Carbon Canyon Regional Park, 4442 Carbon Canyon Road, Brea; Mile Square Regional Park, 6801 Euclid Street, Fountain Valley; Bluff Park at Salt Creek Beach, 33333 Pacific Coast Highway, Dana Point.
Information: ocparks.com
Ontario Summer Concert Series
If you don't want to buy tickets to the real deal, or maybe your favorite band isn't around anymore, then the lineup of tribute bands at Ontario's summer concert series is for you. The concerts take place at Ontario Town Square through Thursday, Aug. 8. The upcoming show on Wednesday, July 5 will feature Britain's Finest, a Beatles tribute band. Then on Thursday, Aug. 10 the series moves over to Celebration Park North with a show by Prizmatic, a Katy Perry tribute band. The series ends at Celebration Park on Thursday,  Aug. 31 with Red Hot Tribute, a Red Hot Chili Peppers tribute band.
When: 5:30 p.m. through Aug. 31
Where: Ontario Town Square,  224 North Euclid Ave. and Celebration Park North, 4980 South Celebration Ave., Ontario
Information: ontarioca.gov
Pomona Concert Band
Patriotic music, Broadway tunes, classical and pop music will make up the lineup of songs for the Pomona Concert Band's 76th annual Summer Concert Series. Guests are invited to bring picnic baskets and blankets to enjoy the show. On-site concessions will be available for purchase.
When: 7:30 p.m. Thursdays through Aug. 31.
Where:  G. Stanton Selby Bandshell in Ganesha Park, 1575 North. White Ave., Pomona
Information: pomonaconcertband.org
Riverside Concerts in the Park
The musical summer continues in Riverside with the city's annual Concerts in the Park series, which runs Wednesdays through July 26. Guests are encouraged to dance along to Top 40 cover act C4 on July 12; break out the cowboy hat and boots for country singer Brent Payne on July 19; and rock out to the hits with Top 40 cover act The Hodads on July 26.
When: 6-9 p.m. Wednesdays through July 26
Where: Fairmount Park, 2601 Fairmount Blvd., Riverside
Information: riversideca.gov
Seal Beach Summer Concerts
This beach concerts take place on Wednesday evenings at the base of the Seal Beach Pier in Eisenhower Park starting July 5-Aug. 9. It launches with U2 tribute band L.A. Vation on July 5. Other highlights include Doors Tribute band Strange Days on July 26; Country music cover band Redneck Rodeo on Aug. 2; and '60s, '70s and '80s cover band The Emperors on Aug. 9. Seating is first come, first served and guests are allowed to bring picnic items, lawn chairs and blankets.
When: 6-8 p.m. July 5-Aug. 9
Where: Eisenhauer Park, Ocean Ave. and Main Street, Seal Beach
Information: sealbeachchamber.org
Sizzlin' Summer Concerts
The City of Irvine wants to make summers sizzle with a trio of free concerts at Mike Ward Community Park. The party starts on Saturday, July 22 with the first show featuring Acme Time Machine performing '50s and '60s tunes. On Saturday, Aug. 5 the Tijuana Dogs will bring an energetic performance to the stage with Top 40 covers. The series ends Saturday, Aug. 19 with the cool, soulful sounds of DW3.
When: 5:30 p.m. July 22, Aug. 5 and 19.
Where: Mike Ward Community Park, 20 Lake Road, Irvine
Information: cityofirvine.org
Torrance Summer Nights
No matter what kind of musical jams you're into, chances are the Torrance Summer Nights series will have a band you can rock out to. The series, which also includes movies and other performances, runs through Sunday, Sept. 3 at Wilson Park Amphitheater. The series kicked off in June and the next performance features alt rockers Manuel the Band on Sunday, July 2. Other highlights include the Big Butter Jazz Band on Saturday, July 15; Andy & Renee a Bob Dylan tribute on Saturday, Aug. 12; and the series wraps up with Petty Theft, a Tom Petty tribute on Sept. 3.
When: Various times and dates through Sept. 3
Where: Wilson Park Amphitheater, 2200 Crenshaw Blvd., Torrance
Information: arts.torranceca.gov
Related Events