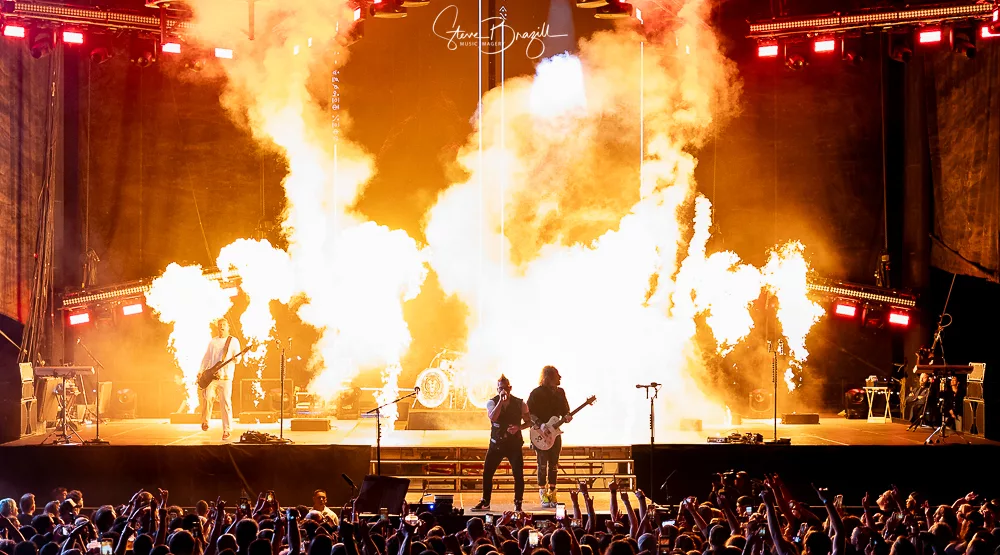 Shinedown
Shinedown brought The Revolutions Live Tour to Fivepoint Amp Sunday night, with special guests Papa Roach and Spiritbox, and their set was on fire, literally. I'd seen Shinedown before, a few years ago at the Riverside Municipal Auditorium, so I knew what this band brings to the stage. Shinedown is a band that gets it, they know what their fans want – which apparently is a fantastic stage setup, complete with pyro and fireworks. The stage for this tour is awesome. Gone are the days of bands needing tons of gear and amps on stage. This stage was wide open, with two giant vertical screens showing scenes throughout the show, and pyro and fireworks mostly on the left and right of these displays.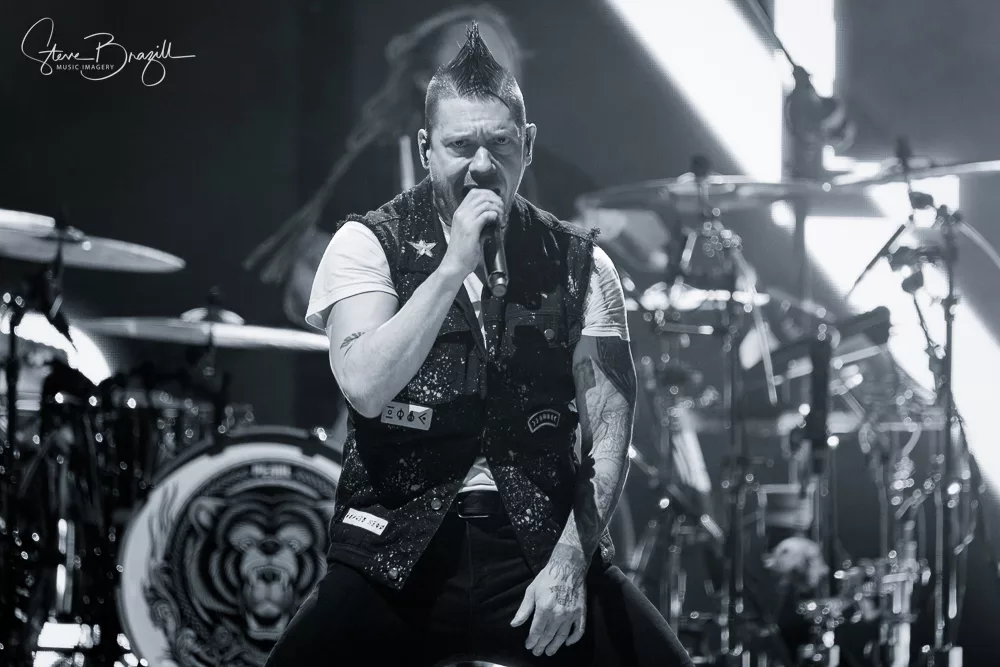 Vocalist Brent Smith (above) sounds fantastic live, and on songs like "Sound of Madness", "Devil", and "Second Chance" he shines. The piano dropping from above for "'I'll Follow You" was one of those special moments you get from bands at this level.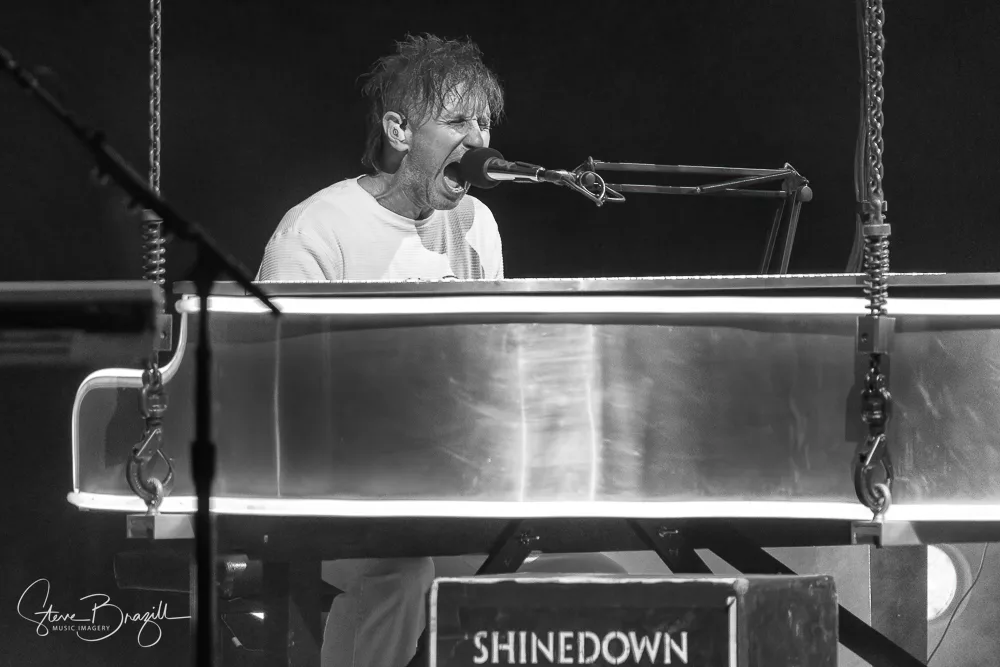 While we are used to seeing Eric Bass (above and below) on bass, he turned in such a great performance on that piano from the sky. He's a blast to watch whatever instrument he's playing.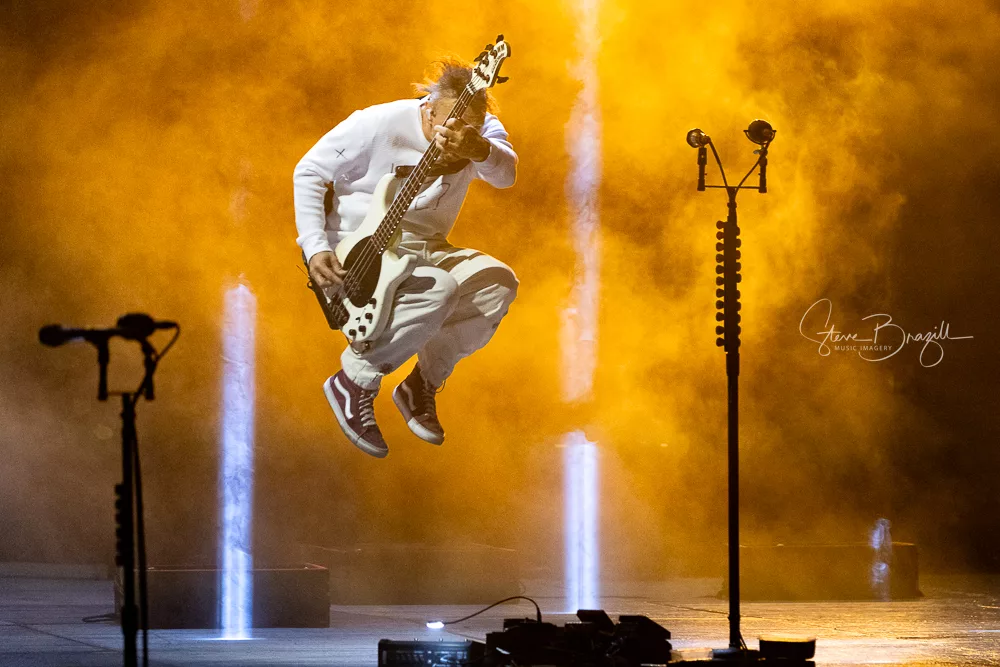 On the kit we have the amazing Barry Kerch (below), and the best drummer hair on the planet. I would suggest that Barry is one of the best working today. A perfect showman on the drums, yes, but most importantly an amazing player. Captivating to watch.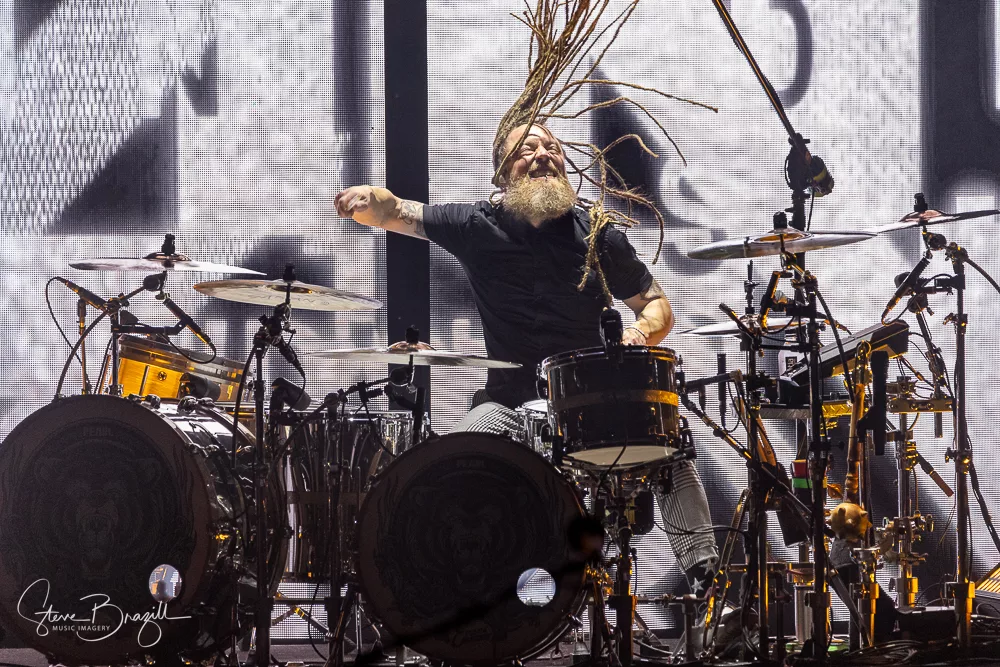 Rounding out the band we have multi-instrumentalist Zach Myers (below). You usually find him stage left on guitar, and damn…. he can play. This group has been around for 22 years now, and it shows. They know exactly who they are, and when they covered Jimmy Eat World's "The Middle", or their hit version of Lynyrd Skynyrd's "Simple Man", their passion shows.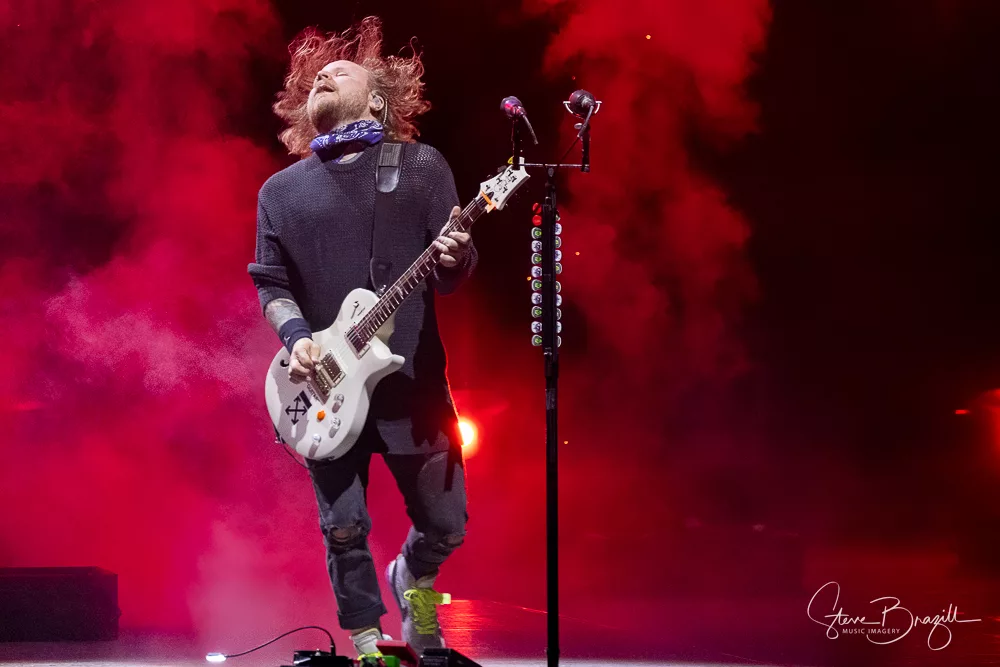 Following Papa Roach on stage isn't easy – and Papa Roach made it exceedingly difficult Sunday night (more on that in a second), but Shinedown is one of the few bands that can do it. There are only a few more shows on this tour, so get your tickets now.
Shinedown Setlist
Diamond Eyes (Boom-Lay Boom-Lay Boom)
Dead Don't Die
I'll Follow You (piano drops from ceiling)
State of My Head
Devil
Unity
45
Enemies
Sound of Madness
A Symptom of Being Human
Planet Zero
Second Chance
The Middle (Jimmy Eat World cover)
Daylight / Get Up
Simple Man (Lynyrd Skynyrd cover)
Monsters
Cut the Cord (fireworks on stage to end show)
Papa Roach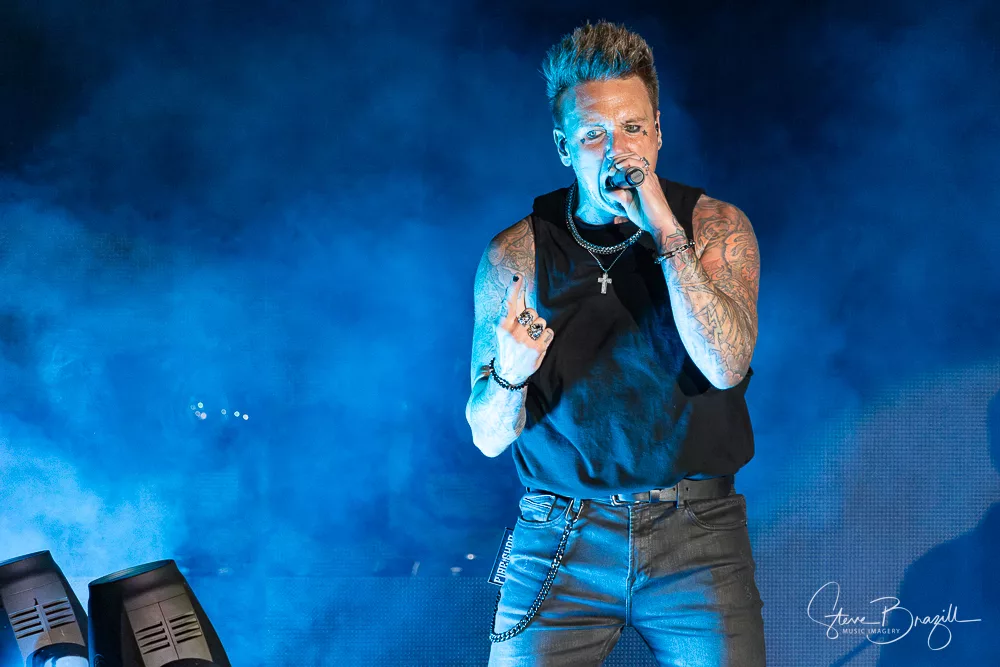 Describing a Papa Roach performance is tough, and trying to put my thoughts into written form is damn near impossible. It's been a few days since the show, and my mind still hasn't settled down. I'm going to say something that may seem like a big claim, and it is I guess, but here goes anyway… Jacoby Shaddix (above) is one of the best front men you will ever see. Yes, I can start listing off great front men too, but Jacoby Shaddix is on another level. He's just that damn good.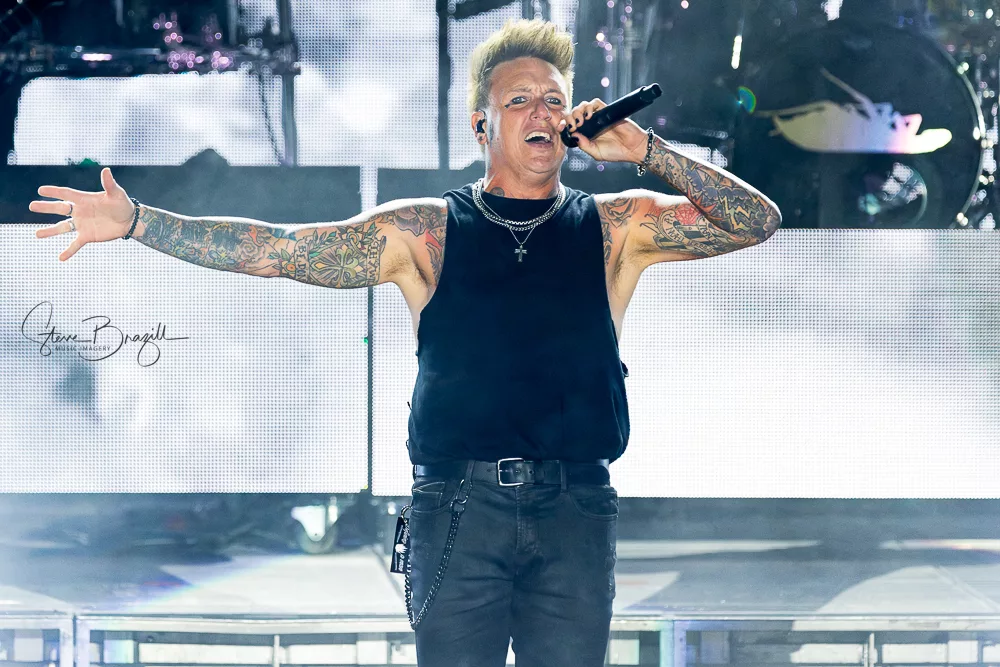 Every band has a relationship with their fans, and every band has those hits that a crowd will sing along with, but when Papa Roach drops hit after hit you end up in a different place. When they play "Scars" I get chills. I remember my first time shooting them was on stage back at the first or second Self Help Festival. I had all access for that show, and was taking photos from on stage behind Jacoby when they played that song. The audience that night sang every word like I'd never heard a crowd sing before – until Sunday. The entire Fivepoint Amp singing "Scars" at the top of their lungs is magic, it's moving on a deep level.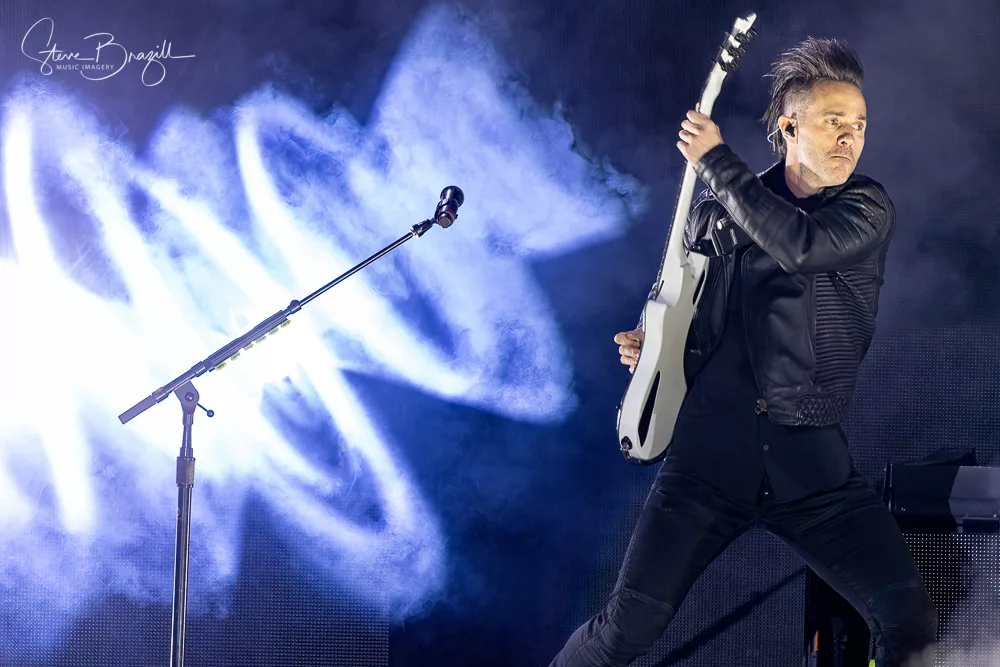 This set was hit after hit after hit. I mean, it's amazing how many songs this band has had camping in my brain. Songs like "Getting Away With Murder", "Help", and "Last Resort" unfolding in front of you is just awesome, and they even covered Tupac's "California Love"! Still, even with all the hits they have, and the fantastic sound that night, the absolute love for the fans coming from Shaddix was special. Again, I'm having trouble describing in text, so insert your own words here for whatever means "one of the best performances you've ever seen".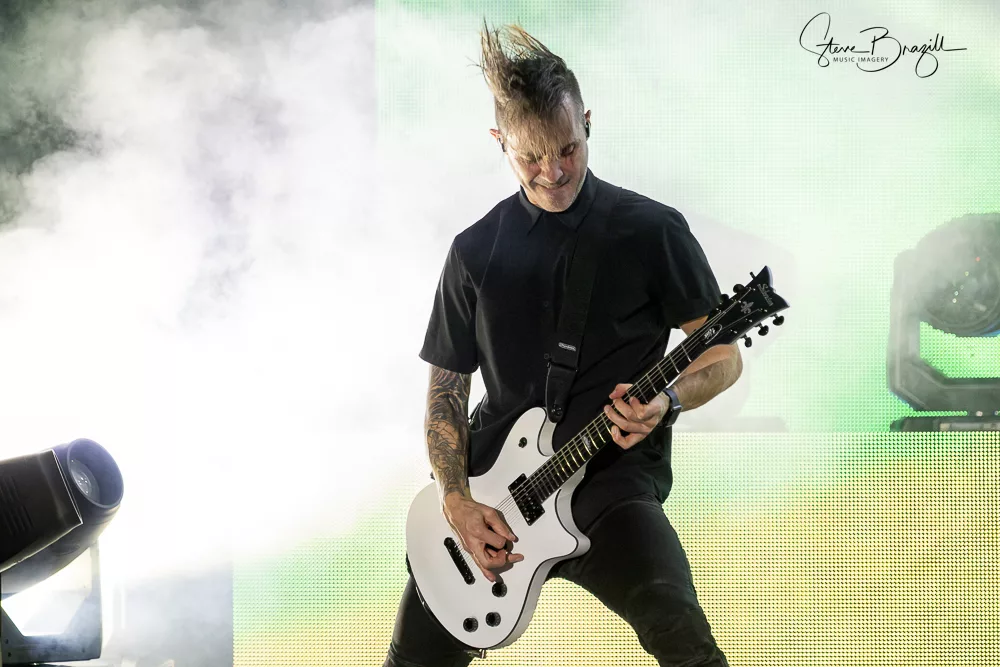 Guitarist Jerry Horton (above) is so fun to watch. Somehow he plays with more energy that most people have ever seen, all while keeping a mostly straight face. Smooth is the adjective that comes to mind. He is, to put it in technical terms, 'effing fantastic. Holding the band together you've got Tobin Esperance on bass (below), and Tony Palermo on drums (below).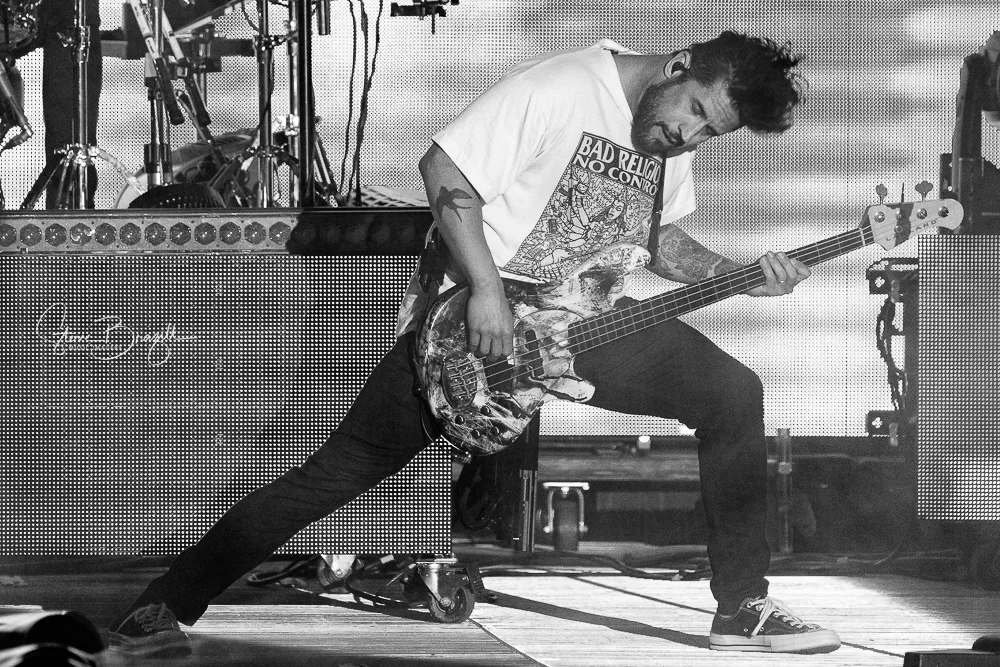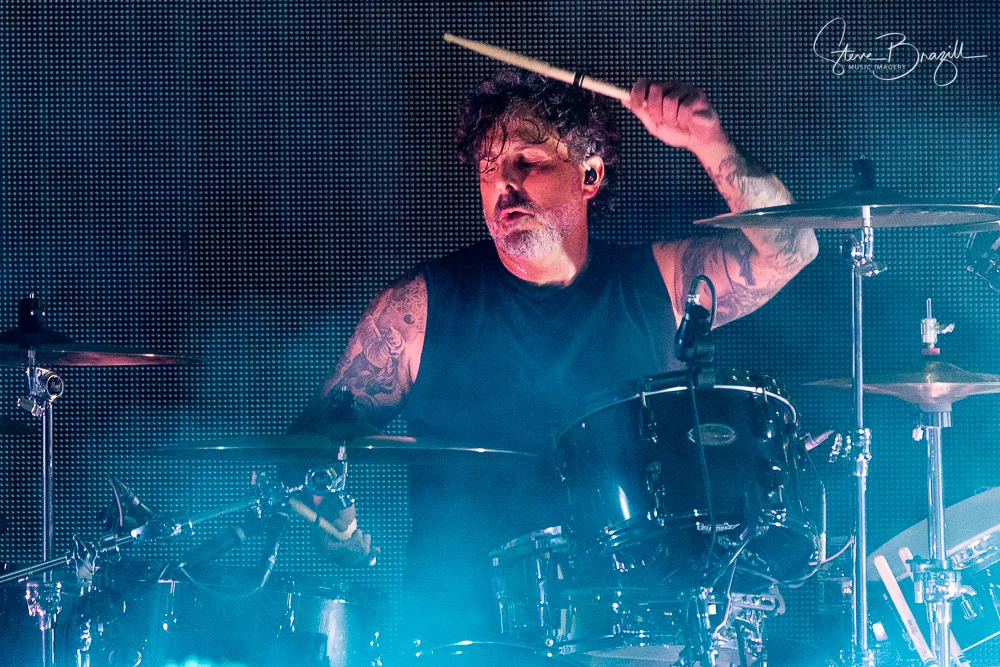 Going back to that Self Help show years ago, I remember being hidden on stage trying to capture the energy that is Tony Palermo. I was in all black, with a black beanie on too, and hiding behind something, when Tony looked right at me. This guy plays with such energy I honestly could spend the whole show just photographing him.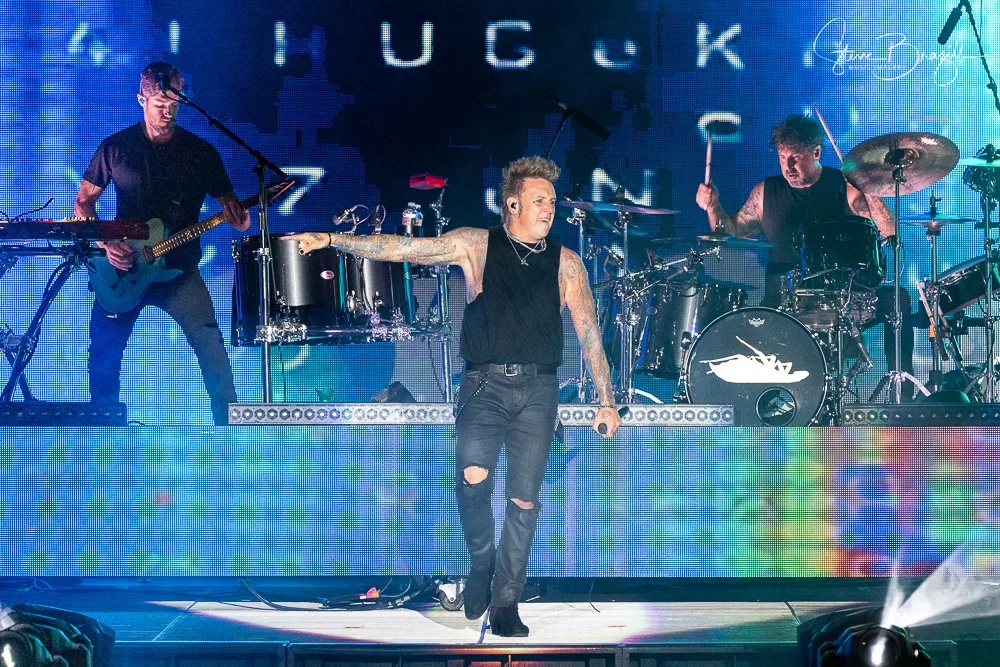 Papa Roach is the top of their game, even after 30 years. See. This. Band. Live. (and if the band sees this please let me photograph you again with All Access)
Papa Roach Setlist
Between Angels and Insects
Kill the Noise
Getting Away With Murder
Cut the Line
…To Be Loved
California Love (2Pac cover)
Firestarter (The Prodigy cover)
Leave a Light On
Scars
No Apologies
Born for Greatness
Help
Last Resort
Spiritbox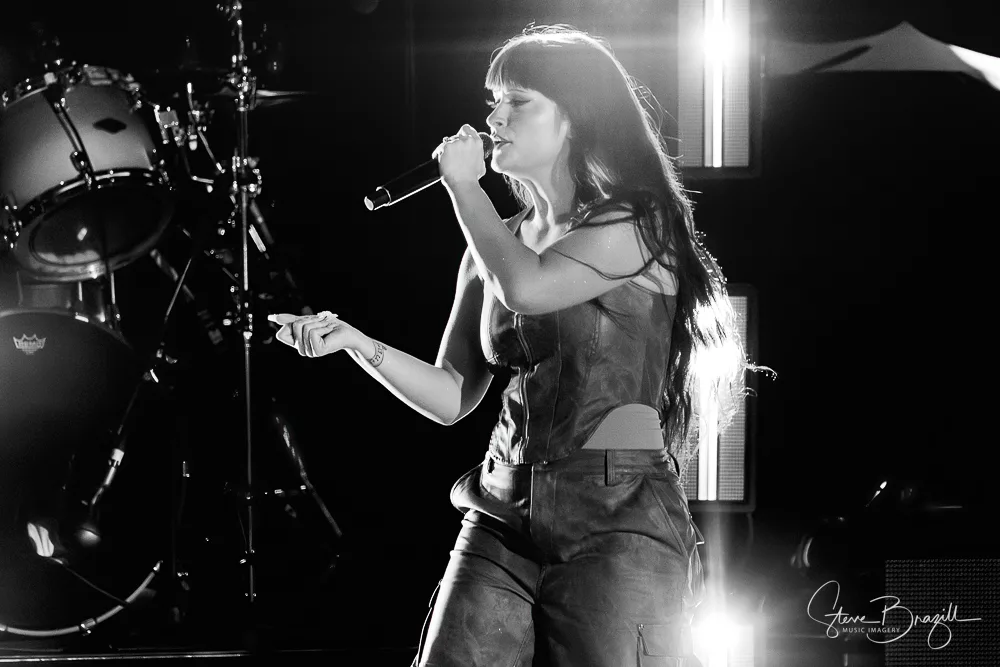 I'd heard of Spiritbox before Sunday, but I wasn't exactly familiar with them. Coming to us from Victoria, B.C., Canada, this metal band merges a wonderful melodic sound with the power of Courtney LaPlante's metal vocals. LaPlante (above) delivers metalcore style vocals blended with influences like Alexisonfire, Deftones, and Kate Bush, and Wikipedia notes that she's mentioned that Meshuggah is her "standard bearer" in heavy metal. The short version of all of that is that she delivers amazingly powerful vocals, while weaving in technical melodies. So good.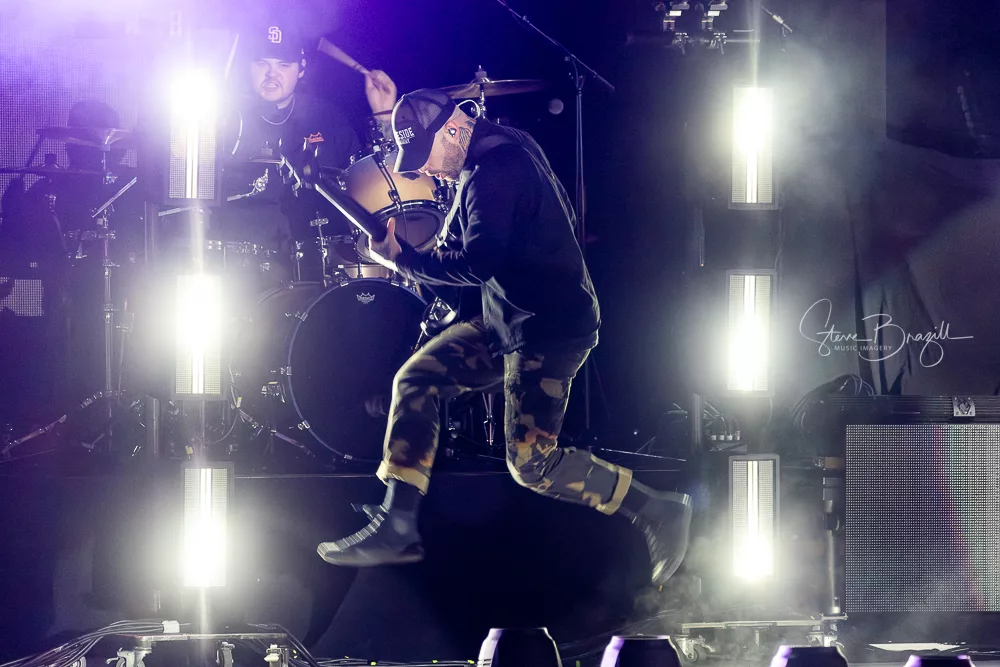 Bassist Josh Gilbert (above) was mostly in the dark the whole set, but lucky for me he decided to jump mid stage. For the photographers reading this, he's hard to freeze shooting at almost 400m at 1/250th of a second, but I'd love to see him do it every day. On guitar we have Mike Stringer (below), and rounding out the line is Zev Rosenberg on drums (below).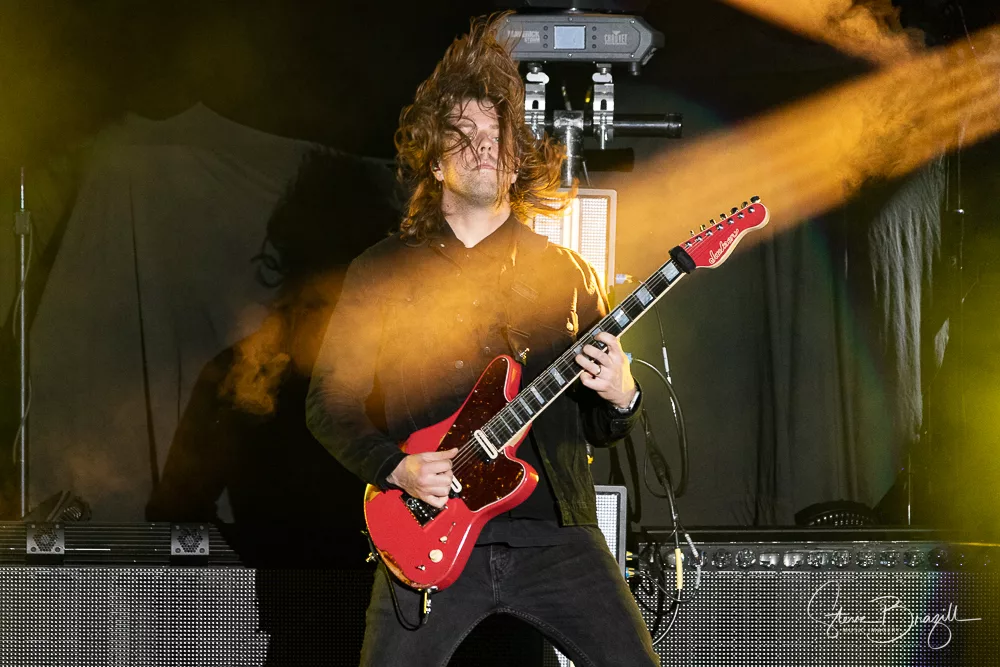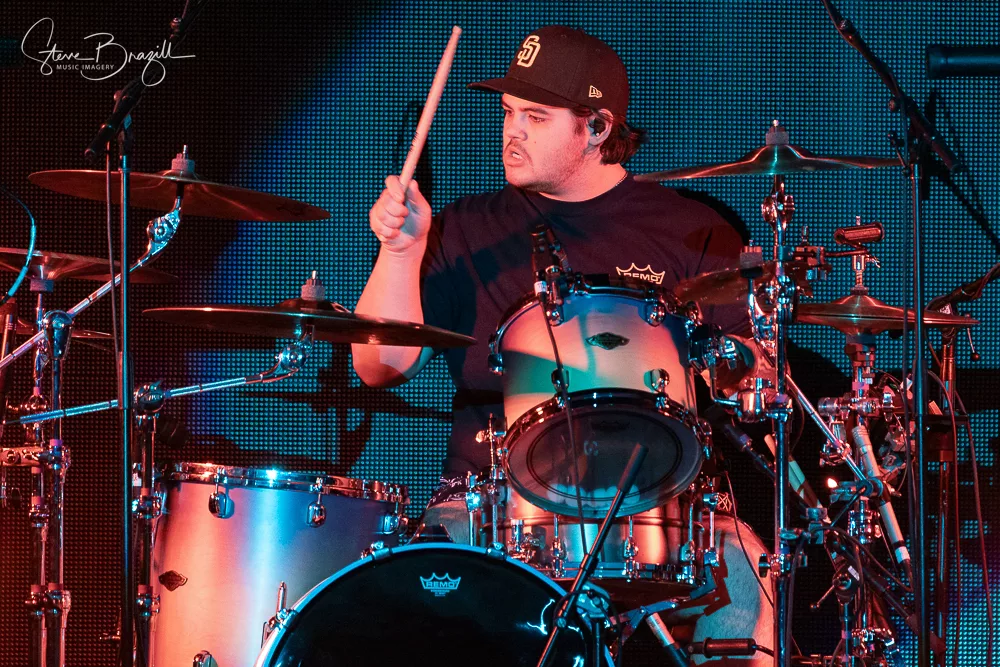 Really glad I was able to catch this band live so early in their career. I have the feeling big things are coming for them really soon.
Spiritbox Setlist
Jaded
Hurt You
Yellowjacket
Rotoscope
The Void
Circle With Me
Holy Roller
 As usual, there is a gallery with many more photos below, and if you were at the show I'd love to hear your thoughts. Follow me online at:
~ Razz
All Images Copyright 2023 Steve Brazill, All Rights Reserved. DO NOT USE THESE IMAGES WITHOUT PERMISSION