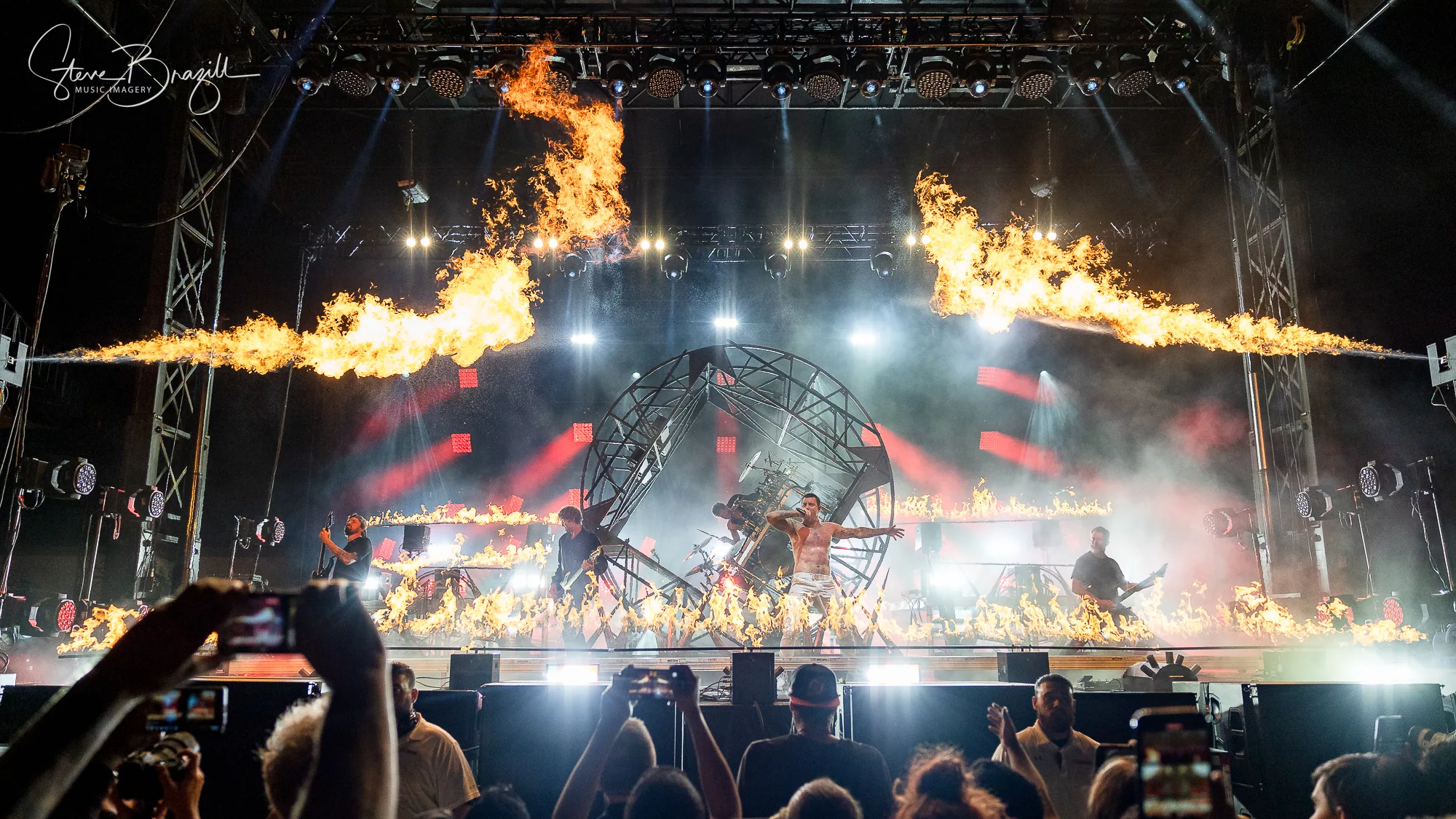 Parkway Drive
Friday night at Fivepoint Amphitheater started out with a few surprises, and it was awesome. I walked in expecting to walk towards the main stage area, but it was closed. On the far side of the lawn area, behind the normal stands, there are usually a bunch of food trucks, but Friday that area was set aside for the stage. This show was a lawn show, something I hadn't seen at Fivepoint before. It was obvious we were in for something different, and I was excited for what I expected to be a much more intimate show than the main stage might be. The show lived up to every expectation.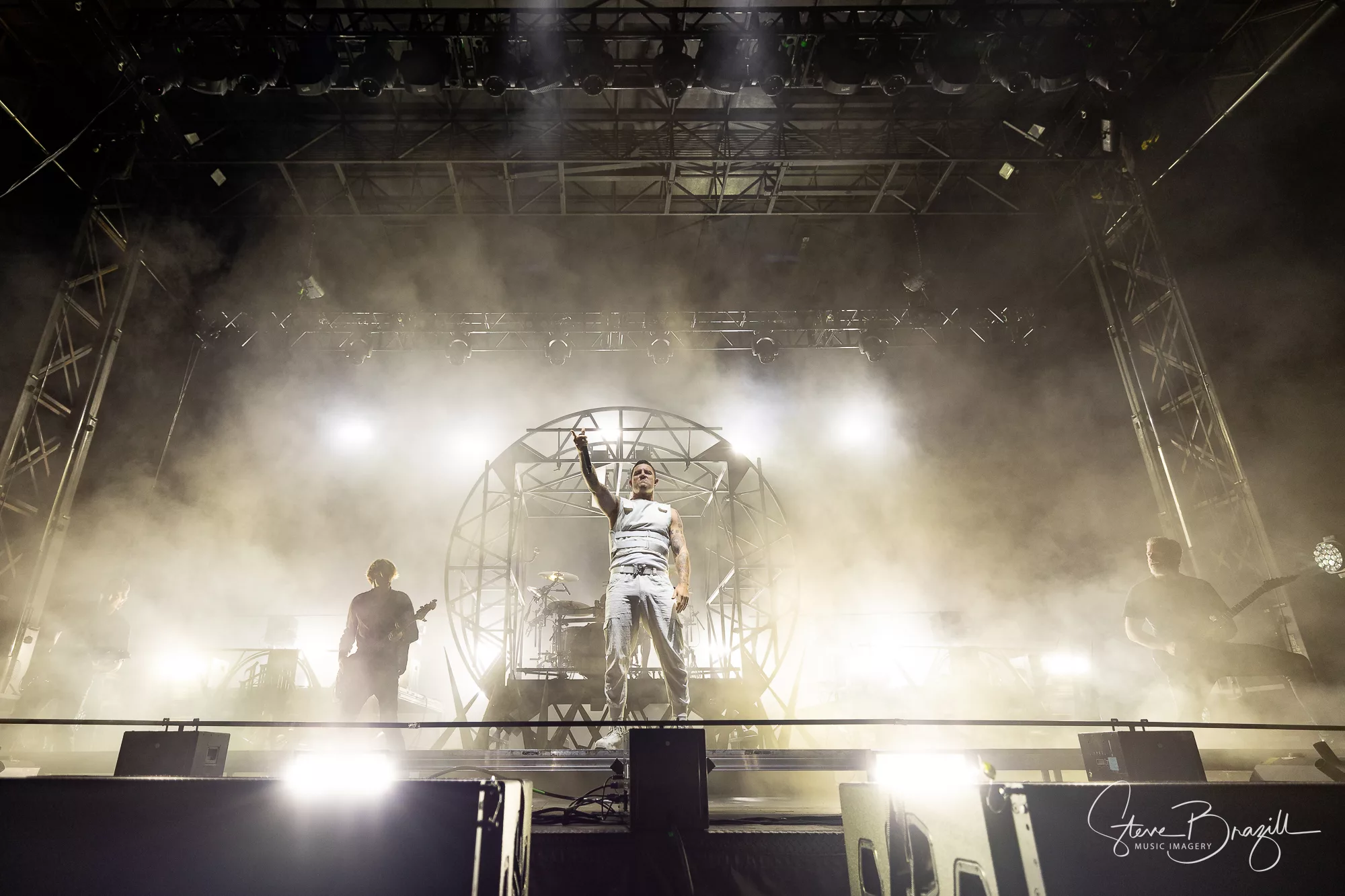 Parkway Drive brought the Monsters of Oz tour to Irvine Friday, an all-Aussie bill that included The Amity Affliction, Northlane, and Make Them Suffer. That lineup with just 2,500 or so people is pretty crazy, and the night ended with one of the best stage shows I've seen in awhile.
It so crazy to think that Parkway Drive has been around for 20 years. Named after a street where their rehearsal space, and the live venue The Parkway House were, this metalcore band set out this year with much larger stage show. I've photographed them a few times, so I knew I needed to there Friday, but while researching this tour, to prep for photographing the show, I saw lots of pyro. I hadn't seen them use fire on their shows before, and who doesn't love pyro?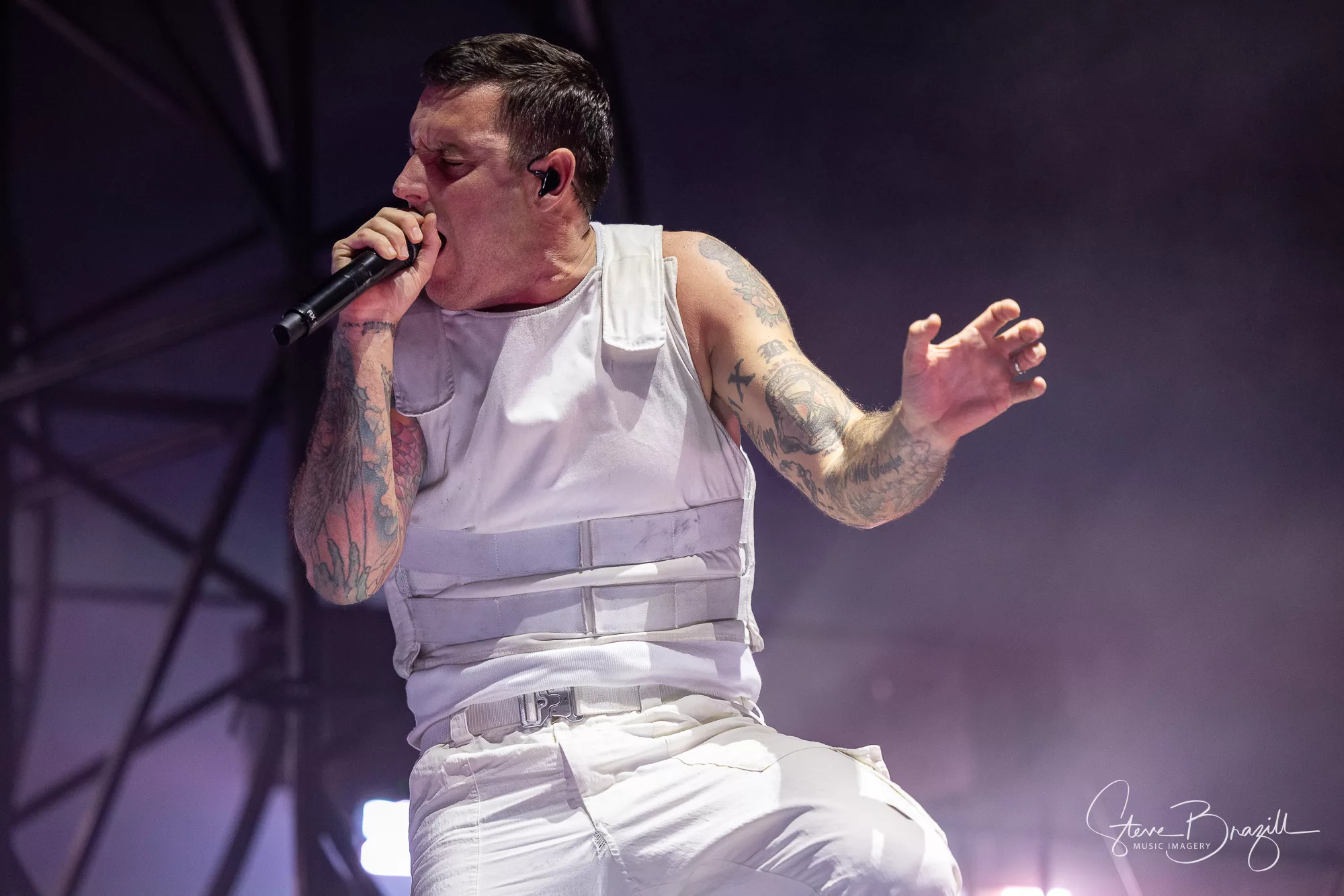 The combination of vocalist Winston McCall (above) and lead guitarist Jeff Ling (below) is something to see. McCall is just a fantastic front man by any measurement. He seems to understand his audience in way I don't always see. There's a connection on a level that really is special to see, and the fans clearly feel it.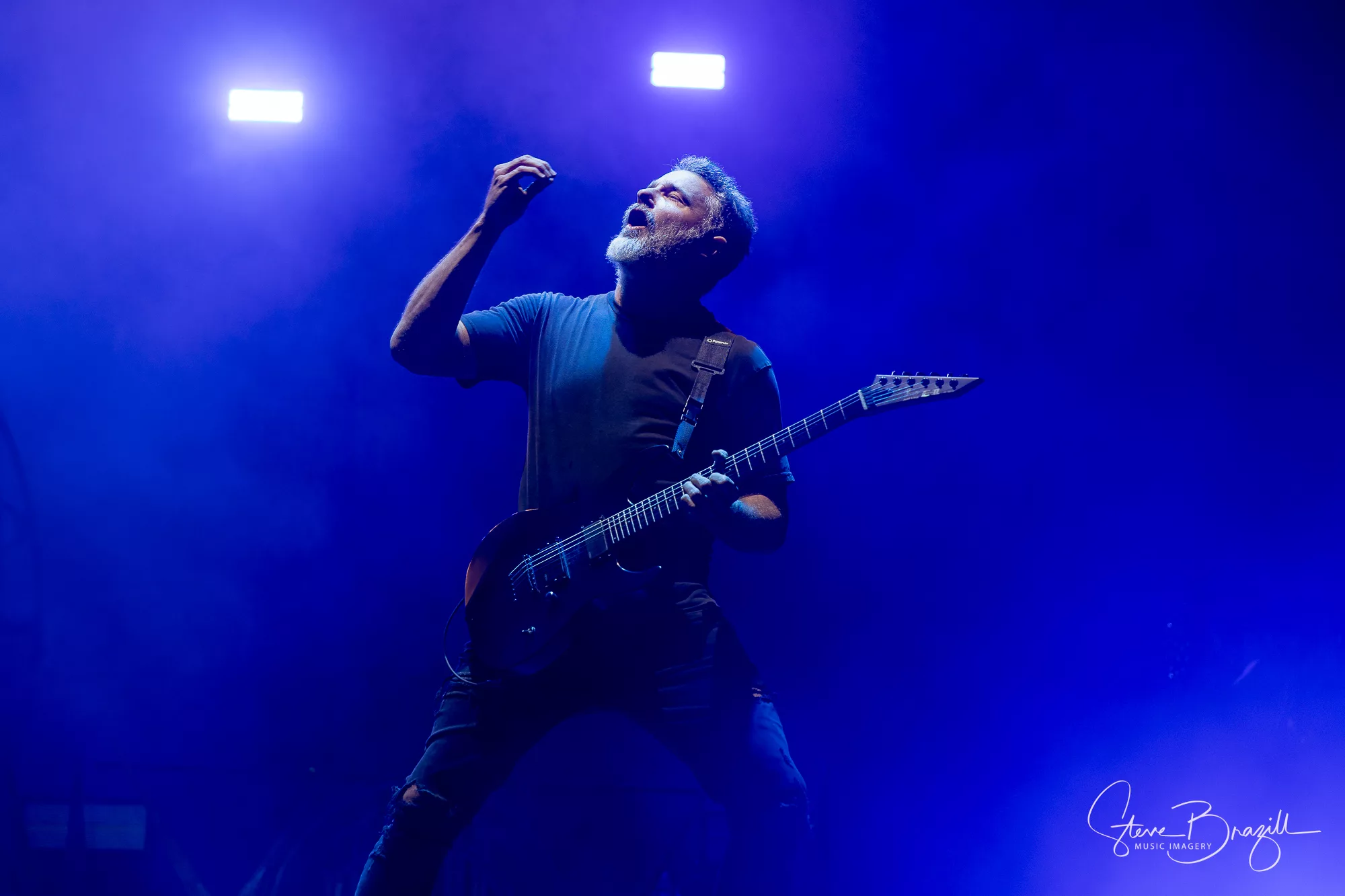 Jeff Ling's guitar playing brought back memories of some of the greats. Seriously, and I know it's a big statement, but watching him just felt so familiar in a classic way. I couldn't stop photographing him. He has a stage presence that's infectious.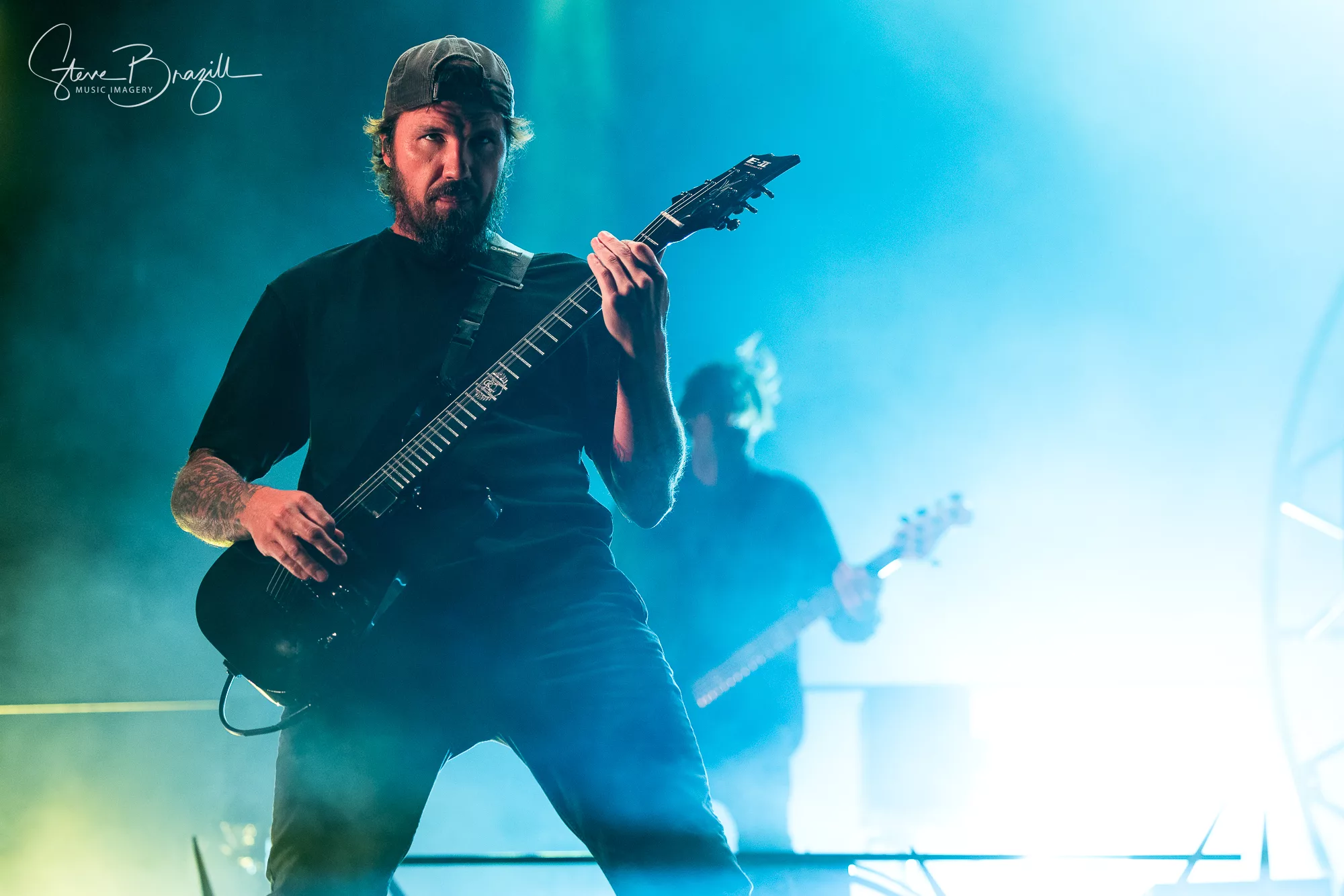 Luke Kilpatrick (above) fills out the front stage on rhythm guitar, with bassist Jia O'Connor (below) also stage right. These two combine to round out a band that is a must see live experience.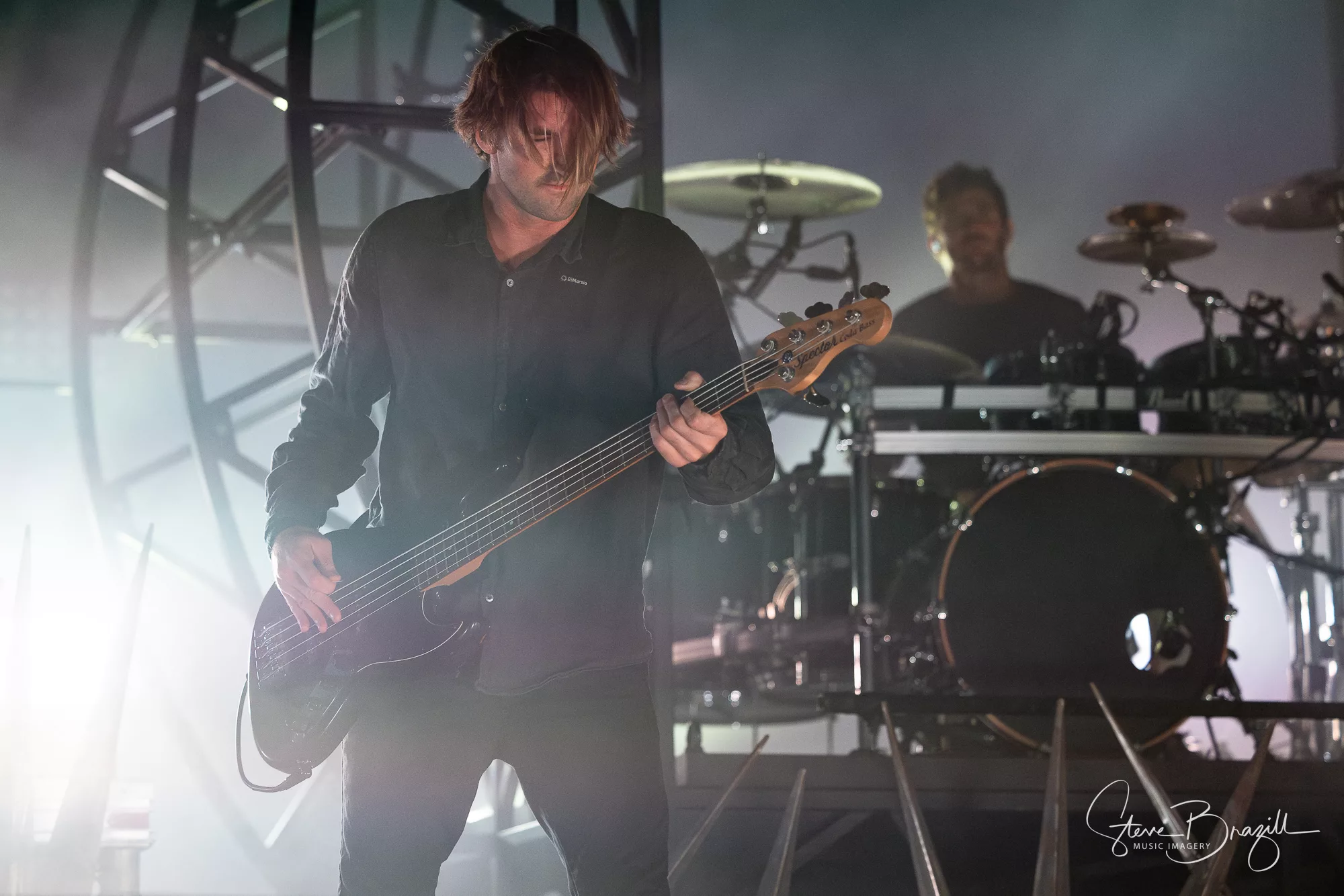 And now we have drummer Ben Gordon (below)… he defined the show. When you hear about a drummer's set rotating upside down there a few bands that will come to mind, one in particular, but let me tell you… Gordon spinning around on stage was everything you want to see in a live show. It was a mix of classic rock showmanship and killer playing, surrounded by fire! Hell yeah!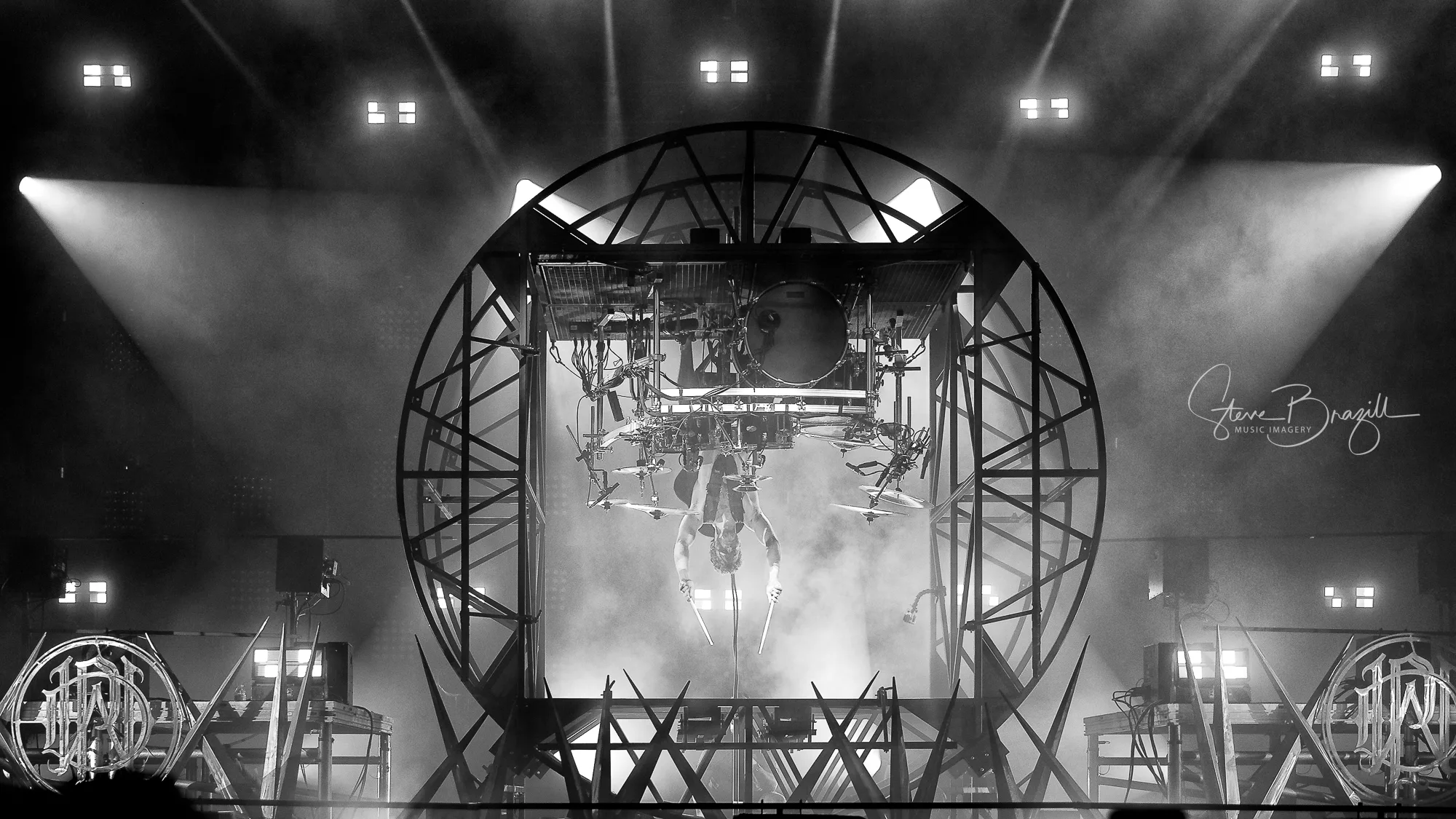 I still can't believe I saw this show as a "lawn show" with maybe 2,500 people. Insane.
Friday was the last night of the Monsters of Oz Tour, but do yourself a favor and watch for Parkway Drive to hit a venue near you. You can thank me later.
Parkway Drive Setlist
Glitch
Prey
Idols and Anchors
Carrion
The Void
Dedicated
Vice Grip
Sleepwalker
Karma
Darker Still
Bottom Feeder
Chronos
Encore:
Crushed (preceded with drum solo)
Wild Eyes
The Amity Affliction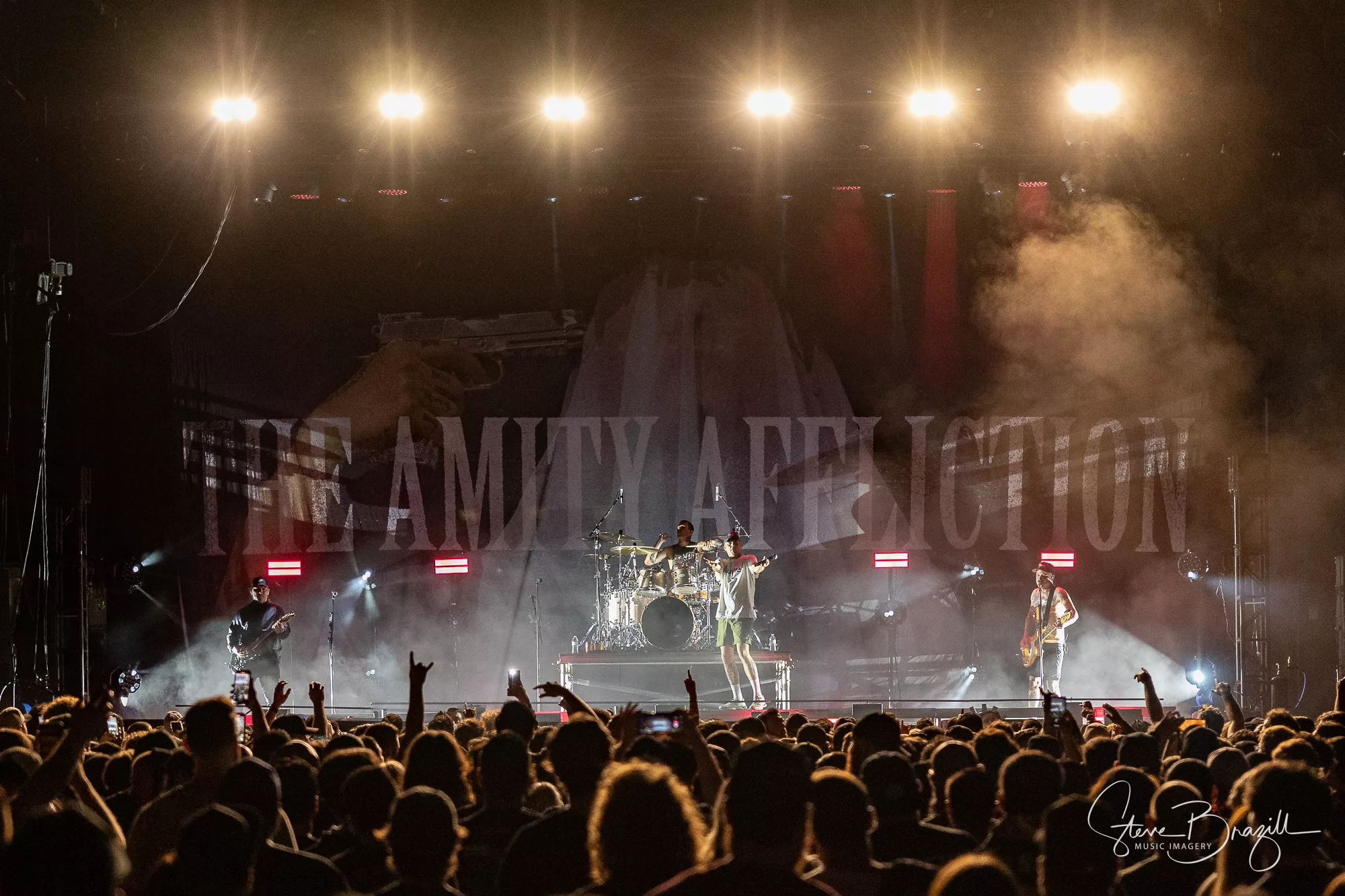 The Amity Affliction is another band I've had the pleasure of photographing before, so I knew what to expect – or so I thought. Just like Parkway Drive, The Amity Affliction has really elevated their game. This was the stuff of large venue main stages, and we got to see it performed as an intimate outside show. That still blows my mind.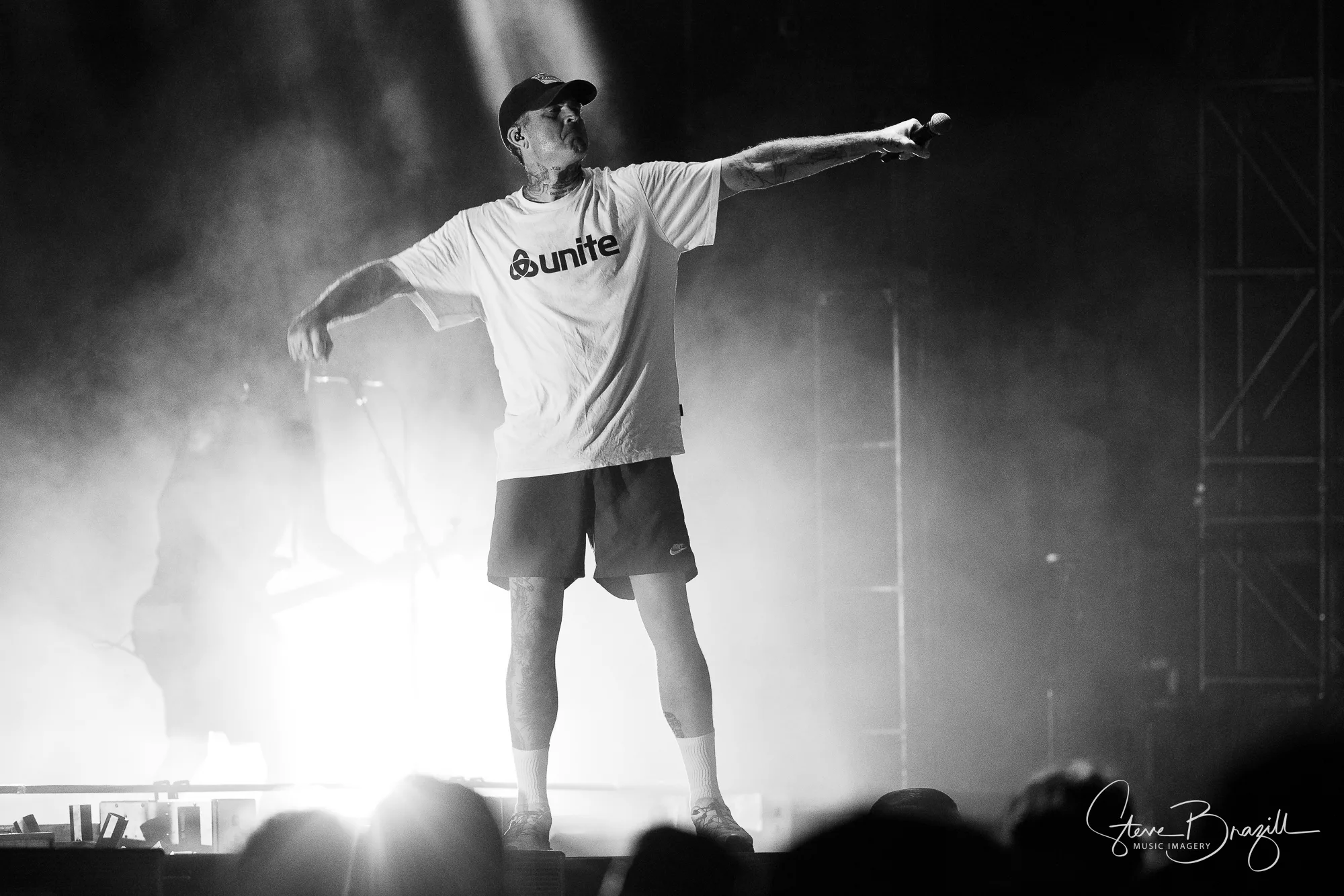 This is another Aussie band, founded in 2003 like Parkway Drive, where experience shows. Vocalist Joel Birch (above) is a force on stage, and he seems to genuinely care about his fans, which was obvious on Friday
There are always crowd surfers at these shows, and it's always amazing to see security help the crowd surfers as they reach the photo pit, gently setting them down feet first even when that's not how they arrived. Once they set them down they escort them out of the pit, which is where something took a weird turn. At one point, as a crowd surfer was being escorted through the photo pit to go back to the crowd Birch jumped down to help. It looked like he thought maybe security was being too rough, so he jumped between security and the surfer. I've seen artists stop a show to say something, but it's rare they jump into the mix to help.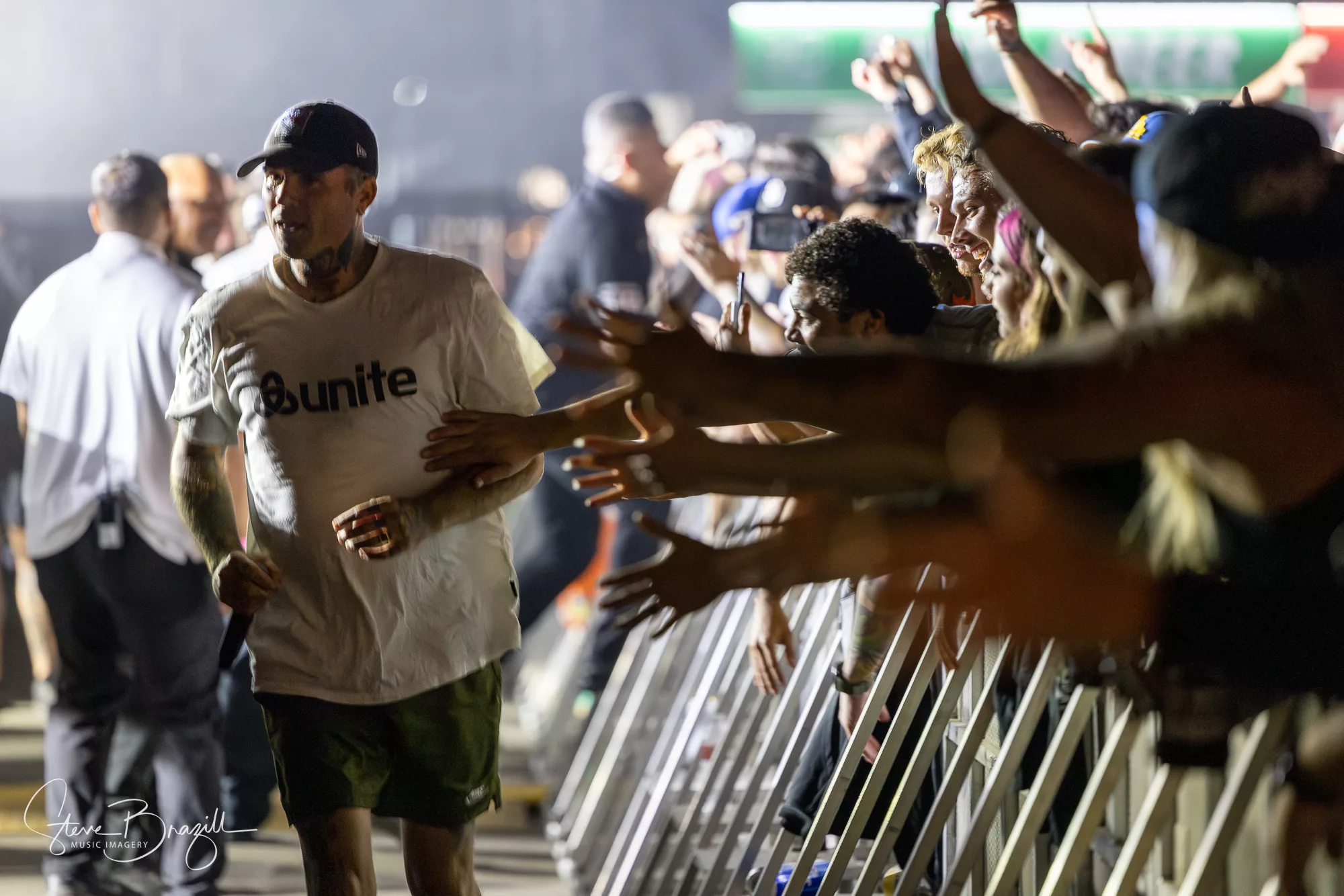 Musically the band is at the top of their game, with Guitarist Dan Brown (below) stage right, and bassist Ahren Stringer (also below) stage left. These two combine with drummer Joe Longobardi (below) to take the crowd through every emotion possible, and hearing the crowd sing along with hits like "Soak Me in Bleach" and "Don't Lean on Me" was fantastic.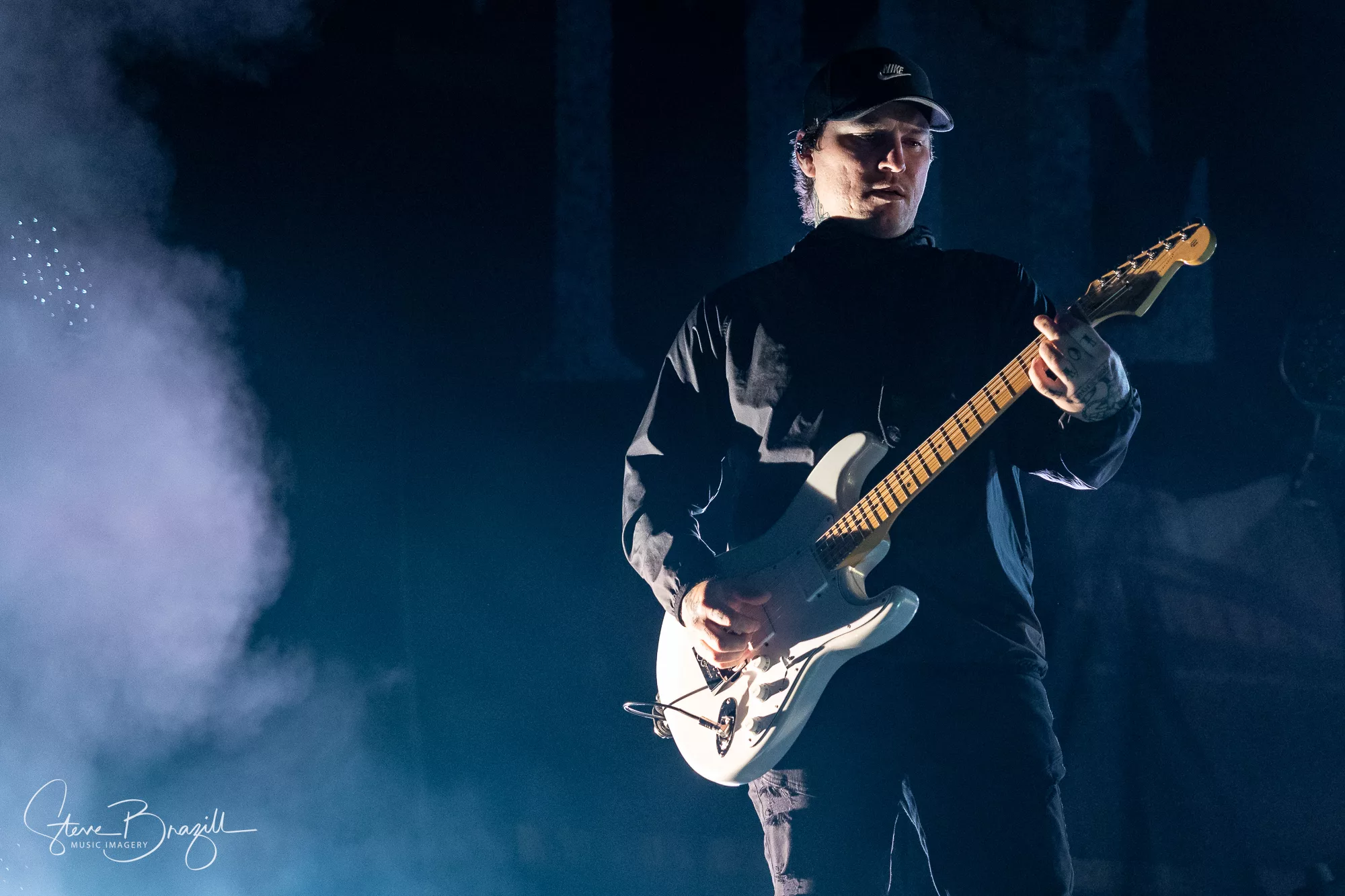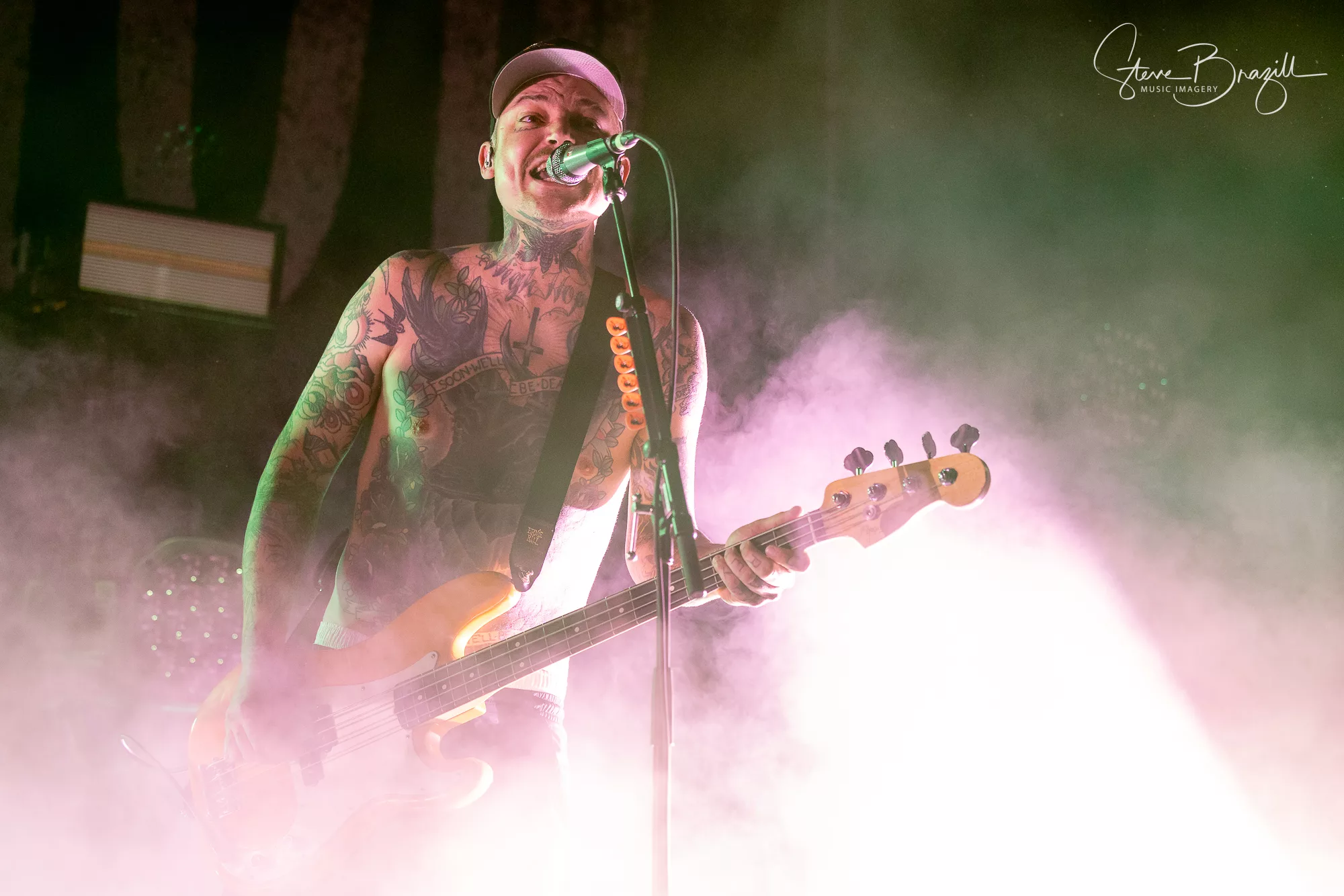 For those of us in the photo pit this night was… tough at times, with bright strobe and landing lights behind the bands, not to mention a crazy amount of smoke (I even joked I'd thought the "smoke guy" had fallen asleep on the ON switch). I had trouble just seeing humans on stage at times, let alone getting the camera to focus on them. For the crowd though it was perfect, a fantastic, dynamic display that delivered the crowd right into the band's hands.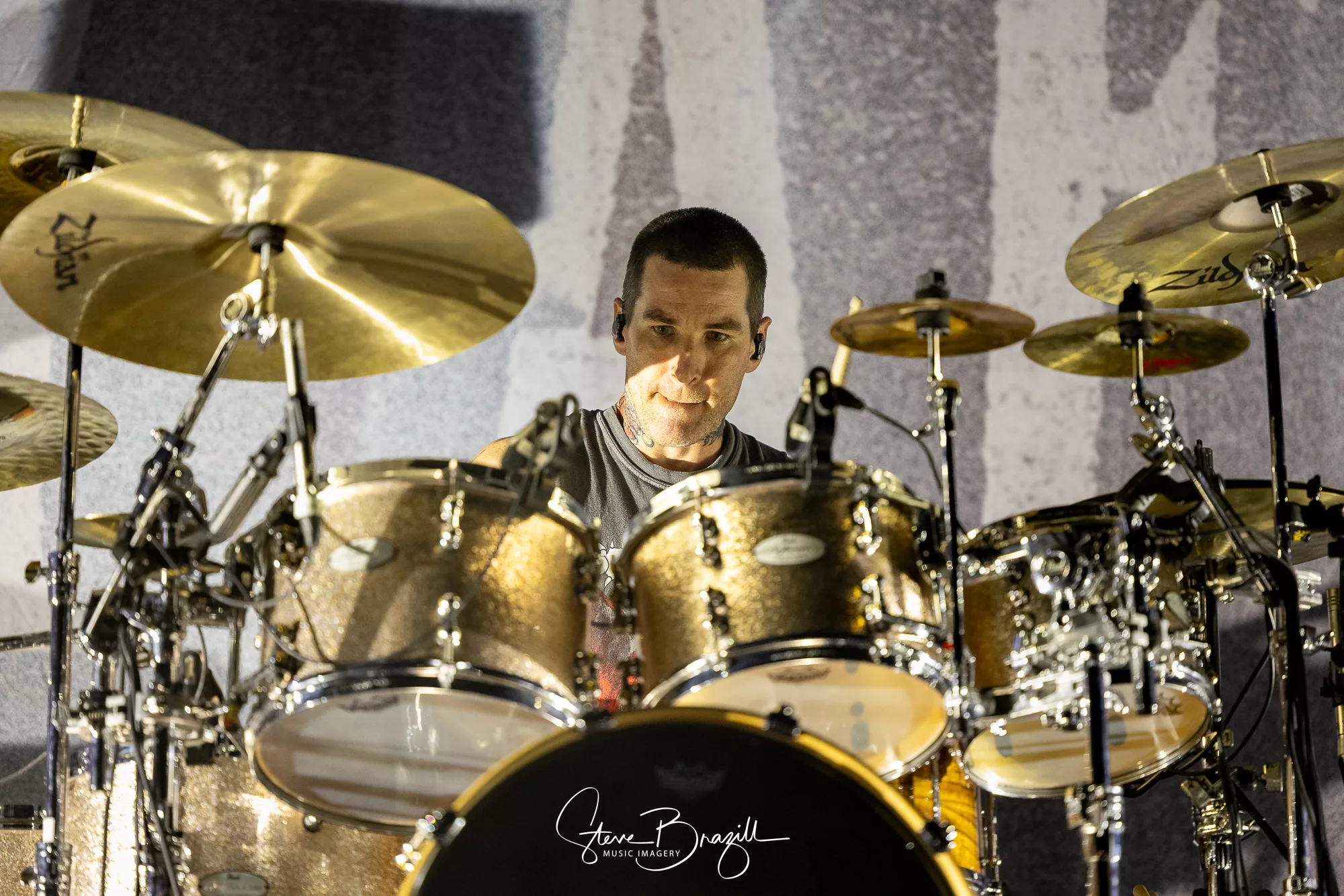 The Amity Affliction is one of the bands that feels new every time I see them. Highly recommended.
The Amity Affliction Setlist
Death's Hand
All My Friends Are Dead
Drag the Lake
Like Love
Fade Away
Show Me Your God
Pittsburgh
Don't Lean on Me
I See Dead People
It's Hell Down Here
Soak Me in Bleach
Northlane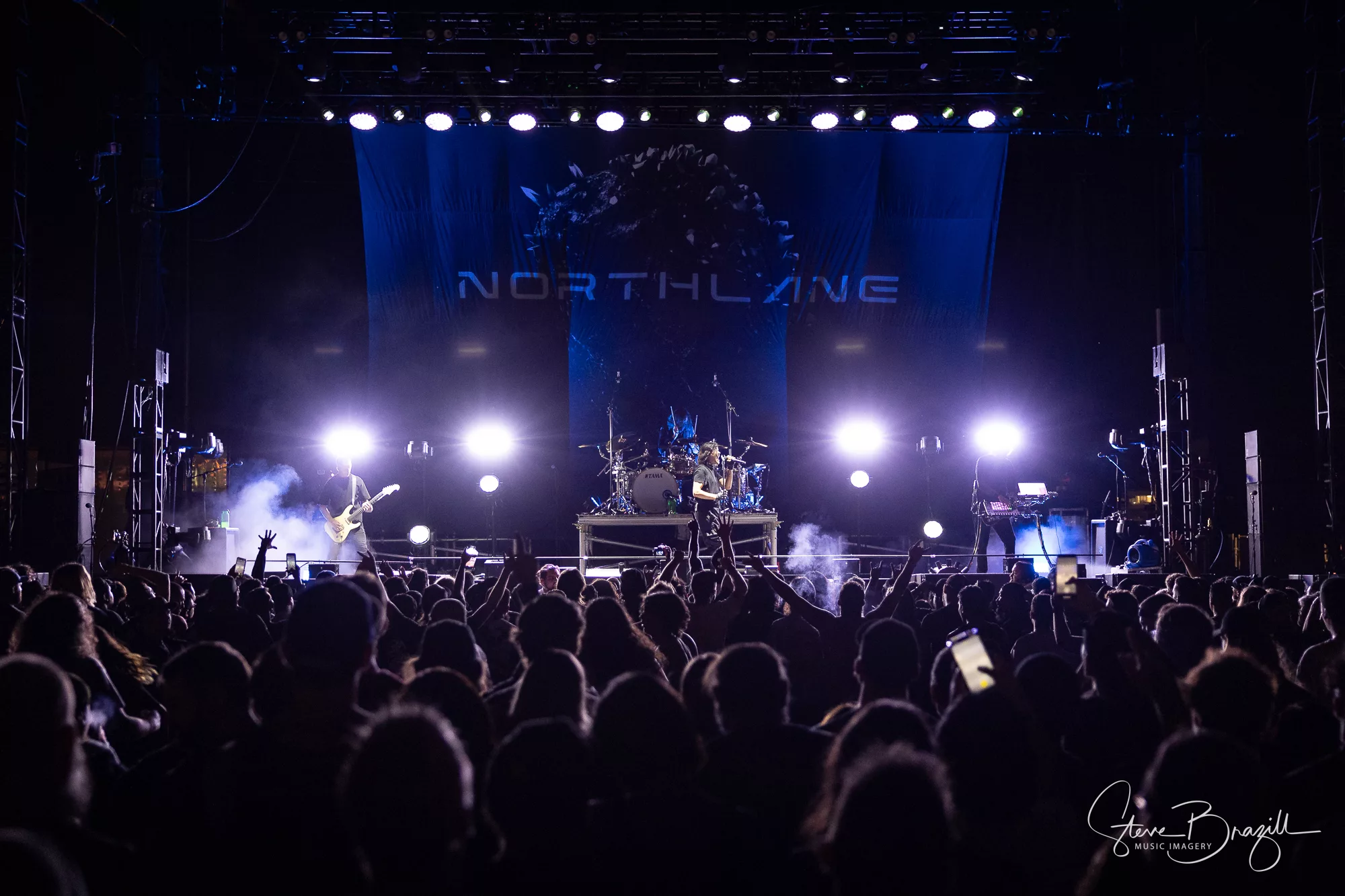 I'm embarrassed to say that I wasn't familiar with the two opening bands, but I won't forget them now. Both definitely left an impression, and in fact I'd say they didn't know they weren't the headliner. That's what you want for an opener, for them to hit the stage wanting to be at the top of the bill.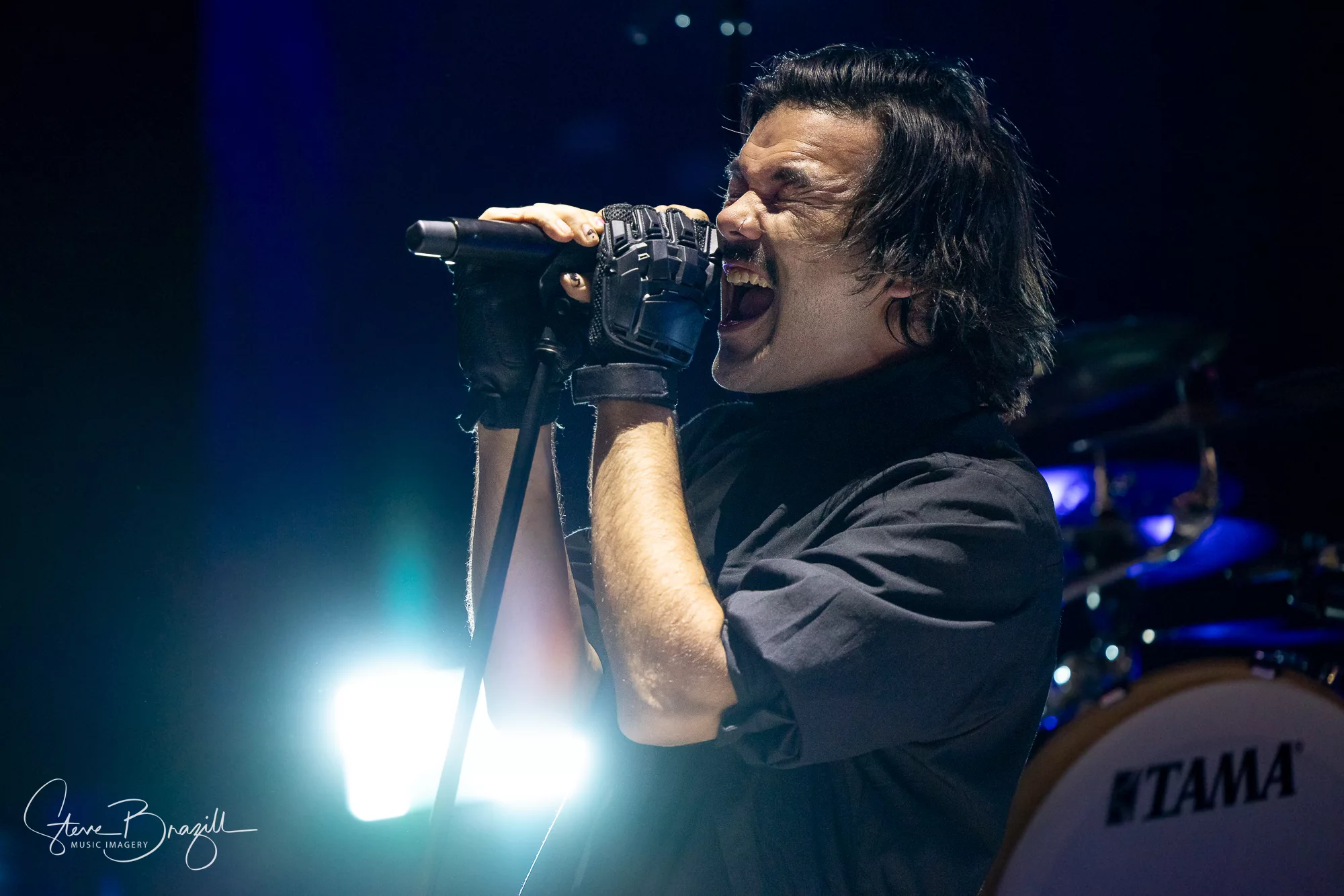 Northlane, another Aussie band, has been around since 2009. Marcus Bridge (above) has been handling vocals since 2014, and is clearly a defining force in the band today. Power and passion are the words that come to mind. Then again, he's got a band behind him that could hang on any tour out there. Yup, they're that good.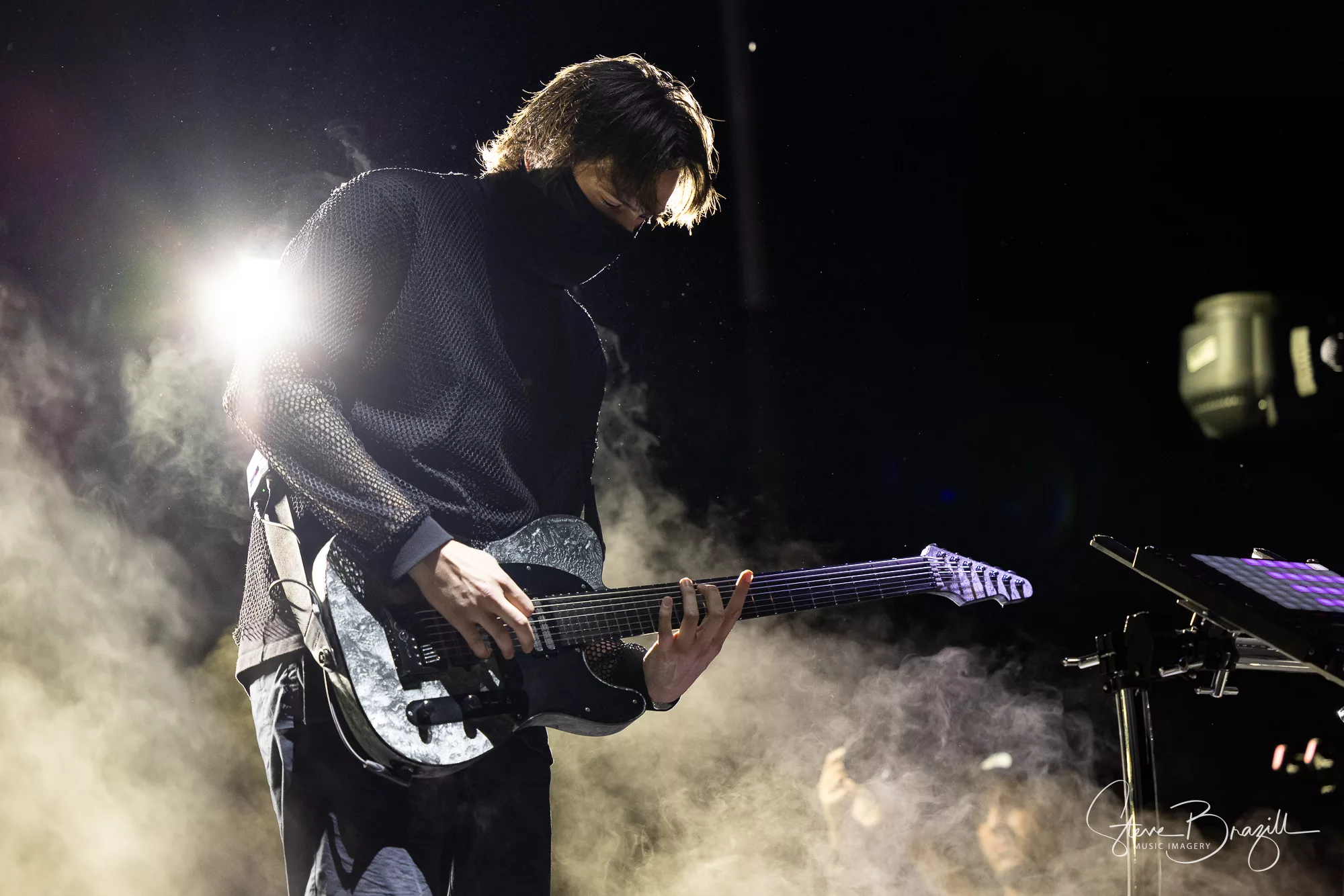 Rounding out the Northlane lineup are Jon Deiley on lead guitar (above), along with Josh Smith on rhythm guitar and Nic Pettersen on drums (both below).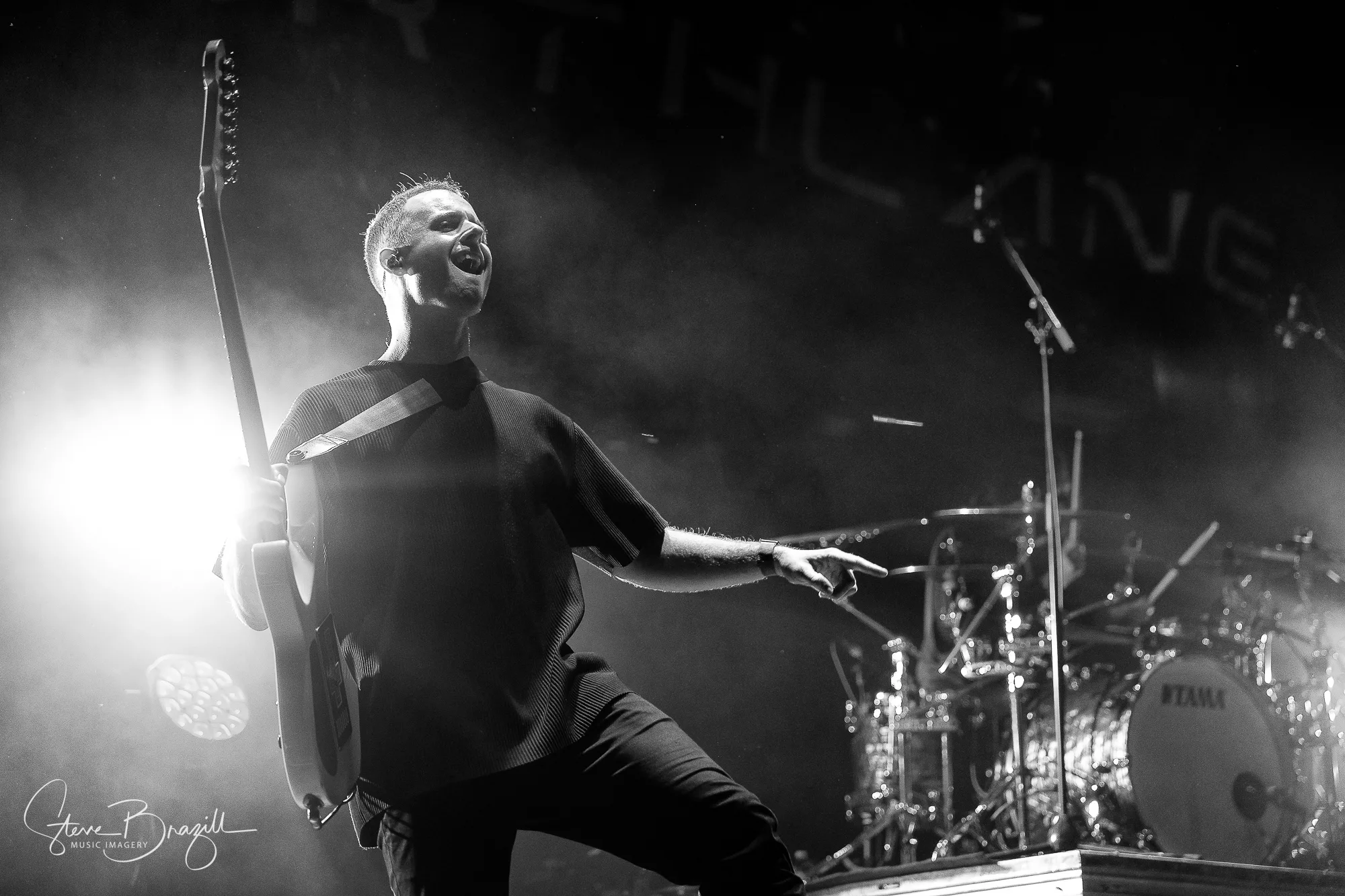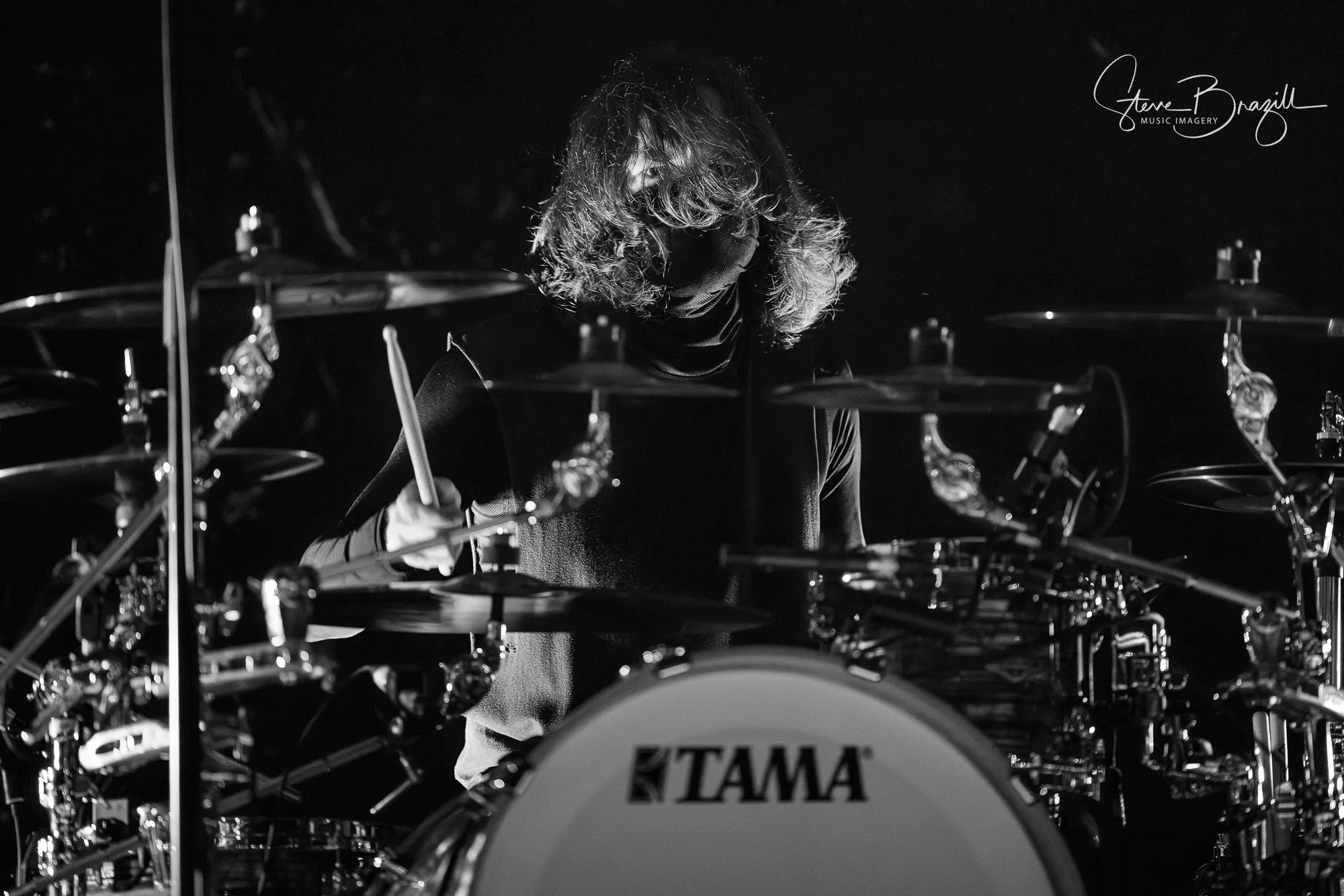 Northlane Setlist
Clarity
Bloodline
Freefall
4D
Carbonized
Clockwork
Talking Heads
Make Them Suffer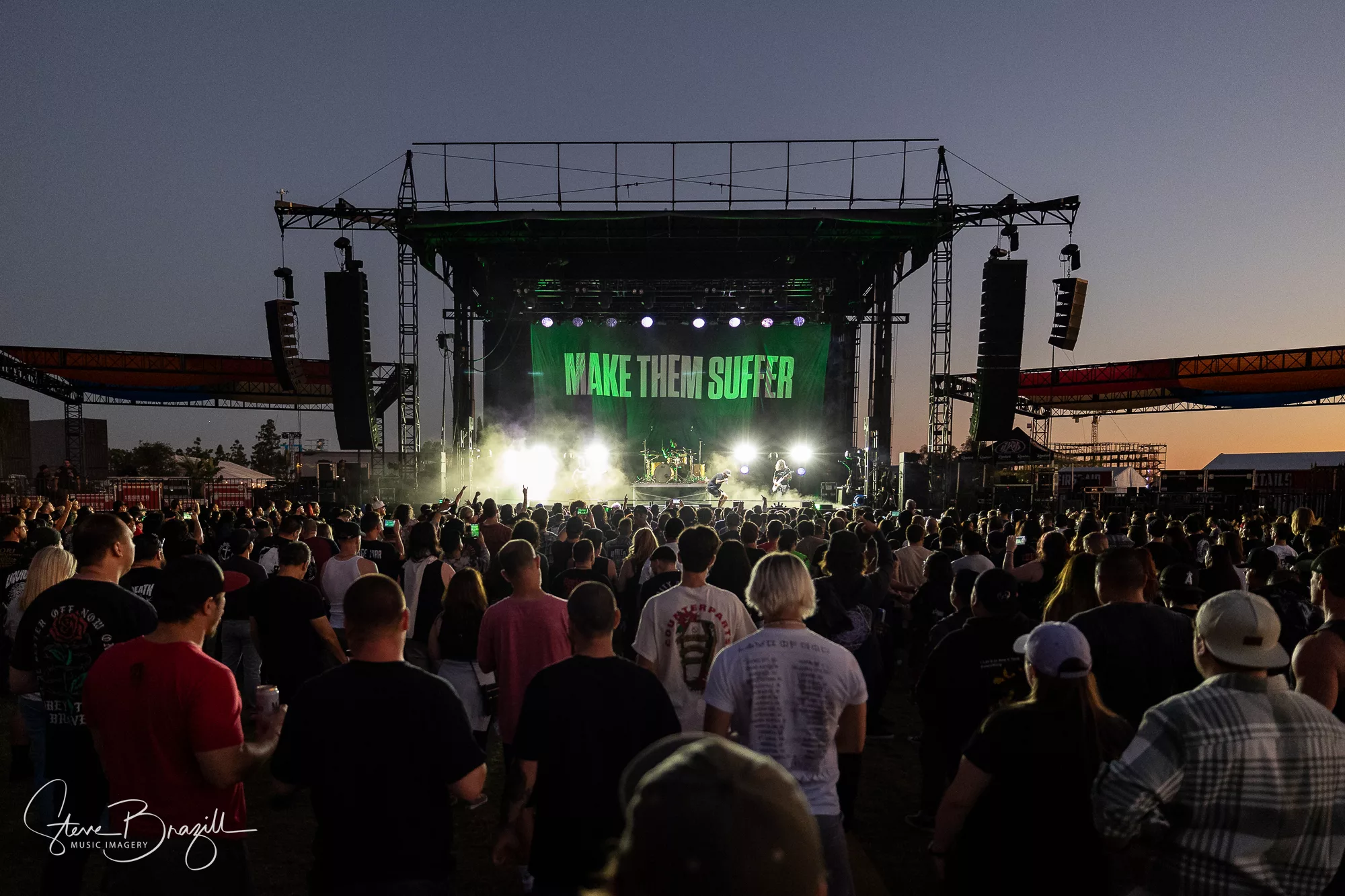 Kicking off the night, with a beautiful So Cal sunset in the background, was Make Them Suffer. This is another band I wasn't aware of before Friday, and it's a great example of why you should always get to a show to hear the openers. I see so many fans show up for just the headliner, and I guess I get the reason – kind of – but when you do that you miss great bands like Northlane and Make Them Suffer. Sometimes, I think the openers work harder, because they are still hungry for success.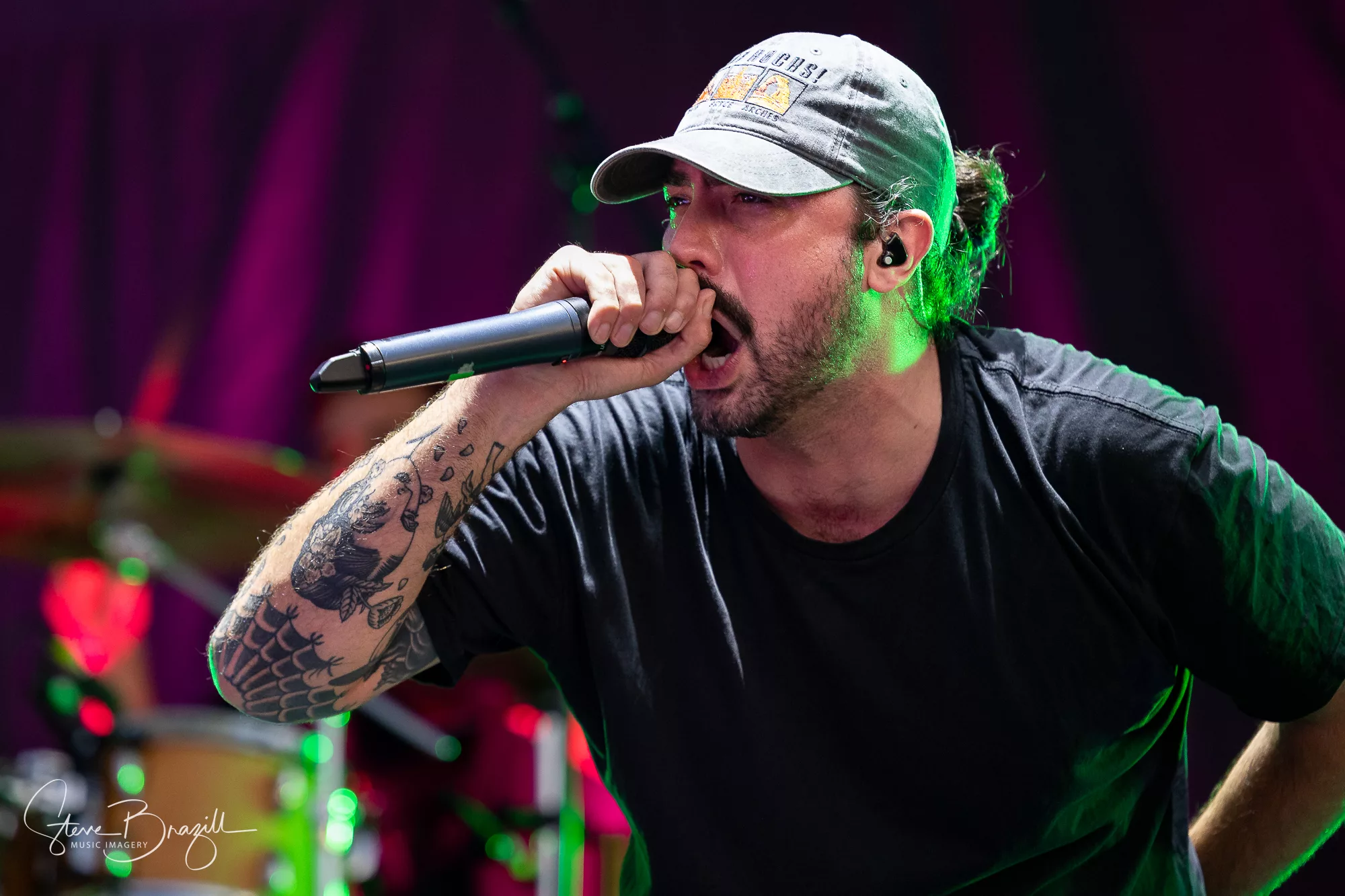 Make Them Suffer, like all the rest on this tour, are an Aussie band. They've been around since 2008, and have toured with some very big names, like Thy Art Is Murder, Pvris, Bleeding Through, Stick to Your Guns, August Burns Red, Whitechapel, and of course Parkway Drive and The Amity Affliction. I'm surprised I hadn't seen them before. It's also a band that may have the longest list of "Past Members" I have ever seen on Wikipedia.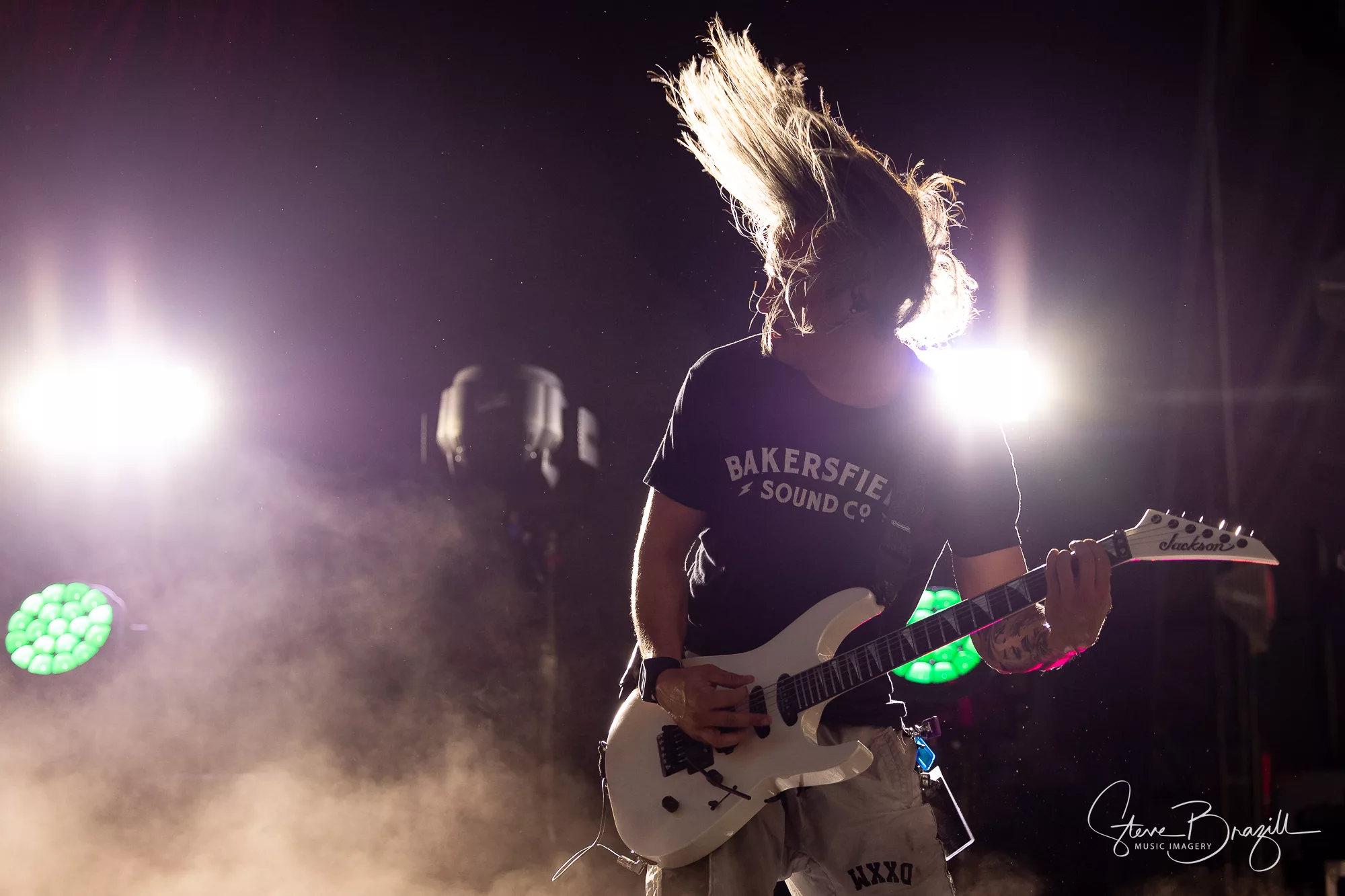 The current lineup has Sean Harmanis handling vocals (above), Nick McLernon on lead guitar (also above), Jaya Jeffery on bass, Alex Reade on keyboards and vocals, and Jordan Mather on drums (all below).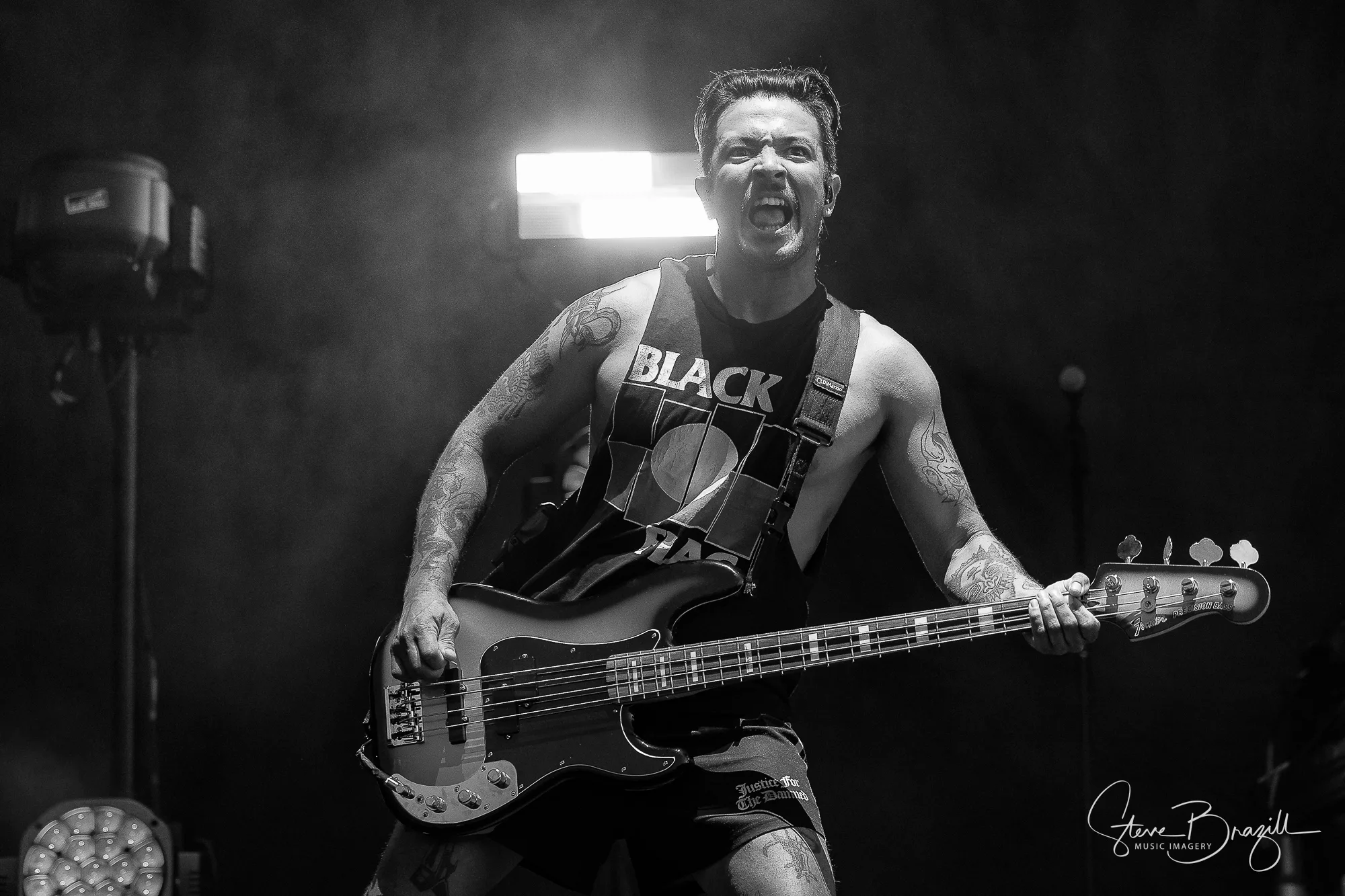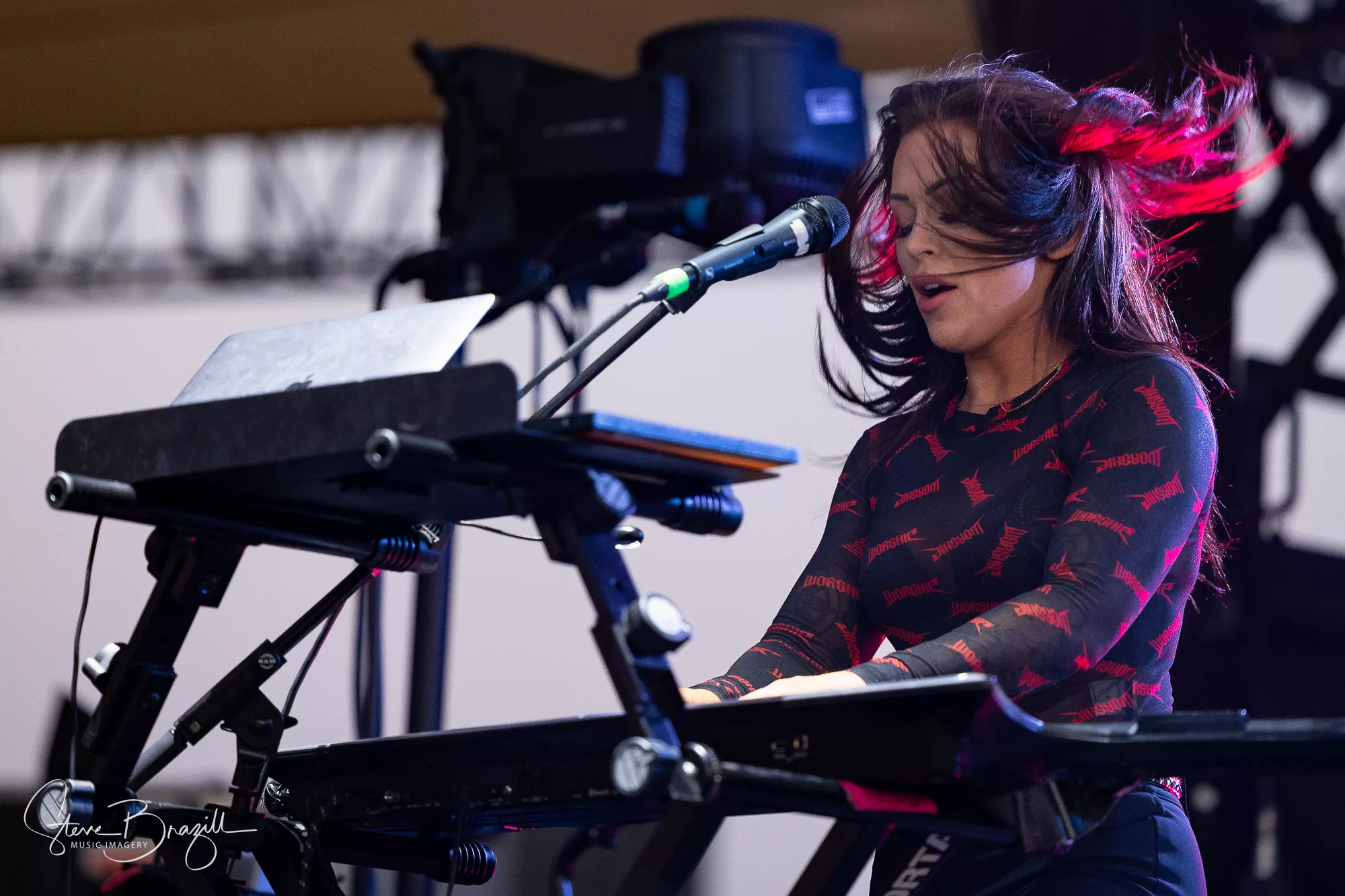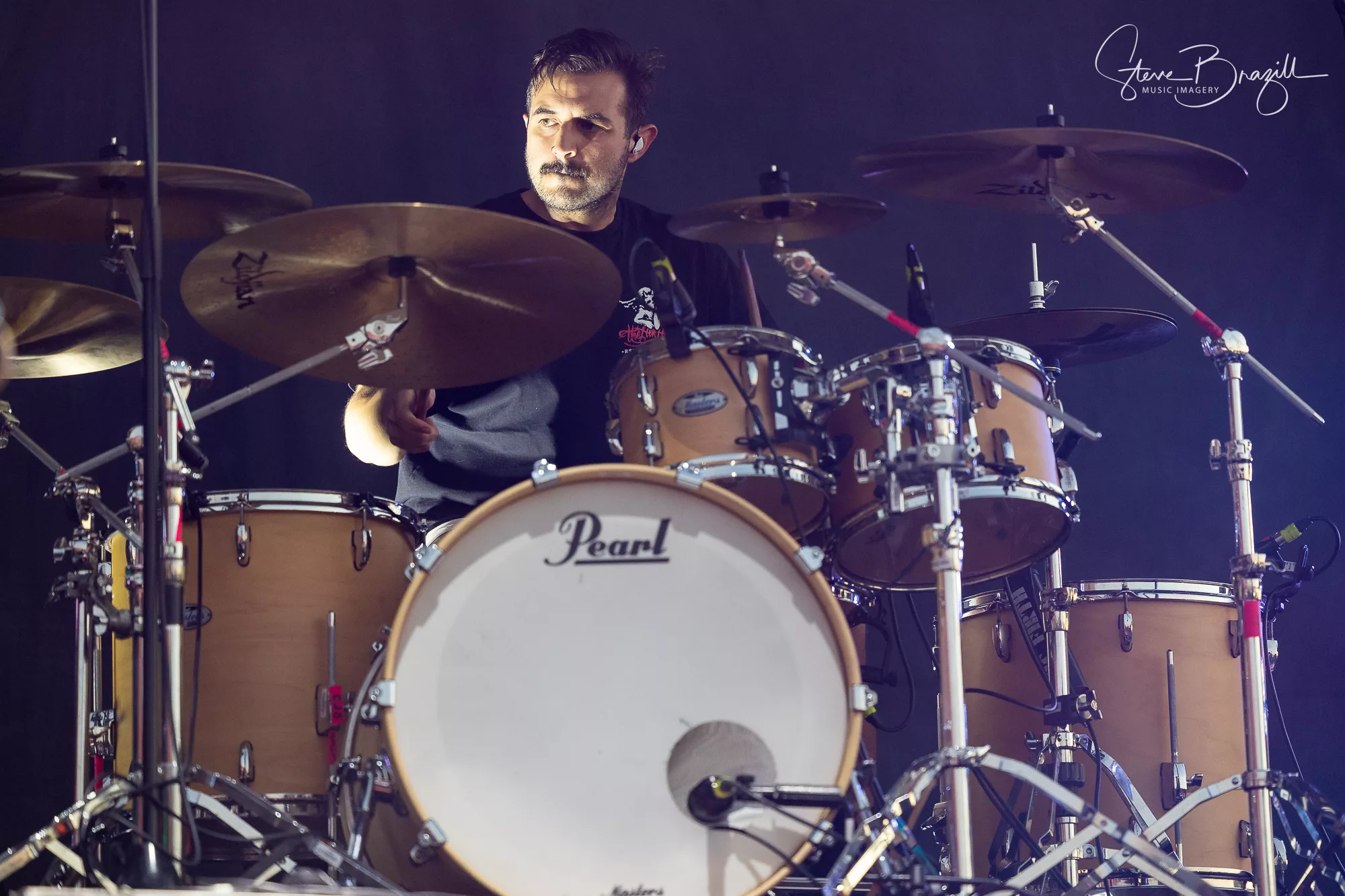 I remember talking with some of the other photographers about Make Them Suffer, and we all agreed they sounded great. Definitely catch any and all of these bands if you get the chance.
Make Them Suffer Setlist
Ghost of Me
Bones
Hollowed Heart
Ether
Contraband
Erase Me
Doomswitch
As usual, there is a gallery with many more photos below, and if you were at the show I'd love to hear your thoughts. Follow me online at:
Instagram: @SteveBrazill
Twitter: @SteveBrazill
Facebook: @SteveBrazillPhotography
Podcast: Behind the Shot
~ Razz
All Images Copyright 2023 Steve Brazill, All Rights Reserved. DO NOT USE THESE IMAGES WITHOUT PERMISSION