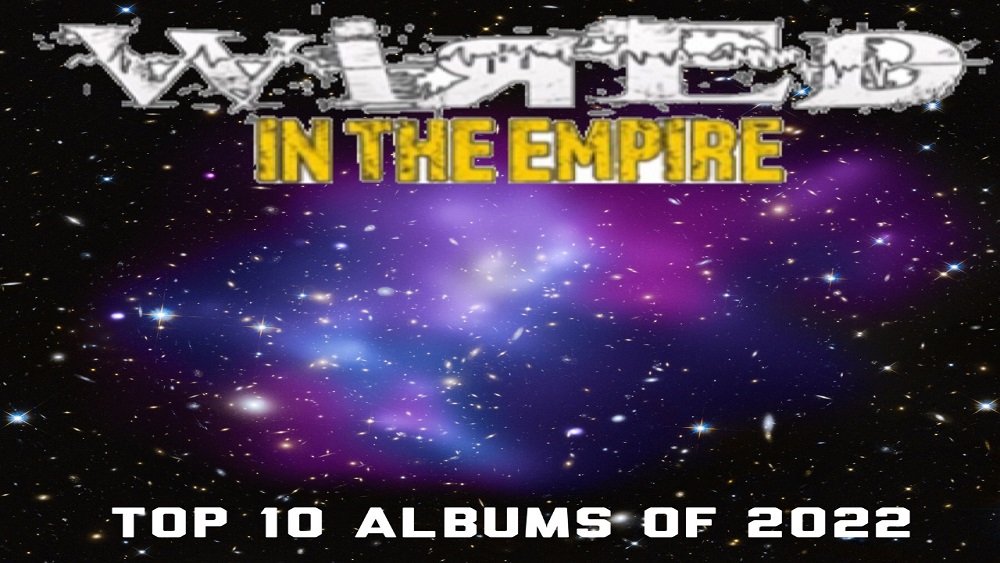 Thank you so much for listening to "Wired In The Empire" every Saturday Night from 10pm-Midnight.  Feel free to share your favorite album of the year with me on the socials: @mikez967
10. Meshuggah "Immutable"
These guys were just in the IE back in October at RMA
talking about the Godfathers of Djent metal, sweedens Meshuggah
1st in six years and their 9th album overall "Immutable"
they slayed RMA in downtown Riverside back in October along with In Flames
if you aren't familar with this band, they are a heavier version of Tool
lots of odd time signatures, polly rythms and changes, I love it
9. Dorothy "Gifts From The Holy Ghost"
I fell in love with Dorothy and her album. a straight up rock record with great vocals.  Had a great conversation with her earlier in the year talking about cheating death, growing up in San Diego and so much more.
8. Amon Amarth "The Great Heathen Army"
first ever death metal band to headline the legendary Forum in LA on 12/17/22 and the row pit was sick.
had a great conversation with their singer Johan Hegg just a few weeks ago about that tour and wrestling
metallica and so much more .
7. Slipknot "The End, So Far"
for a band that's been around since 1999 20+ years, you would think
they would have more albums then just seven but that's it ironically and accidentally coming in at number 7
Slipknot's "The End, So Far" which they dedicated to #1 Joey Jordison who passed away in his sleep back in July of 2021.
Expanding their sound and styles, entirely clean singing from CT and lots of old skool scratching from Sid Wilson on the turntables
6. Memphis May Fire "Remade In Misery"
He seemed possessed back in July when he rocked the glasshouse with multiple broken ribs and you wouldn't have ever known it, talking about Matty Mullins and Memphis May Fire. Love their heavier side and it almost sounds like at times their singer Matty is spining out of control, literally losing his mind right in front of your eardrums
They also did videos for just about every tune on the album which is really cool too
5. Papa Roach "Ego Trip"
Not a bad tune on this album that was recorded right here in the IE temecula specifically, had their guitarist Jerry Horton on to talk all about it
talking about Papa Roach and their eleventh album "Ego Trip".  Rad to see them twice in 2022 on the Kill The Noise tour and the ROckzilla tour
DO NOT miss Papa Roach live,Jacoby one of the best front men out there
4. Lorna Shore "Pain Remains"
Been a fan of this next band since day one but they really exploded last year with their new singer Wil Ramos on their EP
finally put out a proper album, a concept album at that which made them the face of modern deathcore, despite their band name sounding like a female golfer
got to see them on the chaos and carnage tour with Suicide Silence and then a sold out headline show in November at 1720 in LA
3. The Devil Wears Prada "Color Decay"
Pour the Salt into the Wound
Let the Rain wash over you
If everything I said was true
then why am I paralyzed?
love those lyrics and the entire song from The Devil Wears Prada and Salt
love how they combineJeremy's clean vocals with Mike's screams at the same time which really makes them stand apart and their drummer Guiseppe is a beast especially live, one of my favorite concerts of 2022 was their sold out headline tour
2. Megadeth "The Sick, The Dying, And The Dead"
the legendary Dave Mustaine, after kicking cancer's ass he went in and recorded his heaviest album in years and threw the videos he kind of gave us the Vic Rattlehead origin story
which was really cool to see unfold, felt like little movies, also had to change bassists in the middle of recording the album but you would never know it by listening to it.  Also the recording debut for their drummer Dirk Verbeuren who also lended some guitar riffs on the album as well and Kiko Loureiro doing some next level shredding through out the album.
1. Motionless In White "Scoring The End Of The World"
Had a great conversation with Chris Motionless a few weeks ago about writing their album during the pandemic and we had a nicenine inch nails debate, also talked about their Trinity of Terror tourwhich was incredible at the YouTube theater, so glad they closed that night. talking about Motionless In White and "Scoring The End Of The World"
so many different sounds and styles and with incredible catchy and clever lyrics