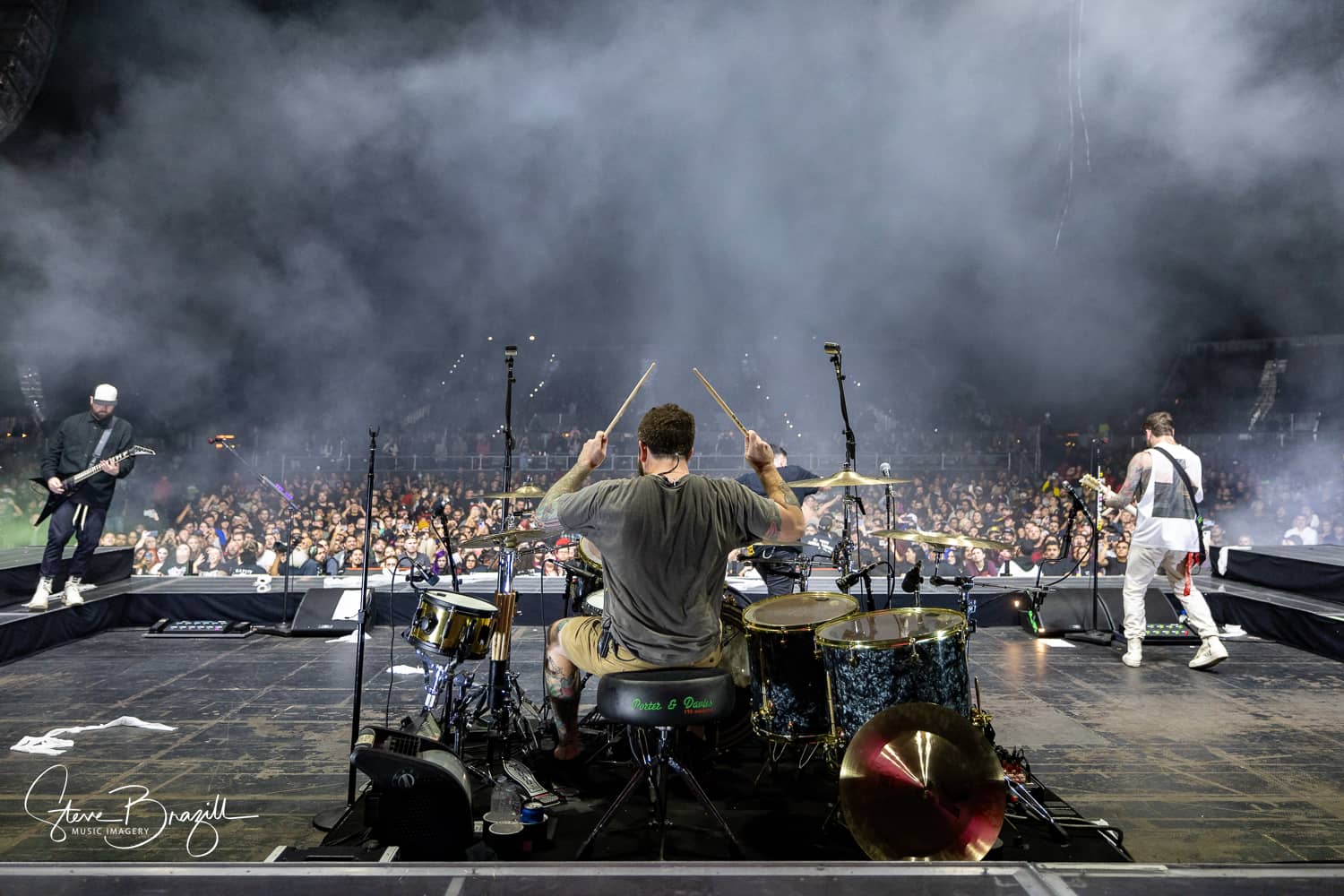 It's always wonderful when the last show of the season makes you wish there was more to come, and Fivepoint Amphitheater, wrapped up the season in style last week with a fantastic show from A Day To Remember, The Used, The Ghost Inside, Movements, and Magnolia Park.
If you've read any of my posts in the past, you'll know what I think about A Day To Remember. I've been watching this band for a number of years and each time I see them live I am absolutely blown away at how good they are. My first time seeing them was at the first Self Help Festival in San Bernardino, way back in 2014, and some of the photos I took at that show are still some of my favorites of all time.  Since then I have photographed every Self Help in So Cal, and driven to San Diego to see them. Now, after seeing the show last week, I can easily say they are a fave of mine to see live.
A Day To Remember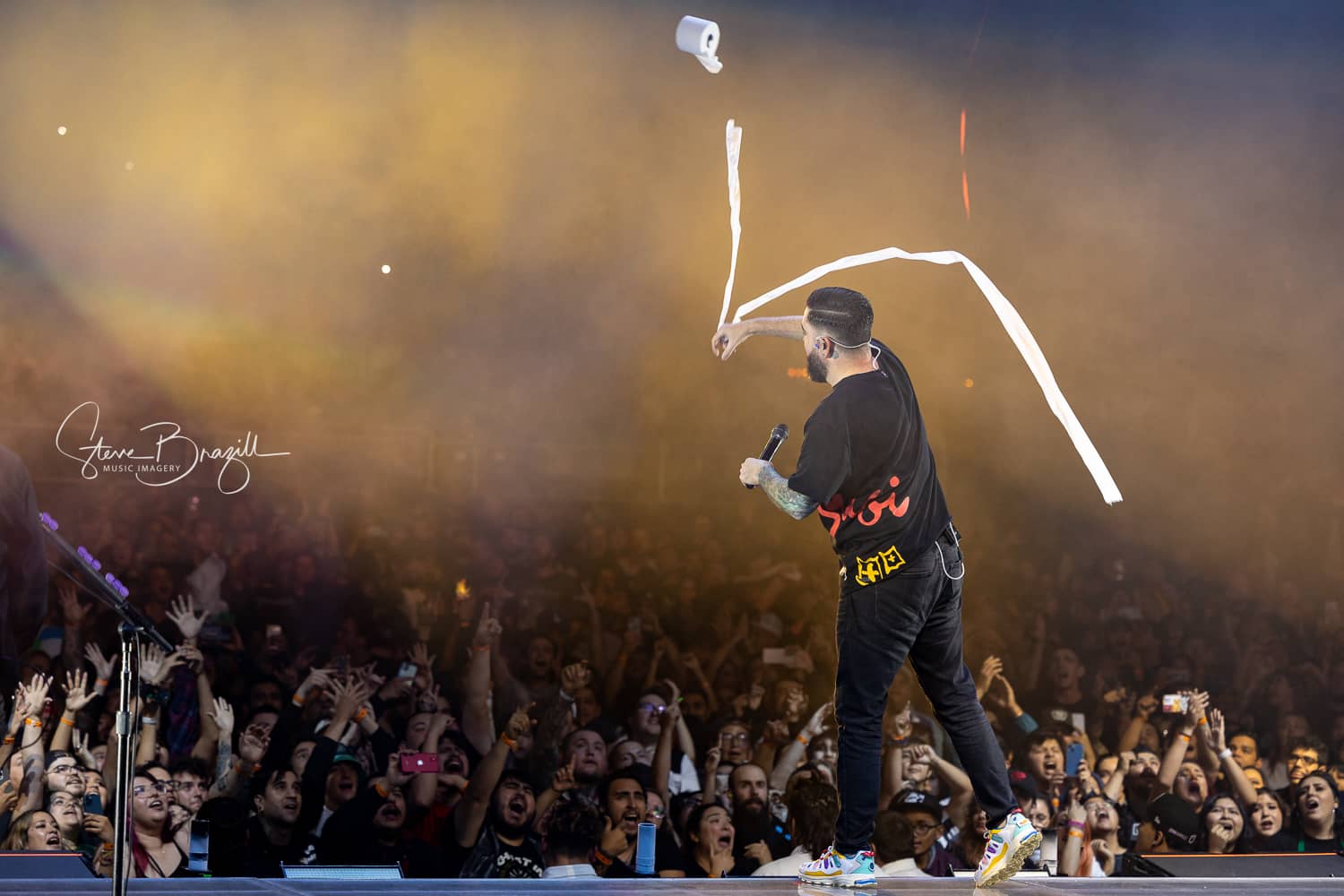 Based out of Ocala, Florida, the four members of this band have been together a long time, and it's clear when seeing them on stage. They all seem to truly love what they do, and the fact that they get to do it together.
Before I move on, fair warning… I'm going to make a couple of bold statements in this post about the bands that performed last week.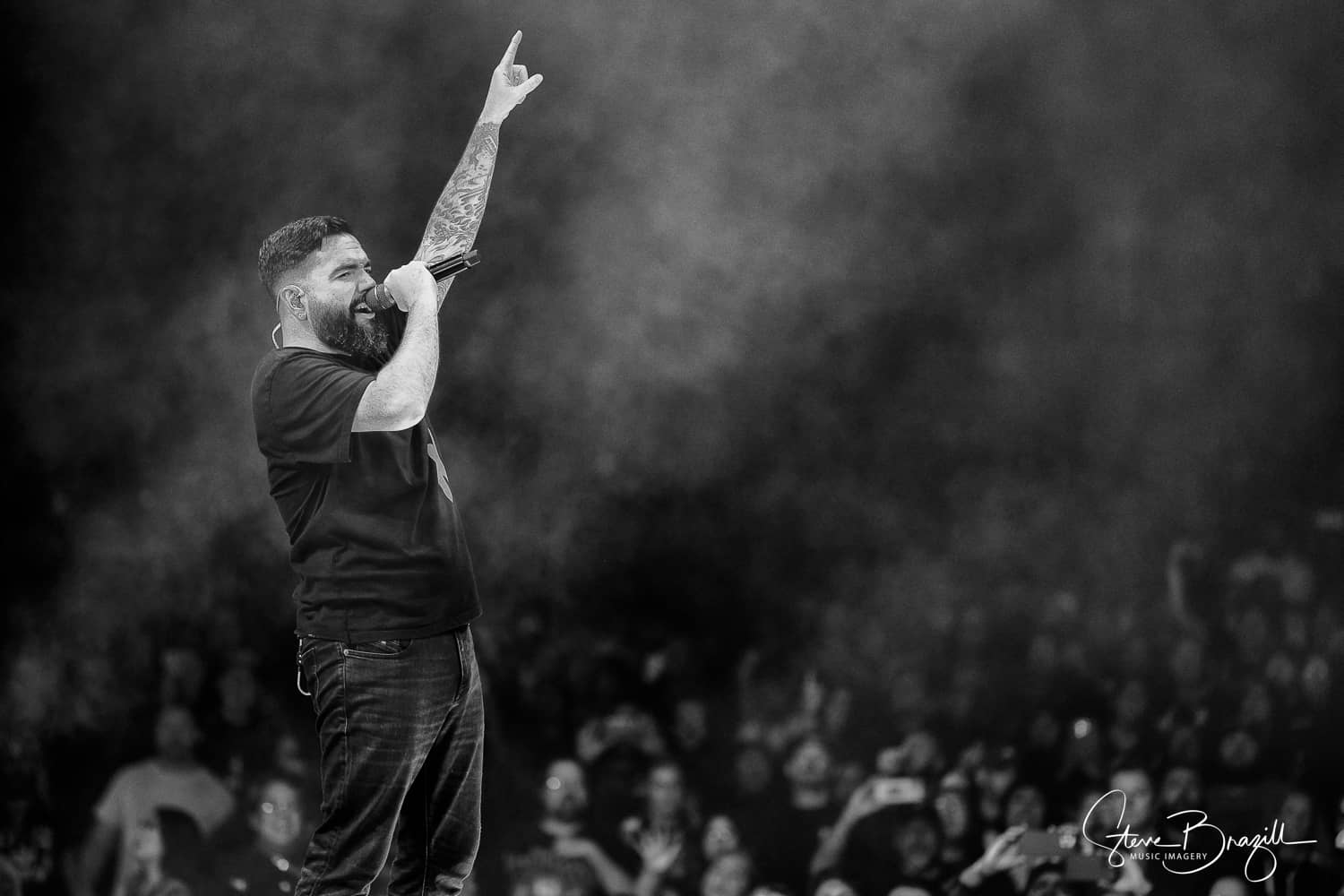 Let's start with Jeremy McKinnon (above), vocalist for A Day To Remember. He is hands-down one of the best frontmen you could have in a band. His ability to grab the audience and take them through the show with him is something else. Every smile, every scream, it's feels like you're part of the show. According to Wikipedia, Self Help Fest, which was Jeremy's idea, apparently came about when his girlfriend at the time told him "that most people who come [to our shows] respond like it's more than just a concert to them… It's like the music is genuinely helping them". Having seen him on stage, I get that.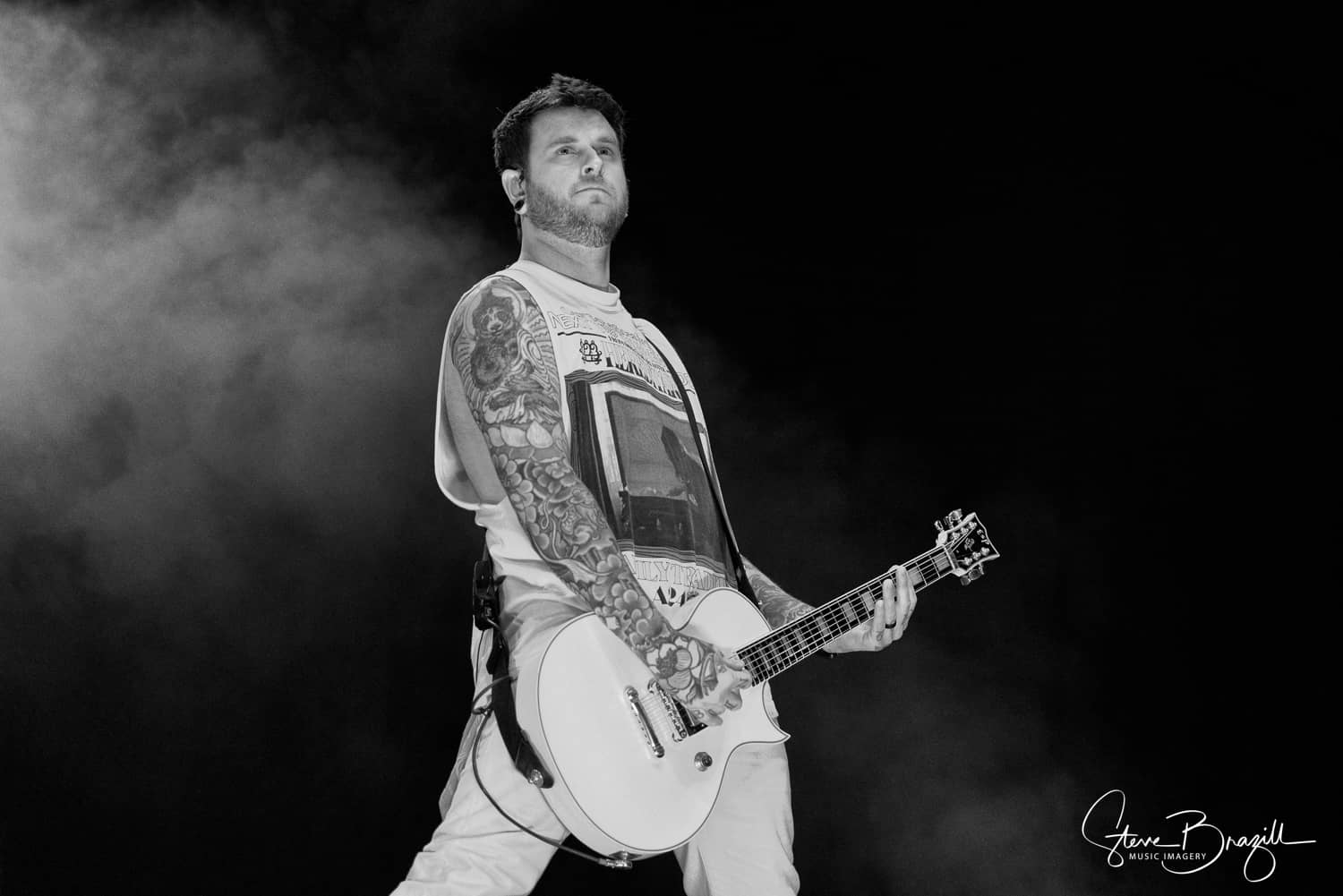 With some bands, the vocalist is the show. They are front and center, while the rest of the band take more of a backseat role performance-wise. Not with ADTR. Guitarists Neil Westfall (above) and Kevin Skaff (below) are a key part of the show. It really is fascinating to watch, because it feels like you're watching a clinic on audience control. The band connects to the audience just as much as the audience connects back to the band. It's this wonderful relationship I think every performer hopes to have.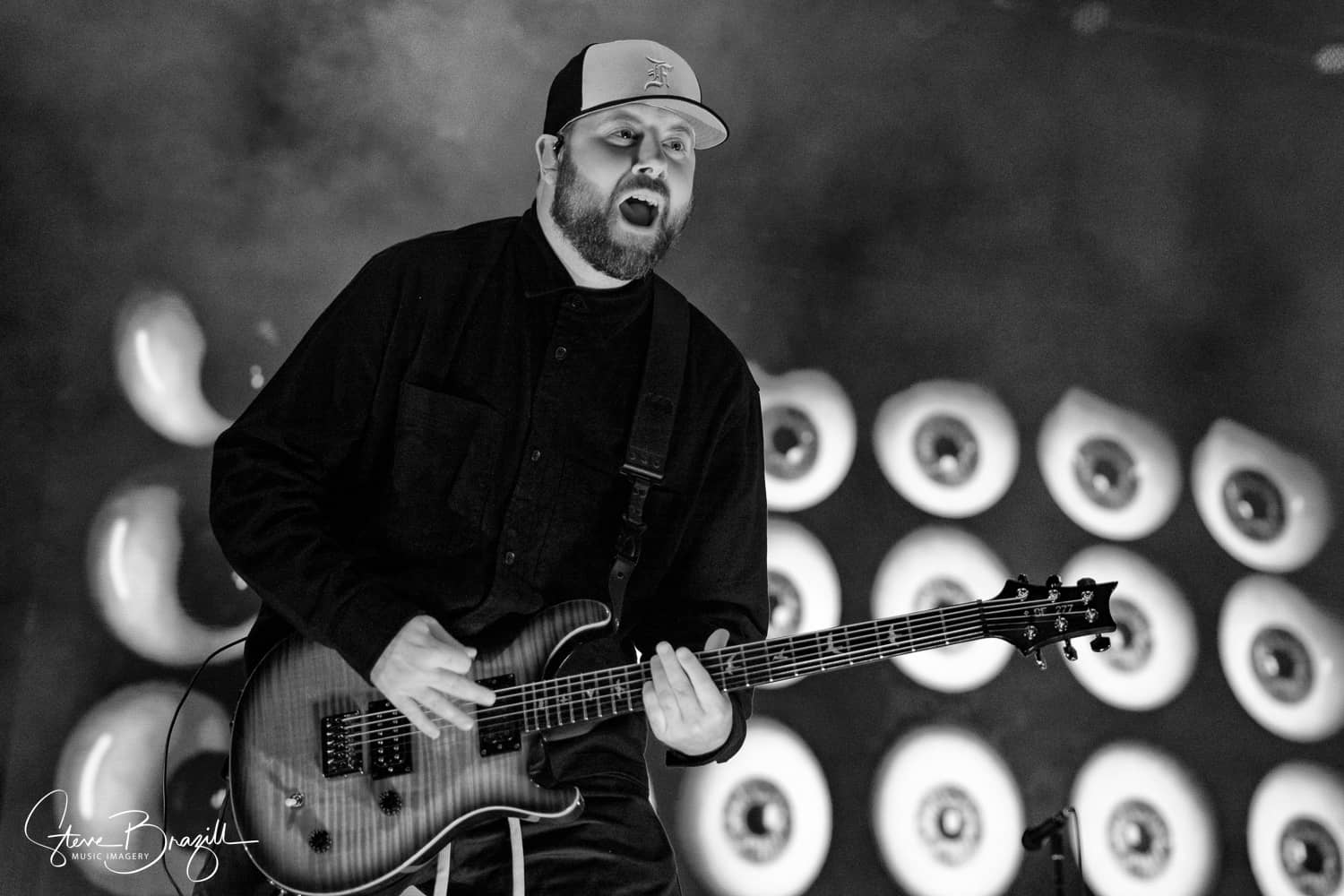 Let's talk drums for a second. I've seen a lot of drummers, and in fact, they are some of my favorite subjects to photograph. Holding down the drum set for ADTR is Alex Shelnutt (below), and this guy cares so much about every hit of the sticks it's awesome. It's one of those things that is hard to put into words, but is obvious when you see it. I could photograph Alex all day, every day.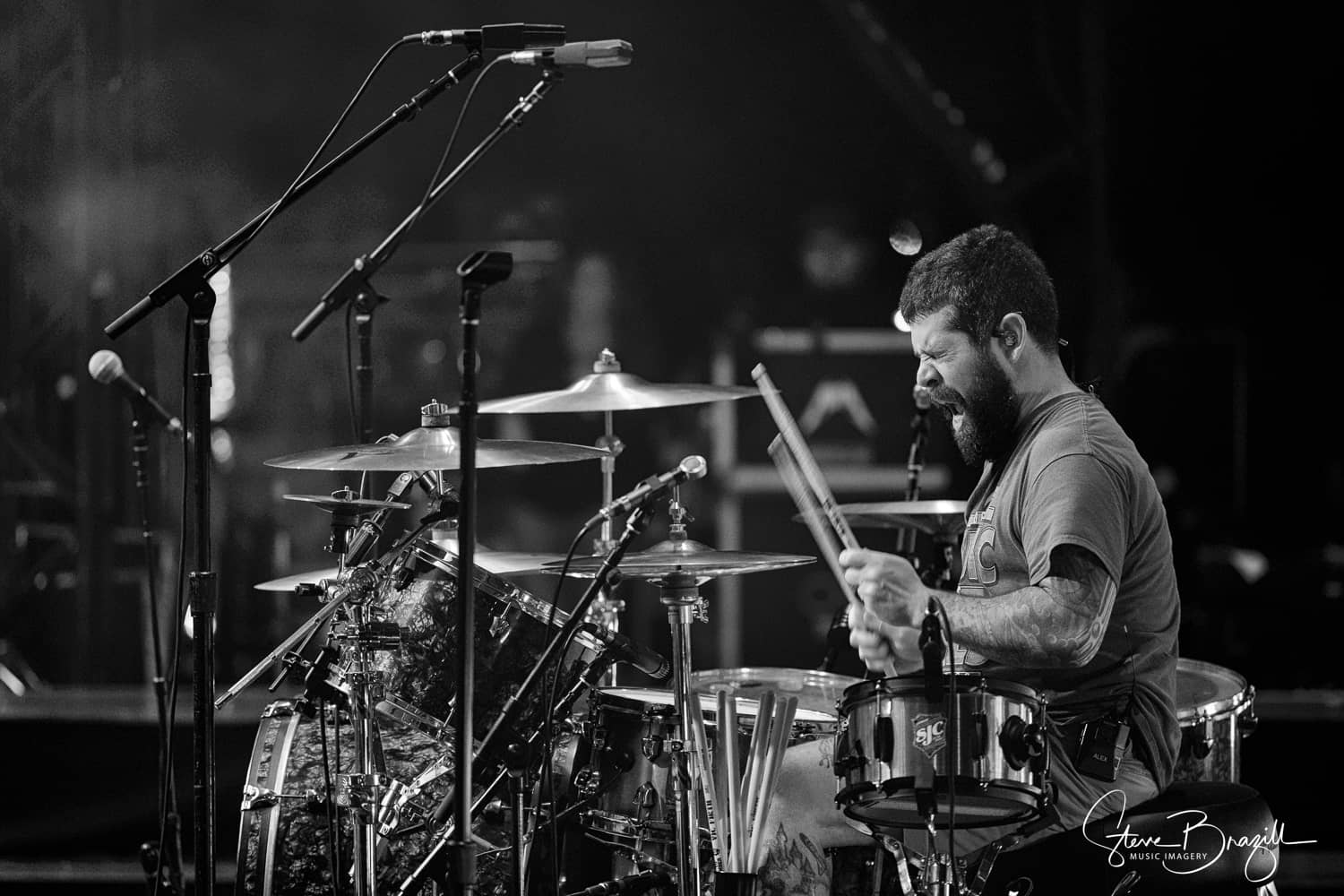 This band cares. I know, that sounds somewhat obvious, we like to think that all bands care, but this band seems to have a very special connection to the songs they sing, and the audience they're performing them for.
A Day To Remember Setlist
The Downfall of Us All
All I Want
Paranoia
A Shot in the Dark
Degenerates
2nd Sucks
Right Back at It Again
Rescue Me (Marshmello cover)
Have Faith in Me
Last Chance to Dance (Bad Friend)
I'm Made of Wax, Larry, What Are You Made Of?
Mindreader
Miracle
All Signs Point to Lauderdale
Mr. Highway's Thinking About the End
Resentment
The Used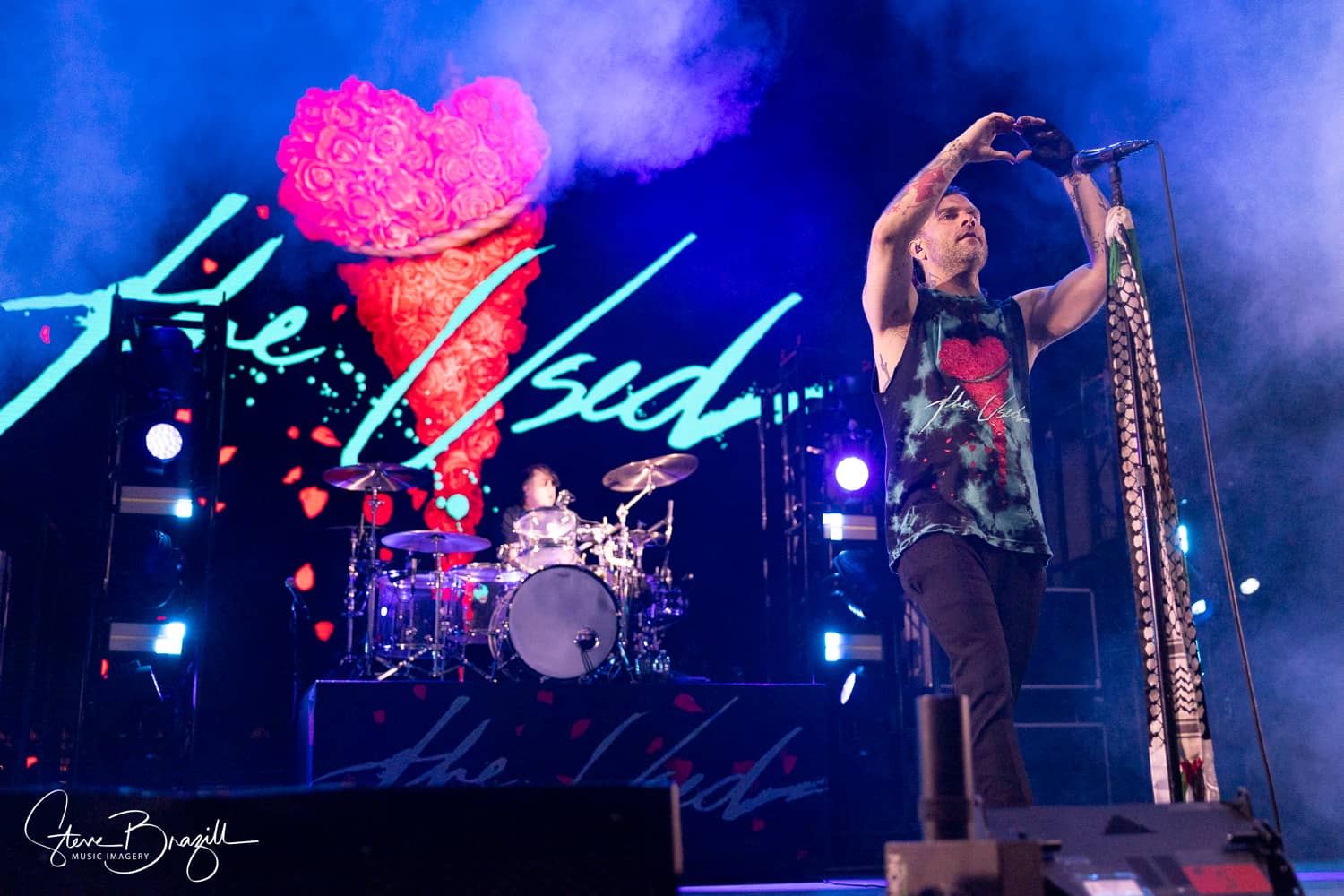 Whenever I mention The Used to people I always get a big smile back. It's a band that's been around for over 20 years, and people have experienced some of the most important moments of their lives with their songs as the backdrop. Let me tell you, The Used is a band that is as relevant today as they've ever been.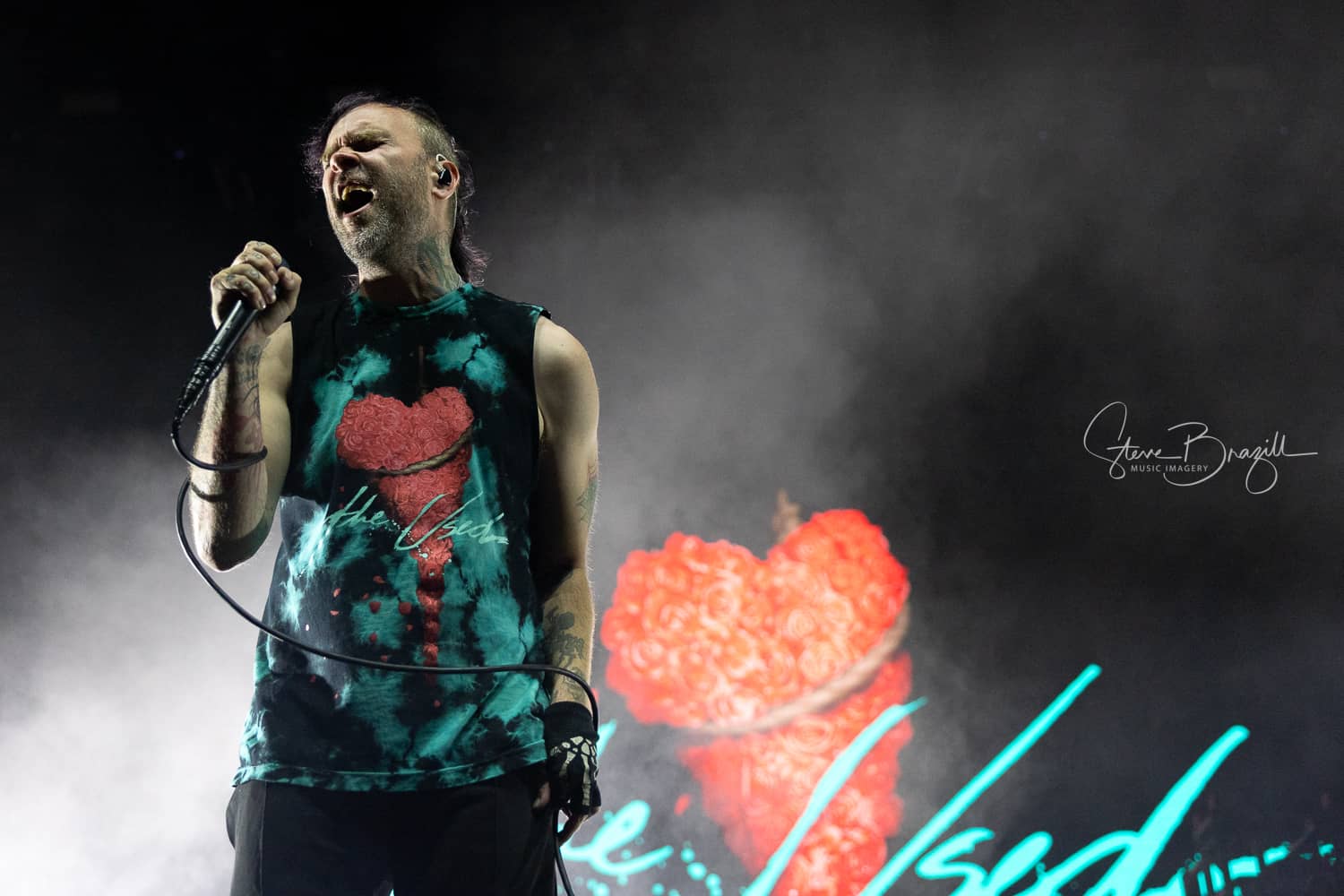 As I mentioned earlier, I'm going to make some bold statements in this post, and one of the reasons is The Used vocalist Bert McCracken. I've seen this band many times over the years, and Bert McCracken (above) is like a force of nature on stage. Every time I see them I feel like I'm watching something special, like an energy that I'm not supposed to have access to. I have tried to think of a comparison for you, but nothing comes to mind. He was clearly born to do exactly what he is doing for a living.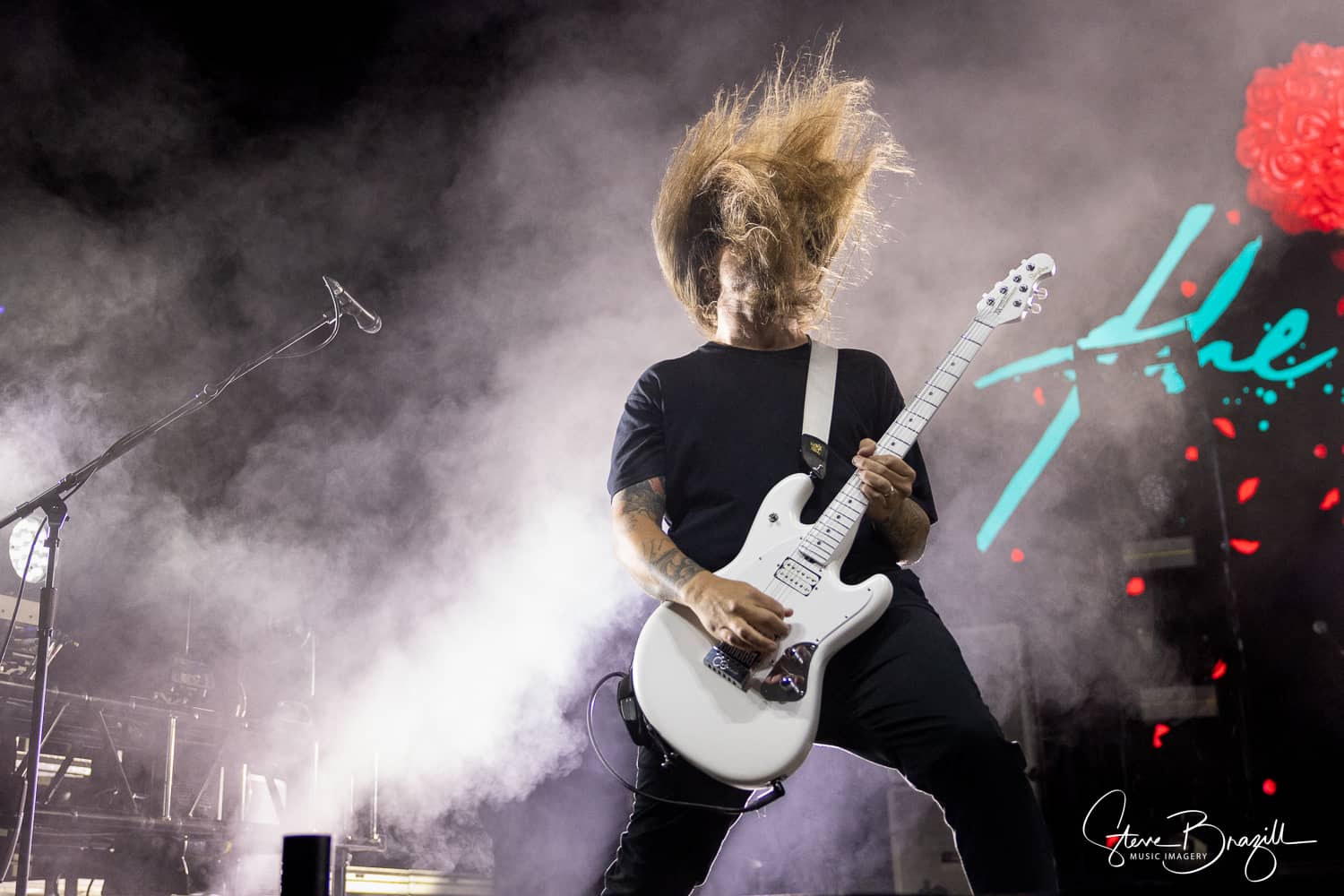 I remember back in 2018 when Joey Bradford (above) was announced as the new guitarist for the band. Having had the pleasure of meeting Joey once before, and seeing him play, I was excited to see what he would bring to the band. The results are in, and he is a fantastic fit for this band, both musically and for the on stage performance. As you will see in the photos here, I am not sure how Joey sees anything during the show. His hair never stops flying. I wish I had the half energy he does.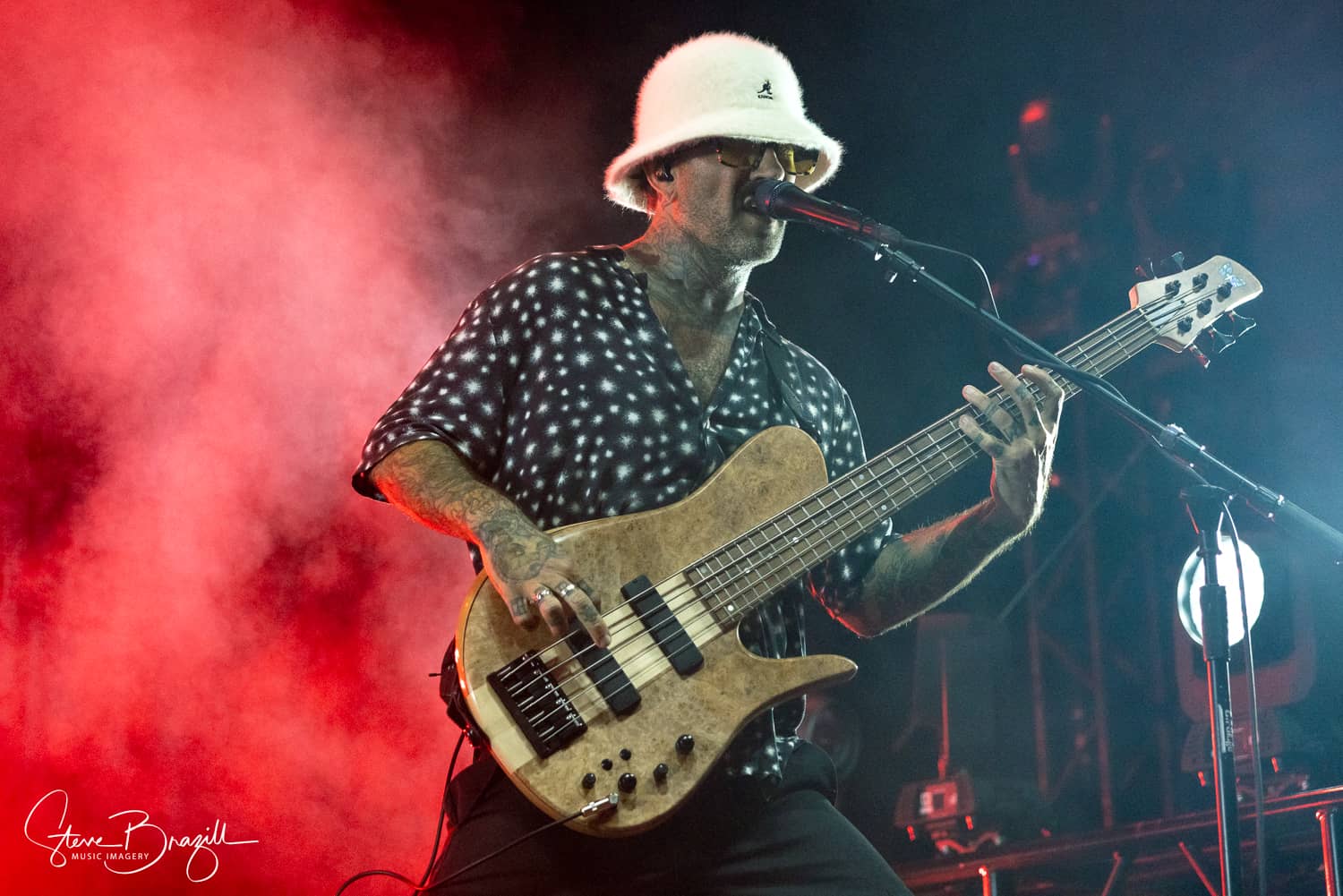 Bassist Jeph Howard (above), and drummer Dan Whitesides (below), come together to make a pocket this band sits in. The music these four create, and the show they put on, is something that you usually see from the new bands that are hungry to become stars. Seeing this from a band that has been around long enough to be legends is freaking awesome.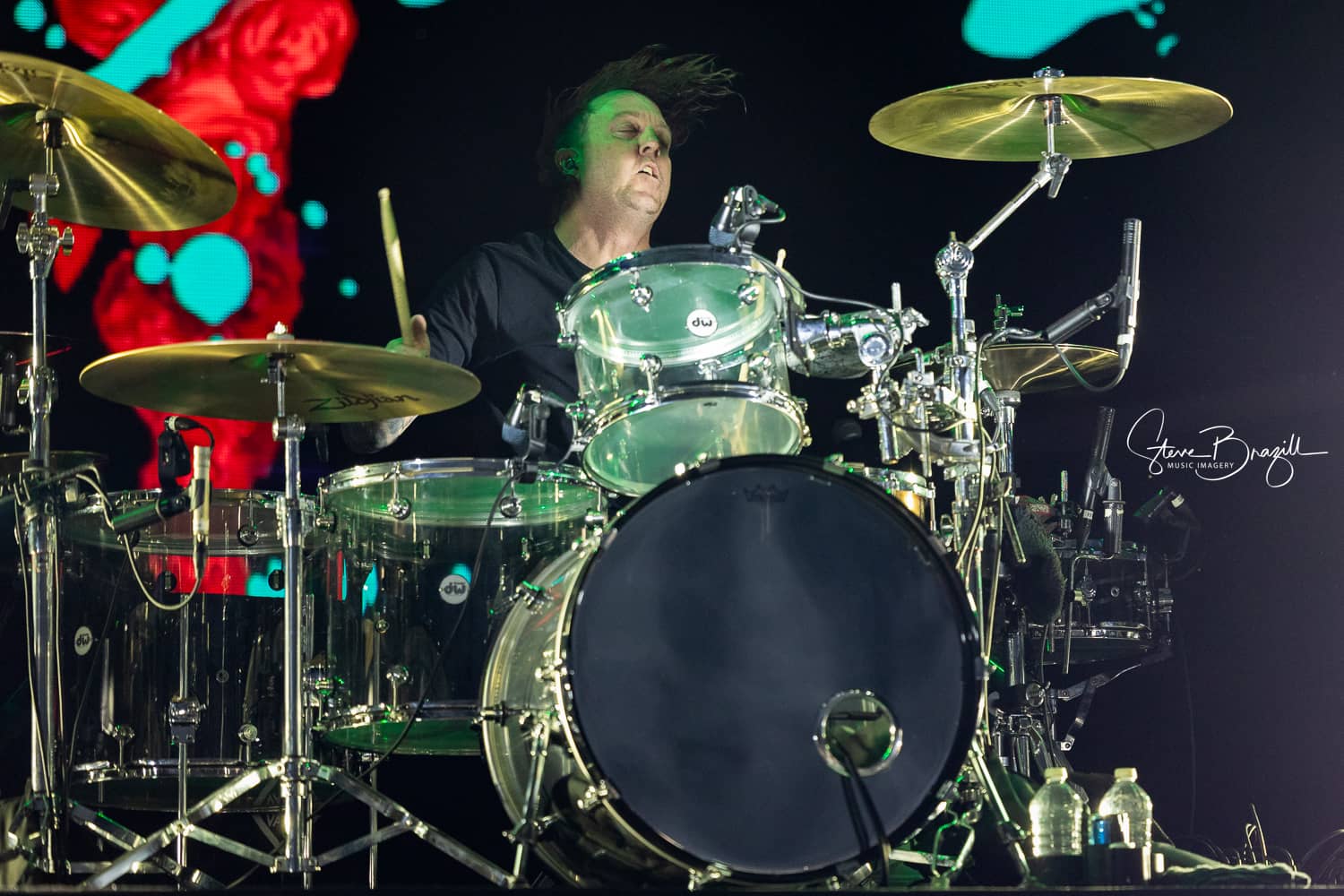 The Used Setlist
A Box Full of Sharp Objects
The Bird and the Worm
Take It Away
Listening
Blow Me
I Caught Fire
The Taste of Ink
All That I've Got
Blue and Yellow
Sound Effects and Overdramatics
Pretty Handsome Awkward
Smells Like Teen Spirit (Nirvana cover)
The Ghost Inside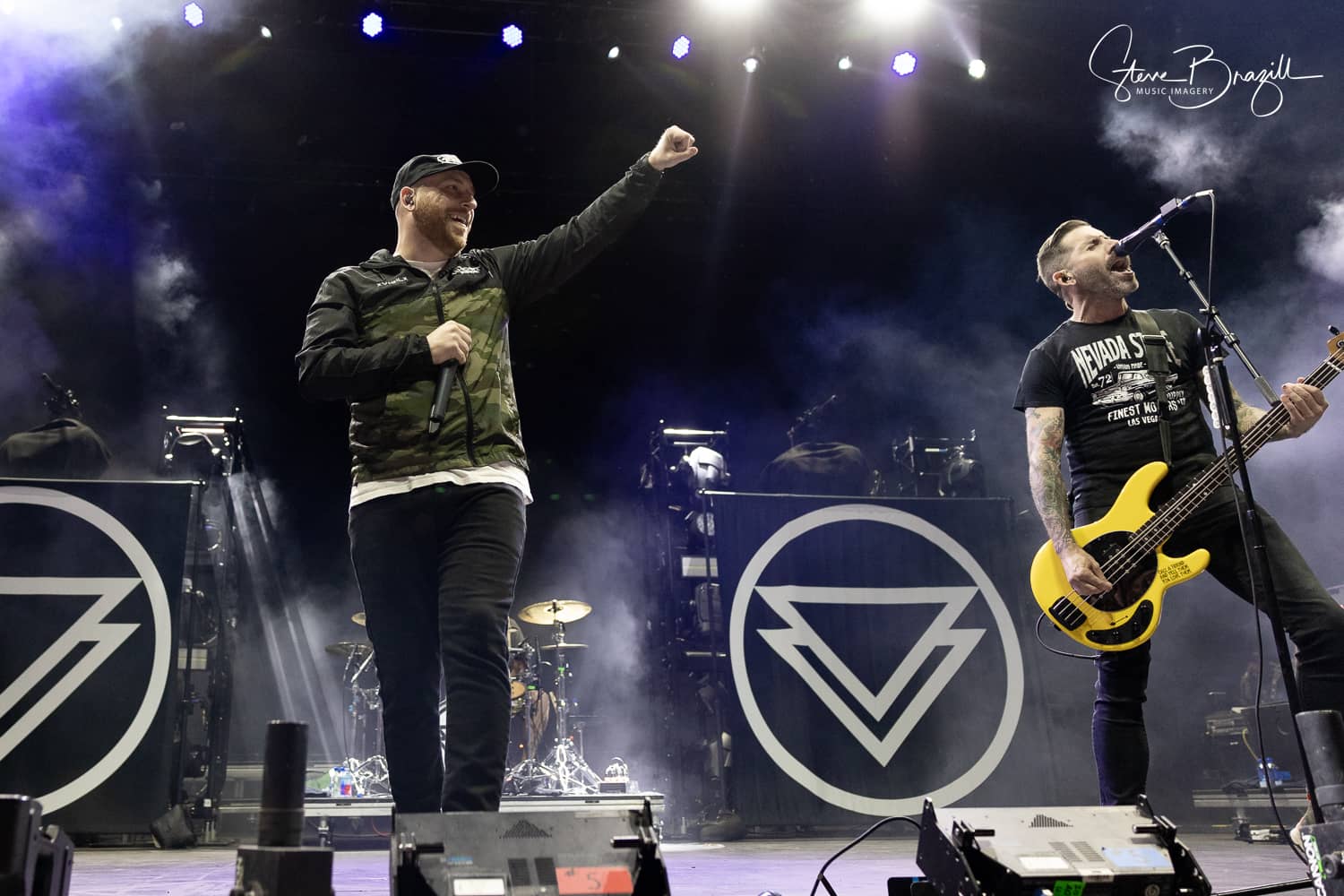 The Ghost Inside is a band with a story that still gives me chills. I won't go into that here, the details are all over the place. I want to focus on what I see in this band today, and what I saw on stage last week – a new beginning as they look forward. The Ghost Inside is, in many ways, a story of the power of music. I mean that as much for the artists performing the songs as I do for the fans listening, and this band has some very dedicated fans. It was deafening as the crowd sang along with their favorite hits.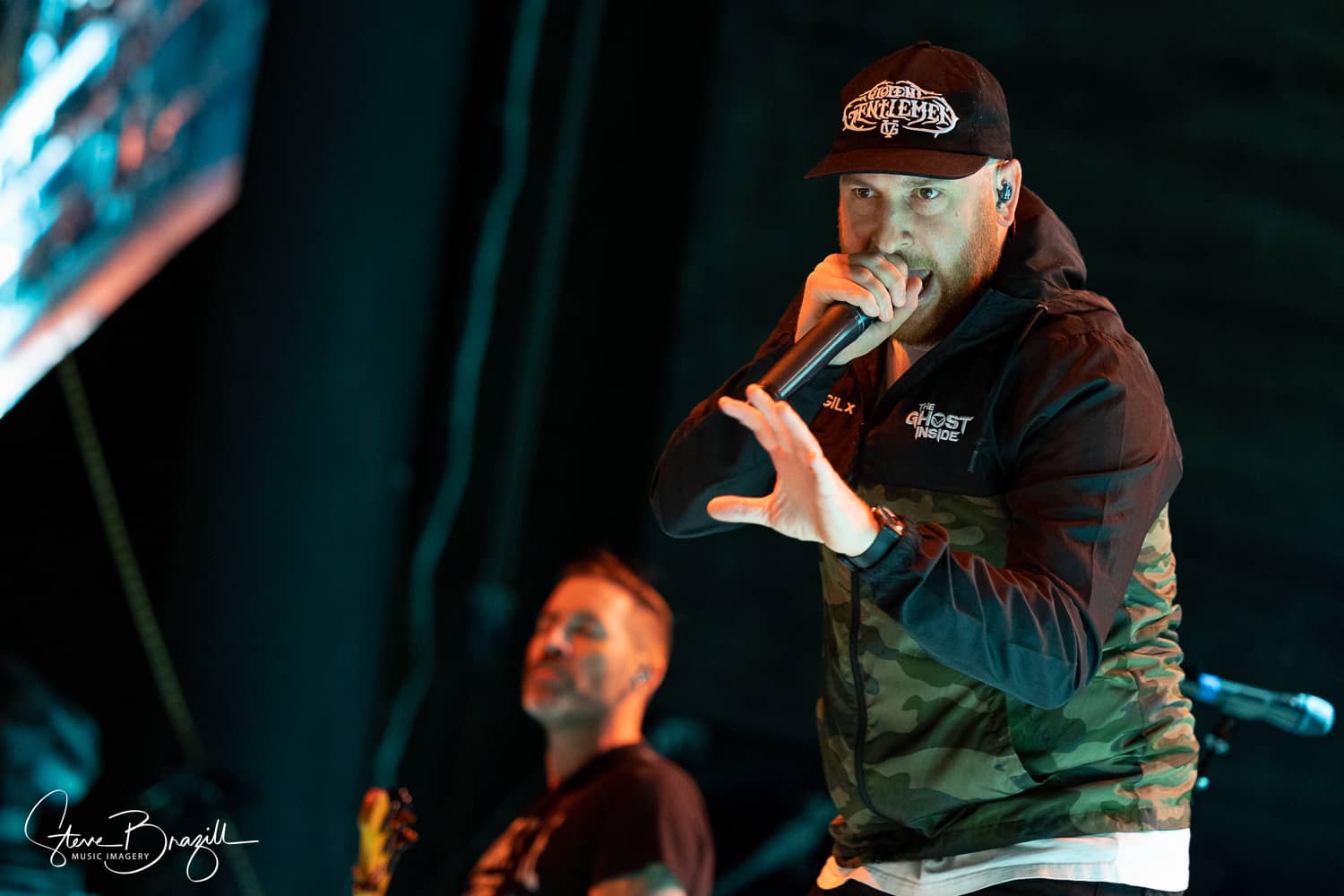 Vocalist Jonathan Vigil (above) doesn't stop smiling. It's so damn cool to watch. His enjoyment of being on stage is infectious. Damn I wish more bands brought that energy to the mix. And vocally, this dude rocks.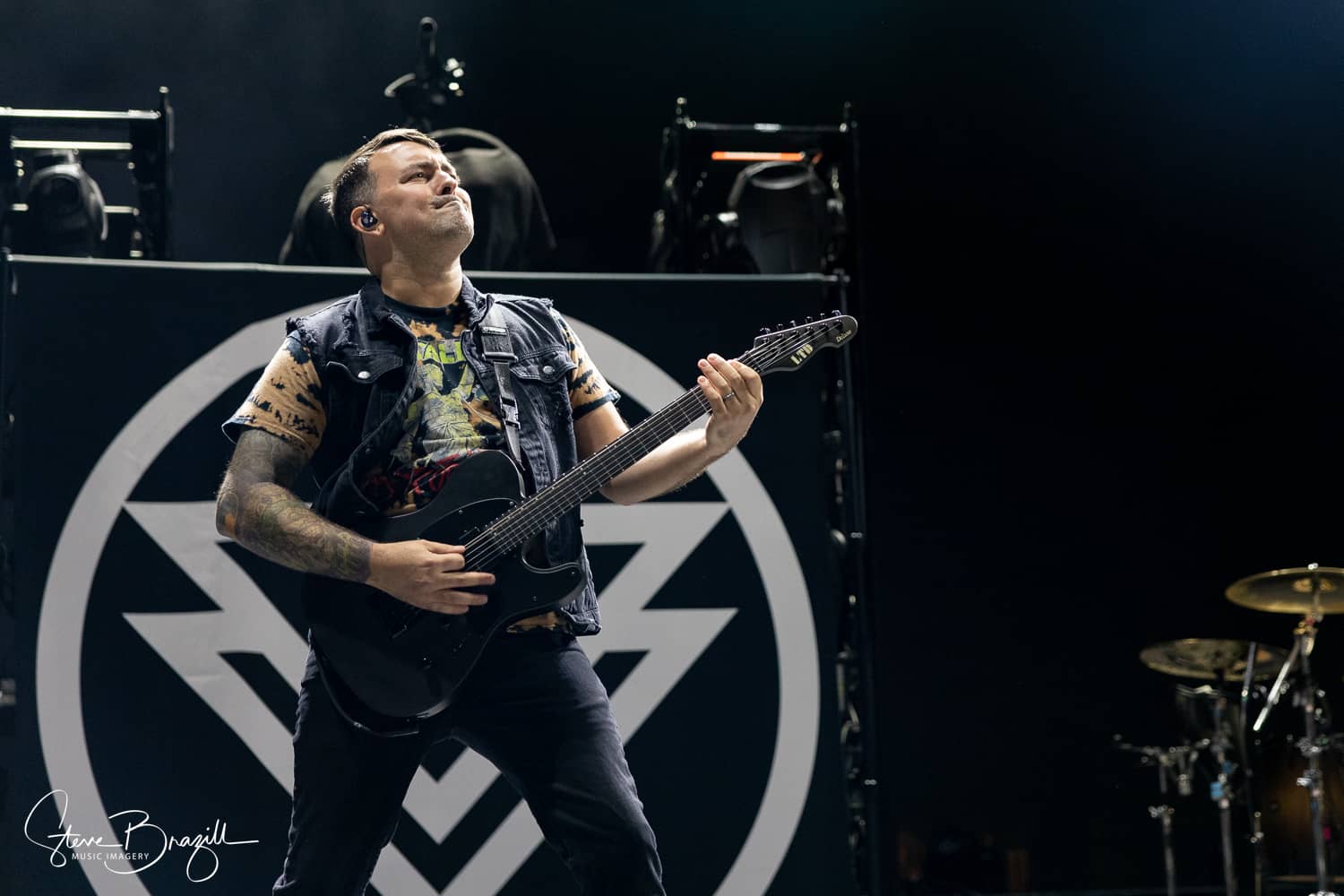 Lead guitarist Zach Johnson, and rhythm guitarist Chris Davis combine to drive The Ghost Inside's songs off the stage and into the crowd. There is something happening with this band that simply can't be described in writing. It's a bit magical to watch. As a photographer, the strobe- like lighting isn't the easiest thing to capture, but it was perfect for the crowd that soaked in every beat.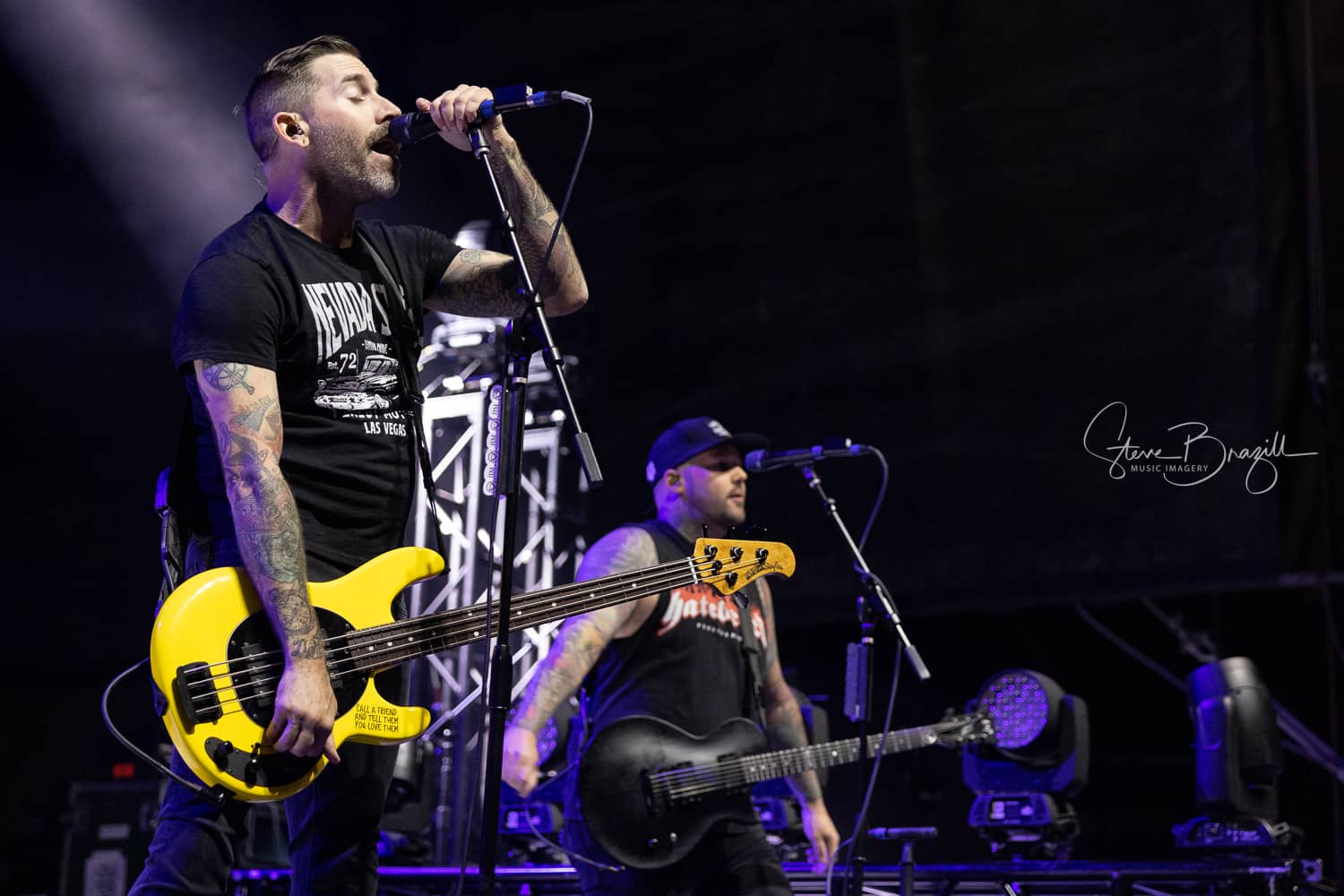 The pocket this band stays in comes from the combination of bassist Jim Riley (above) and drummer Andrew Tkaczyk (below). The Ghost Inside are such a tight band, they could have easily headlined this night, and I'd suggest that these two are a huge part of that. Spot on playing that pulled the audience in on every note.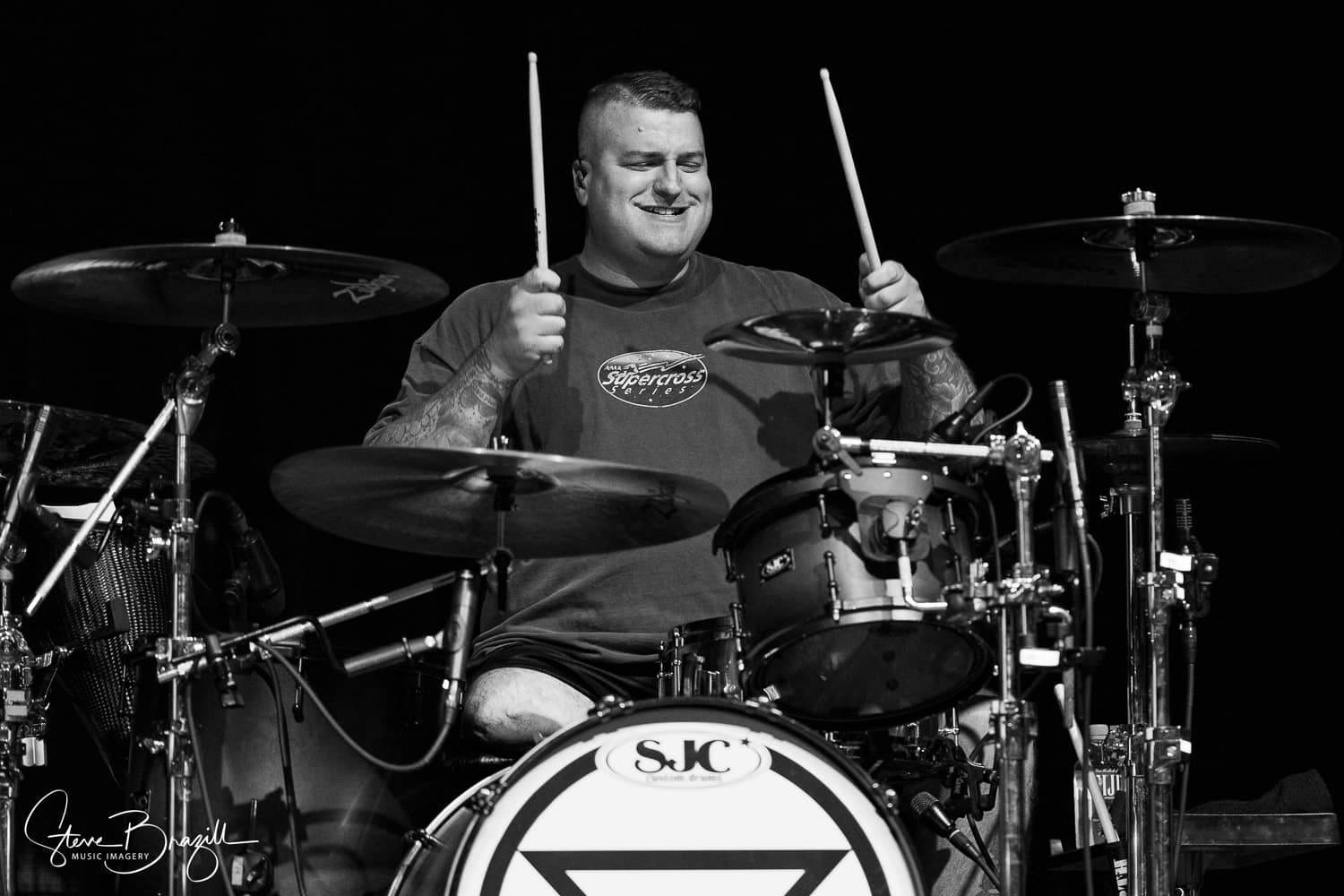 The Ghost Inside Setlist
Engine 45
The Great Unknown
The Outcast
Dear Youth (Day 52)
Pressure Point
Mercy
Dark Horse
Between the Lines
Avalanche
Aftermath
Movements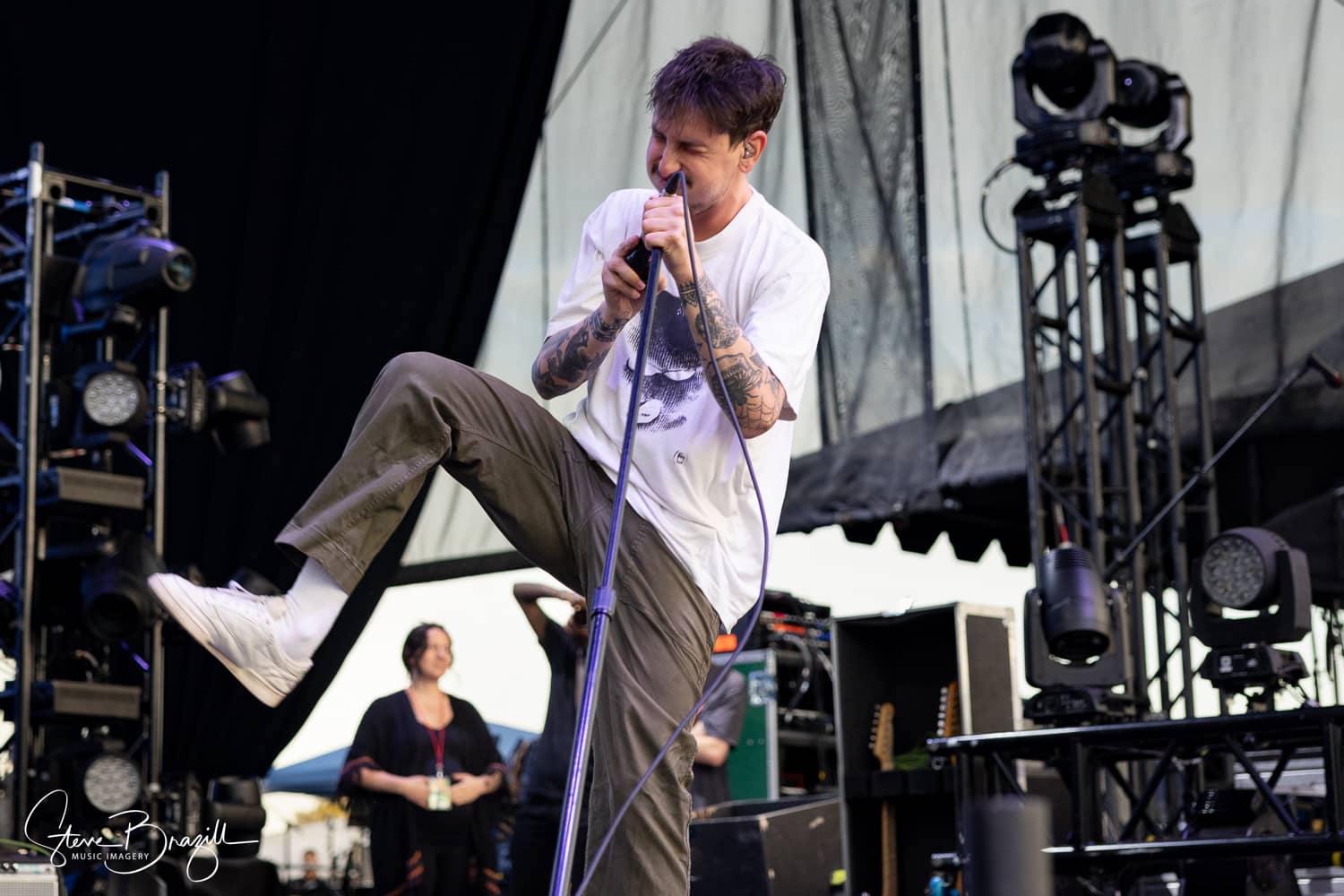 Rancho Santa Margarita's Movements has only been around since 2015, but they fit right into this lineup of veteran bands. Here you have Patrick Miranda (above) on vocals, and he absolutely helped to kick the night off in style.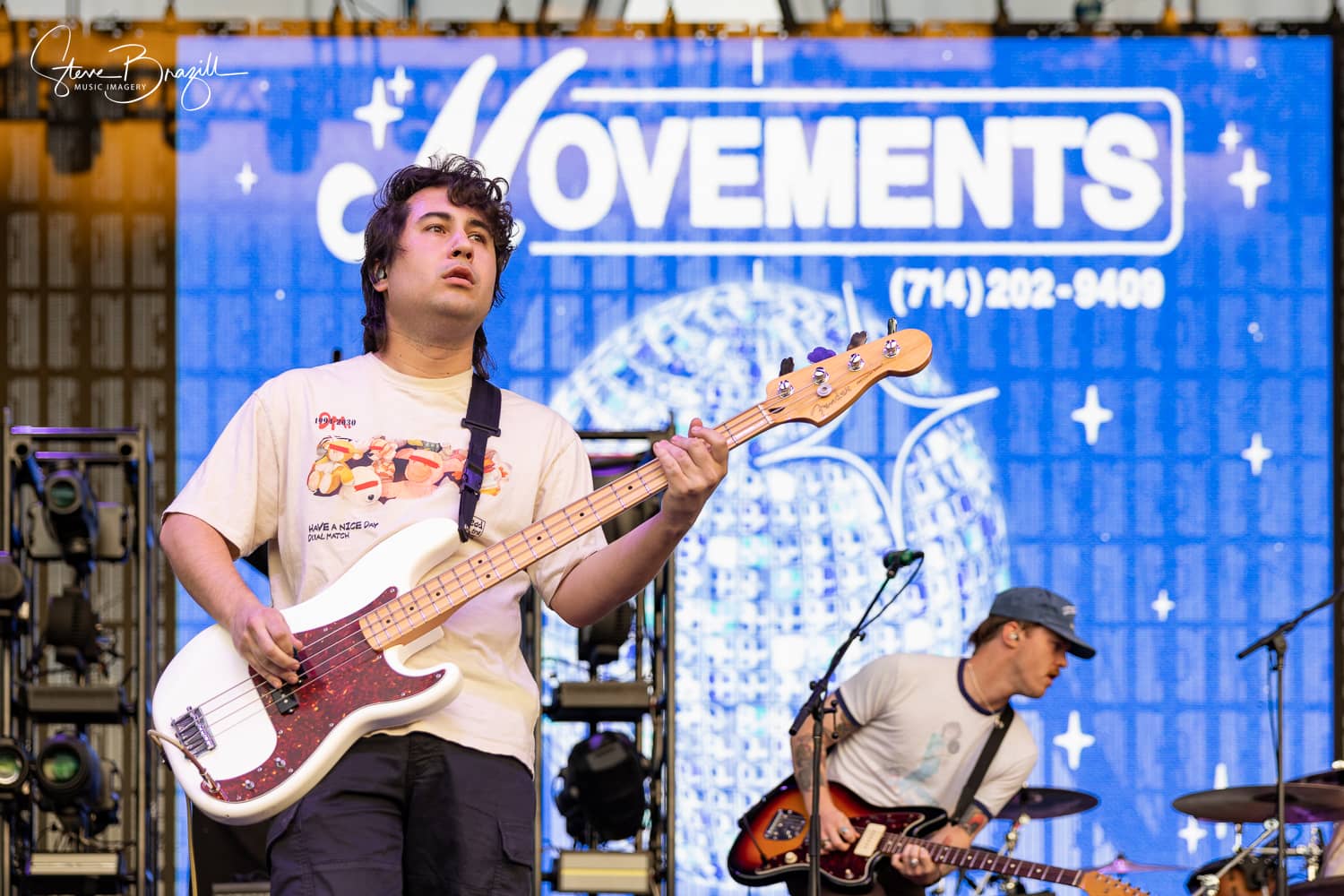 Watching them for the first time I was trying to figure out their influences. I am always fascinated by how bands and songs come together, and learning that their influences include Thrice, My Chemical Romance, Underoath, The Devil Wears Prada and Good Charlotte made sense. Bass guitar and rhythm guitarist Austin Cressey, along with  Ira George on lead guitar, help to bring all of those influences together in a tight, energetic way.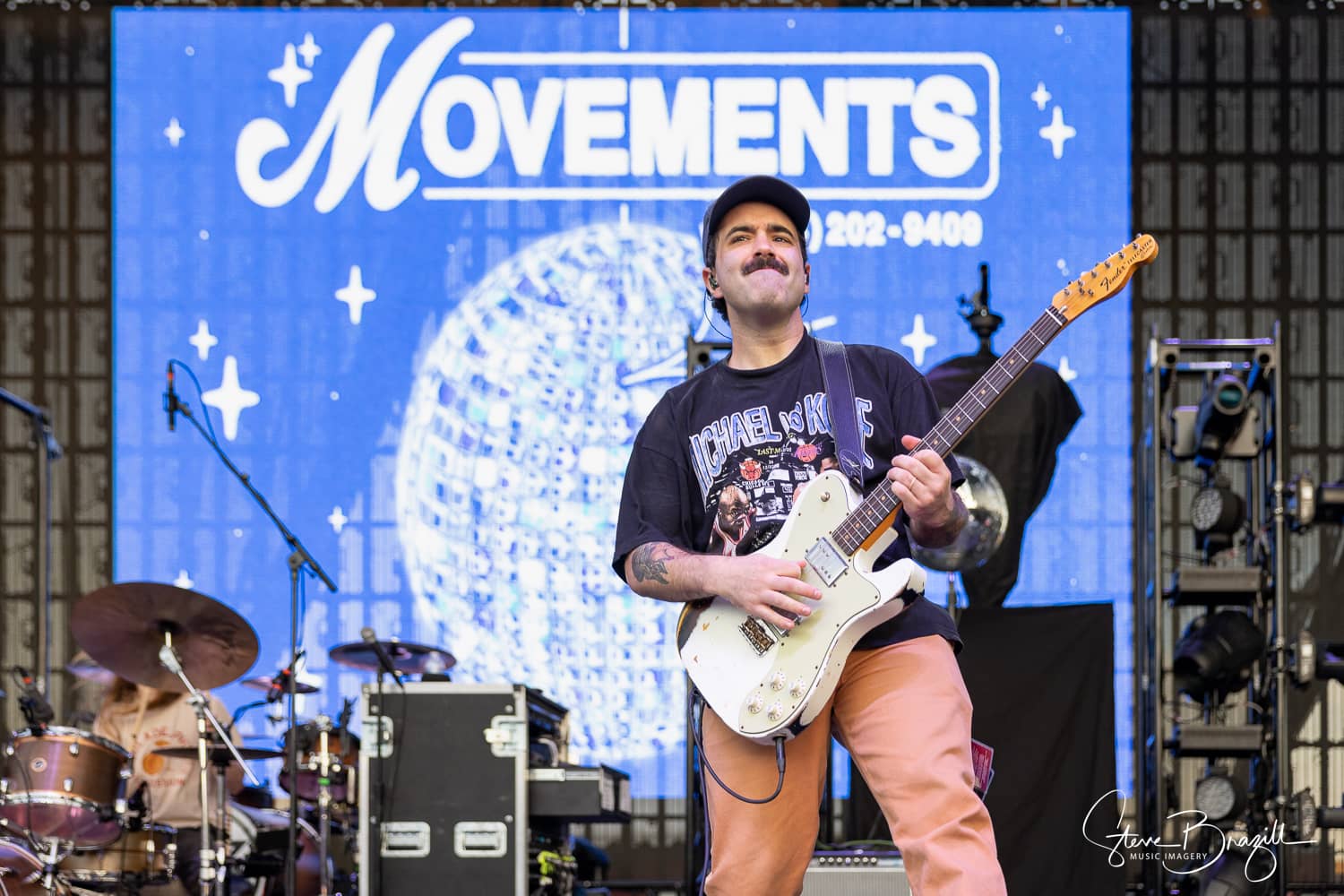 On drums is Spencer York, and together with the band they leave no doubt that they have a bright future.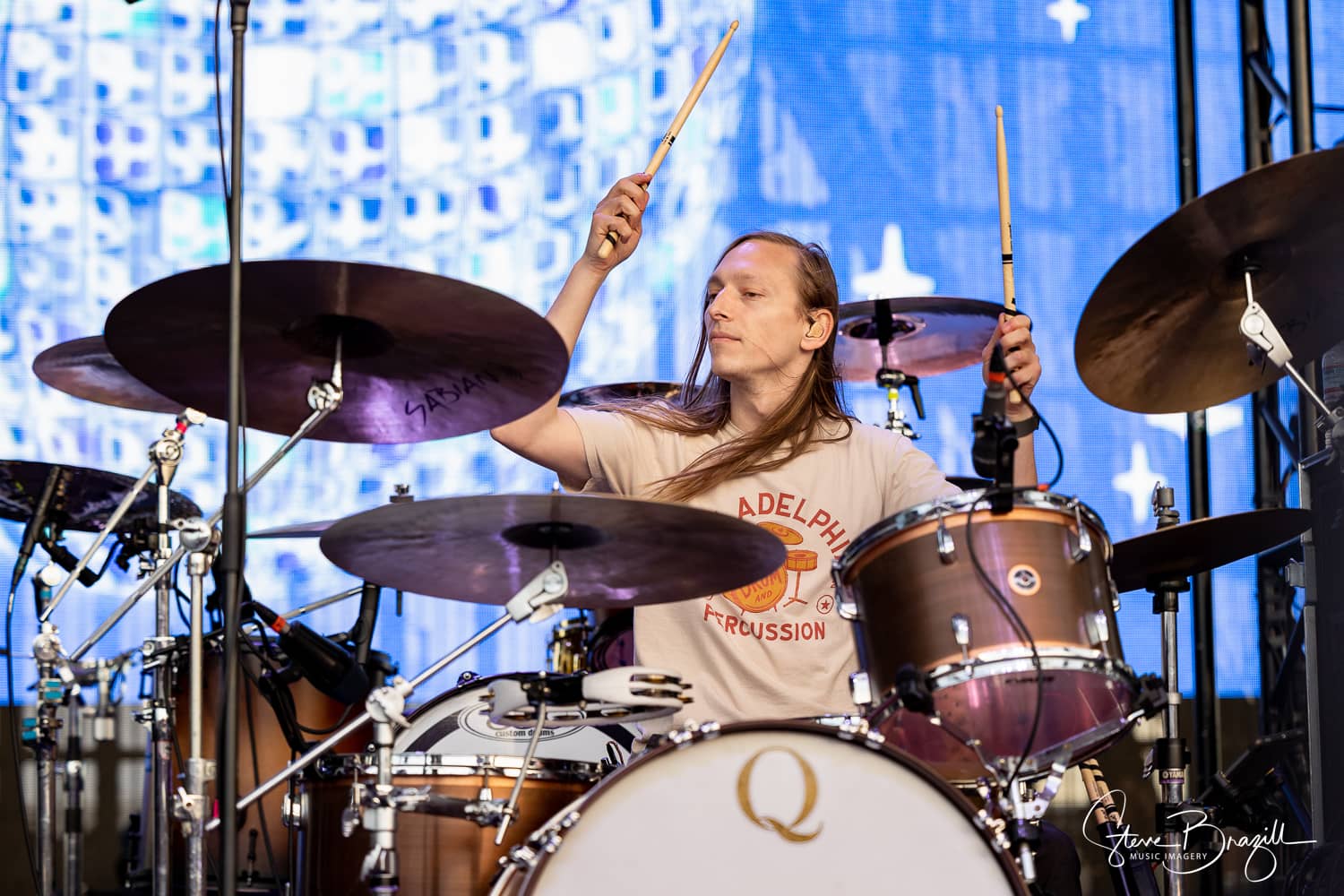 Movements Setlist
Third Degree
Barbed Wire Body
Skin to Skin
Colorblind
Full Circle
Panic
Cherry Thrill
Daylily
Magnolia Park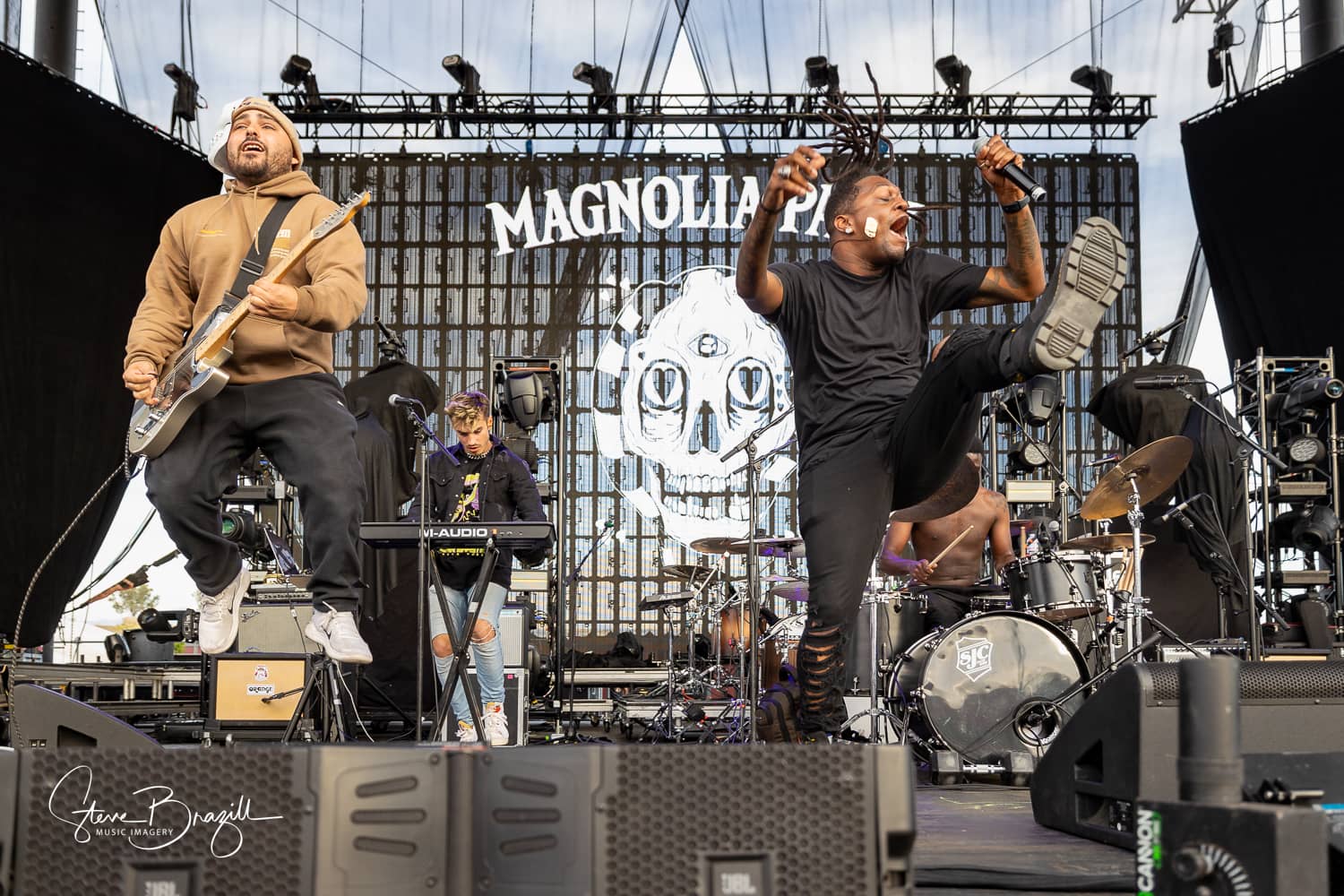 Magnolia Park is a newer band, formed in Orlando, Florida back in 2019. I had not seen this band before, but definitely look forward to seeing them again. As with a few of the other bands on this tour, they are managed by the same management company as ADTR. That speaks volumes to where this band is headed.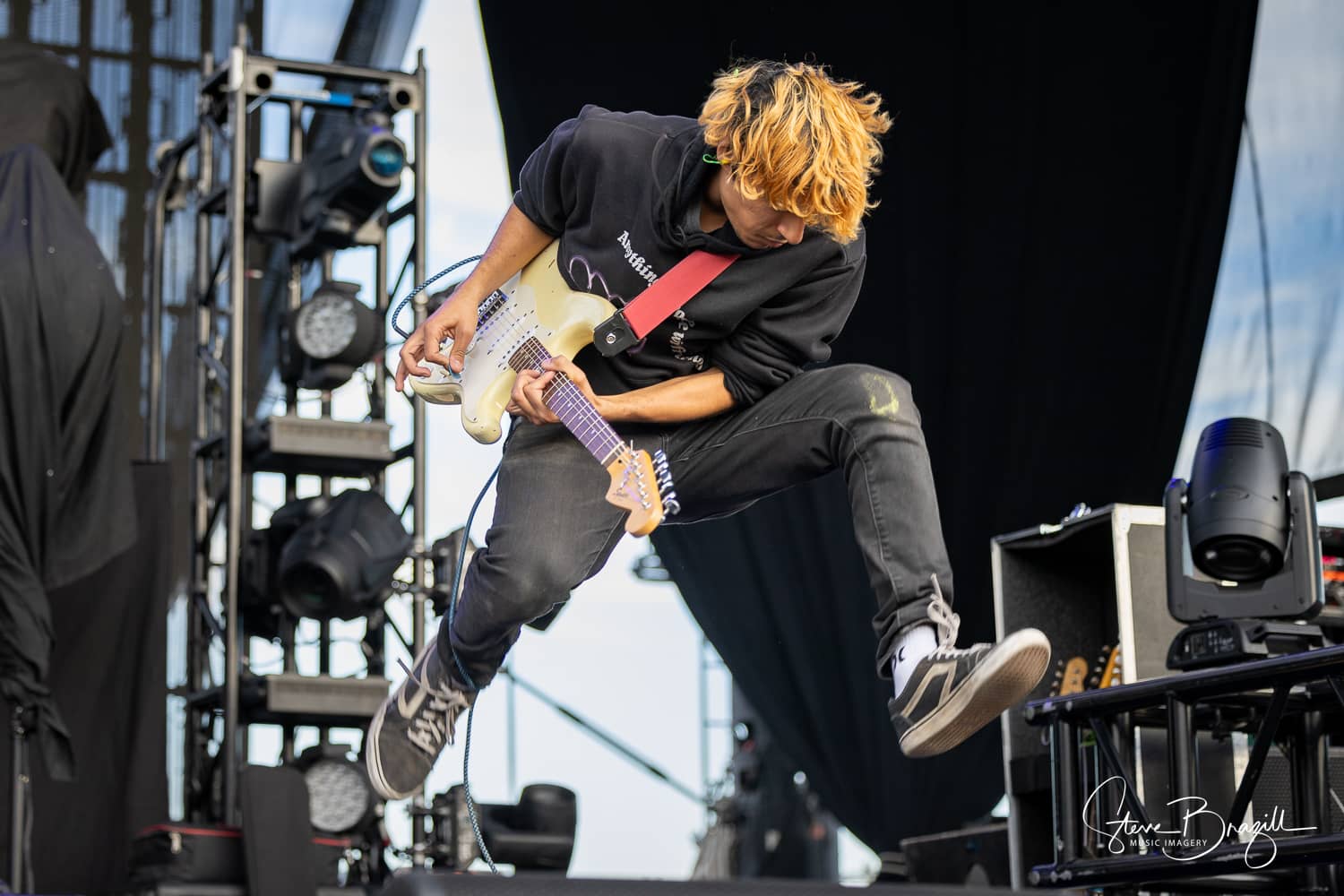 This is a band that is clearly hungry to be one of the best. Be sure to watch for them coming to a venue near you. They are a band whose future I will be following closely.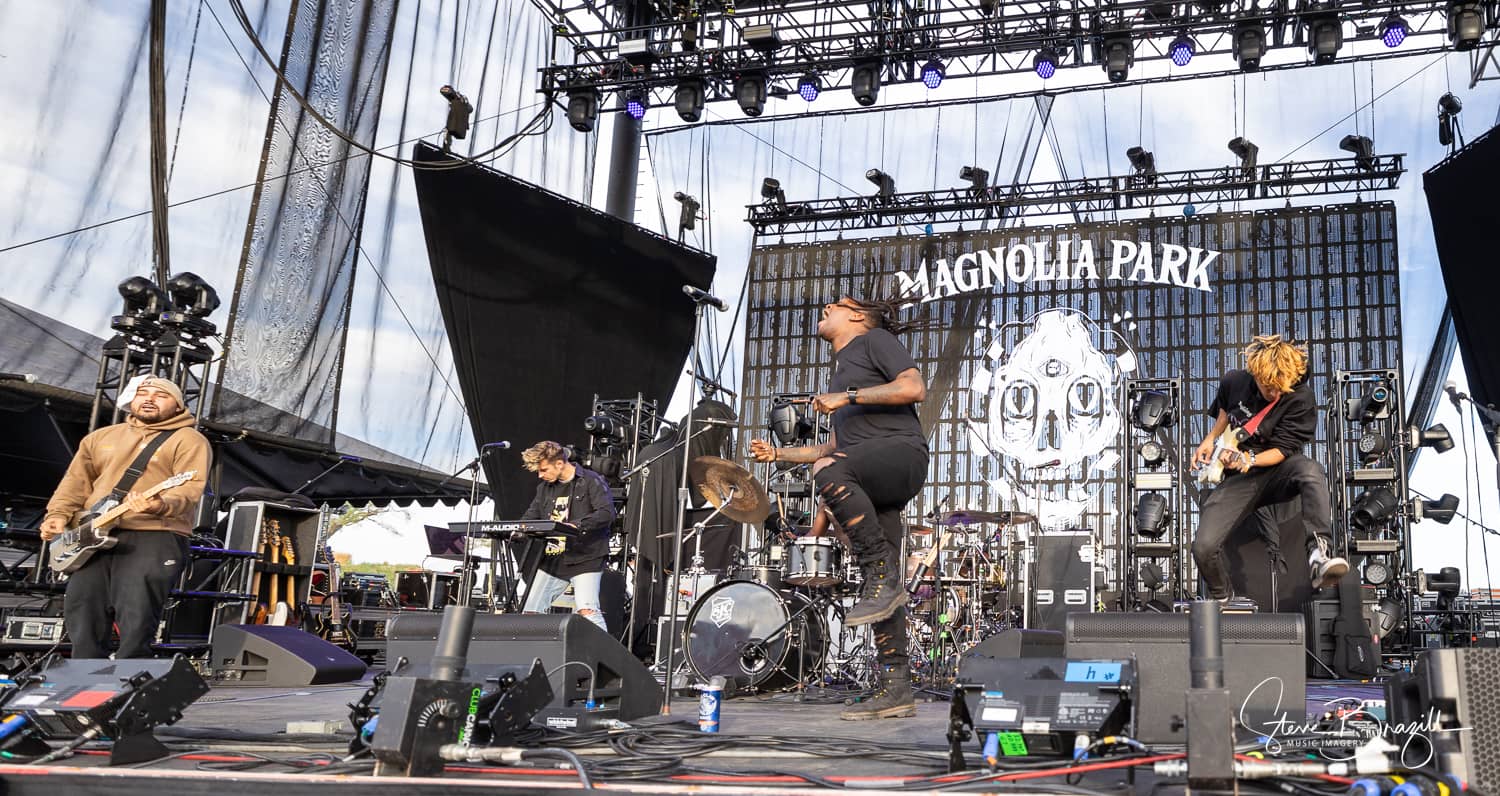 Magnolia Park Setlist
Feel Something
Love Me
Liar
Sugar, We're Goin Down (Fall Out Boy cover)
10 for 10
Misfits
Sick of It All
As usual, there is a gallery with many more photos below, and if you were at the show I'd love to hear your thoughts. Follow me online at:
Instagram: @SteveBrazill
Twitter: @SteveBrazill
Facebook: @SteveBrazillPhotography
Podcast: Behind the Shot
~ Razz
All Images Copyright 2022 Steve Brazill, All Rights Reserved.
DO NOT USE IMAGES WITHOUT PERMISSION