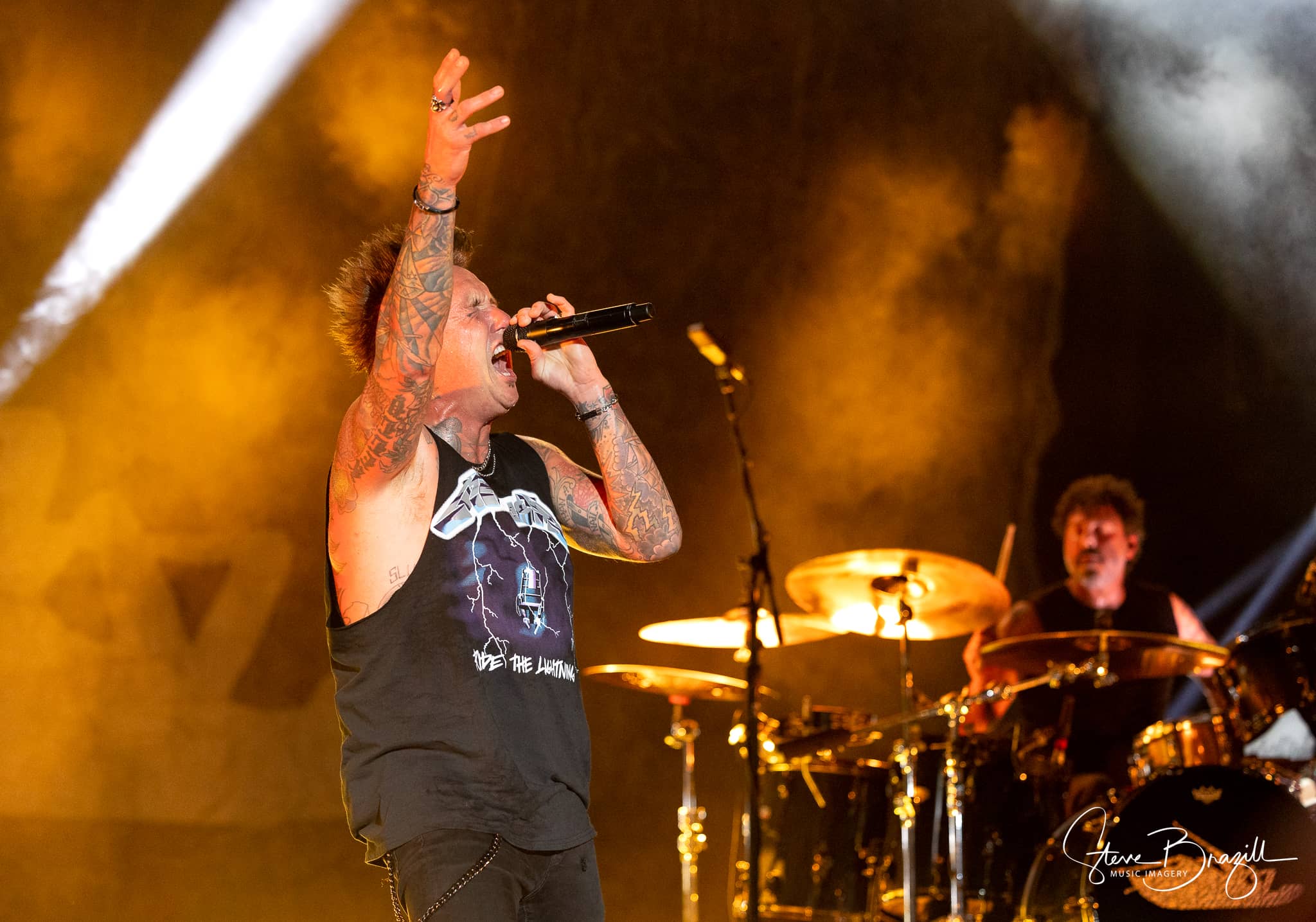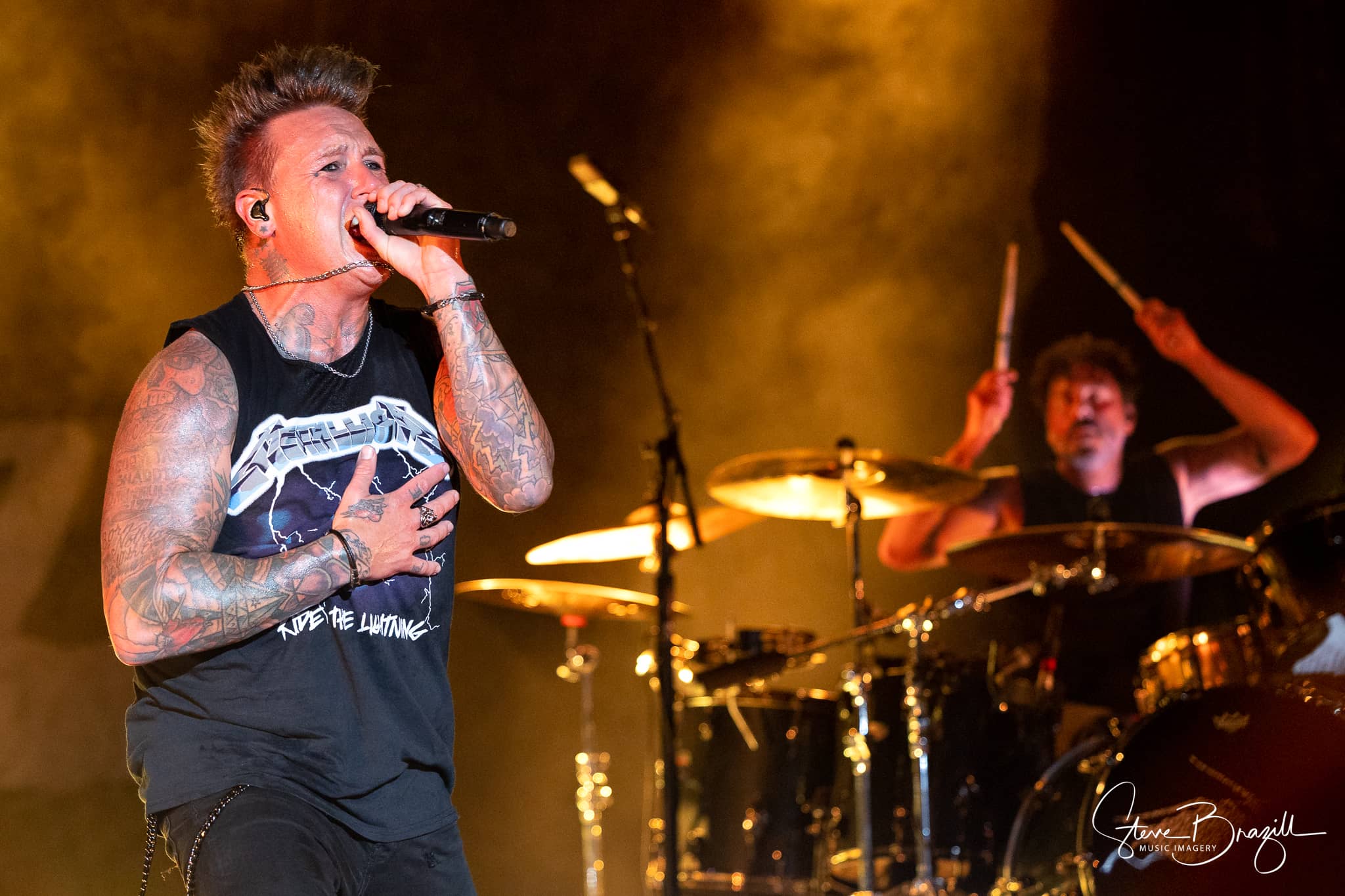 The Rockzilla Tour hit Fivepoint Amphitheater Tuesday night for an absolutely great night of music. Headlined by Papa Roach and Falling In Reverse, you knew this would have off the charts energy, but openers Hollywood Undead and Bad Wolves weren't going to sit back and let the headliners have the crowd to themselves. They had the crowd screaming within minutes.
Papa Roach
I have a few bands that I consider my favorites to see live, and I also have a few that are my favorites to photograph. Papa Roach is way up high on both lists. This band has everything you want live. Amazing vocals from Jacoby Shaddix, pictured above, some of the best musicians working today, and hits… tons of them. It seems like I know every word to every one of their songs.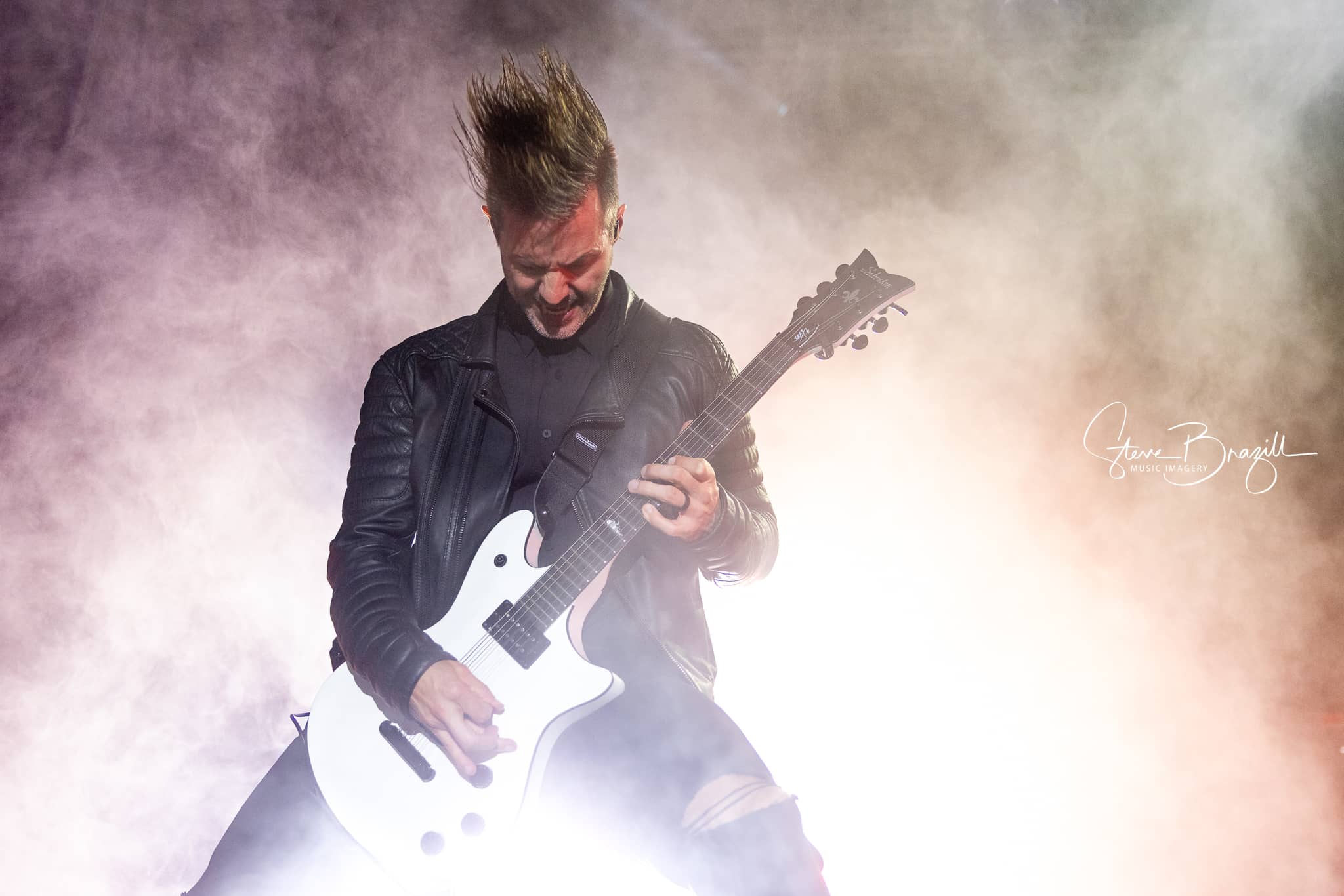 This is the second time I have photographed Papa Roach, with the first being a few years ago at Self Help Festival. That first time I had stage access, and saw from that angle the connection this band has with it's fans. It's something special. On Tuesday I watched as this band of seasoned performers lit up the night in Irvine. Jerry Horton on guitar, pictured above, is something else. He is one of the best performers I have seen in a long time, and he's constantly smiling. It's awesome.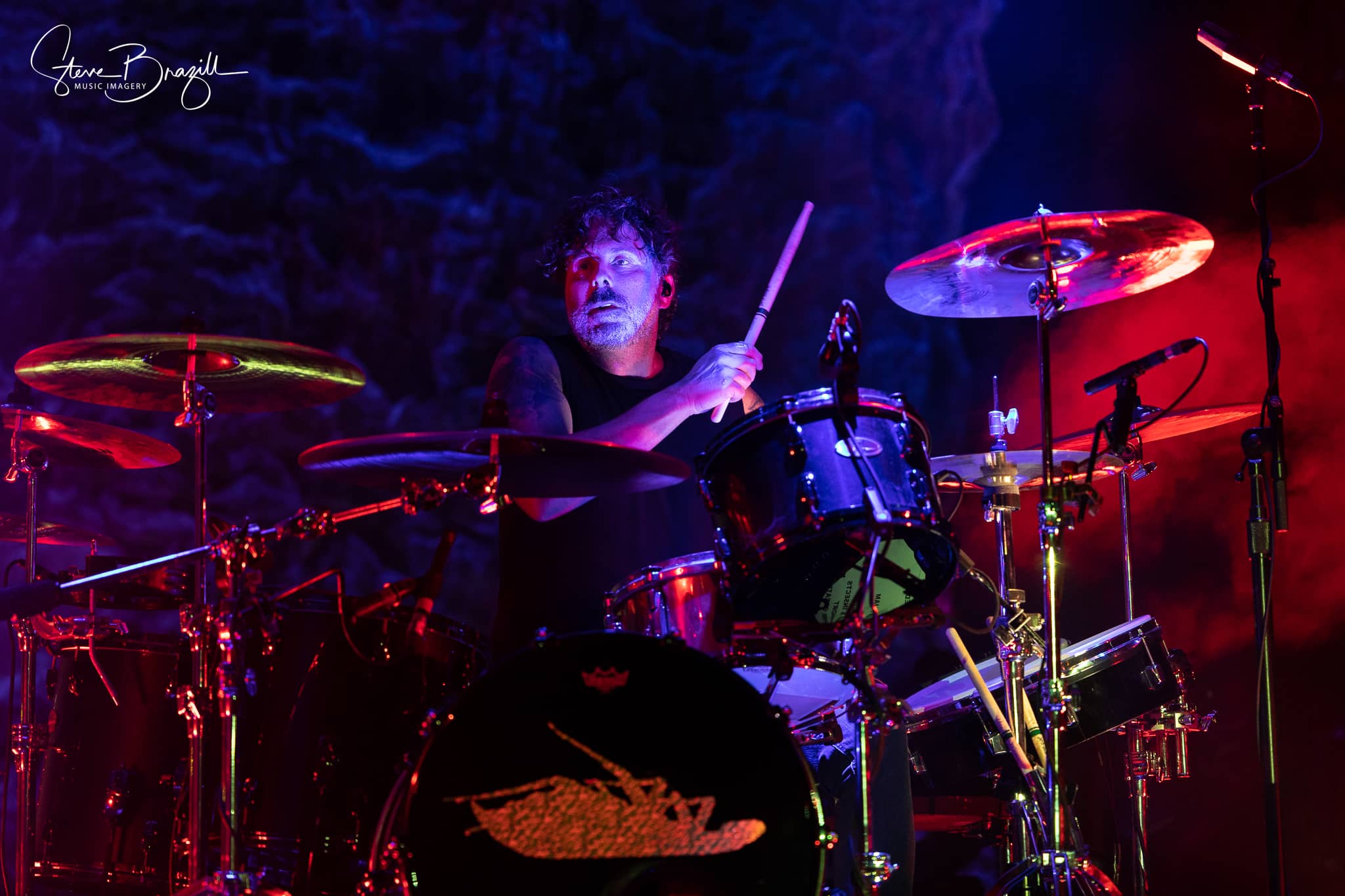 One of my favorite things to photograph is drummers, and Tony Palermo, above, is so damn good. Along with bassist Tobin Esperance, below, these two kept Papa Roach cranking through a 16 song set. For me, "Last Resort" is always great, but hearing this band do "Scars" live is something I won't soon forget.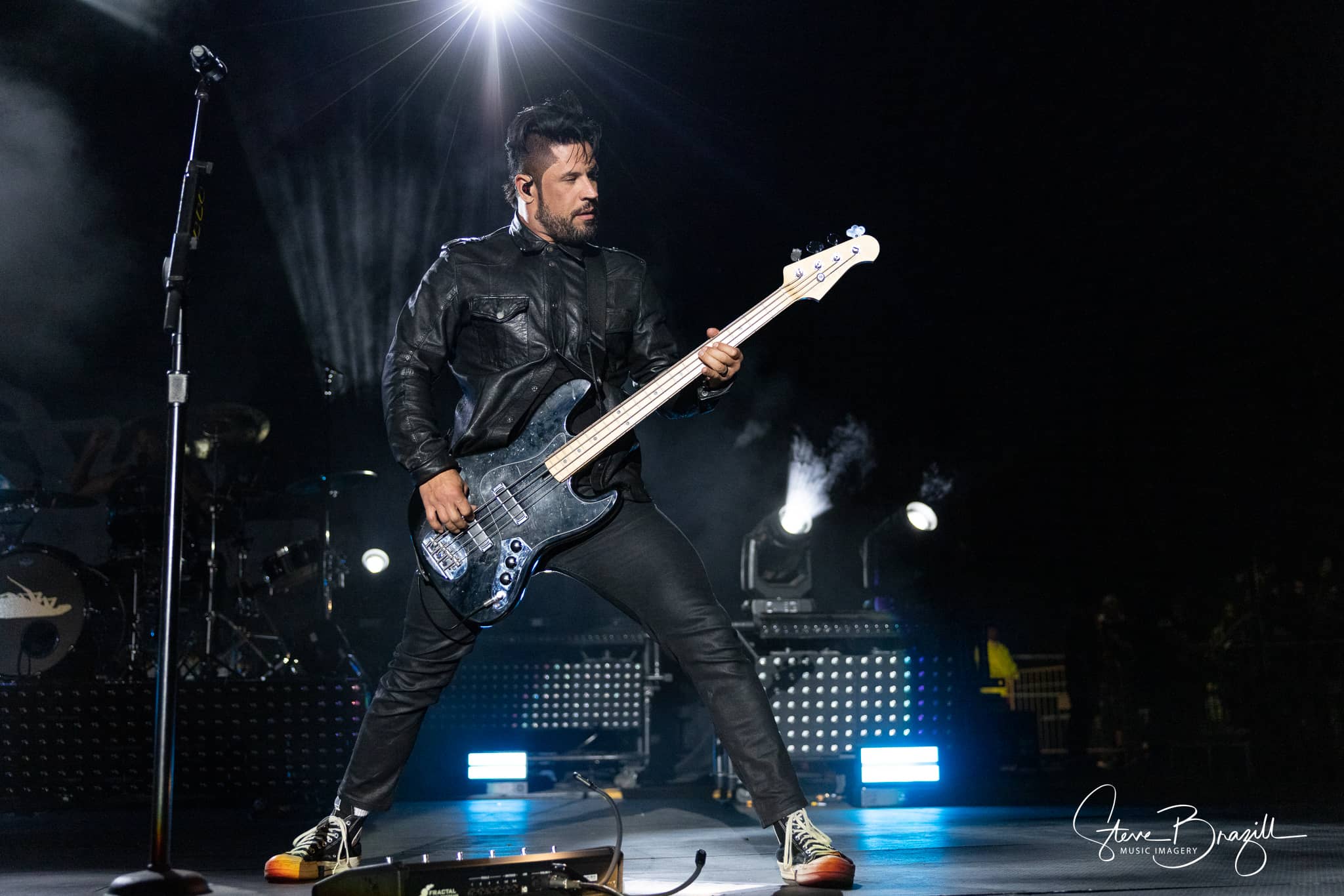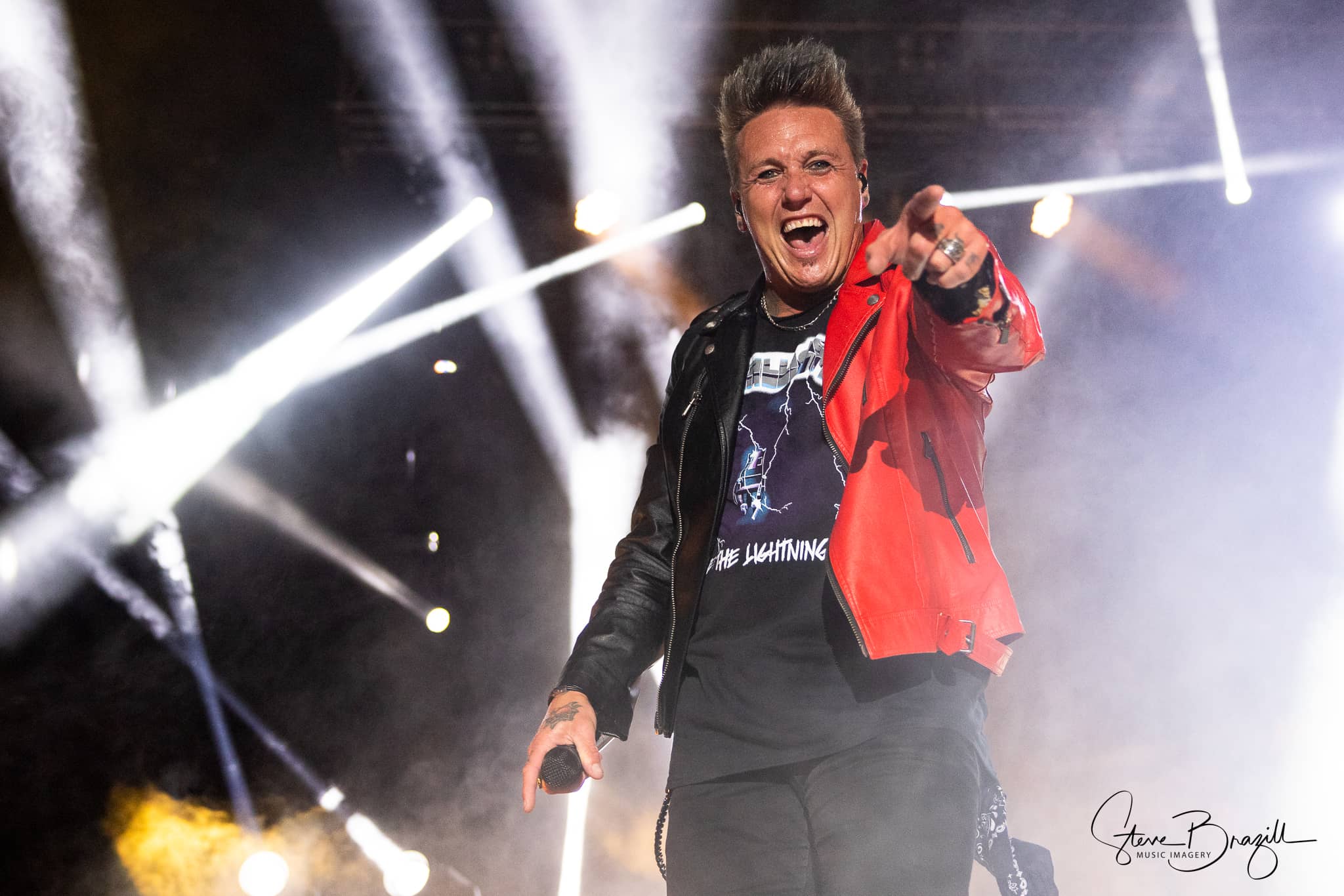 I can't stress this enough… see this tour. See it more than once if you can.
Papa Roach Setlist
Kill the Noise
Getting Away With Murder
Help
Blood Brothers / Dead Cell
Firestarter (The Prodigy cover)
Still D.R.E. (Dr. Dre cover)
Swerve
…To Be Loved
Forever
Face Everything and Rise
Lullaby Jam
Scars
No Apologies
Between Angels and Insects
Last Resort
Born for Greatness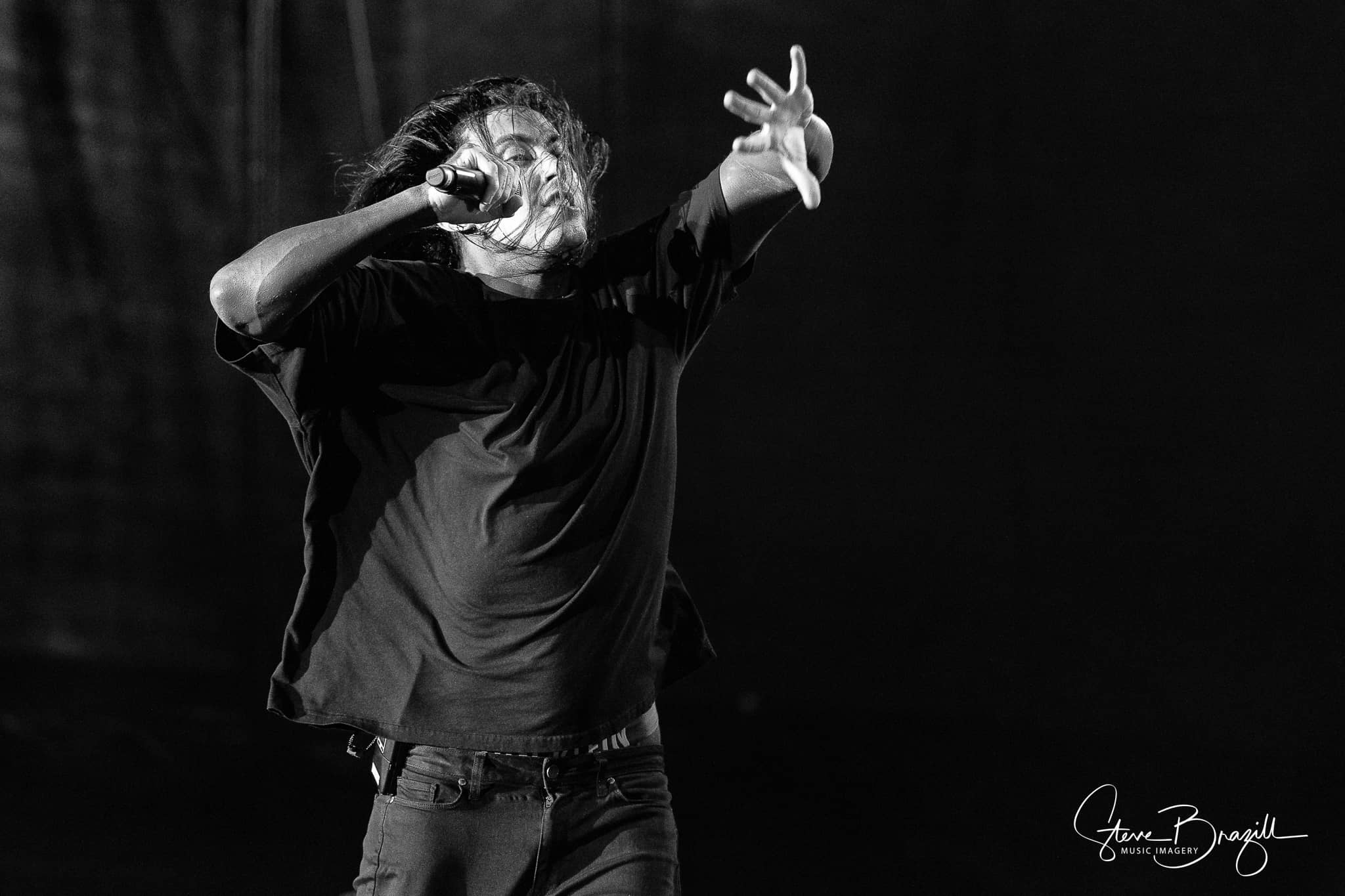 Falling In Reverse
Falling In Reverse is a band formed in 2008 by vocalist Ronnie Radke, pictured above, and this is the 3rd or 4th time I have seen them. As I was getting ready to write this post I found myself trying to figure out how to describe this band to you, and what I came up with is electric. I am not sure I have ever seen a vocalist this "in the moment". I had trouble just keeping him in the photo frame. It's awesome to watch.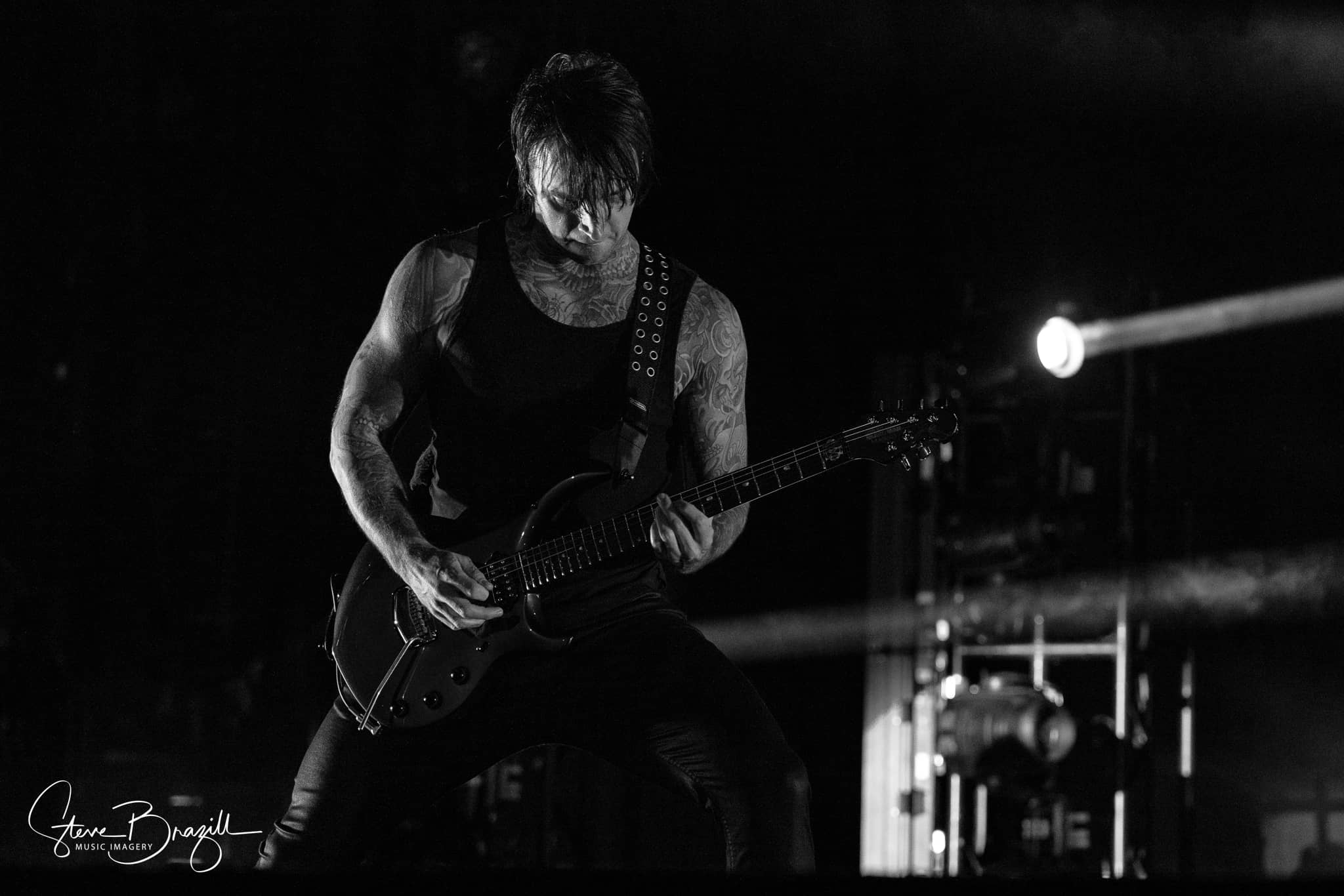 While Ronnie will dominate what you see, behind him you've got lead guitarist Max Georgiev, pictured above, absolutely killing it. Not sure how he can even see in the darkness he was in throughout the show. His guitar is clearly an extension of his mind and body.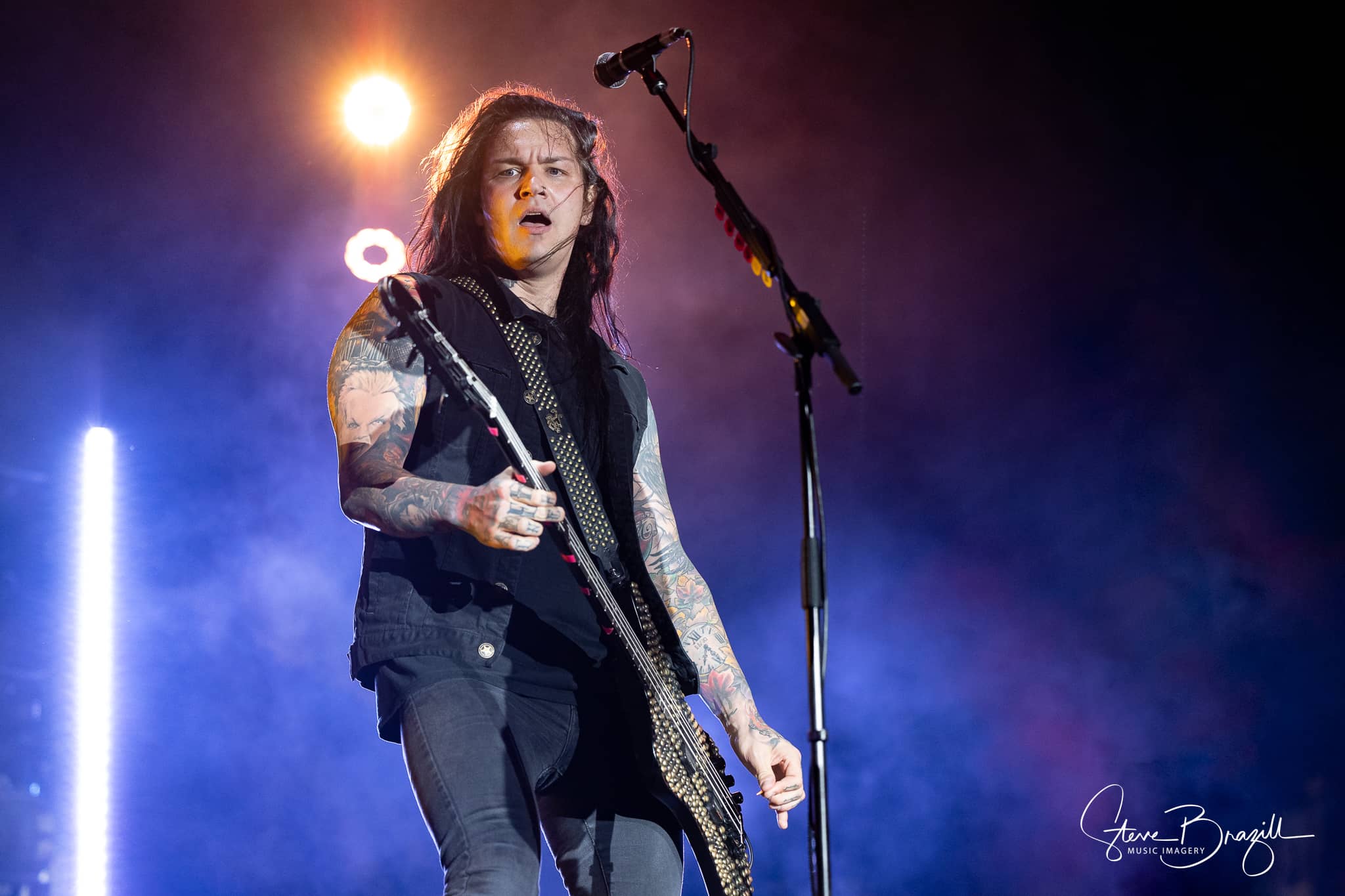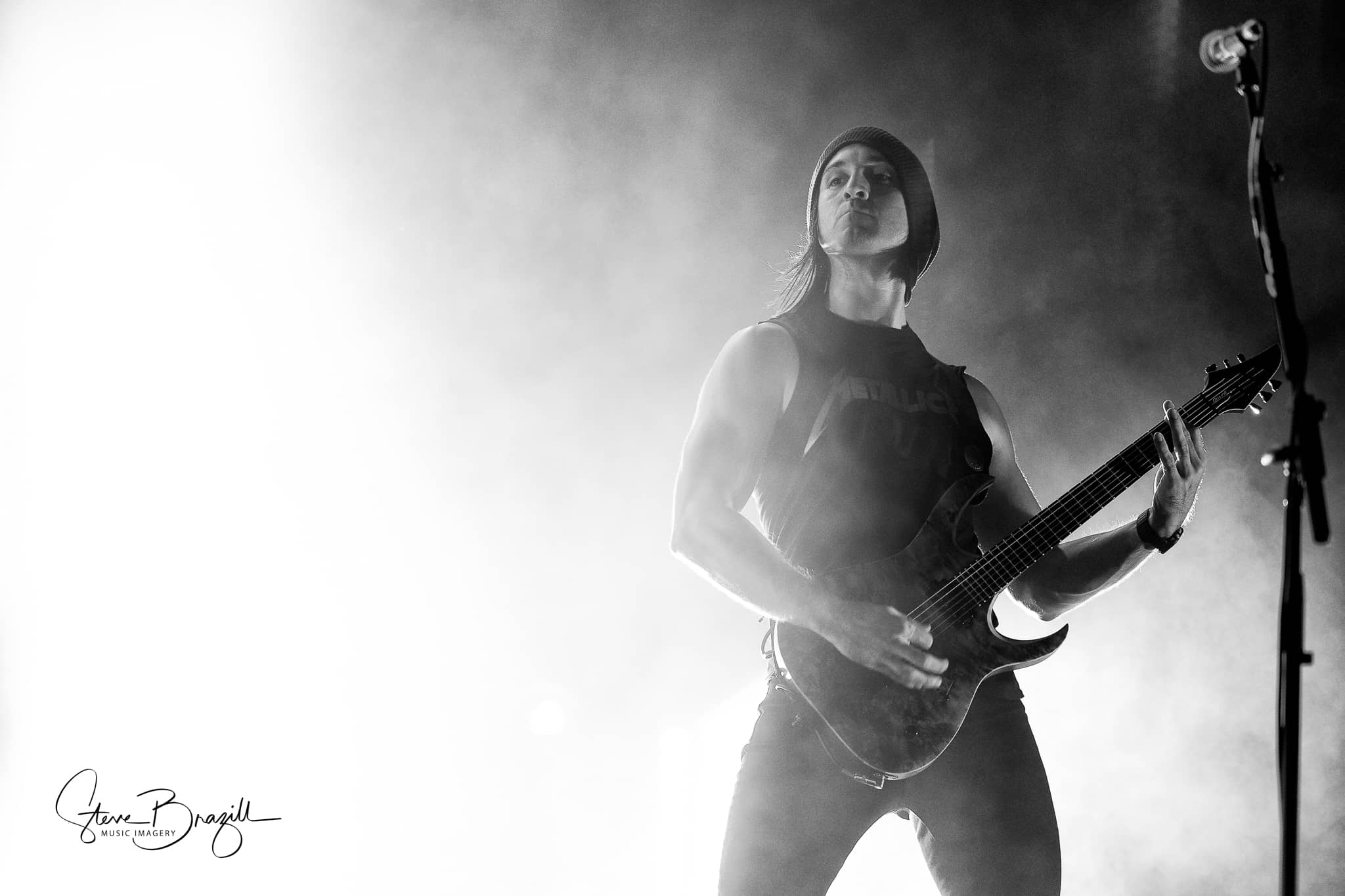 Rounding out the band is bassist Tyler Burgess, and rhythm guitarist Christian Thompson, both pictured above, and handling drums is Luke Holland, below.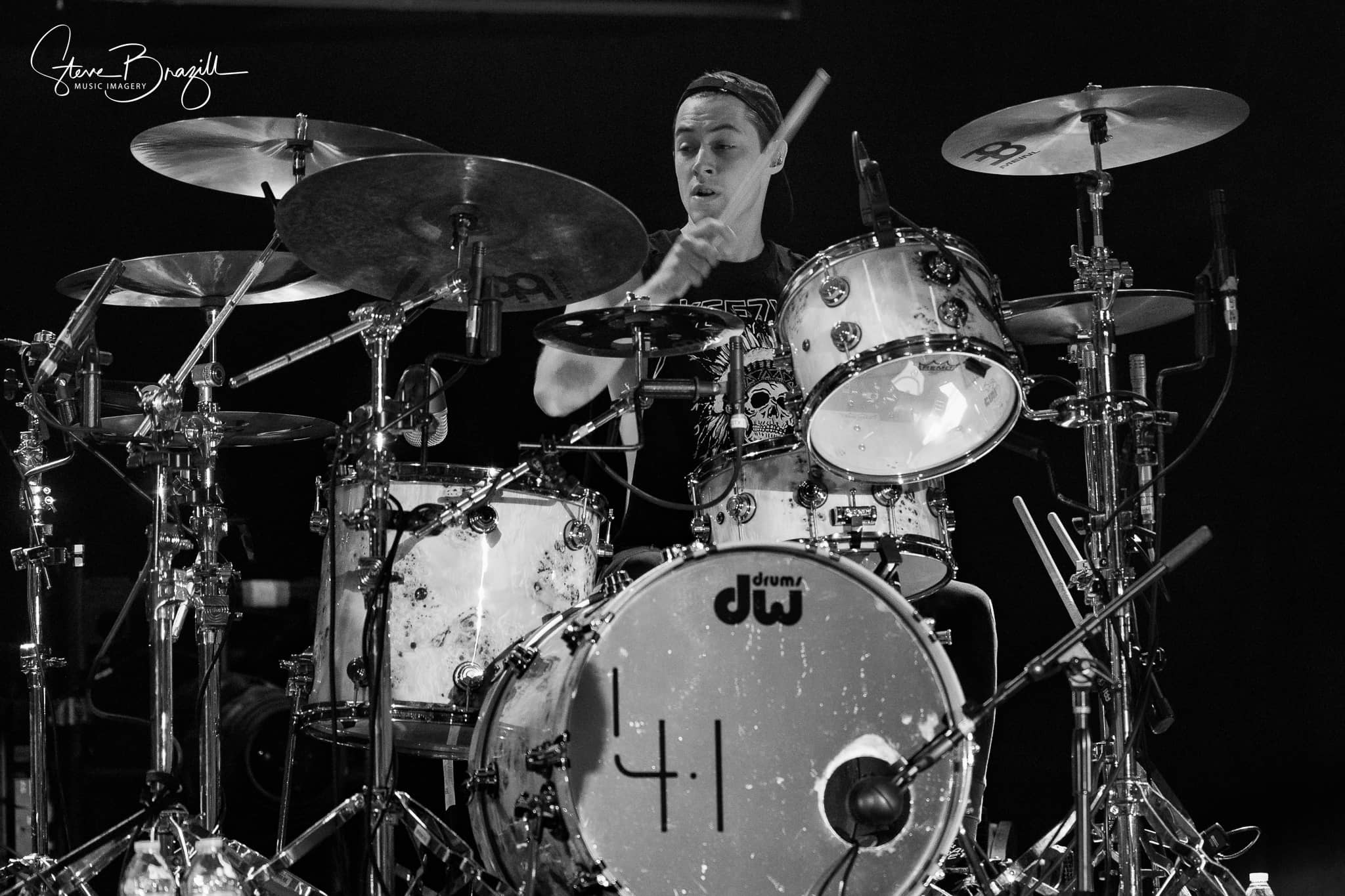 Falling In Reverse Setlist
Zombified
I'm Not a Vampire
God, If You Are Above…
Losing My Mind
Raised by Wolves
Rolling Stone
Fuck You and All Your Friends
Fashionably Late
The Drug in Me Is You
Drugs
Voices in My Head
Just Like You
Popular Monster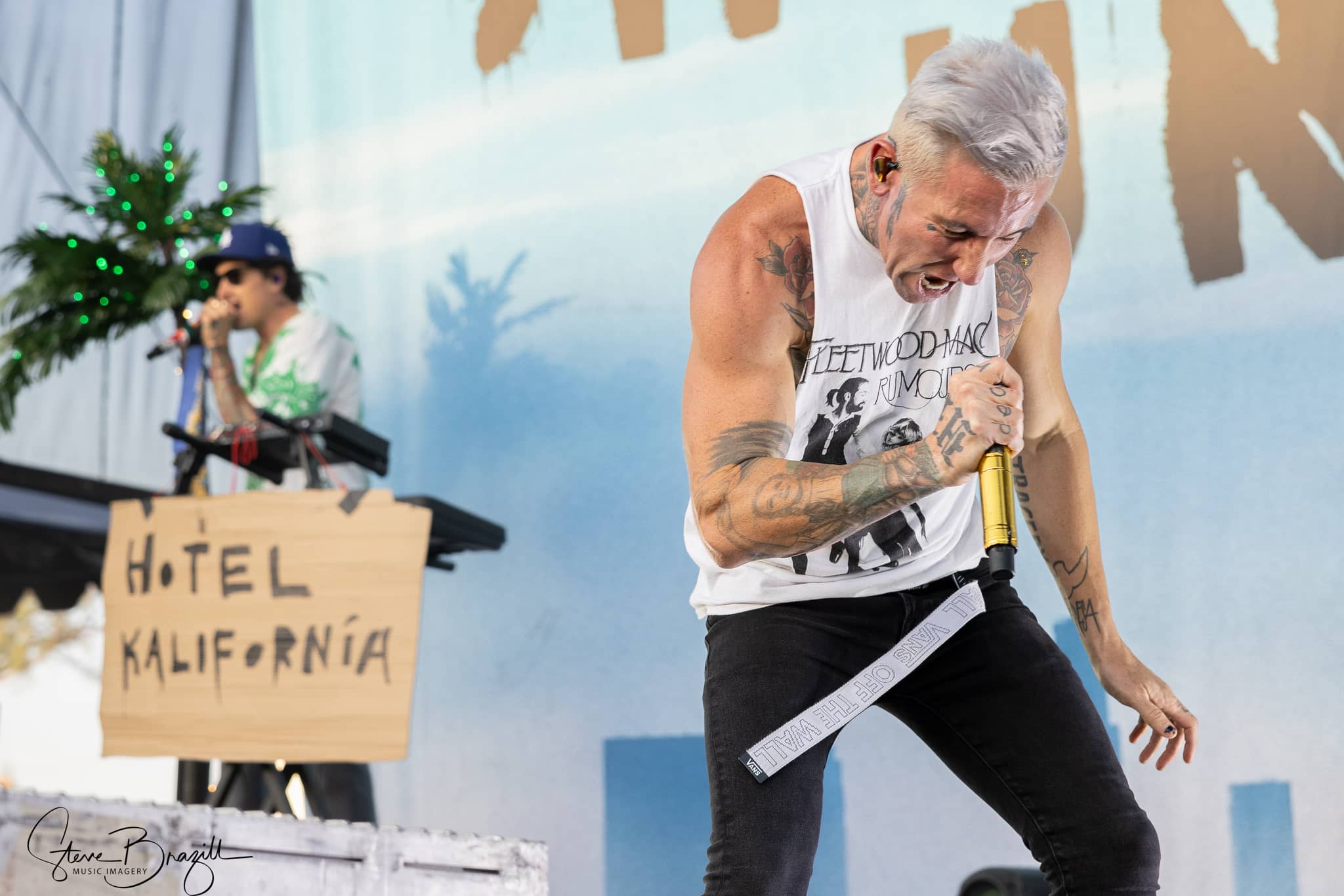 Hollywood Undead
Hollywood Undead is a band I have been watching for years, and the first time I saw and photographed them was way back when they were still wearing masks. This performance was an interesting one for me. It was as though they were headlining. I mean, the energy they brought to the stage was something else entirely, and the early crowd was there for every bit of it.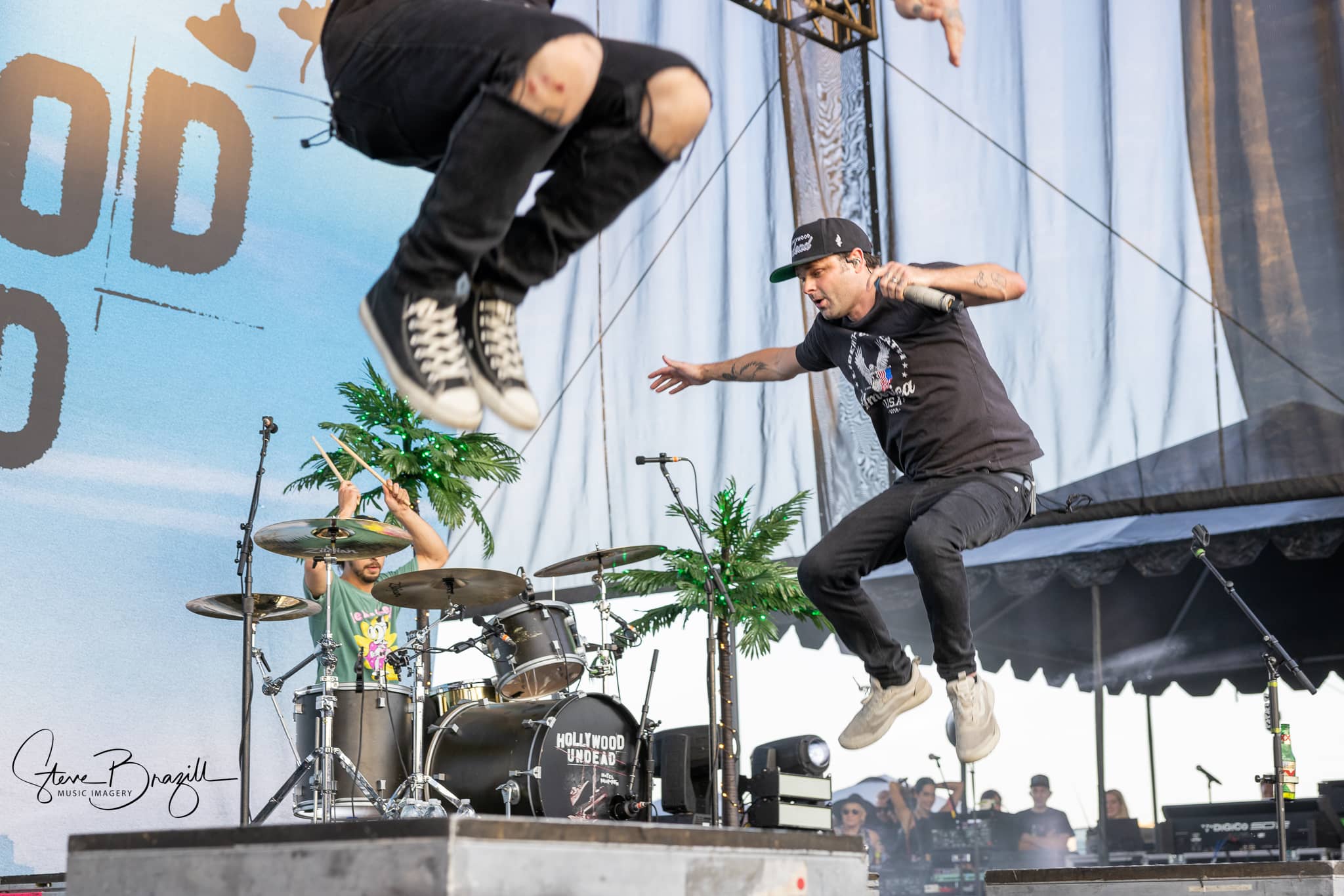 When you hear that a band has 5 vocalists, you may wonder why… but don't. Everyone of these guys fills a need, and they each stay right in the damn pocket. The current lineup is Jorel "J-Dog" Decker on vocals, guitars, bass, keyboards, Dylan "Funny Man" Alvarez, George "Johnny 3 Tears" Ragan on vocals and bass, Jordon "Charlie Scene" Terrell on vocals and guitars, and Daniel "Danny" Murillo handing vocals keyboards, programming, guitars, and bass. Matt "The Cat" Oloffson is handling drums on tour.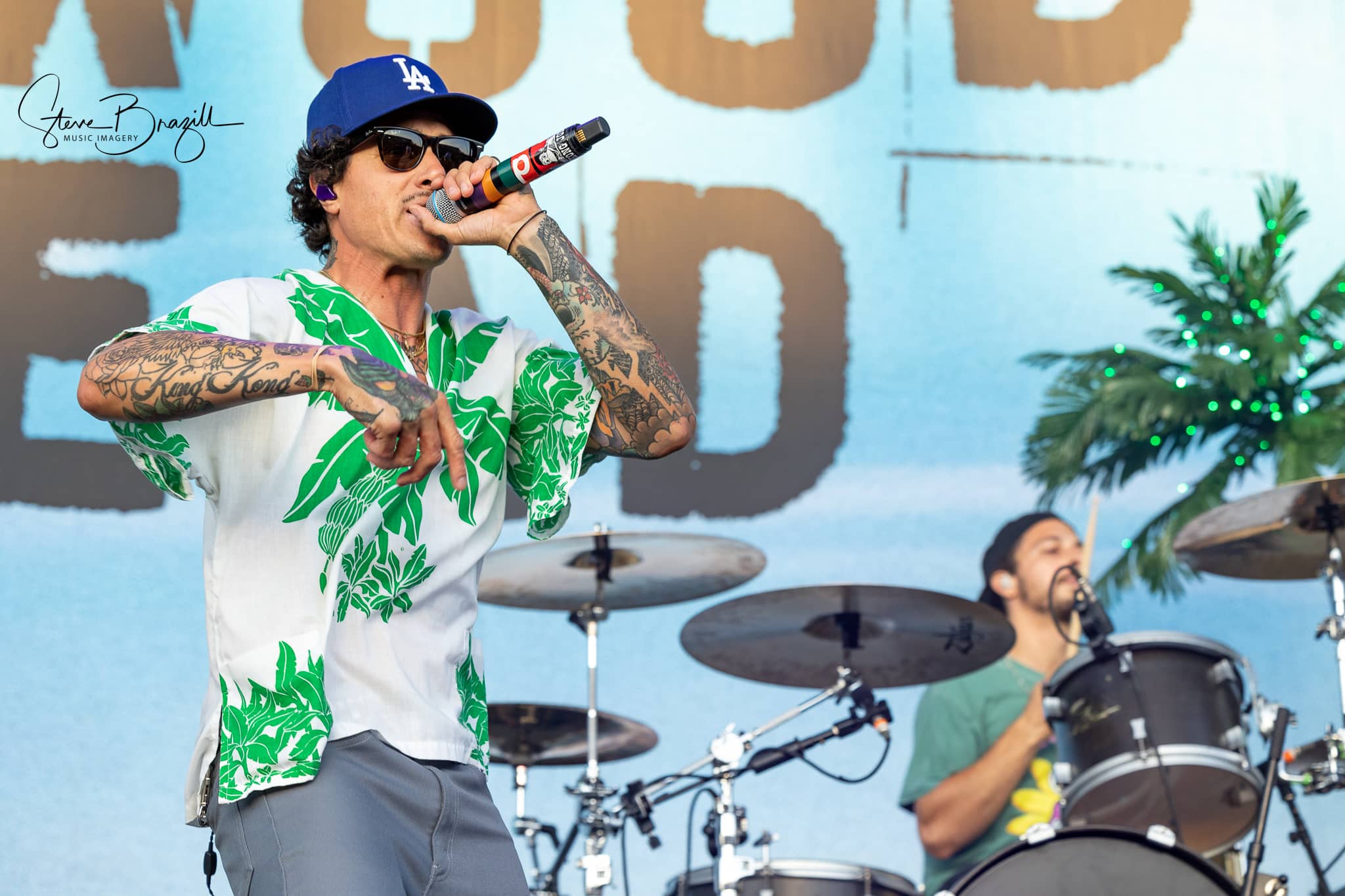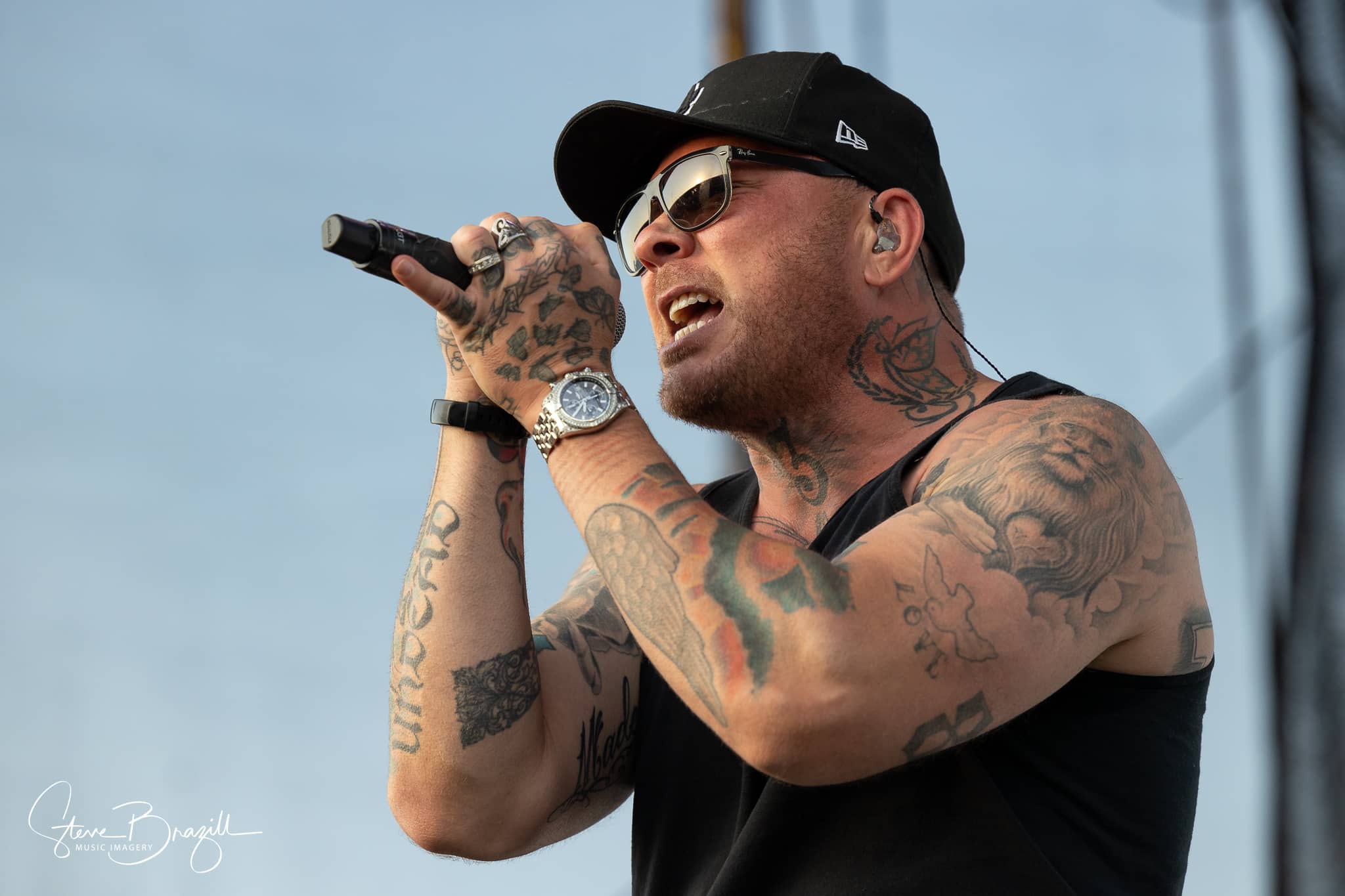 The setlist of 9 songs was exactly what a Hollywood Undead fan would want, but I have to mention the Johnny Cash cover they did! It was freaking awesome to see them take on Folsom Prison Blues, and nail it.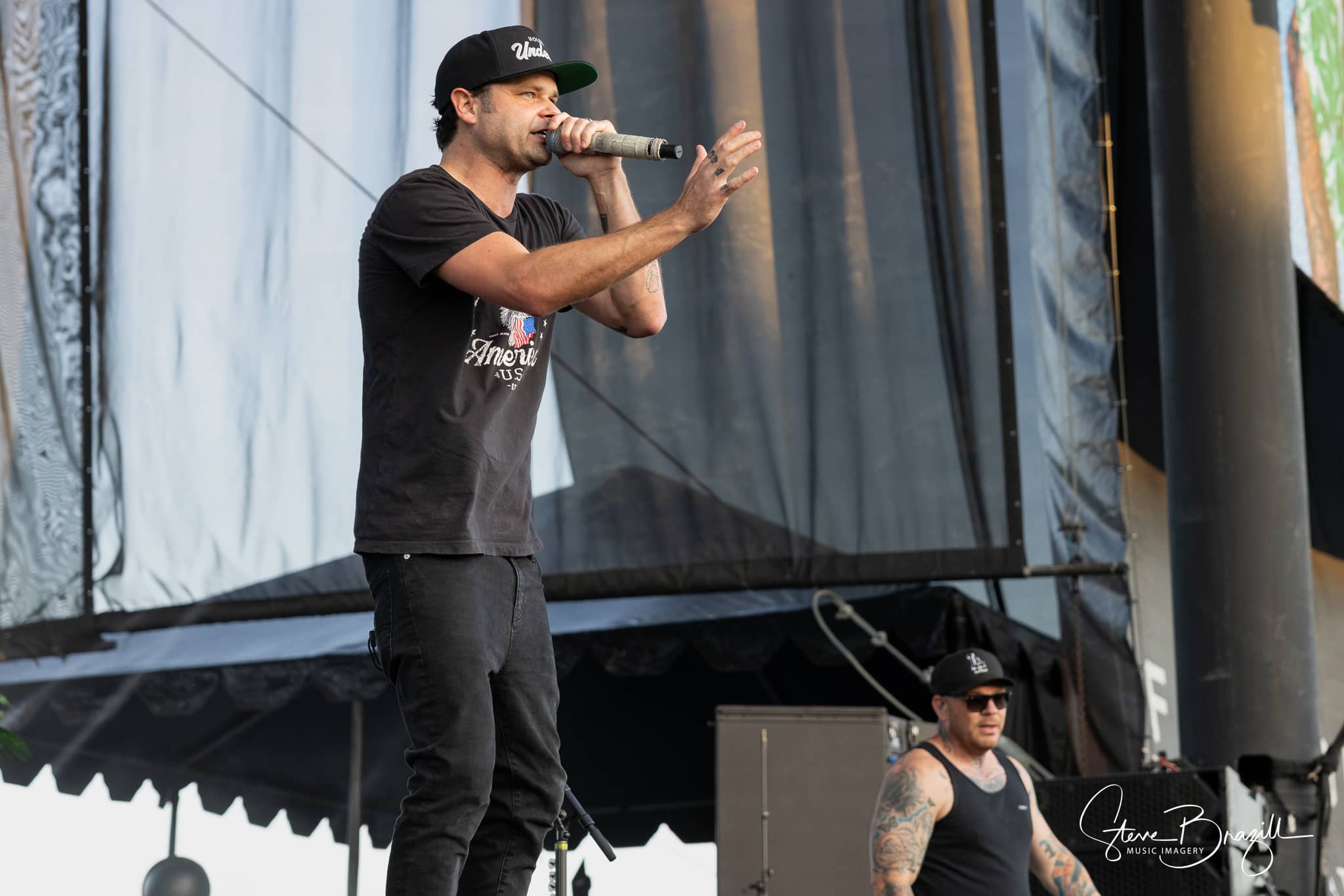 Hollywood Undead Setlist
California Dreaming
Comin' in Hot
War Child
Another Way Out
Folsom Prison Blues (Johnny Cash cover)
Bullet
Hear Me Now
Everywhere I Go
Undead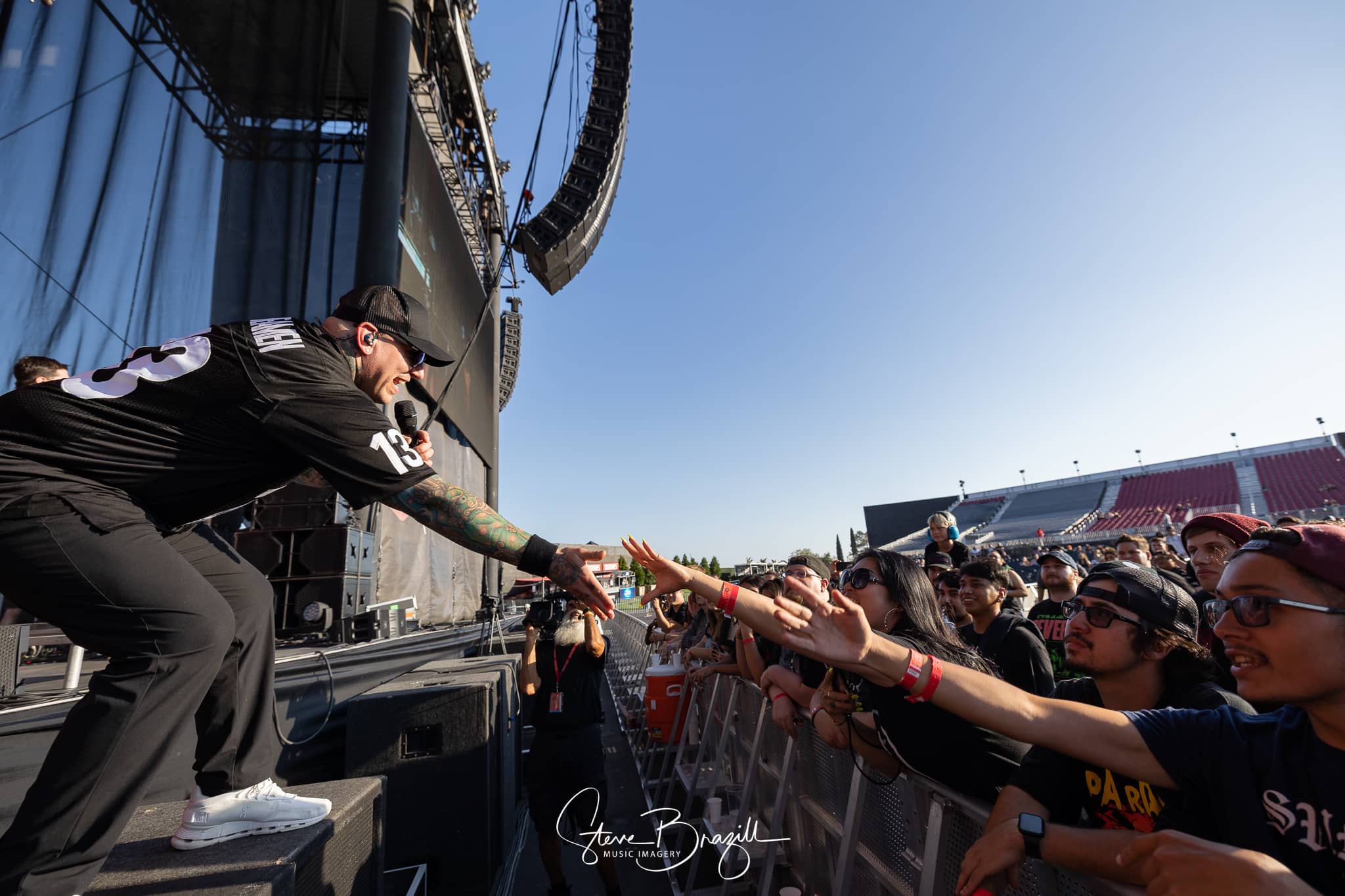 Bad Wolves
Bad Wolves is a band I have wanted to see live since we started playing their cover of the Cranberries' 1994 hit "Zombie" on KCAL. That's a tough song for anyone to cover, and they actually had me hooked the moment I heard it. Lead vocalist Daniel "DL" Laskiewicz, pictured above, had the early crowd in the palm of his hand, literally. He continued to hold their attention throughout the set, and I feel like he could have gone a lot longer.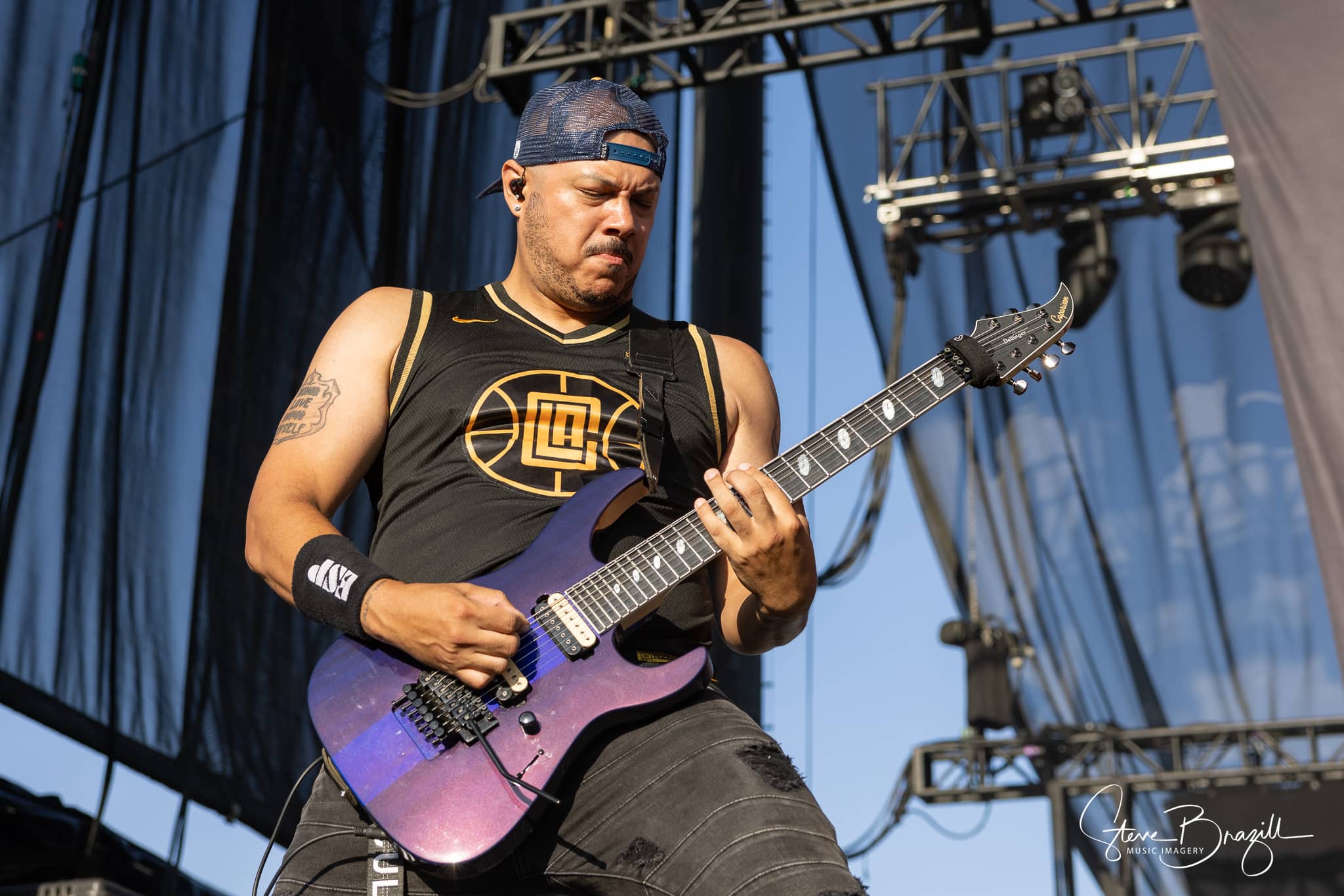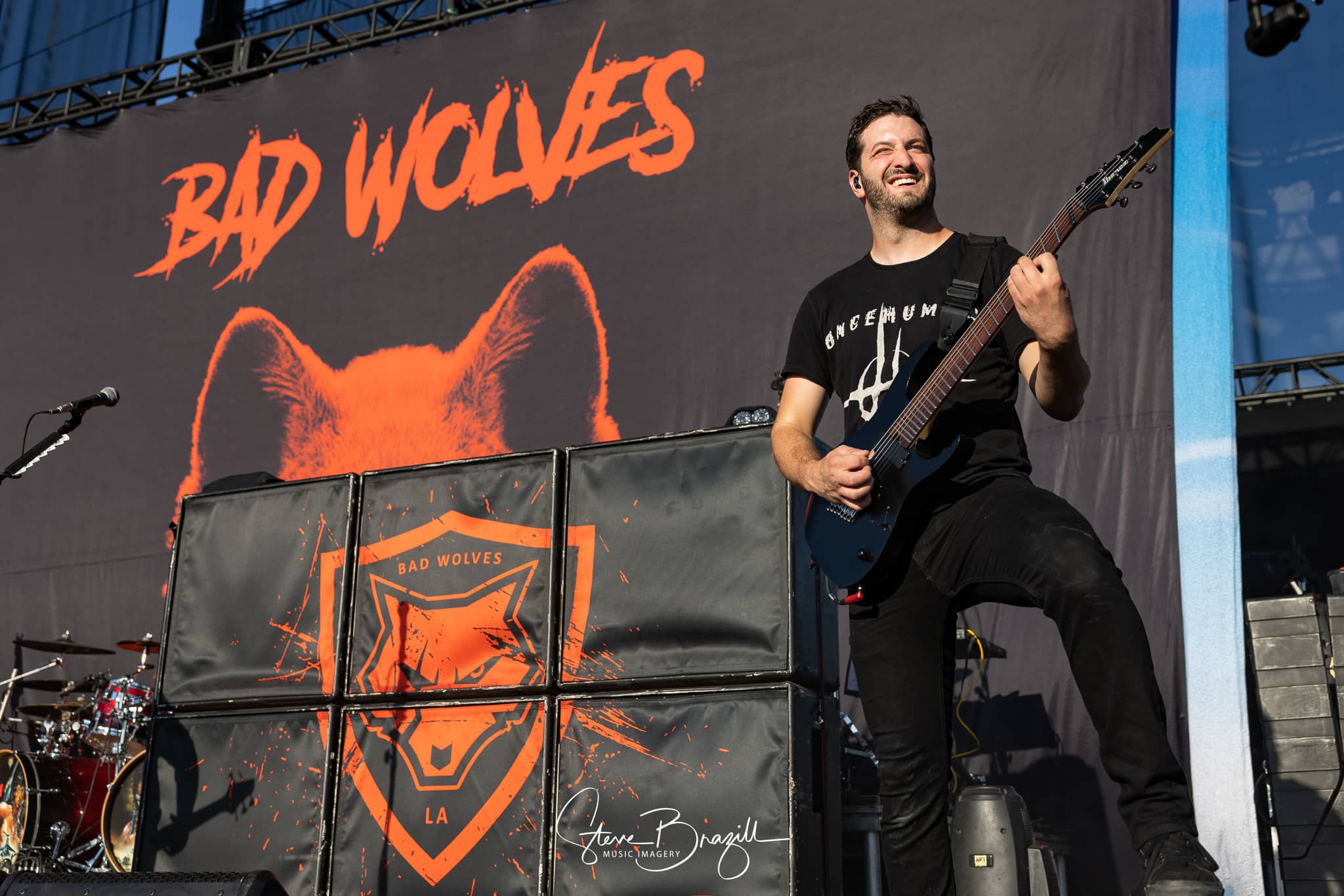 Guitarists Max Karon and Doc Coyle, both pictured above, seemed to really be enjoying themselves. In fact the whole band seemed to smile the whole time. Holding down the timing is bassist Kyle Konkiel and drummer John Boecklin, both pictured below. These guys put on a great show, and got a wonderful night of music off to a great start.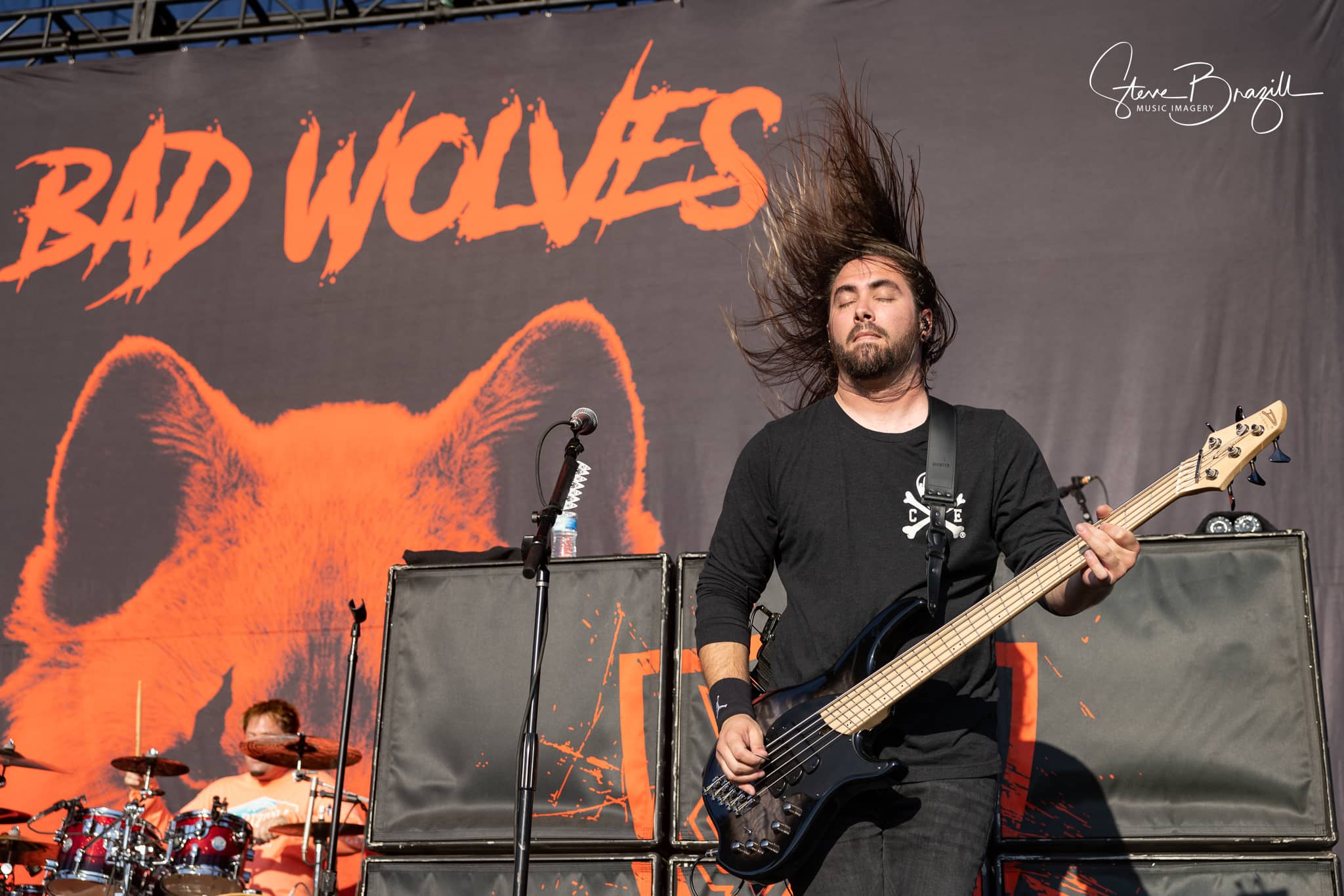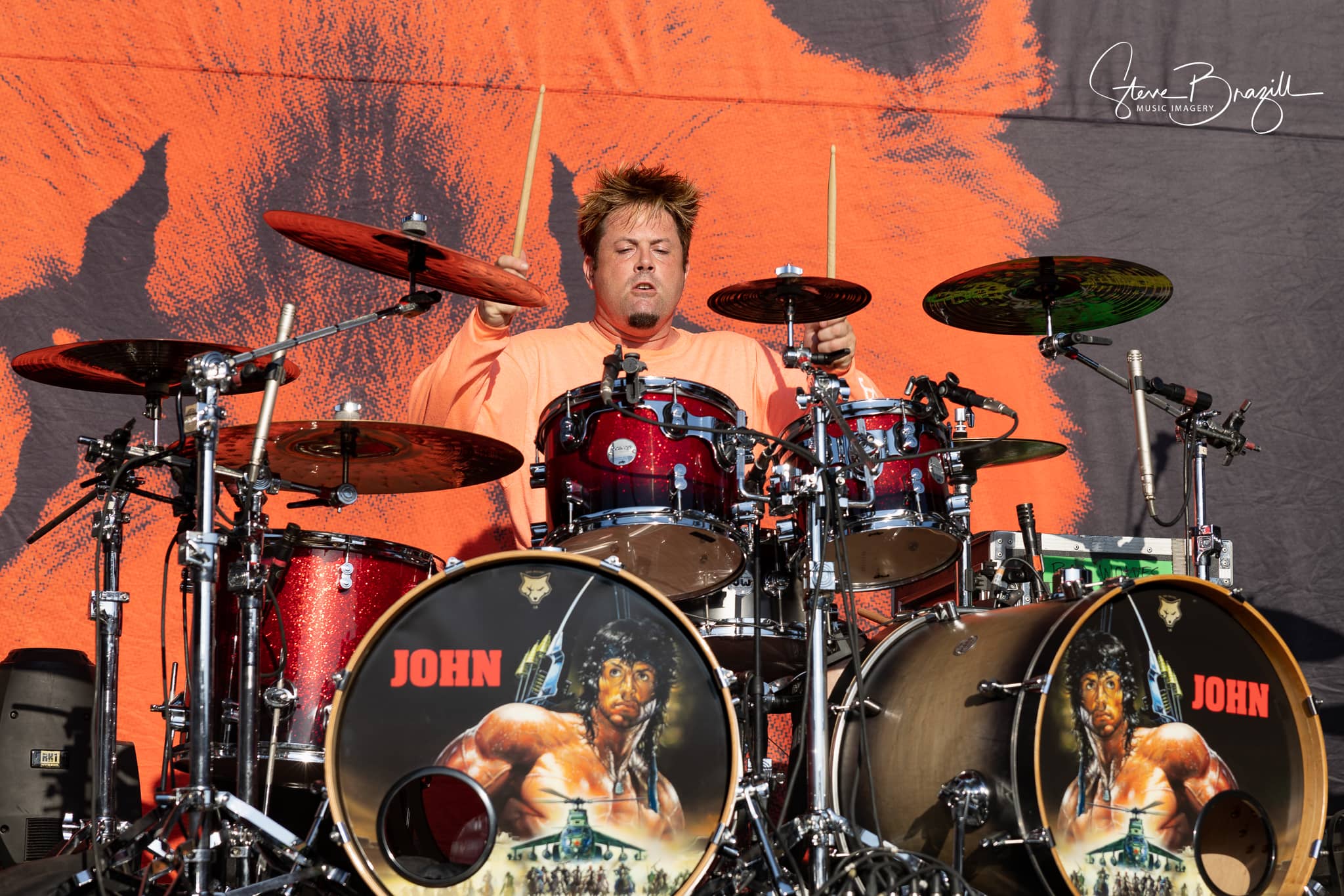 The Rockzilla tour delivered everything I wanted, and I suggest catching these bands anytime they hit a stage near you.
As usual, there is a gallery with many more photos below, and if you were at the show I'd love to hear your thoughts. Follow me online at:
Instagram: @SteveBrazill Twitter: @SteveBrazill Facebook: @SteveBrazillPhotography Podcast: Behind the Shot
~ Razz
All Images Copyright 2022 Steve Brazill, All Rights Reserved.
DO NOT USE IMAGES WITHOUT PERMISSION