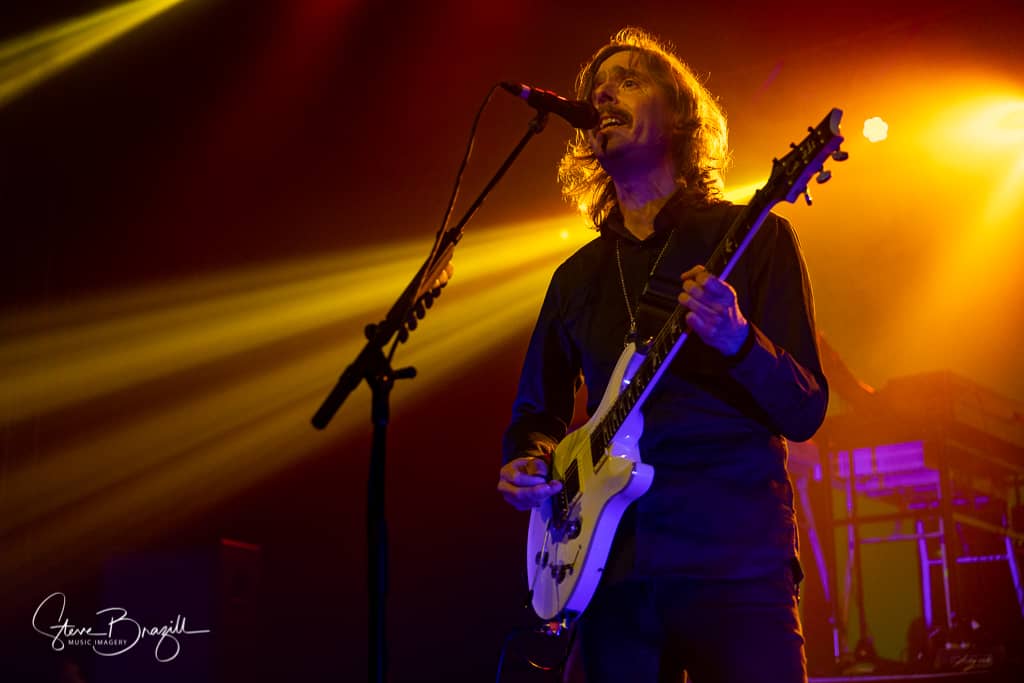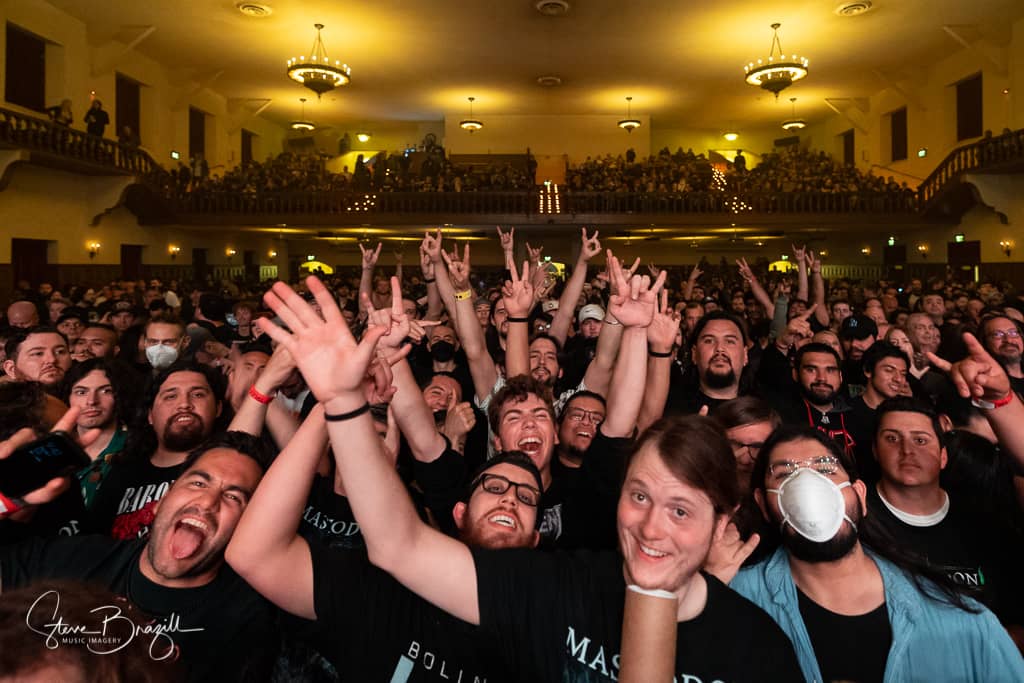 On occasion, a show comes to the I.E. that looks so good on paper that you know you need to be there. That was the case this past week when Opeth and Mastodon hit the Riverside Municipal Auditorium, with openers Khemmis.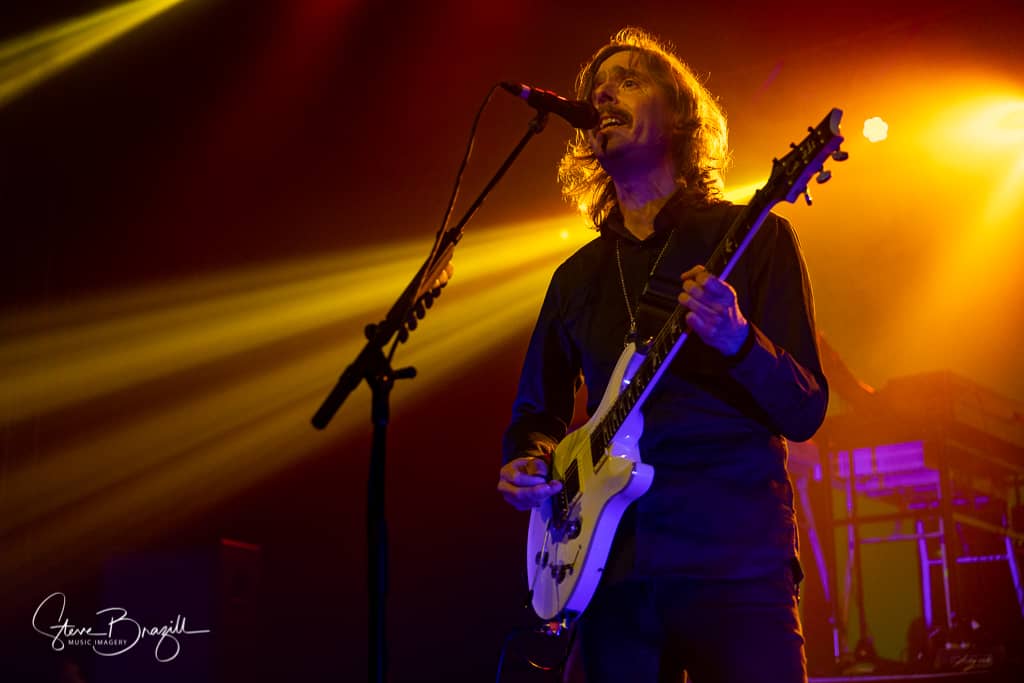 This was a tour where both Opeth and Mastodon were co-headliners, and Opeth took the last set of the night in Riverside because it was their last date of the tour. They closed the night out brilliantly.
Opeth is a band that is a perfect example of why labeling musical styles can be so difficult. In fact, in the case of Opeth, I would argue that almost every single label I have seen applied to this band doesn't do them justice. Wikipedia says they are a "Swedish progressive metal band" that "has consistently incorporated progressive, folk, blues, classical, and jazz influences". Oh yeah, and let's not forget the "strong influences from death metal". Try explaining that as one musical genre.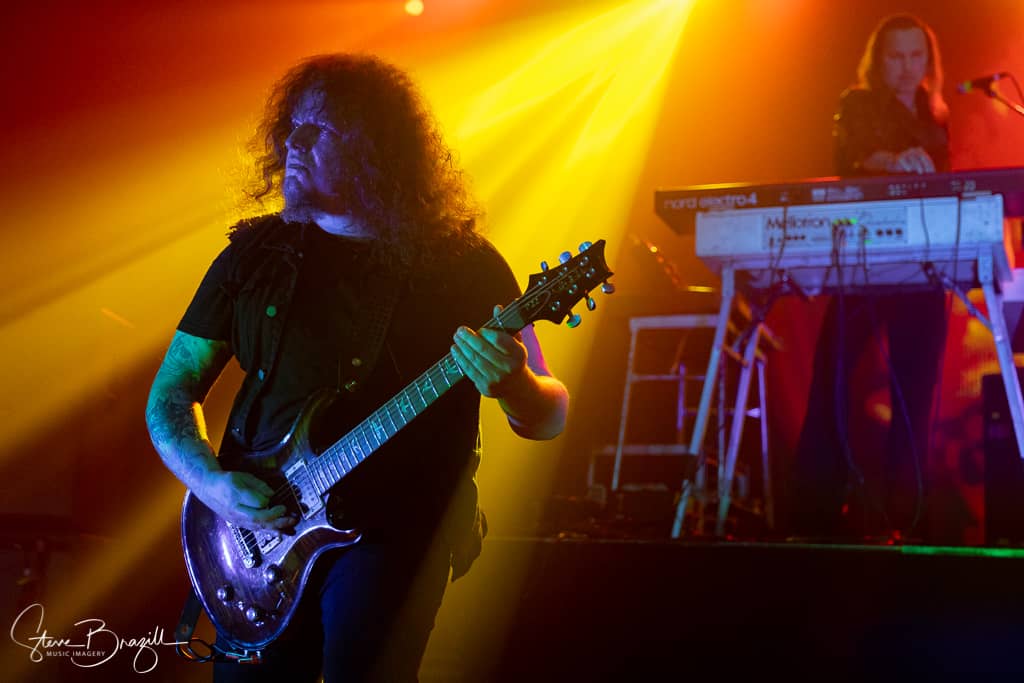 I had photographed Opeth once before, at Ozzfest Meets Knotfest in 2016. That show was on the main stage at Glen Helen Amphitheater at about 5:30 pm, so lighting-wise it was completely different than what I had heard about for their normal indoor shows, and everything I had heard was true. This band uses color, and darkness to blend with their mood altering sound. On the purely musical level, their compositions are complex, with intricate, tight musicianship, and live it is something special to hear.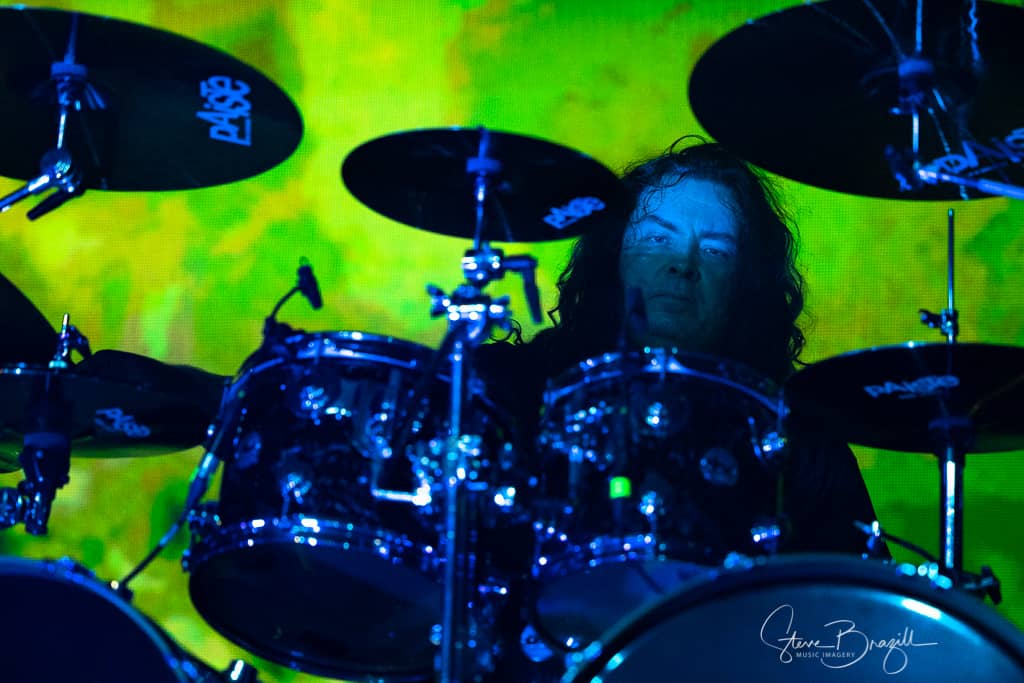 Normally, when photographing concerts, we are allowed just the first three songs from the photo pit, and depending on the band that might be anywhere from 5-15 minutes. Not with Opeth. I'm guessing, but it felt closer to 25 min for three songs. To put their compositions into perspective, each of the co-headliners did a 75 min set – for Mastodon that worked out to 14 songs, for Opeth … 8.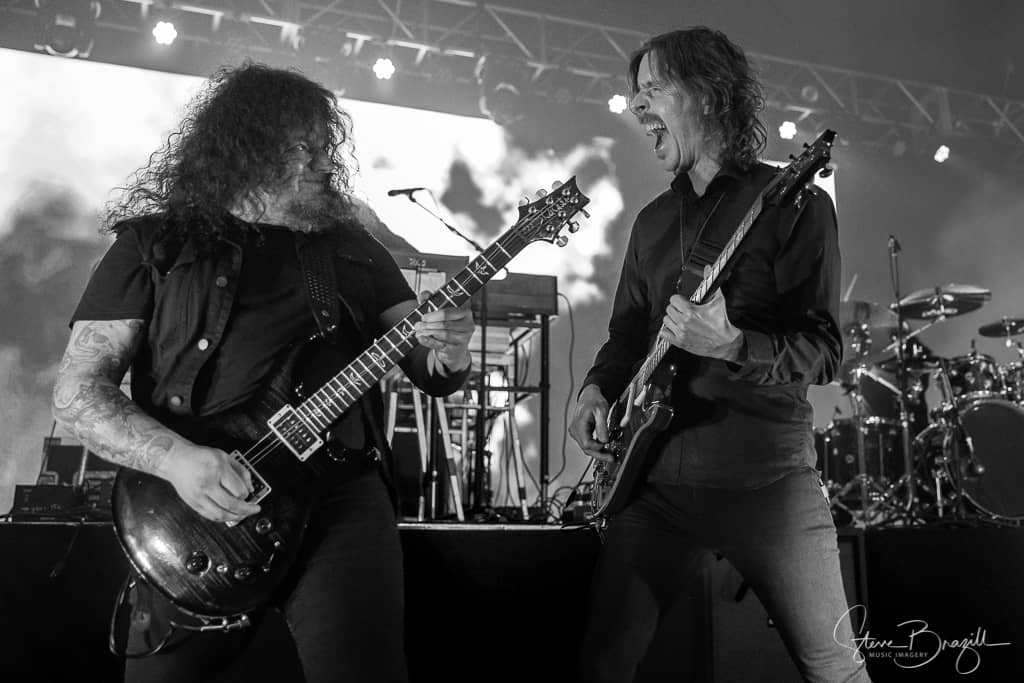 Opeth consists of Mikael Åkerfeldt on guitars and lead vocals, Fredrik Åkesson handling guitar and backing vocals, Martín Méndez on bass, Joakim Svalberg on keys and backing vocals, and Sami Karppinen on drums.
Opeth Setlist
Hjärtat Vet Vad
Ghost Of Perdition
Cusp Of Eternity
Devils Orchard
Drapery Falls
In My Time Of Need
Sorceress
Deliverance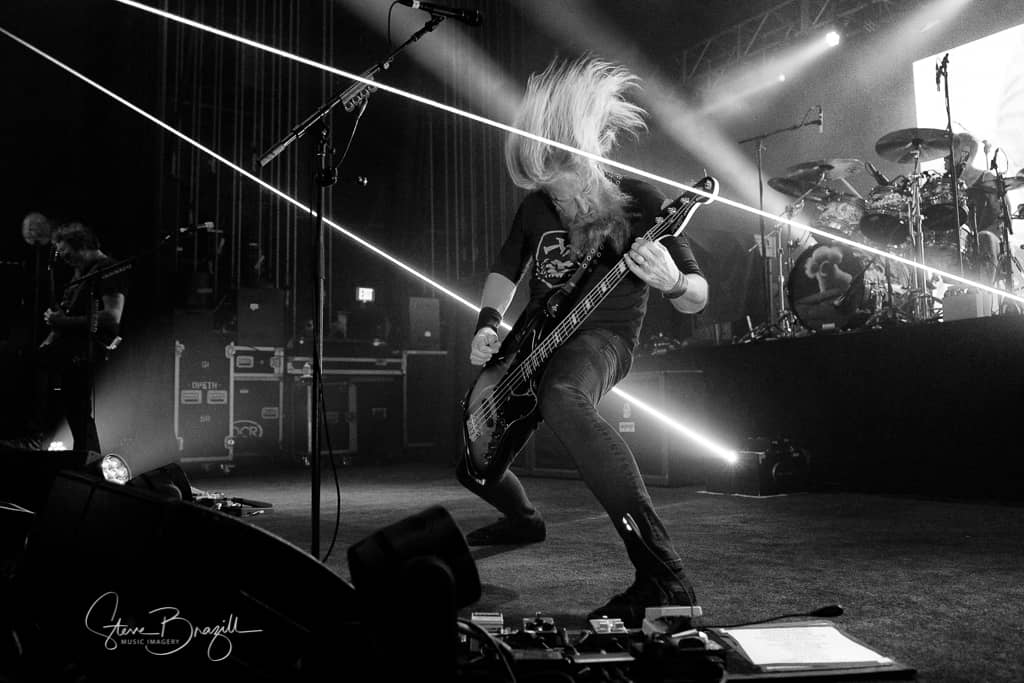 I have had the pleasure of watching and photographing Atlanta rockers Mastodon a number of times over the years, bud oddly, never indoors. The lighting was darker than I had expected for them, using lots of purple, pink, and honestly, every color that makes photographing challenging. That, along with lasers, set a tone up front that they wanted the performance to take you somewhere.. the whole vibe just pulled you in to the mood and the music.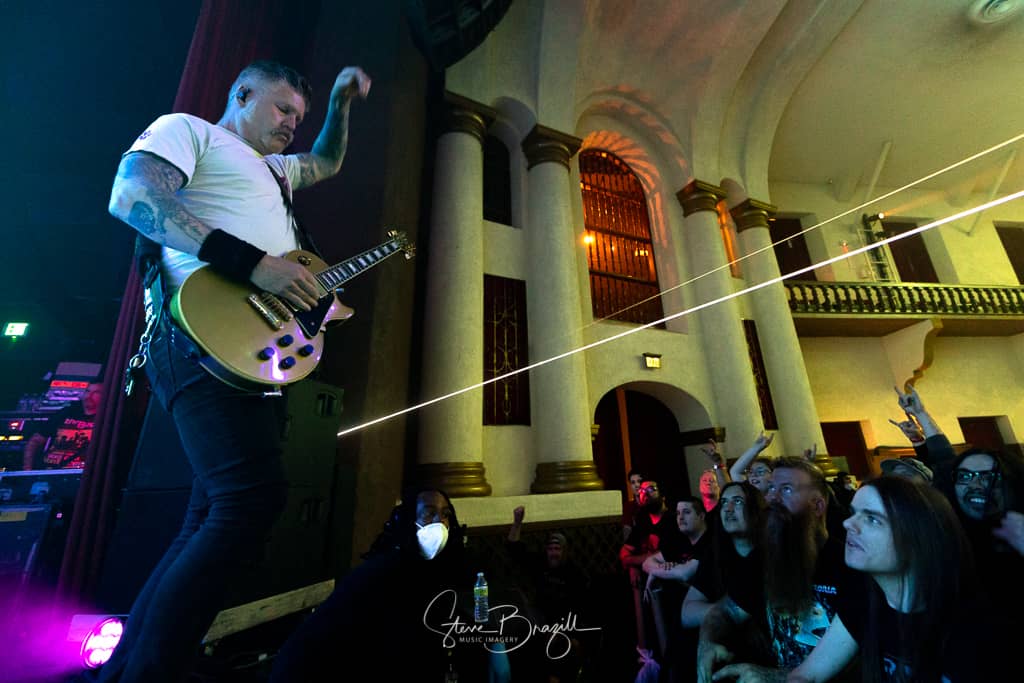 This band has been around since 2000, but it seems that every time I see them the show gets more energetic. At this show I couldn't help but think the RMA was a perfect venue for them. There was something intimate about it, like seeing amazing rock stars in a smaller venue. It felt special, and I got that feeling from not only the audience, but the band too.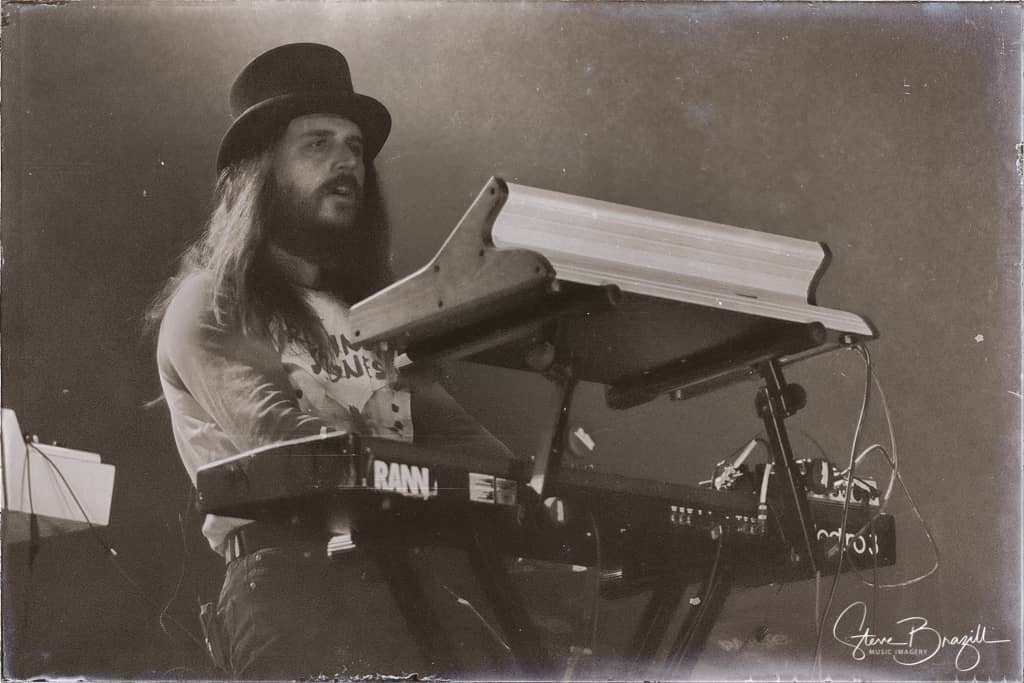 With Troy Sanders handling lead vocals and bass the band comes across as everything you want in a metal band. Adding Brent Hinds on lead guitar, and on Bill Kelliher on rhythm guitar puts the band on a level of any other band you can mention. Rounding out the band are drummer Brann Dailor and Derek Mitchka on keys.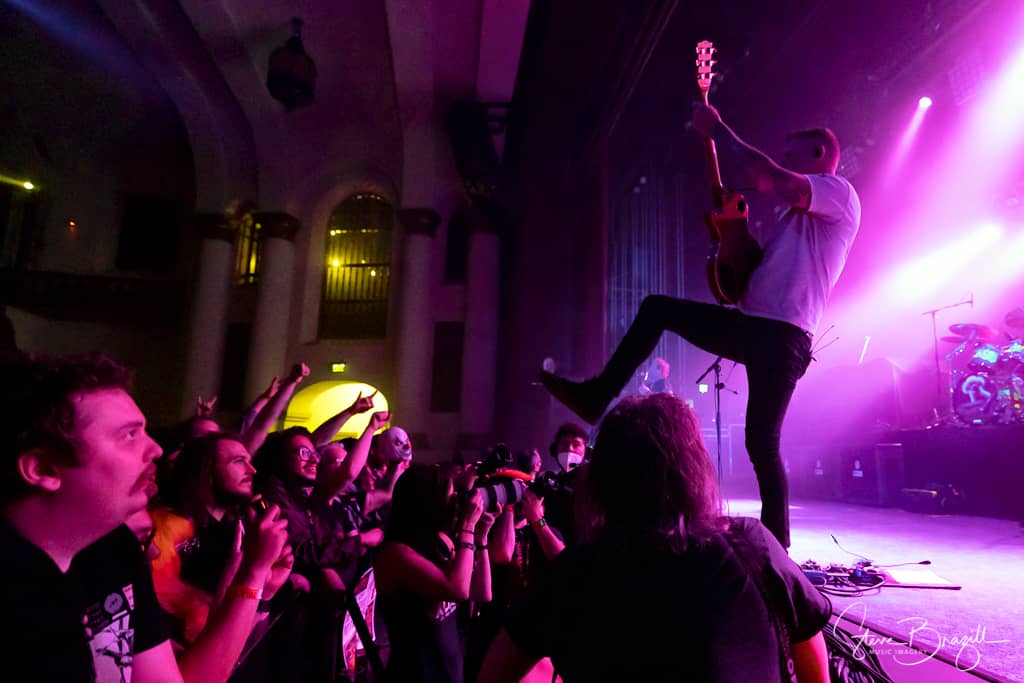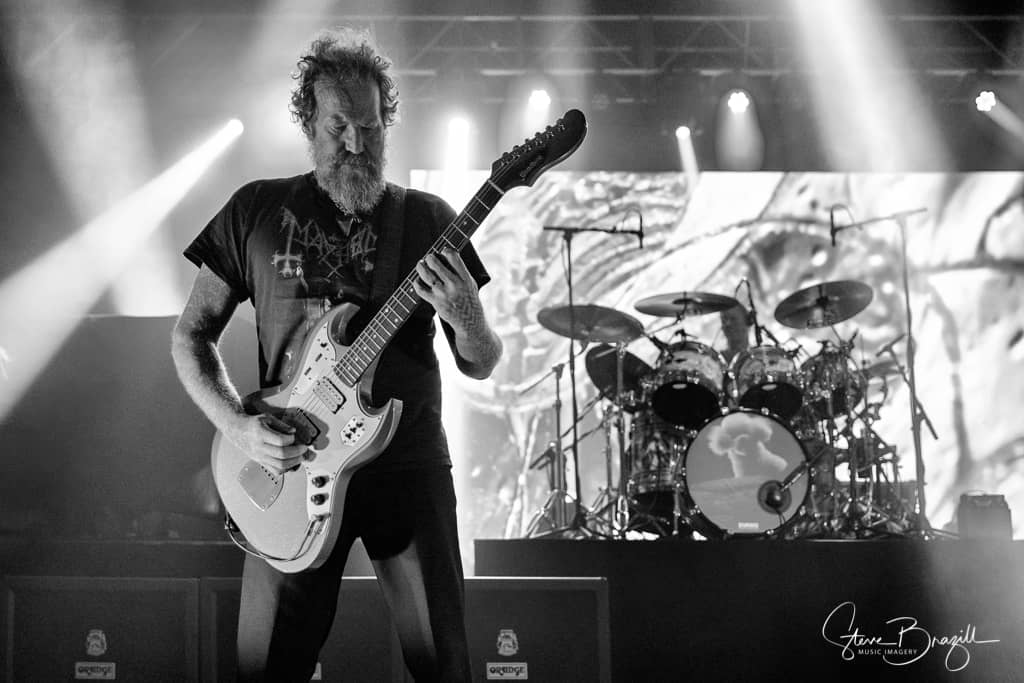 I honestly didn't see how well these two bands would go together on the same tour, but I can now say I hope they do it again soon.
Mastodon Setlist
Pain With An Anchor
Crystal Skull
Megalodon
The Crux
Teardrinker
Bladecatcher
Black Tongue
Skeleton of Splendor
The Czar
Pushing The Tides
More Than I Could Chew
Mother Puncher
Gobblers of Dregs
Blood & Thunder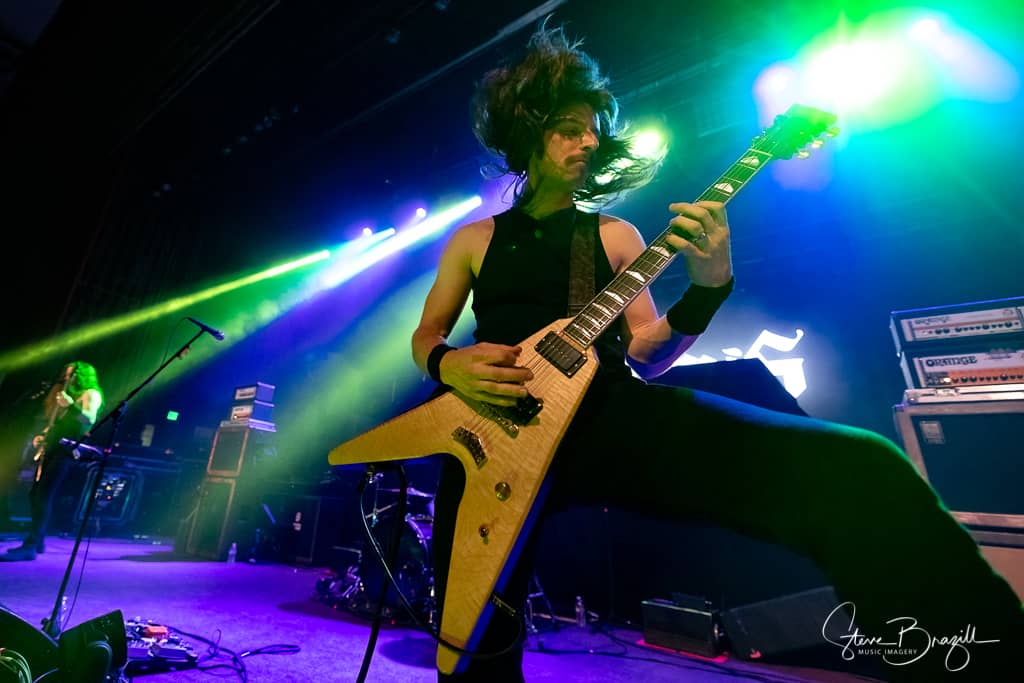 Denver, Colorado's Khemmis is a band I wasn't familiar with before this show. After seeing them live, I'm not sure how that's possible. They did exactly what an opening act should do, throw down a gauntlet. It felt like they wanted to make it hard for Opeth and Mastodon to follow them, and the succeed.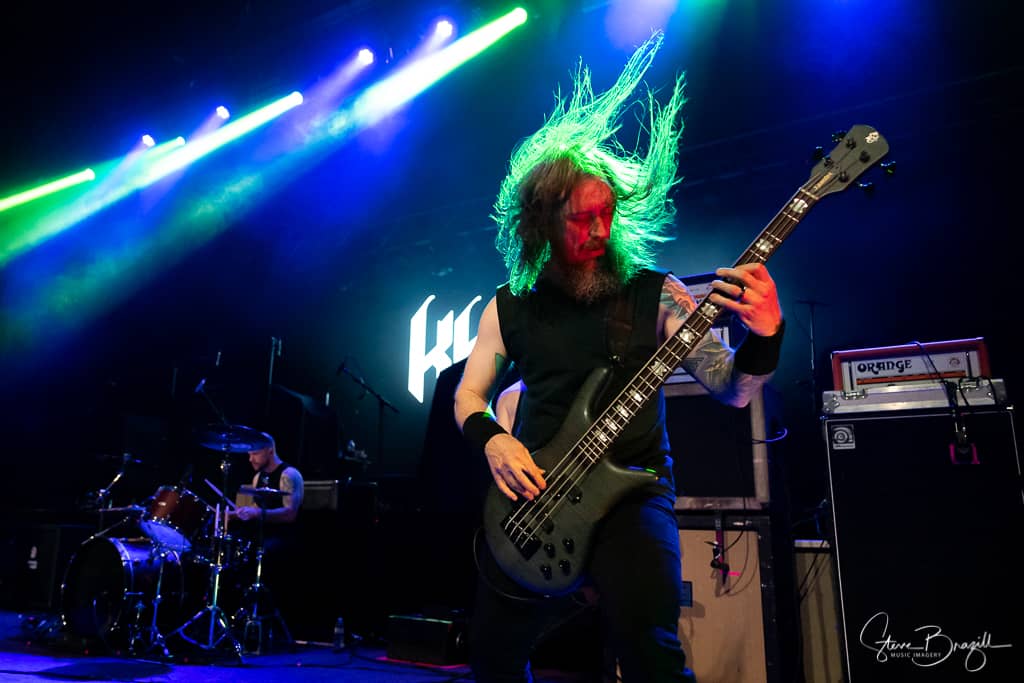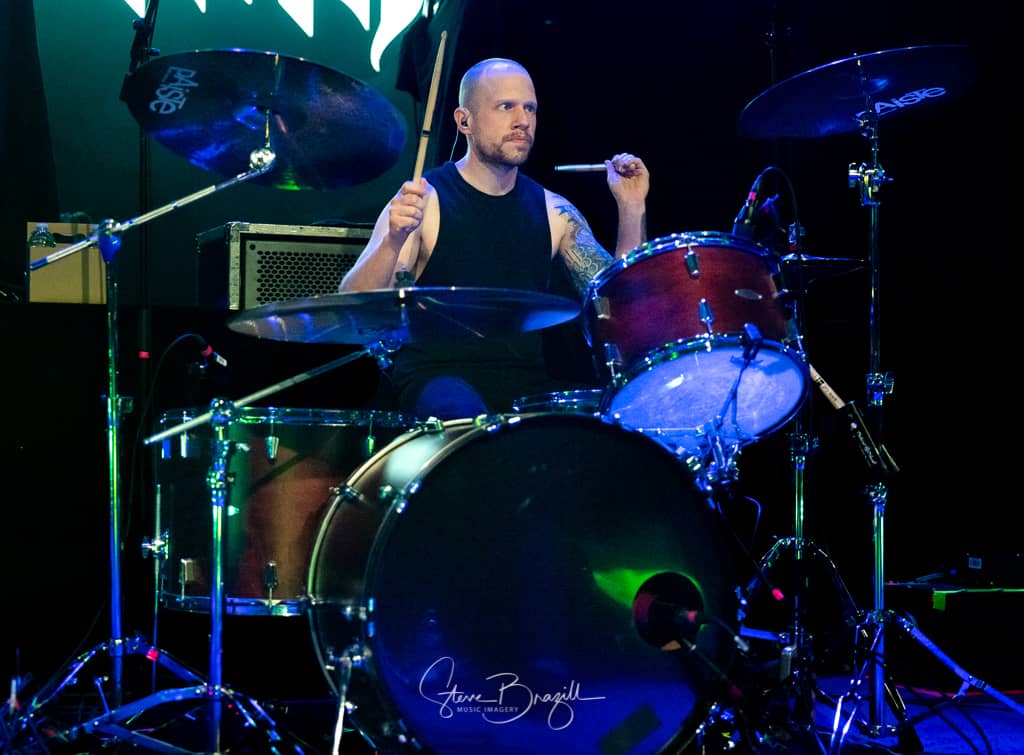 This is a metal band, there's no mistaking that, but there was a classic feel to them too. The style and stage presence was fun and energetic. If there was anyone else there, like me, that wasn't familiar with them before this show, my guess is they're listening to them a lot now.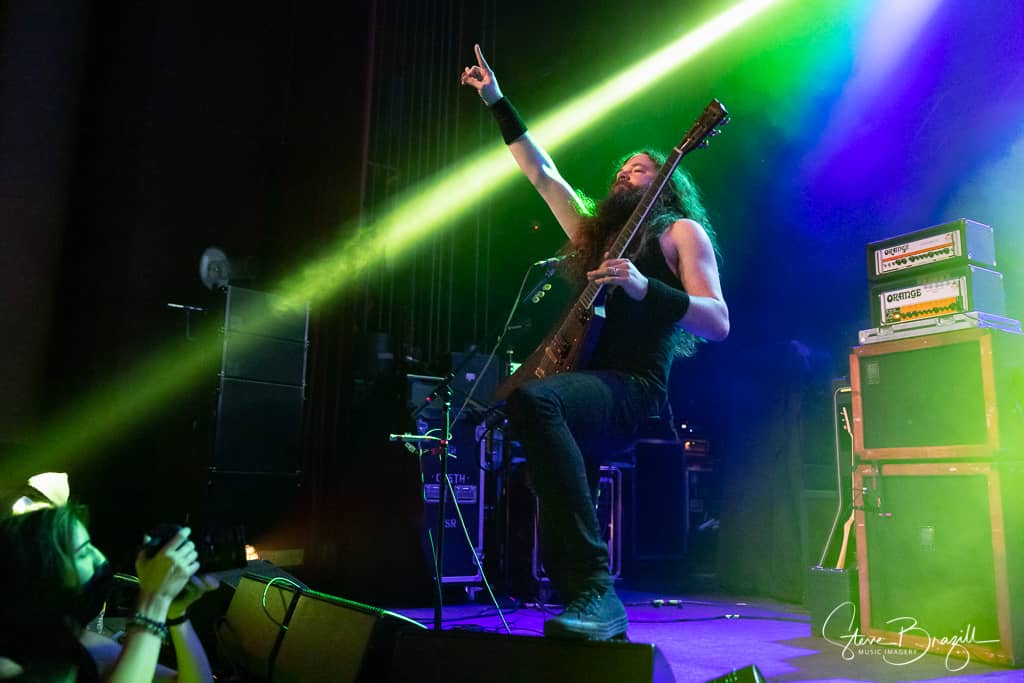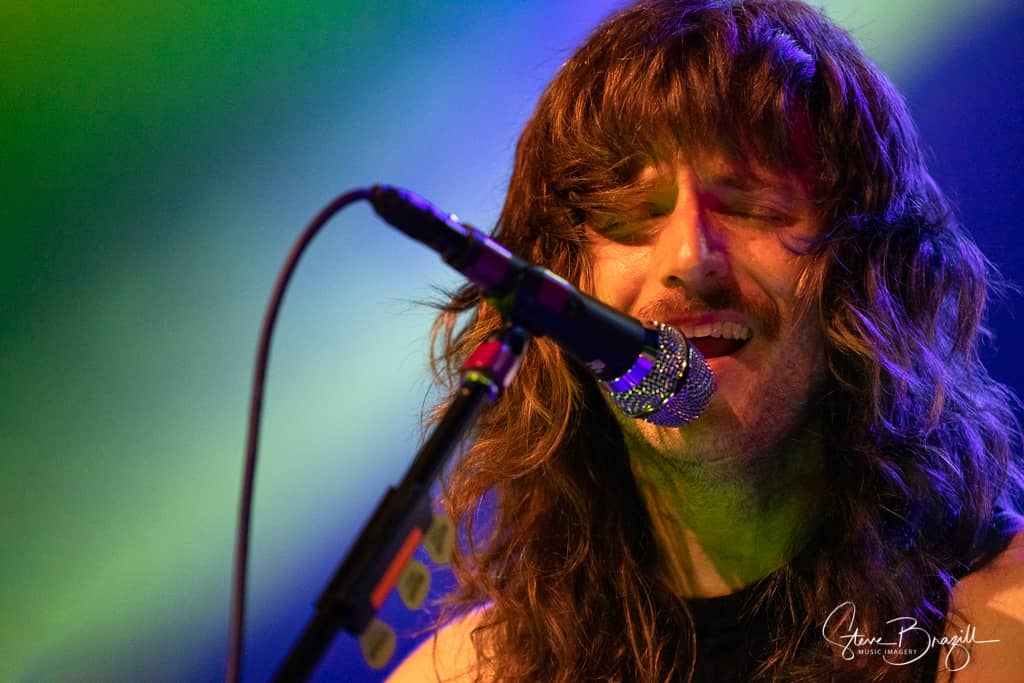 The current lineup of the band is both Phil Pendergast and Ben Hutcherson on guitar and vocals, and Zach Coleman on drums. The band parted ways with founding member and bassist Dan Beiers last year. Khemmis' current touring bassist is David Small. Updated 5/6/22: Replaced a call for the touring bassist's name with a listing of David Small. Thanks to the band for replying on Twitter. You can follow them there at @khemmisdoom.
Khemmis Setlist
Avernal Gate
Three Gates
Living Pyre
Isolation
Conversation with Death
As usual, there is a gallery with many more photos below, and if you were at the show I'd love to hear your thoughts. Follow me online at:
Instagram: @SteveBrazill Twitter: @SteveBrazill Facebook: @SteveBrazillPhotography Podcast: Behind the Shot
~ Razz
All Images Copyright 2022 Steve Brazill, All Rights Reserved.
DO NOT USE IMAGES WITHOUT PERMISSION.