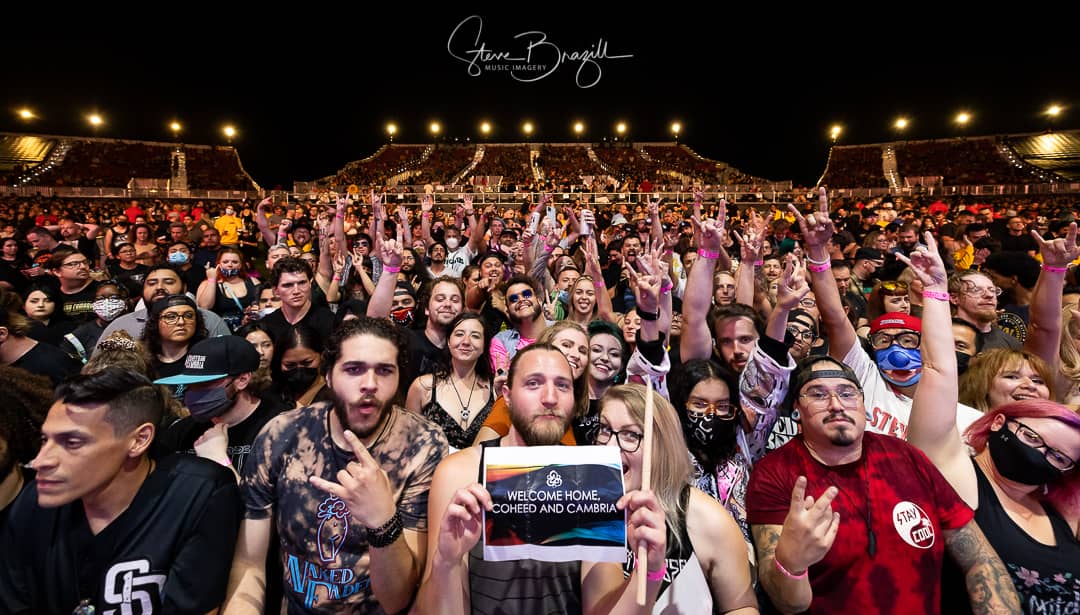 Coheed and Cambria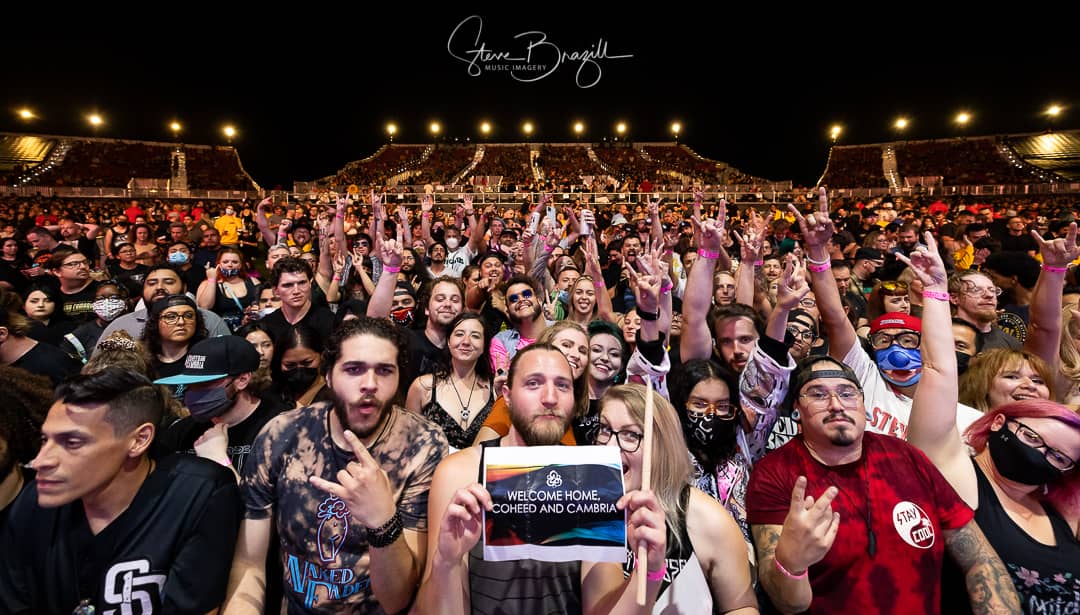 Coheed and Cambria are amazing live! I was a little bit familiar with the band, but I had no clue what they were really about until last Friday night when they hit FivePoint Amphitheatre with co-headliners The Used, and openers Meet Me @ the Altar. This was one of the best performances I have seen in a very, very long time.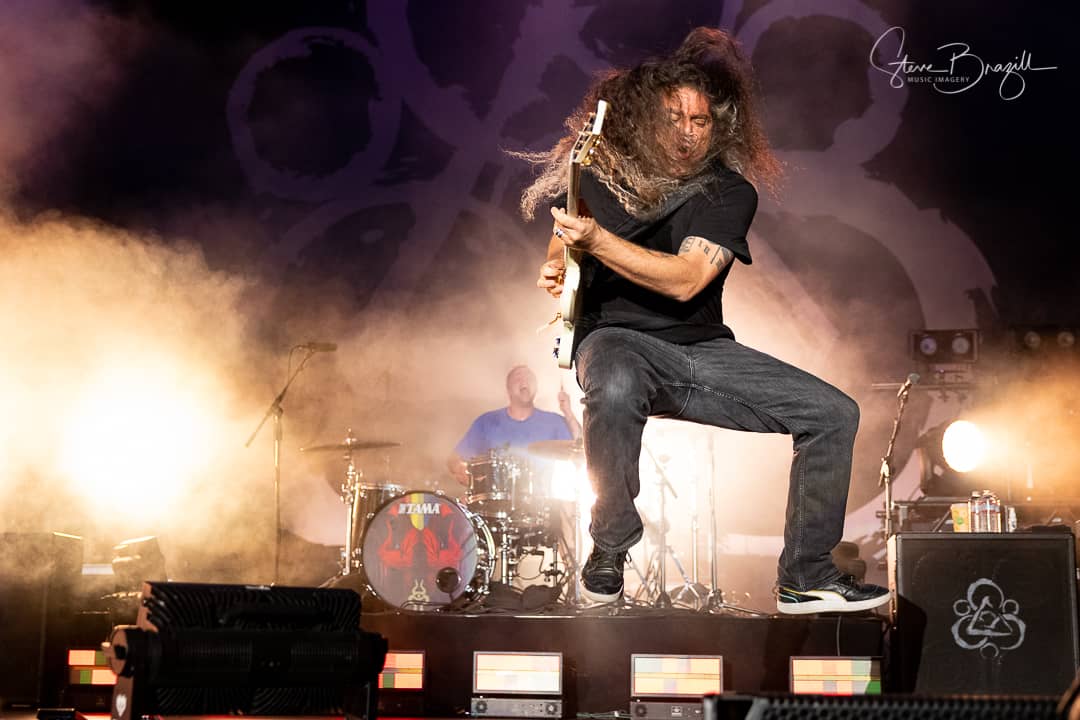 As I mentioned, I wasn't really familiar with Coheed and Cambria, a progressive rock group originally from New York.. I mean, I obviously know of them, but hadn't considered going to the show until my son mentioned he was going with some friends. Come to find out, he's a big fan of Coheed and Cambria, so I figured I'd photograph the show and get to see him too. What I didn't expect was a Master Class in stage presence and performance. Everything they did was awesome, from the musicianship and vocals, to the performance. Add onto that a lighting director that should win an award and you have something special.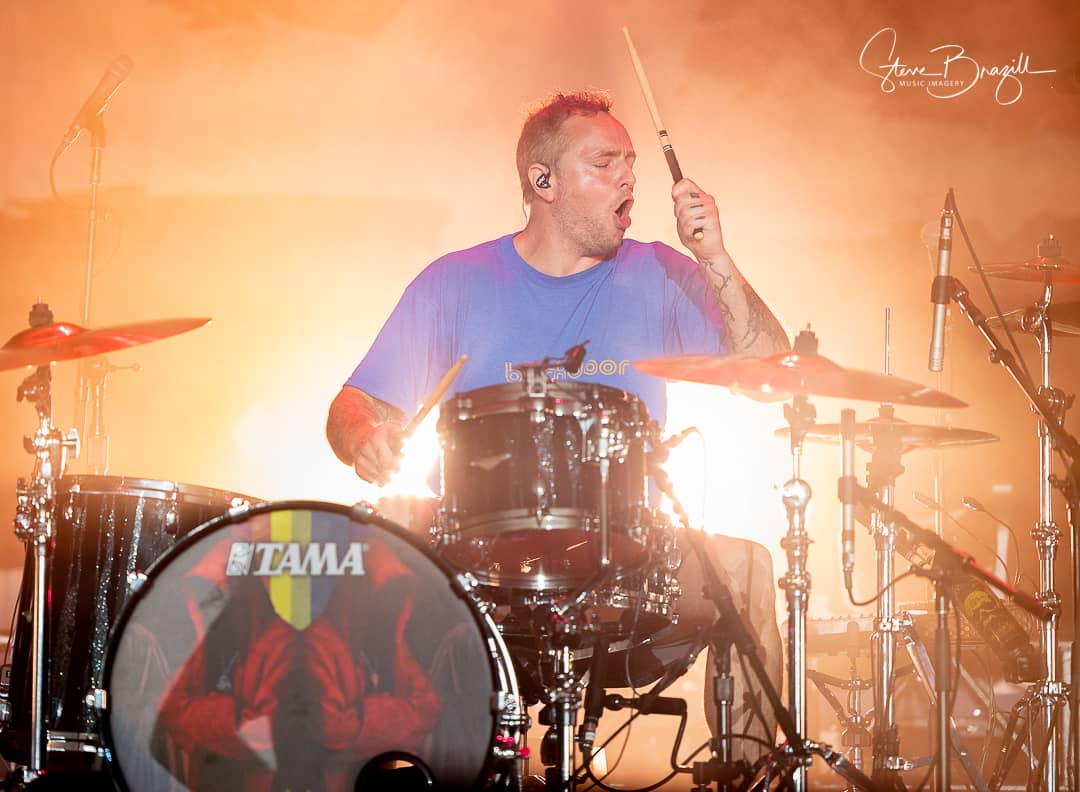 Vocalist and guitarist Claudio Sanchez (pictured jumping two images above) is insane to watch. One of the most dynamic performers I've ever seen, or photographed. I could photograph Claudio every damn day. He is the primary lyricist, and most of their albums are concept albums based on a science fiction storyline called The Amory Wars, a series written by Sanchez, and which has been transcribed into a series of comic books as well as a full-length novel. That creativity lends itself to some amazing song writing. The band's drummer, Josh Eppard (above), is fantastic! I LOVE photographing drummers, and wow, I need to photograph him again too.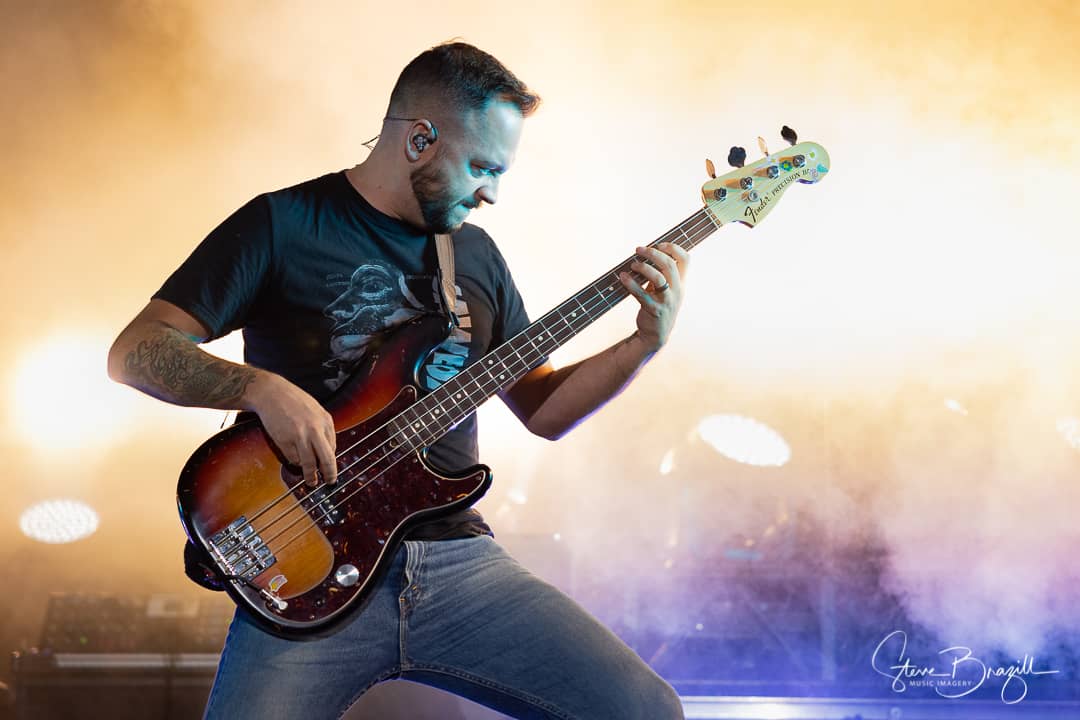 On bass you've got Zach Cooper (above), and on guitar is founding band member Travis Stever (below)… This band absolutely kicks ass live. There are a lot more photos at the end of this post, but before I move on to The Used I have to give a shout out to the lighting director for these guys. Whoever you are… please let me photograph your show again. So good.
The set Friday included:
In Keeping Secrets of Silent Earth: 3
Island
No World for Tomorrow
Shoulders
Toys
Devil in Jersey City
Jesse's Girl 2
A Favor House Atlantic
The End Complete III: The End Complete
The Willing Well IV: The Final Cut
Unheavenly Creatures
Welcome Home
I think that "The End Complete III: The End Complete" may have been the first performance since 2010, and "Toys" and "Jesse's Girl 2" look to have been live debuts. "Jesse's Girl 2" has a great video by the way. Bottom line is everyone needs to see this band live. Seriously, if they are coming to a venue near you, run to get tickets.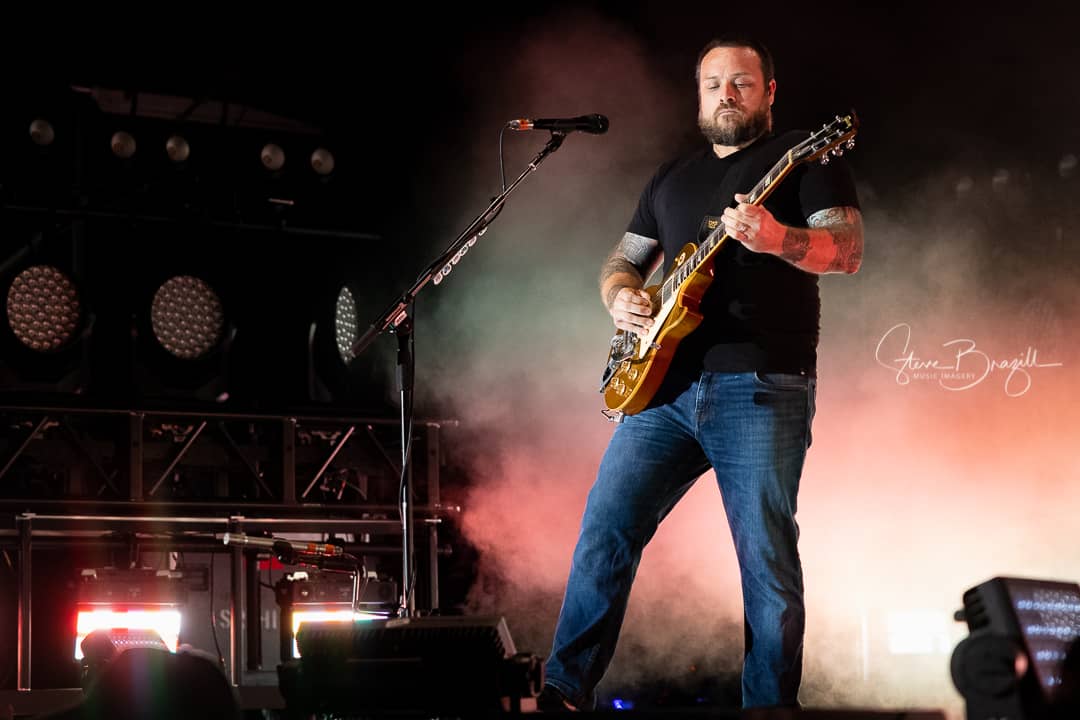 The Used
Co-headlining the tour is The Used, and at least for this show they played before Coheed and Cambria. I'm not clear if they are alternating the final performance. I have photographed The Used two, maybe three, times. The first time was at Warped Tour years ago, and that moment I knew they'd be a fave. Vocalist Bert McCracken (below) is a seasoned pro, and he knows how to take control of a crowd.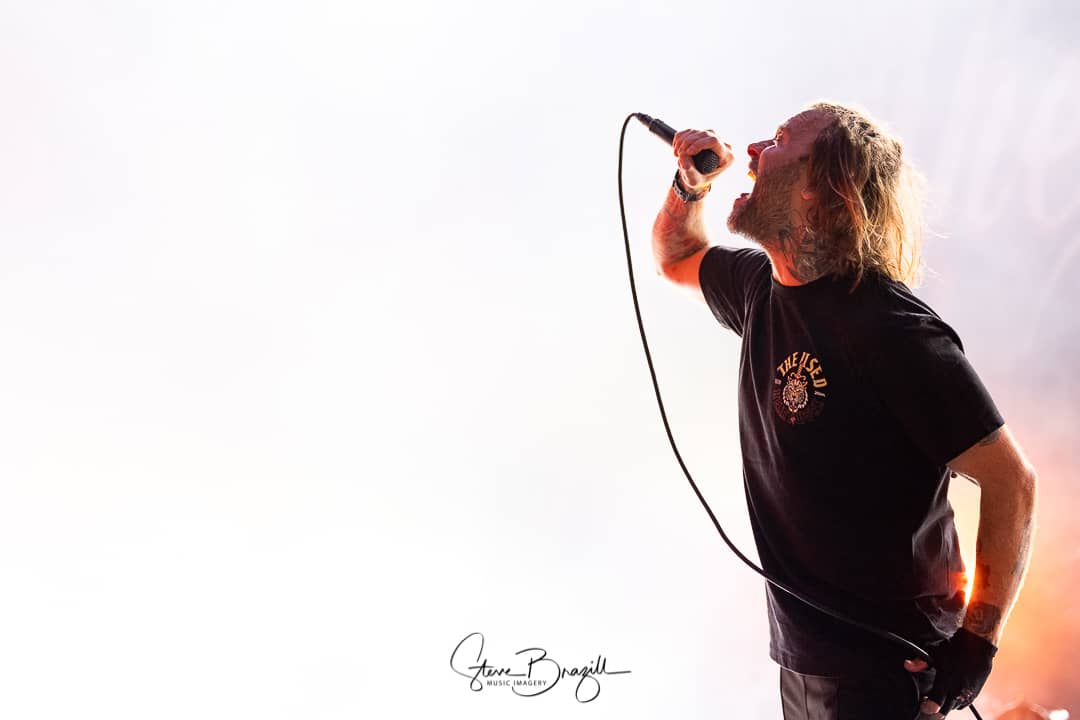 Guitarist Joey Bradford (below) is one of those guitarists that should be talked about more often. I had the pleasure to meet him once in San Diego, and his playing was as good as it gets.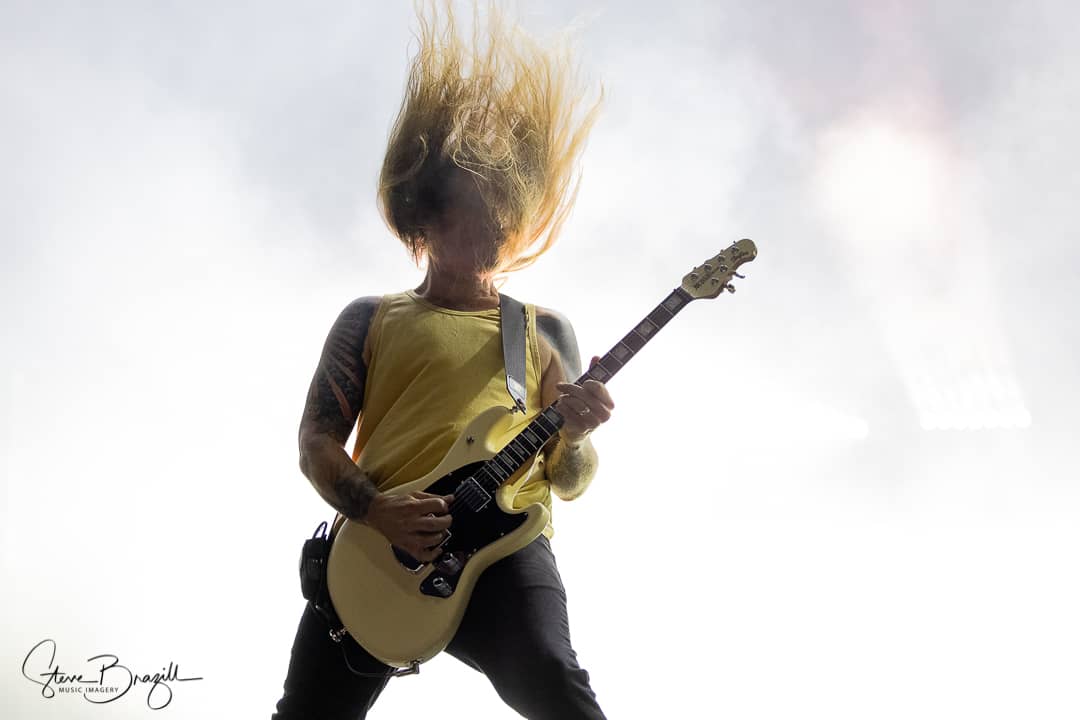 Rounding out the band are bassist Jeph Howard (below), and drummer Dan Whitesides (a bit further below). The Used, formed in 2001, are a great band in all aspects. Joey just joined the band in 2018, and at least in my opinion, has brought an energy to the band that matches Bert's.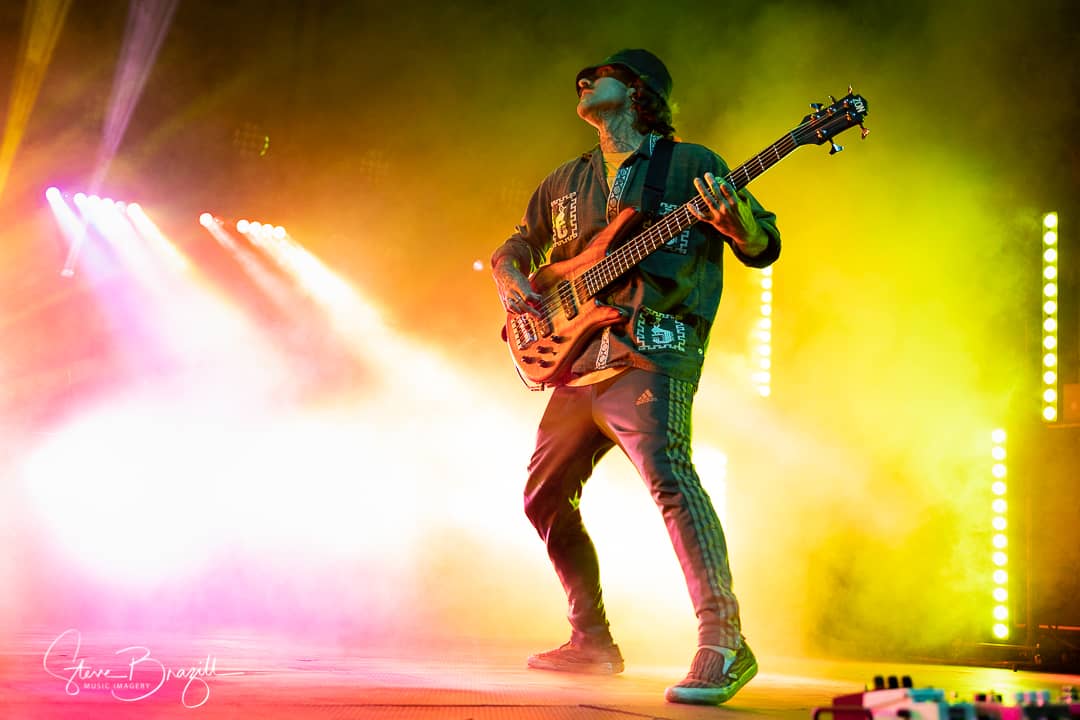 The setlist Friday included:
Take It Away
The Bird and the Worm
Listening
I Caught Fire
Paradise Lost, a poem by John Milton
Blow Me
The Taste of Ink
All That I've Got
Buried Myself Alive
Blood on My Hands
Pretty Handsome Awkward
A Box Full of Sharp Objects
Smells Like Teen Spirit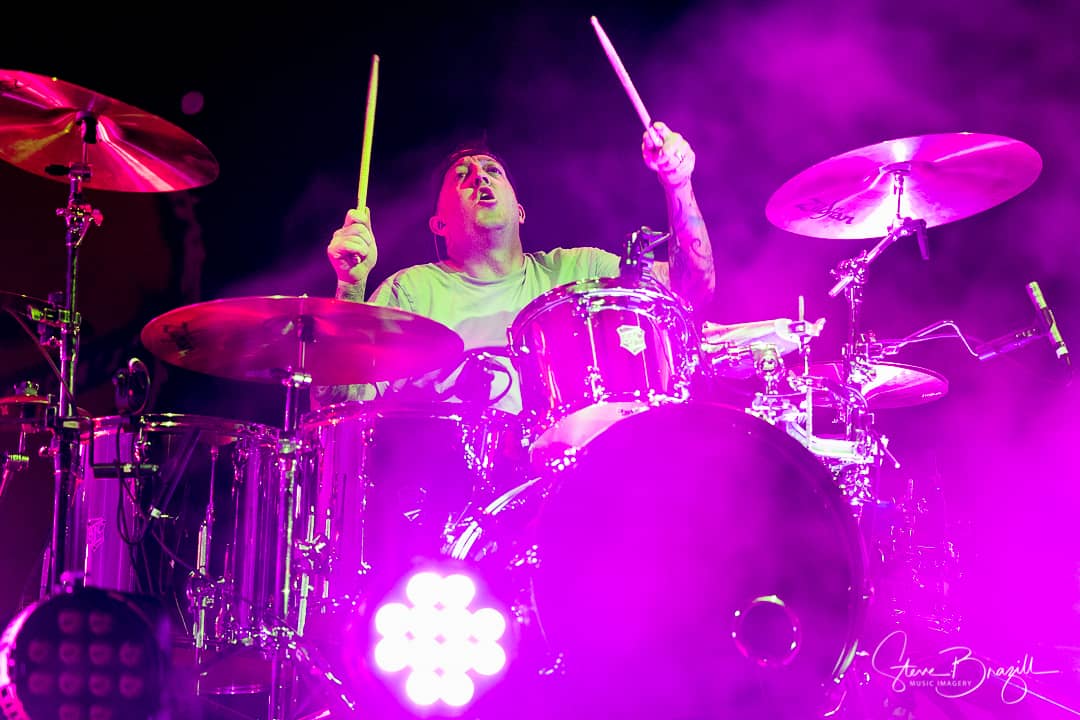 Meet Me @ the Alter
The opener was a band I wasn't aware of before this show. That's always a weird feeling. I research every band I photograph, but still, I almost feel bad when I haven't heard of a band. Meet Me @ the Altar is a three piece band, consisting of Edith Johnson (below) on vocals.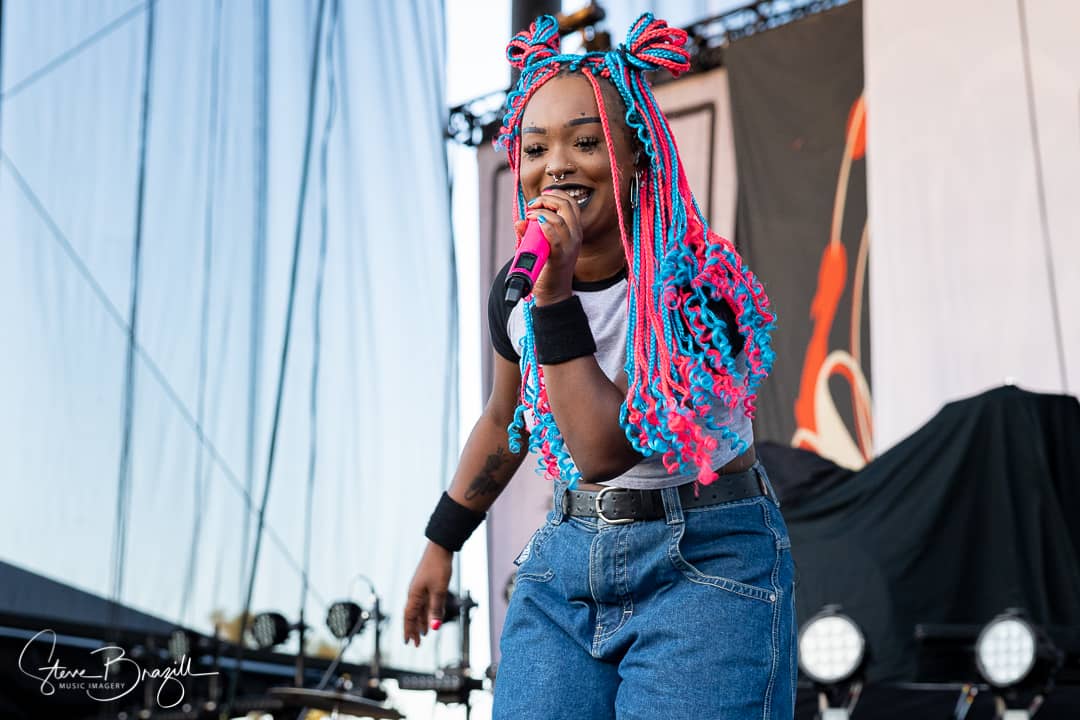 Along with lead guitarist Téa Campbell (below), and drummer Ada Juarez (a bit further below).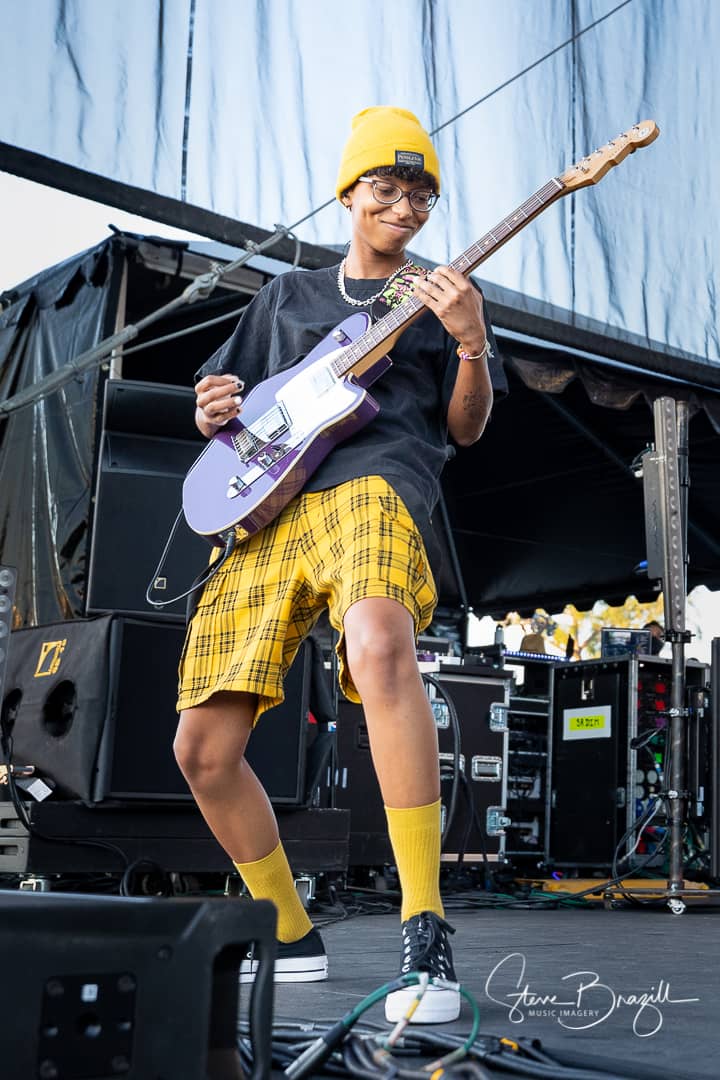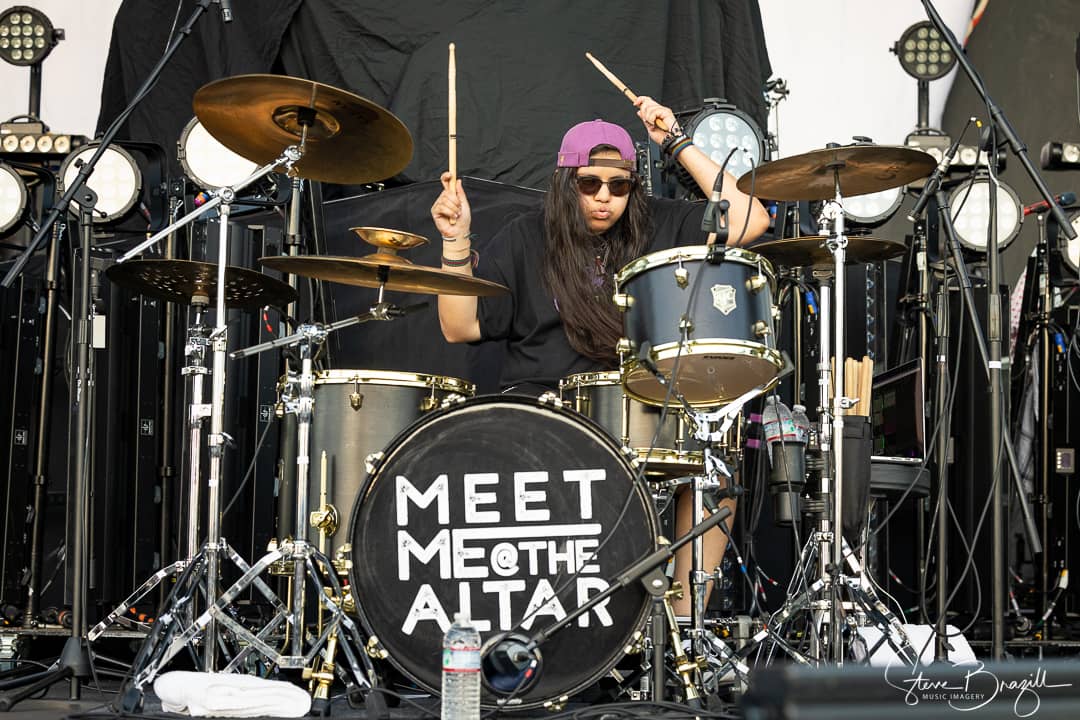 The live shows are filled out with two touring musicians, bassist El Xiques (below) and guitarist Kaylie Sang (also below). The musicianship of the five together is tight and clean, with a pop punk type feel to it.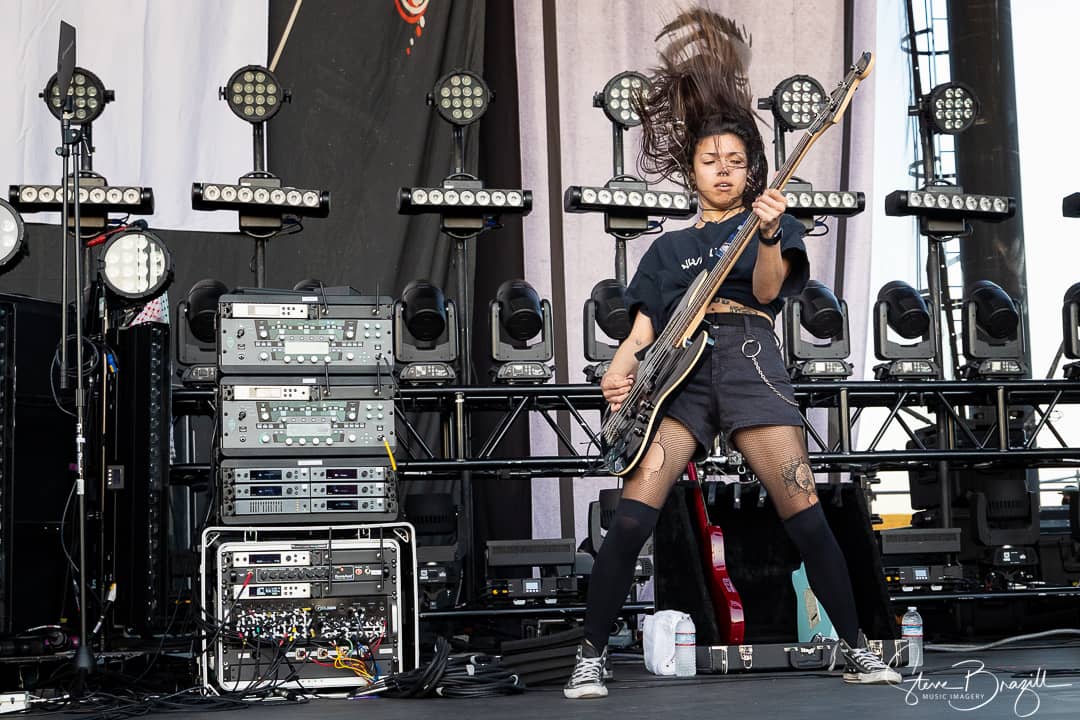 Overall, I enjoyed their set, and I can imagine a bright future for this band. Their set Friday included:
Hit Like A Girl
Sweetness (Jimmy Eat World cover)
My Own Worst Enemy (Lit cover)
Now Or Never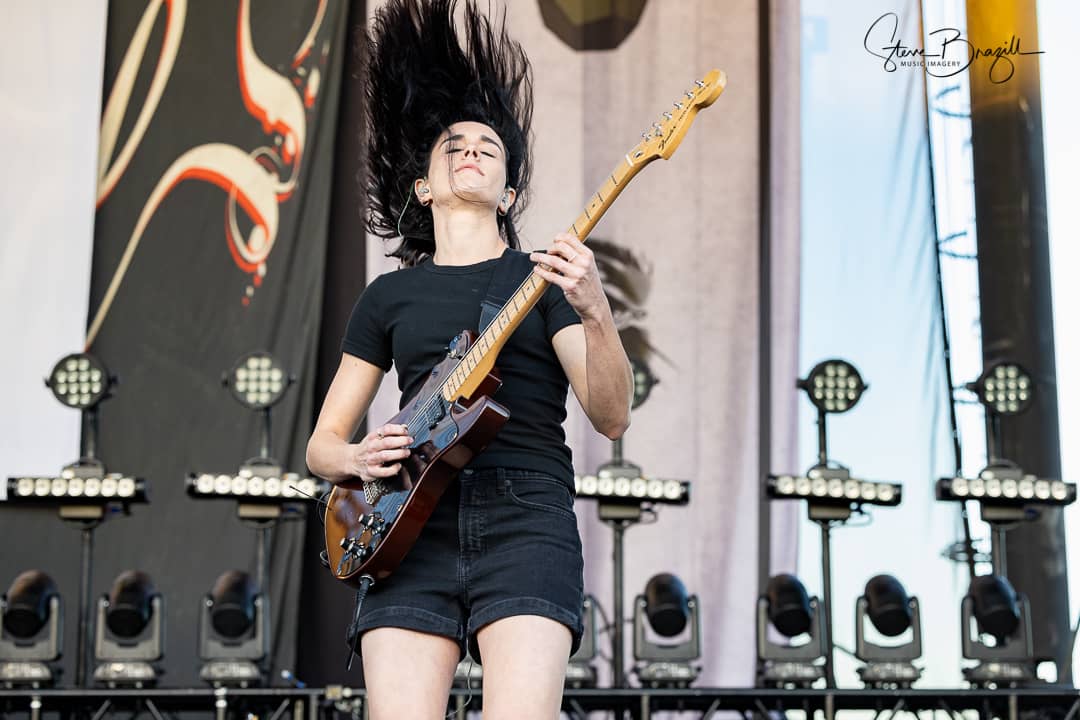 It is an amazing feeling to be out enjoying live music again, after this past 18 months. As usual, there is a gallery of more photos below, and if you were at the show I'd love to hear your thoughts. Follow me online at:
Instagram: @SteveBrazill
Twitter: @SteveBrazill
Facebook: @SteveBrazillPhotography
Podcast: Behind the Shot
~ Razz
All Images Copyright 2021 Steve Brazill, All Rights Reserved.
DO NOT USE IMAGES WITHOUT PERMISSION.