I have said it before, and after last week it needs to be said again…I think Self Help Fest is one of the best festivals out there. If you are not familiar with Self Help let me give you a little back story…
Self Help Festival is put on by Florida based rock band A Day To Remember, with the first held at the National Orange Show Event Center in San Bernardino back in 2014. I don't know what brought a band from Florida to the I.E., but I am glad they found us. Since that first show, the festival has expanded to Philadelphia, Orlando, Detroit, and Worcester, MA. According to Wikipedia, ADTR vocalist Jeremy McKinnon has said that the concept originally came to him while talking with his girlfriend at the time… "She told me that most people who come [to our shows] respond like it's more than just a concert to them… It's like the music is genuinely helping them. Thus we titled our festival Self Help, because at the end of the day, that's what music's all about". That really sums up music to me. On a show that I do for the City of Riverside, called In Studio, I used to say in the opening that "we remember the most important moments of our lives by the songs that were playing at the time". To me, music is an internal part of our lives, and of our mental approach to life.
For the San Bernardino show ADTR has headlined every year except one, and lucky for us this year they did again. I photograph a lot of shows, and there are some amazing performers out there, but now and then you see a band that rises to the top. The five guys in ADTR are that to me. It's not just great songs, and it's not just a great production – which it definitely is – but it's that intangible part of being an artist. It's the fact that you can tell during an ADTR show that these people care about their fans. It also sure seems that that they love what they do, and care about how well they do it. I had the pleasure of talking with a few of the members before their set last week and the band's commitment to putting on a kick ass show is obvious.
Their set had something for everyone, kicking off with The Downfall of Us All and including the new single Degenerates, and some classics. Sticks & Bricks, from the 2010 album "What Separates Me from You", was awesome live. A Day to Remember is a band to see live, but that's not all there is to Self Help Fest. It includes a lineup of bands that leave it all on the stage. This year you had bands like Underoath, Angel Dust, I Prevail, Beartooth, Knocked Loose, Periphery, Motionless in White, This Wild Life, Terror and more.
One of the unique parts of Self Help is that it uses two stages, the Black Stage is indoors and the Red, or main stage, is outdoors. That means you get different types of performances. This year Motionless in White had a full Halloween theme going!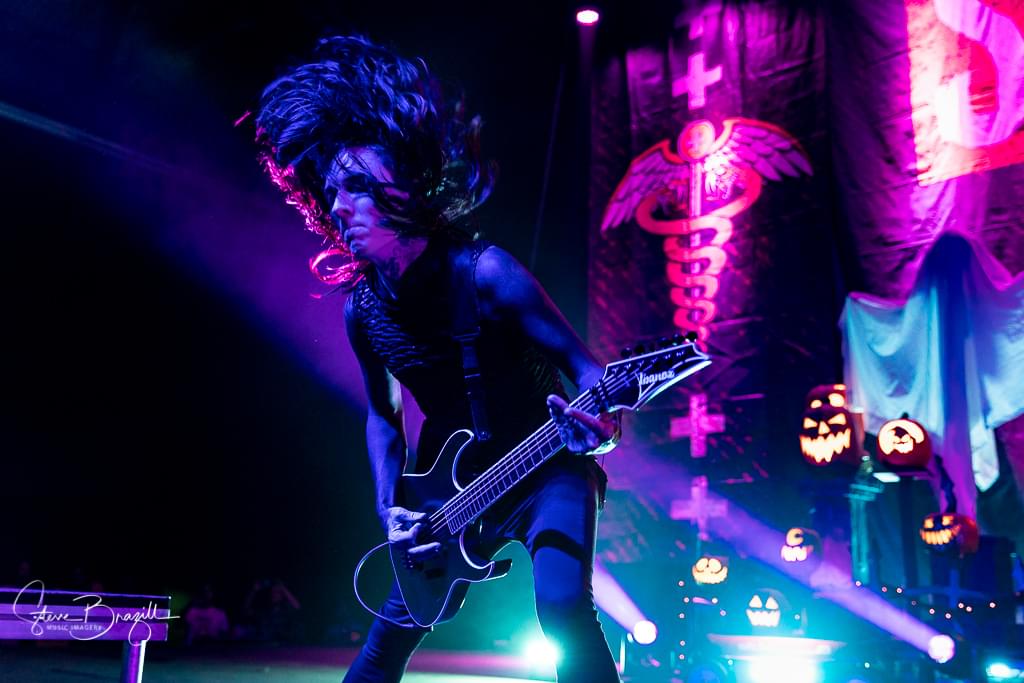 At a time when it seems so many festivals have left So Cal – no more Mayhem Fest, Warped Tour is done, and there was no Cal Jam this year – having a show like Self Help fills the gap. Great bands, great performances, and all of it right here in the I.E. I want to thank Fly South Music, who puts the show on with ADTR, for helping me out with access (John and Elena rock), and also to the band ADTR… you guys are always so kind and welcoming, thanks for that. Watching you perform is a pleasure every time.
There is a gallery of more photos below, a lot more photos, and I'd love to hear your thoughts on the show. Follow me online at:
Instagram: @SteveBrazill
Twitter: @SteveBrazill
Facebook: @SteveBrazillPhotography
~ Razz
All Images Copyright 2019 Steve Brazill, All Rights Reserved.
DO NOT USE IMAGES WITHOUT PERMISSION.