Last Saturday the Rockstar Disrupt Festival hit Fivepoint Amphitheatre in Irvine for a day full of music. I had not originally planned to photograph this festival, but then Mike Z said he was doing interviews at the show, which you need to watch for, and so I decided to check it out. I am so glad I did. Fivepoint Amp is a great place for a show like this. Good stage height, tiered pit area, and a great view from any seat pretty much. The show normally has two stages, the Festival and the Main, but this day every act was on the main stage. That turned out to be a fantastic change. The lineup for Disrupt is filled with bands you should see, which was confusing to me as the first half the show was still pretty empty. Bands that would normally sell out on their own were playing what turned out to be fairly intimate shows. By late afternoon the place was packed however, and they were all treated to great sets by the multiple headliners. I took a lot of photos that day, but there were 11 bands in total, so I will keep the comments here brief and let you get to the gallery below.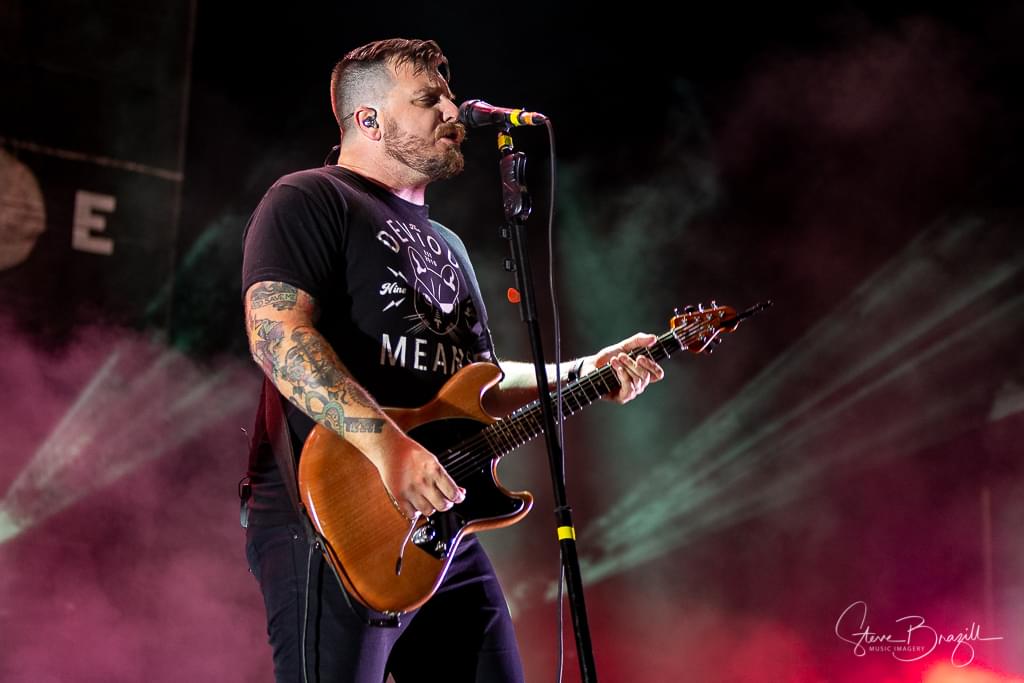 Thrice was playing a hometown show, and it showed. Great energy from the crowd surely helped the band. I had not seen Thrice before – how is that possible. Love their sound. Highly recommend their show.
The Used I have shot before and it may have been the band I was looking forward to the most. Guitarist Joey Bradford, pictured above, is just an insane player. I had the pleasure of meeting him once and while I was nervous, he was so kind and genuine. Watching the band on stage is nothing short of electrifying. Vocalist Bert McCracken, pictured below, is one of the best front men you will find. As for the rest of the band… just fantastic. This was only my second time photographing the band, and it was for me one of the highlights of the show.
Sum 41 (below) has been around for 23 years…. wow. They still have it. The band plays and sounds like it's their first tour, energy galore, and the crowd just plain loves these guys. It was my 2nd or 3rd time photographing them, and I think this was the best I have seen them.
Sleeping with Sirens I have seen and photographed many times, and I would run to every show they do. There are few bands that seem to entertain as well as they do. On stage vocalist Kellin Quinn (pictured below in full mic swing) personifies everything you want to see at a concert, great vocals of course, but possibly the dictionary definition of performance. Just an insanely good set.
I am trying not to post too many images here, leaving them for the gallery below, but I really need to address a few more bands. Let's talk about Andy Black, of Black Veil Brides. His solo band is just great, I mean great, and Andy is so damn photogenic. As I was reviewing and editing I noticed that in almost every image he is smiling too. This guy is just seeming to enjoy every single minute on stage.
Atreyu is a band I know, but I'd never seen them live. Dayem. Go see Atreyu (below). Seriously, finish this post first, and look at the gallery of all the bands, and then get up and go.
Circa Survive… you most likely know this band, possible really well, but let me tell you something… anytime a vocalist jumps in the crowd and hangs out there as long as vocalist Anthony Green (below and at the top) did has my attention. It's been said that for most businesses it's all about the community. Well, Anthony got up close with his.
Before I stop typing I need to mention Hyro the Hero. I want to see and photograph this guy again – soon. I was absolutely blown away by the entire band. They were the openers, the first band, originally scheduled to be on the secondary stage. Hyro took being on the main stage and jumped on it, and off it – in fact off of everything (pictured below). He was, as was his band, one of the big highlights for me. I happened to run into vocalist Hyro walking around and mentioned what a great set it was, and he was wonderful in person. Please, if you get nothing else from this post, check him out.
The rest of the lineup included Memphis May Fire – always amazing live, and two acts I was not super familiar with but glad I was there for, Four Year Strong and Juliet Simms. Overall this is a great tour. Can't recommend it enough. Well, I have got to run to photograph Knotfest Roadshow, hope to see you there!
As always, there is a gallery of more photos below, and I'd love to hear your thoughts on the show. Follow me online at:
Instagram: @SteveBrazill
Twitter: @SteveBrazill
Facebook: @SteveBrazillPhotography
~ Razz
All Images Copyright 2019 Steve Brazill, All Rights Reserved. Do not use without permission.