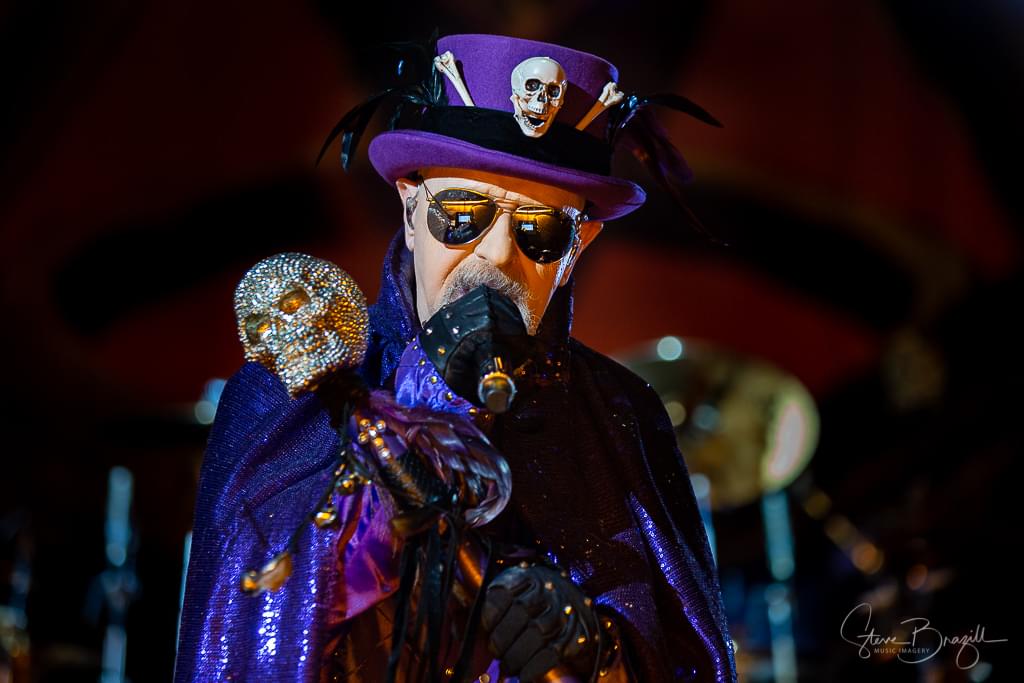 If you had told my 20-something self that I would be right in front of the stage at a Judas Priest concert, with a camera, I would have laughed. Judas Priest is one of the most iconic bands of my life, and last week they were at the Toyota Arena (formerly Citizen's Business Bank Arena) with Uriah Heep. It's almost weird to even say that….. I can't remember the last time I even thought of Uriah Heep, which is a band I grew up on and loved. The show was everything I expected it to be.
Guitarists Richie Faulkner and Andy Sneap are a great match with Halford. Each taking their moments at the front of the stage, and each a musician's musician. It's hard to describe seeing Rob Halford live and in person. Everything about him say "Rock God", and a few songs in you know why. Halford's voice is amazing. Every note, every iconic lyric, is spot on to my memory. There were moments I almost couldn't believe he could still hit those notes, but hit them he did.
As you would expect, the setlist had all the hits, Heading Out to the Highway, Breaking the Law, Living After Midnight, everything. The night before this show the tour hit the Microsoft Theater in LA, and if it comes back you should go. The band sounds as good as ever. As always with Judas Priest it's the backline that drives their sound. Bassist Ian Hill stays back with drummer Scott Travis and keep the tight sound of Priest going.
Opening the night was Uriah Heep, and it was a big surprise. I honestly didn't expect to remember the songs, but in the early to mid 70's this band was hot. The hits came right back to me, with songs like Stealin', and Easy Livin'. More than that their energy was fantastic. The one remaining original member is Mick Box (pictured below) and along with the rest of the band they brought the classic into the modern world.
On vocals now is Bernie Shaw, and he is a great frontman. The passion and energy of the lineup mostly come from him.
If you're looking for a great show, with a mix of iconic and classic songs, be sure to catch this tour.
I do want to talk about the arena for a second. With the new Toyota Arena branding this place looks great, but more importantly I just plain love the venue. It's the perfect size for a show, big enough to get "arena" shows, but small enough to always have a great view. They do have some great shows on the calendar, so be sure to take a look at what's coming.
As always, there is a gallery of more photos below, and I'd love to hear your thoughts on the show. Follow me online at:
Instagram: @SteveBrazill
Twitter: @SteveBrazill
Facebook: @SteveBrazillPhotography
~ Razz
All Images Copyright 2019 Steve Brazill, All Rights Reserved. Do not use without permission.