There is something very unique about a Rob Zombie concert. Ask anyone that has been and the answer will almost always be something like " it was amazing". I have photographed Rob Zombie a handful of times, and I have to say it's one of the most energetic fun concerts you'll ever see. So, when I heard that the Twins of Evil, The Second Coming Tour was coming back to So Cal last week, I had to go and photograph it again. This tour is Rob Zombie and Marilyn Manson, and they are usually a great pairing.
Rob Zombie's band is by far one of the best musical groups touring today. Piggy D (pictured above) is amazingly tight, and for John 5, (pictured below) just choose any great adjective and it will fit. Seriously, he is a master at the guitar.
With Ginger Fish on drums (pictured below), this band just never ceases to amaze me. If you have not been to a Rob Zombie show, wow. You are really missing out on the top of the performance market.
I had seen Marilyn Manson before. I drove to Las Vegas years ago to photograph Rock Vegas, which happened to have Rob Zombie and Marilyn Manson as the headliners. It was my first time photographing Zombie actually, and was supposed to be my first for Marilyn too. Shortly before they took the stage we were told no one but the house photographer and the wire service photographer would be allowed to photograph Manson's set. I was bummed, but at least I was able to see the show. This time I did get to take some photos, and it was everything I'd hoped it would be. I have heard of times where Manson's show was off, but not last week. I thought he performed and sounded great, especially on his version of Sweet Dreams.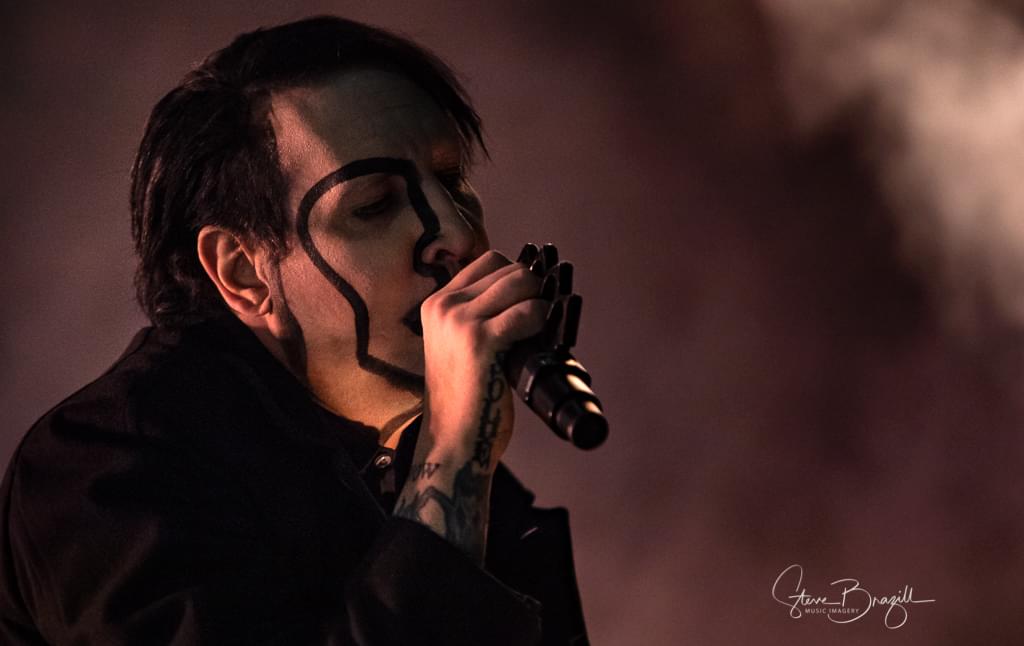 Most acts allow us to photograph the first 3 songs, as Rob Zombie did, but for Marilyn Manson we were restricted to just the first song. I was concerned about that, because his lighting is really dynamic, but it really made for a dynamic show – and some cool images. I love the image of Marilyn below actually. Every time I look at it I wish I was photographing him again.
Since the show I have had a few people ask if they should see Marilyn Manson live, usually followed by them telling me that they have heard mixed reviews. Let me clear that up…. yes. Go see him. Great performance and he sounded great too.
Opening the show was a Canadian band called Deadly Apples. First of all, they were pretty damn good. Crazy energy, and the lead vocalist is a blast to watch. Unfortunately we had to photograph their set from behind the crowd, which still made for some great visuals, but I keep thinking that with this band the photo pit would have been awesome. Check out lead vocalist Alex Martel in the air below – without the mic in his hand.
Just a ton of fun on stage. Looking forward to catching them again sometime.
The bottom line is this… go see both Rob Zombie and Marilyn Manson live, and if possible see them together on this tour. They are a great combination.
As always, there is a gallery full of photos below, and I'd love to hear your thoughts on the show. Follow me online at:
Instagram: @SteveBrazill
Twitter: @SteveBrazill
Facebook: @SteveBrazillPhotography
~ Razz
All Images Copyright 2018 Steve Brazill, All Rights Reserved.