Self Help Festival returned to the I.E. last weekend for what may have been the best line up they have ever had. When the festival didn't come our way last year I was pretty bummed. This festival is what I wish all festivals were. Too often at other festivals I find myself running between too many stages, trying to catch every band, only to find two stages conflict and I have to miss a band I was really looking forward to seeing. Self Help has 2 stages the "Black Stage", an indoor secondary stage, and the "Red Stage", an outdoor main stage. With just two stages I am able to easily see every artist, and that makes you feel like you really get your money's worth.
As with previous years, the show was held at the National Orange Show. Unlike previous years, this year the forecast called for rain. I was worried that might affect attendance, but nope. The show was packed, and while we did get a few very light sprinkles, it wasn't enough to affect anything.
Self Help is put on by Florida's own A Day to Remember, and once again they closed the show this year. The band consists of Jeremy McKinnon – Vocals, Kevin Skaff – Guitar, Neil Westfall – Guitar, Joshua Woodard – Bass, and Alex Shelnutt – Drums. I'm sure I have noticed this in the past, but this year something really stood out… ADTR clearly loves what they do. Watching these guys on stage is like watching great friends play together. There is a chemistry that's obvious between the entire band. The other thing that stands out with ADTR is the musicianship. Clearly these guys can hold their own in any list of bands you put out. Check them out next time they are in So Cal.
Oh yeah – fireworks! They ended the show with a huge fireworks show. So awesome.
As I said above, this was one of my favorite lineups for this festival. Part of that was finally seeing Papa Roach (pictured above and below). Wow. I knew I'd like them live, but this band is one of the better bands I have seen. Energy galore, and passion to spare. For me the moment that stood out was when they kicked into "Scars". I love that song, and at that moment it felt the entire place did.
Falling in Reverse (pictured below) was another standout. Love watching them live, and of course the rest of the main stage bands are always great. Bands like Of Mice & Men, August Burns Red, The Devil Wears Prada, Wage War, and Cane Hill. Every one of the bands nailed it, and August Burn Red is amazing live –  a must see band.
And if you have never seen The Devil Wears Prada or August Burns Red (both pictured below)…. get going now. Travel if you need to, it's worth it.
The full lineup was:
Black Stage (Indoors)
Seaway
Volumes
Crown The Empire
Knuckle Puck
State Champs
Mayday Parade
Red Stage (Outdoors)
Cane Hill
Wage War
The Devil Wears Prada
August Burns Red
Of Mice & Men
Falling in Reverse
Papa Roach
A Day to Remember
I do want to congratulate A Day to Remember and Fly South Music Group on a fantastic show, and I really hope they come back next year.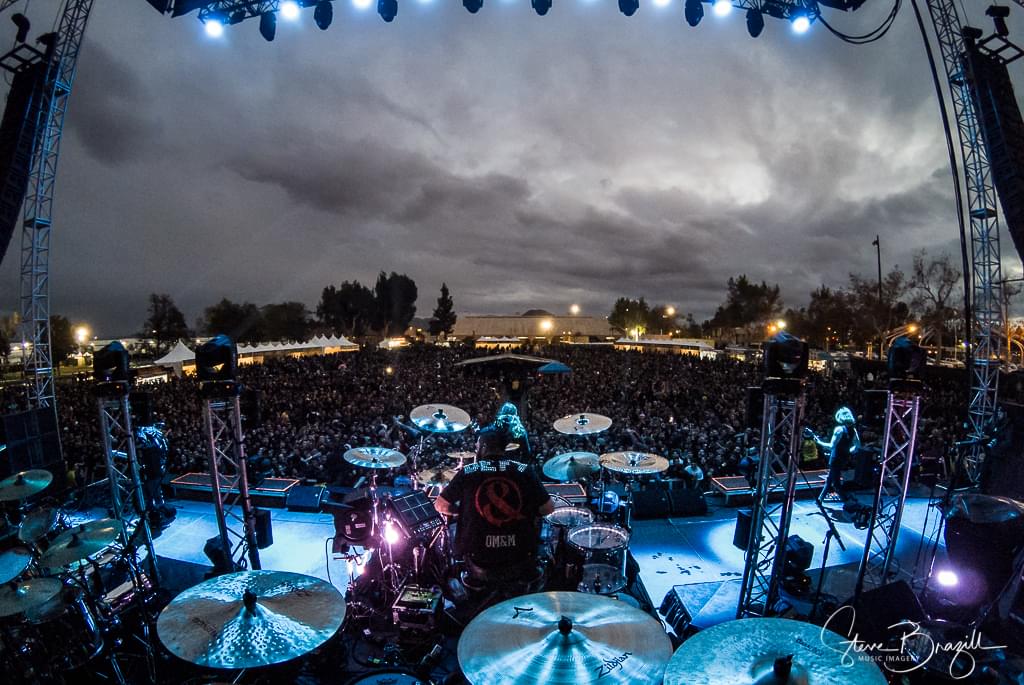 As always, there is a gallery full of photos below, and I'd love to hear your thoughts on the show. Follow me online at:
Instagram: @SteveBrazill
Twitter: @SteveBrazill
Facebook: @SteveBrazillPhotography
~ Razz
All Images Copyright 2018 Steve Brazill, All Rights Reserved.